University of Miami Athletics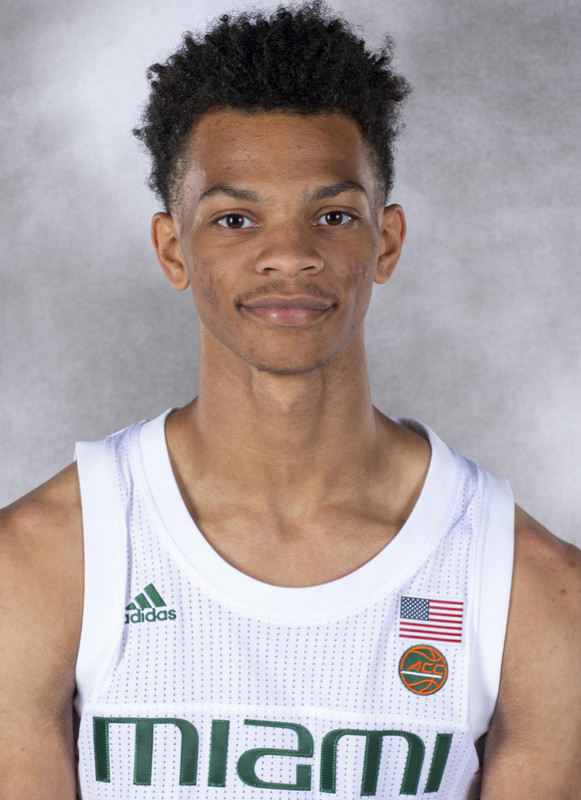 As a Sophomore (2020-21): Third Team All-ACC … ACC All-Tournament Second Team
As a Freshman (2019-20): Two-time ACC Freshman of the Week (2/17, 2/24) … College Sports Madness ACC Player of the Week (2/17)
One of three Hurricanes to appear in all 31 games, earning starts in the final 13 … Averaged 7.7 points, 3.0 rebounds and 1.0 assist in 21.2 minutes per contest … Shot 82.9 percent from the free-throw line and 37.3 percent from 3-point range, both second-best on the team … Fourth Hurricane to win multiple ACC Freshman of the Week honors and the second to do so back-to-back, joining Lonnie Walker IV (February 2018) … Lone player to claim the accolade consecutively in 2019-20 and just the 14th in the nine seasons since Jim Larrañaga got to Miami … Tied for seventh in ACC-only free-throw percentage with an 80.9 clip … Tied for the most made free throws in a game (14) without a miss by an ACC player—the second-best mark at Miami since the program rebirth in 1985-96—and tied for the third-most made free throws … Fourth of five DI players in the last 10 years to record a 27-point, 12-rebound game while hitting 14 free throws without a miss and the first high-major player to do so since USC junior Nikola Vucevic on 12/29/10 … First DI freshman in the last decade to notch a 25-point, 10-rebound game while making 10 free throws without a miss and one of just three players nationally to do so in 2019-20, joining Washington State sophomore CJ Elleby and Coastal Carolina sophomore DeVante' Jones … First Miami freshman with a double-double since Bruce Brown Jr., on 12/22/16, first to do so in league play since Dwayne Collins on 2/21/07 and first to do so on the road since Collins on 1/16/07 … Sixth Miami freshman (fifth true) since the program rebirth to notch back-to-back 20-point games, including the second in the ACC era and fourth in league play … Fifth Miami freshman (fourth true) since the program rebirth with multiple 20-point road games and the second to do so in conference action, joining Darius Rice (2000-01 in the BIG EAST) … One of 13 Miami freshmen (11 true) since the program rebirth with at least three 20-point showings, including the fourth of the ACC era, alongside Lonnie Walker IV (2017-18), Bruce Brown Jr. (2016-17) and Durand Scott (2009-10) … Ninth freshman (eighth true) since the program rebirth to tally a 25-point performance, including the fifth (fourth true) to do so on the road … Logged the second-best single-season free-throw percentage and third-most made free throws (63) by a Miami freshman in the ACC era, as well as played the second-most minutes (42) in a game by a Miami freshman in that time … Shot 49-of-53 (92.5 percent) from the line in the last 13 games, making his final 28 attempts … Posted the most (14) and tied for the second-most (eight) made free throws in a game by a Hurricane, as well as tied for the best single-game field goal clip (5-of-6), tallied three of the four perfect 3-point marks on multiple attempts and tied for the third-most points (27) in an outing … Scored 10-plus points 10 times, all in the final 13 games, notching 15-plus in six outings and 20-plus thrice … Logged five-plus assists on seven occasions, reaching double figures once, and played 30-plus minutes eight times, all in the last 13 games … Led the Hurricanes in scoring in seven outings and in rebounding three times … Made his collegiate debut with 17 minutes in the season opener against fifth-ranked Louisville (11/5) … Made his first start at North Carolina (1/25) and finished with 19 points and three assists, shooting 6-of-11 from the floor and 5-of-5 at the line in 35 minutes … Tallied 15 points in 39 minutes at Pittsburgh (2/2), finishing 5-of-6 from the floor, including his first 2-of-2 3-point clip in a four-game span … Compiled 12 points, seven rebounds and a season-high three steals in 39 minutes against NC State (2/5) … Put up 23 points on 8-of-12 shooting, both marks season highs, at eighth-ranked Florida State (2/8) … Notched 21 points on 7-of-10 shooting, adding five rebounds and three assists, versus Boston College (2/12) … Set season highs in points (27), free throws made (14) and attempted (14), rebounds (12), and minutes played (42) in the triple-overtime win at Virginia Tech (2/19), hitting game-tying jump-shots in the final 20 seconds of the first two extra sessions … Scored 12 points at Notre Dame (2/23) to conclude a nine-game double-digit scoring streak … Posted 18 points, nine boards, a season-high four assists and a season-high-tying three steals in 37 minutes in the overtime triumph versus Syracuse (3/7) to cap the regular season.
High School: Graduated from Monsignor Bonner (Pa.) … Consensus top-90, four-star recruit … Ranked No. 78 nationally, including No. 12 among point guards, by Rivals … Tabbed No. 83 in the country and No. 16 among shooting guards by ESPN … Listed No. 87 overall, including No. 13 among combo guards, by 247Sports, as well as No. 79 nationally in its composite rankings … McDonald's All-American Game nominee … Helped Bonner go 22-6 and reach the 4A state finals his senior season, logging 29 points and eight rebounds in the title game … Averaged 22.0 points and 7.4 rebounds per game, claiming a second straight Philadelphia Catholic League MVP distinction … Posted 22.3 points and 6.9 boards per game as a junior, winning his first PCL MVP award … Attended Notre Dame (N.J.) the first two years of his high school tenure … Won the Mercer County Tournament title as a freshman … Notable Bonner alums include former NBA general managers John Nash and Ed Stafanski, La Salle head men's basketball coach Ashley Howard, former 42-year Villanova head women's basketball coach Harry Perretta, 1973 Heisman Trophy winner John Cappelletti and 12-year NFL veteran Anthony Becht.
Personal: Full name is Isaiah Robert-Johan Wong … Nickname is Zay … Born Jan. 28, 2001 … Parents are Terrence and Lachelle Wong … Has two older brothers, Brian and Tyler, and a younger brother, Elijah … Majoring in sport administration … Favorite athlete is Kobe Bryant … Best sports memory is making a game-winning shot against Roman Catholic in a league game as a senior … Chose Miami because he felt it was a great opportunity and he could have a big role … Committed to Miami over Clemson, Connecticut, Pittsburgh and Villanova.