MBB Tops Louisville, 93-85
CORAL GABLES, Fla. – The No. 19/20 Miami men's basketball team extended its run of home court dominance Saturday night at the Watsco Center, defeating visiting Louisville, 93-85.
The Hurricanes (20-5, 11-4), who featured three players with at least 20 points, won their fourth straight game overall and improved their undefeated mark to 14-0 inside their home arena.
Nijel Pack finished with 22 while Isaiah Wong and Norchad Omier added 21 apiece for the Hurricanes, who reached the 20-win mark for the eighth time under head coach Jim Larrañaga.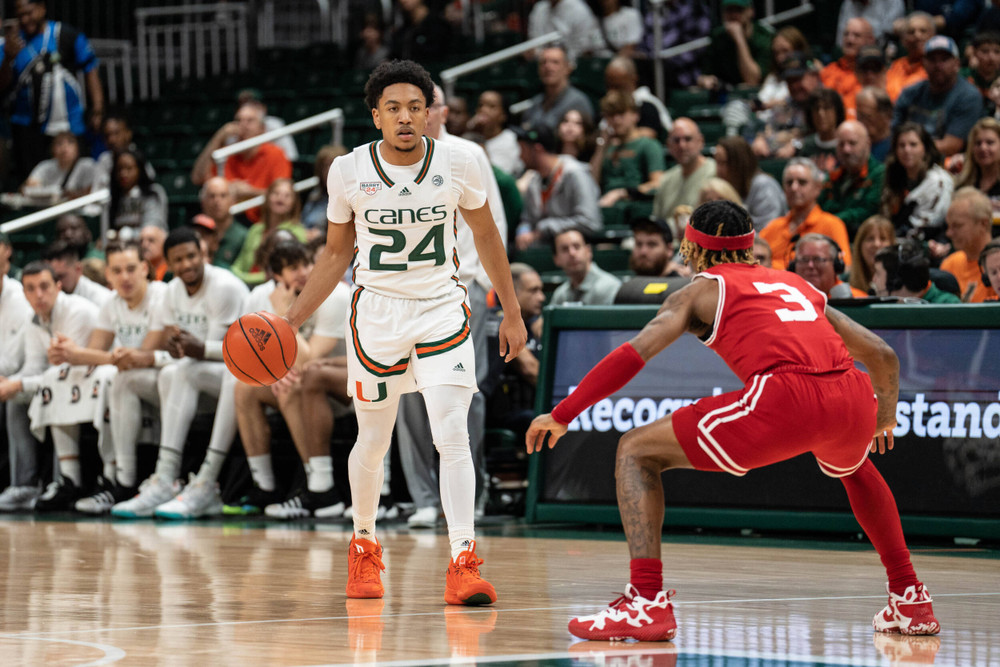 The hosts raced out to a 10-0 lead just 2:17 into the game, a stretch that included 3-pointers from veteran guards Wong and Pack and forced a Louisville timeout.
Wong had 9 of Miami's first 14 points and finished the first half with a team-high 11. He ended the night with his sixth straight double-digit output.
Despite the early deficit, Louisville (3-22, 1-13 ACC) battled its way back into the contest, taking its first lead of the game at 34-33 with 4:34 remaining in the first half on a pullup jumper El Ellis.
Due largely to Ellis' 17 first-half points, the Hurricanes (20-5, 11-4 ACC) found themselves leading by just one, 42-41, at the end of the first stanza.
Ellis finished with a career-high 33 points for Louisville, who had one of its best offensive performances of the season in the loss.
Miami shot 58.1 percent from the floor in the first half, while Louisville (3-22, 1-13 ACC) shot 58.6 percent – including a 6-of-13 mark from 3-point range.
In a back-and-forth second half, the Hurricanes took their biggest lead of the game up to that point at 60-49 on a 3-pointer from Bensley Joseph 4:41 into the second half.
Louisville would not be deterred – thanks largely to Ellis, who shot made 12 of 20 field goal attempts. Jae'ly Withers added 18 points for the visitors, who cut Miami's lead to a tenuous 74-70 with 4:47 remaining.
The Hurricanes began to separate from that point, however, ripping off five straight to go up 79-70 with 3:46 left and extending it back to 11 on an emphatic alley-oop dunk from Harlond Beverly with 1:11 to go.
Miami outpaced Louisville 17-4 in fast break points and turned the ball over only six times in the win.
The Hurricanes are back in action on Monday, Feb. 13 when they travel to North Carolina for an ESPN Big Monday showdown. Tipoff is set for 7 p.m. from Chapel Hill, N.C.
To keep up with the University of Miami men's basketball team on social media, follow @CanesHoops on Twitter, Instagram and Facebook.