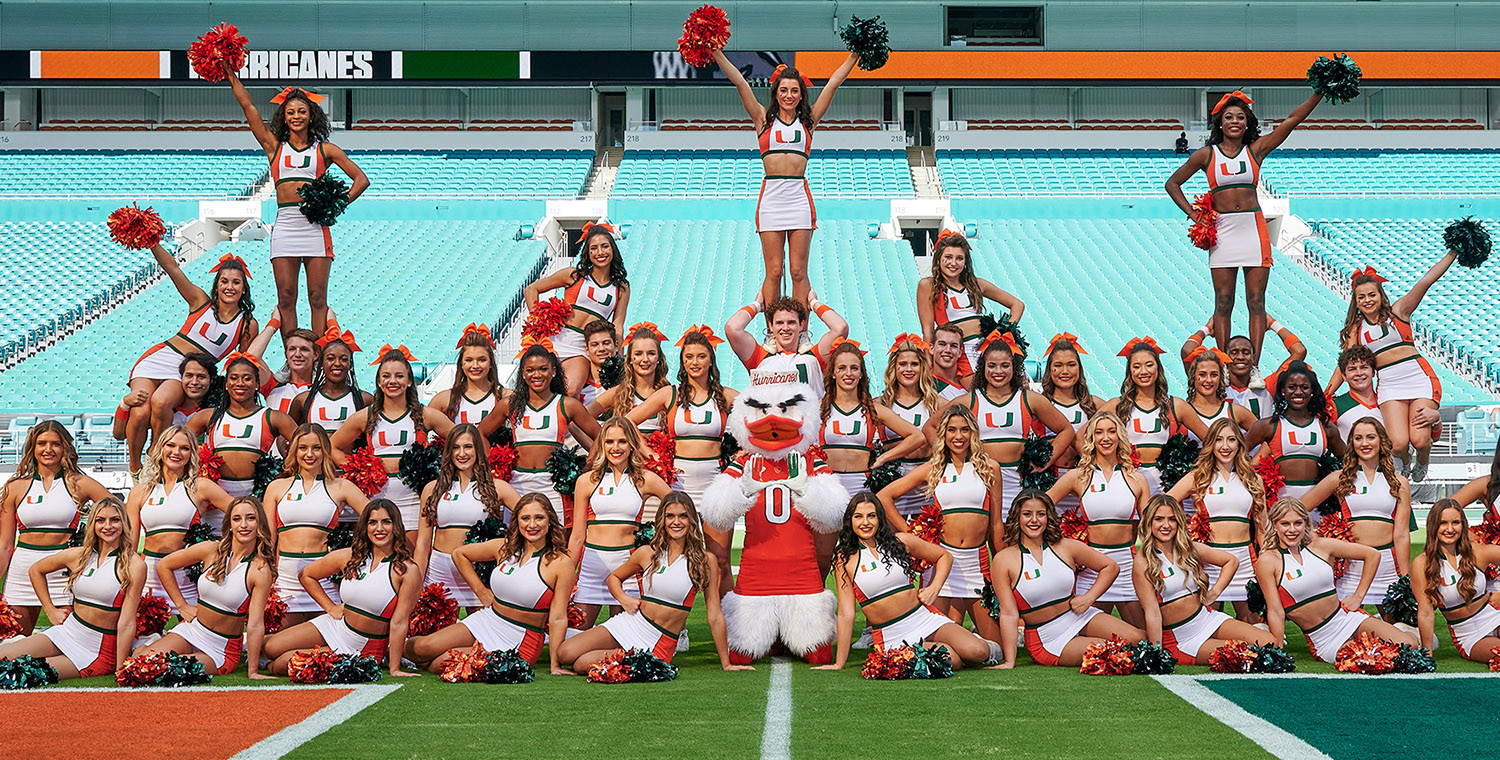 University of Miami Spirit Squad Cheerleaders & Sunsations Dance

The University of Miami has a longstanding cheerleading tradition, founded in 1925. With five National Championships in football, and countless Bowl and NCAA Basketball Tournament appearances, the Spirit Program has been a vital part of the athletics program at UM.
The cheerleading program at Miami consists of two teams, a coed team and an all-girl team. The teams cheer on the sidelines at home and away football games, men's and women's basketball games, and home volleyball games. The cheer program has the opportunity to cheer at both the men's and women's ACC and NCAA Basketball tournaments.
In addition, the Cheerleading Program will represent The U at the UCA College Championship.
More Information
Competition
UCA College Nationals 2022
In January 2022, the UM cheerleading program represented the University at UCA College Nationals in Orlando, FL, placing 12th in the D1A Game Day Division. The team had zero deductions.
2023 - 2024 Try Outs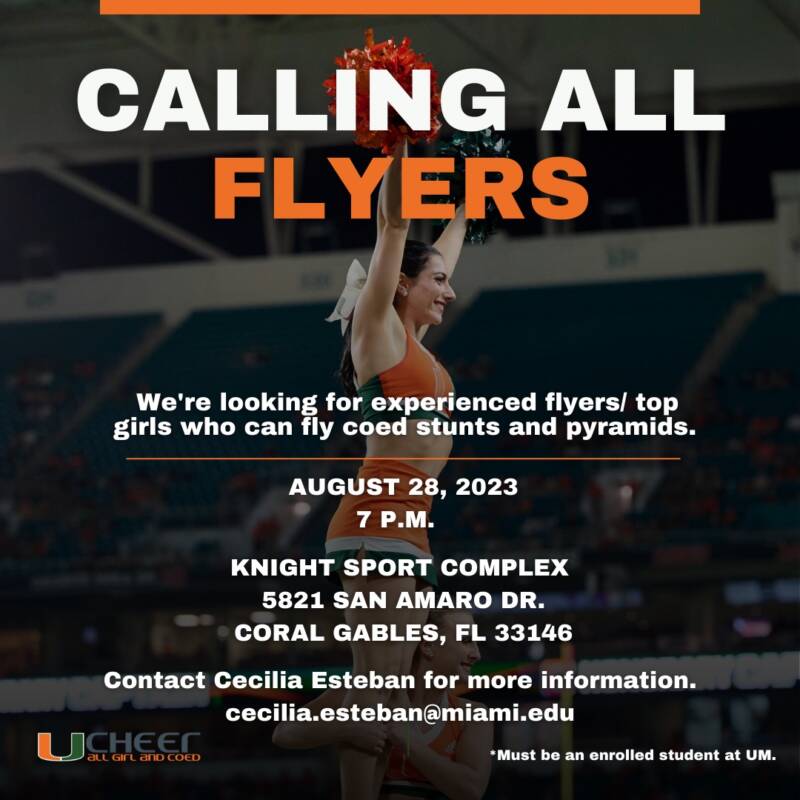 Location: Knight Sports Complex, Miami, Fl
Dates and Time: August 28th: 7:00 – 9:30 p.m. 
Attire: All-black form-fitting or midriff-baring athletic attire
Links
For more information regarding the University of Miami's Spirit Program please contact:
Cecilia Esteban | Spirit Coordinator and Head Cheerleading Coach | CME120@miami.edu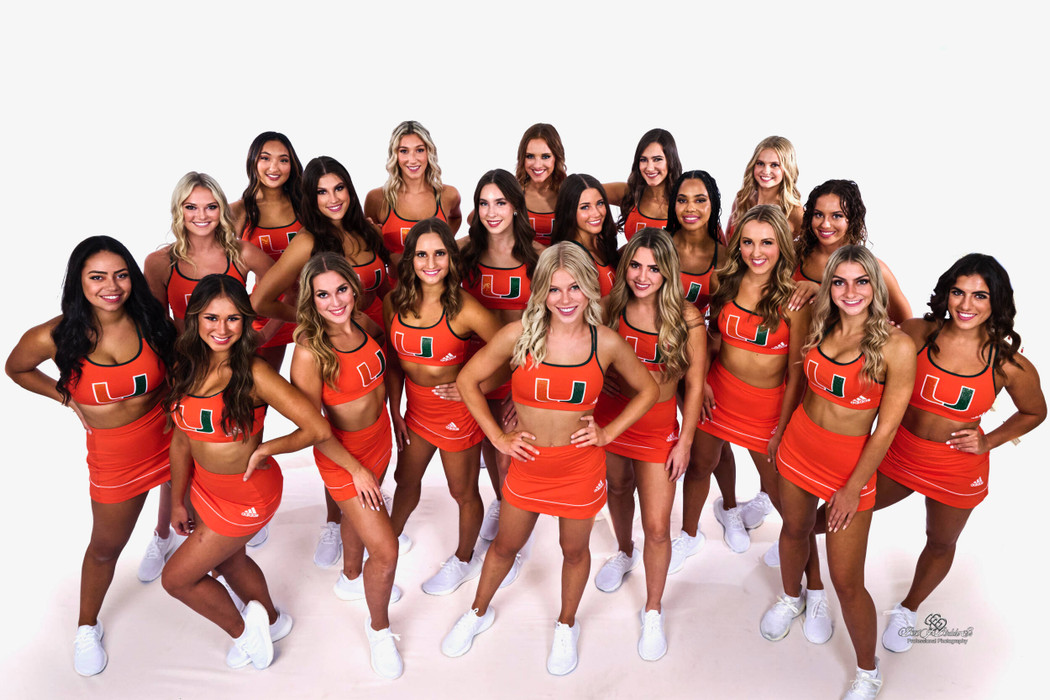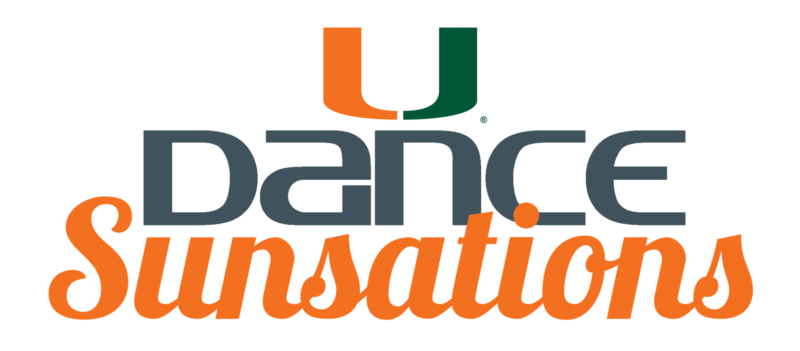 The University of Miami Dance Team, the Sunsations, is the official dance team of the Miami Hurricanes and serve as representatives for the University at various athletic and community events. The Miami Hurricanes Dance Team consists of 18-20 talented dancers who perform on the sidelines at all home football and basketball games and are featured in timeouts as well as during half-time performances. The Sunsations compete at the UDA College Championship in both the Jazz & Hip-Hop categories.
MEET THE COACHES
Cecilia Esteban | Spirit Coordinator and Head Cheerleading Coach
Born and raised in Miami, Cecilia has been coaching competitive cheerleading 14 years. In 2016, she became an assistant Varsity Cheerleading Coach at St. Brendan High School where she helped lead the team to its first FHSAA Competitive Cheerleading State Championship. In the following years, as a Co-Head Coach, she has won 7 consecutive state titles and placed top five at UCA High School Nationals.
In 2010, she competed at NCA College Nationals with Florida International University and realized then that coaching college cheerleading was her ultimate goal! Cecilia is excited to bring her combined 20 years of cheerleading experience to the U and we are excited to see our program develop under her leadership.
Jonni Rogers | Head Dance Coach
Jonni Rogers is a Bay Area native who currently resides in Miami, Florida. She has worked as a freelance choreographer & adjudicator for different pro, college, and competitive dance teams. Jonni has trained in jazz, tap, ballet, and contemporary dance for over 17 years and has led several competitive dance teams as a teacher to award winning seasons for 13 consecutive years. She spent 6 seasons with the Oakland Raiderettes aka: "Football's Fabulous Females." With the Raiders Jonni was Rookie of the year, a 3x captain, and performed internationally at Wembley Stadium with recording artist Jess Glynn. In 2019, she was voted Raiderette of the year which allowed her to represent the Raiders at the Pro Bowl in Orlando, Florida.
Jonni has coached at the collegiate level for over 7 years, collectively at the University of California – Berkeley and at the University of Miami where she formerly coached the Hurricanettes. Jonni is now back at UM as the head dance coach for the Sunsations Dance team! Go Canes!
Veronica Salazar | Assistant Cheerleading Coach
Ana Fernandez | Assistant Cheerleading Coach
Ana Fernandez brings a combined 10+ years of cheerleading experience to the U!  Before starting her coaching career, she was a 3 year Varsity Cheerleader at St. Brendan High School, here in Miami, FL. Her senior year she helped bring home the first FHSAA Competitive Cheerleading State title in the school's history and was selected as a First Team All-Dade athlete. Upon graduation, she attained a coaching role at St. Brendan HS and has had 6 successful years.
Ana plans on bringing her winning tradition to The University of Miami. She strives to ensure the teams have success both on the sidelines and on the UCA competition mat! Her goal is to help the team achieve skills that will bring a wow factor to the spectators and a sense of success to her athletes! We are excited to see the progress our program will have with Ana on the staff!
Cameron Cruz | Assistant Dance Coach
Cameron began dancing when she was 9 years old and became a competitive dancer at the age of 10. She danced on her high school dance team for four years and was captain and lead choreographer her senior year. Cameron also competed in the All Star circuit and earned the title of National Champion with her teams over 15 times. She coached her first competitive team when she was 17 and they placed 3rd at the USASF International Dance Worlds Competition. After high school she attended the University of Miami for her undergraduate degree and was a Sunsations Dancer during those four years. Her senior year she was a GameDay Captain and received the MVP award pre-season as well as the Leadership award post-season.
Cameron received her BA in Psychology and is now attending graduate school at the University of Miami –  pursuing her Master's in Athletic Training. Her goals as an assistant coach are to uphold and further elevate the reputation of the Sunsations Dance Team, to facilitate the best showmanship on the field and the court, and to achieve a successful competition season in the UDA circuit.
Beverly Hew | Assistant Cheerleading Coach
Beverly joined the coaching staff in 2005 and brings 20+ combined years of cheer and coaching experience to the University of Miami Spirit Squads.
Beverly is from Miami and attended Westwood Christian School where she cheered while also competing for Hurricane All-stars. After high school, she attended the University of Miami where she cheered on both the All girl and Coed cheer teams while working on a Bachelors of Science in Health Studies. While at UM, she competed at UCA College Cheerleading Championships, served as captain of the Co-Ed team, and cheered on the Miami Hurricanes to their 2001 National Championship at the Rose Bowl!
Beverly has been instrumental in growing the Spirit Program into what it is today. She started her career at the University in 2005 as the All- Girl Coach, when the program functioned as three separate teams. She continued the team's tradition of competing at UCA College Nationals through 2009 and then took over the Co-Ed team in 2010 unifying both cheer teams under one coaching staff. Beverly continued to grow in her role in the Athletic department and in 2013 was promoted to Head Spirit Coordinator assuming responsibility of the Sunsations Dance Team and finally streamlining the management of all three spirit squads under one leadership umbrella for the first time in University history. Beverly served as Head Spirit Coordinator through 2018 and still remains on staff supporting the program she evolved throughout her impactful tenure.
Jessica Hurwitch | Assistant Cheerleading Coach
A double Cane UCheer Alumna, Jessica joined the coaching staff back in 2013 and brings over 20 combined years of cheer and coaching experience to the University of Miami Spirit Squads.
Jessica is currently a practicing CPA and earned her Bachelor of Business Administration and Masters in Accounting from Miami Herbert Business School. She was named a 2020 Brickell Magazine "Go Getter" for accomplishments in her career and continued dedication to the University.
Jessica cheered both for Coconut Creek High School Athletics and competitively at several local programs before joining the University of Miami Cheer Program in 2004. She was a member of the All-Girl team through 2008 and was also a UCA staff member in 2005. During her tenure as a University of Miami Cheerleader the school competed at UCA Nationals and placed in the Top 10 in 2007. She is the definition of bleeding orange and green and will always be an advocate for the USpirit Program.
Nicole Ferrarini | Assistant Cheerleading Coach
Nicole is from Orlando, Florida where she grew up a gymnast and began her cheerleading career at Bishop Moore Catholic High School in 2007. She participated on the game day varsity team as well as the competition team where they competed in the FHSAA inaugural competitive cheerleading state championship. BMHS placed 2nd and subsequently became back-to-back State Champions her final two years in 2009 & 2010. Nicole competed on University Cheer Force Level 5 Allstar Team while coaching tumbling classes at ASE Allstars from 2007-2010.
While an Architecture student at the University of Miami, Nicole was on the All- Girl cheerleading team for four years and captain for her Senior year in 2014. She graduated from the University of Miami in 2016 with a Bachelor of Architecture and a Masters of Real Estate Development + Urbanism.