Shorthanded MBB Rallies Past Georgia Tech, 79-70
CORAL GABLES, Fla. – Down a starter and facing a 14-point first-half deficit, the University of Miami men's basketball team stormed back to defeat Georgia Tech, 79-70, Wednesday night at the Watsco Center.
Playing without fourth-year junior guard Jordan Miller, the Hurricanes outscored the Yellow Jackets by 23 points over the final 25-plus minutes to end a two-game skid. Sixth-year redshirt senior forward Sam Waardenburg paced Miami (17-7, 9-4 ACC) with 19 points in the win, the team's third when trailing by 14-plus in 2021-22.
"Well, in the first half, I thought Georgia Tech did a great job of disrupting our offense. So, we fell behind," Miami head coach Jim Larrañaga said after the 100th ACC regular season win of his storied tenure. "We had to figure out a way to get back in it. We chose one offense versus every defense they play and once we did that and everybody knew what we were running and what we were looking for, we were able to score the ball much better. That helped create better defense for us because now we were scoring and setting the defense, rather than missing and having to scramble back."
The Hurricanes forced five turnovers in the opening four-plus minutes and made four of their first five shots to grab an early 8-2 lead after just 4:24. Georgia Tech (10-13, 3-9 ACC) answered with a 30-10 run to go up by 14, 32-18, with 5:56 on the clock after making six of its first nine 3-pointers compared to an 0-of-6 mark for Miami. The stretch included both 9-0 and 7-0 surges.
Larrañaga's team countered with eight points in a row—bookended with 3-pointers by Waardenburg—in just 101 seconds to make it 32-26 with 3:57 to play in the half. After a Georgia Tech basket, Miami scored six consecutive points in 59 seconds—giving it six straight made field goals and four straight made free throws—to up its run to 14-2 and pull within two, 34-32, with 1:53 to go in the half.
The Yellow Jackets took a two-point edge, 36-34, into the locker room behind 13 points from freshman guard Dallan "Deebo" Coleman who scored 13 points on 5-of-5 shooting, including a 3-of-3 clip from deep, in the first 18-and-a-half minutes. Waardenburg tallied 12 first-half points at the other end for Miami.
Third-year sophomore guard Isaiah Wong opened the second-half scoring in just 16 seconds, leveling the game at 36. Miami, soon thereafter, went in front, 41-39, with 18:15 to go, making it a 23-7 extended run.
The Yellow Jackets regained a four-point lead, 56-52, with 9:59 to go, but Miami responded with 11 consecutive points to take a then-game-best seven-point edge, 63-56, with 6:07 remaining. The Hurricanes held Georgia Tech without a point for 4:56.
Miami went on to put the game out of reach on a 3-pointer by sixth-year redshirt senior guard Charlie Moore with 3:12 to go that upped the cushion to 11 points, 72-61. That made it a 20-5 extended burst for the home team, en route to the nine-point triumph and a season sweep of the Yellow Jackets.
"It was a great comeback," Larrañaga said. "The second half, we got to the foul line a ton and reduced our turnovers."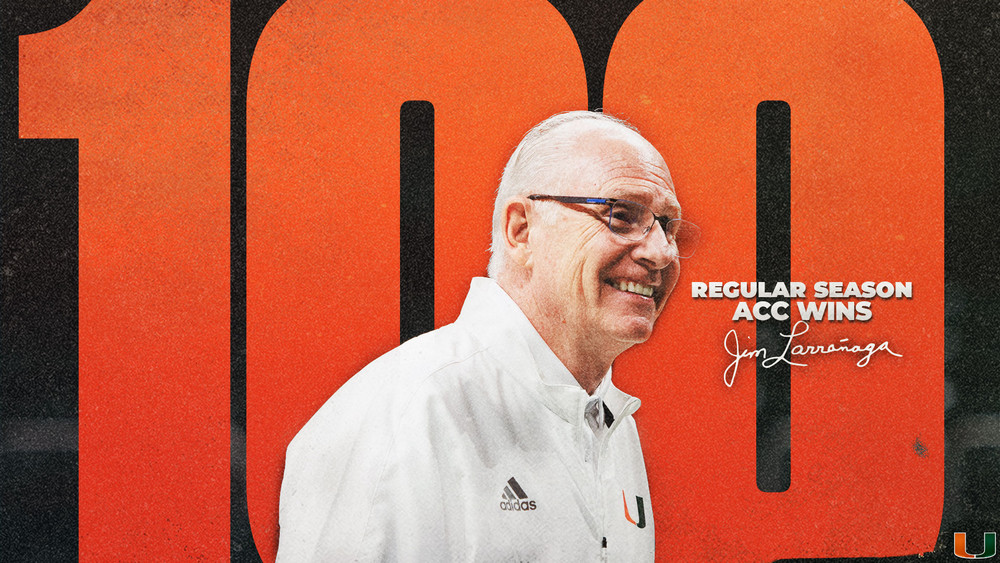 Waardenburg's 19 points came on a 5-of-8 clip from the floor, including a 3-of-4 ledger from deep in a season-high 38 minutes. He added a perfect 6-of-6 mark from the stripe, matching his career high in makes and his season high in attempts. The Auckland, New Zealand, native added co-game-highs in rebounds (eight) and assists (five), the former equaling his season high and the latter tying his career best.
Sixth-year redshirt senior guard Kameron McGusty scored 17 points, all in the second half, and paced all players with a season-high-tying four steals. Wong tallied 14 points and seven rebounds, the latter one shy of his top mark this season. Moore posted 13 points on a stellar 5-of-6 clip from the field and co-led all players with five assists, despite battling foul trouble.
Third-year sophomore forward Anthony Walker, who started in place of Miller, posted 12 points and a season-high-tying eight rebounds in a co-season-best 26 minutes. It marked the second home game in a row he posted that line, while he also shot 6-of-10 from the floor this time to match his career high in makes.
"Anthony Walker has really spent most of this year coming off the bench," Larrañaga said. "He did a great job of starting, scoring 12 points, getting some rebounds and blocking a shot."
Miami had five players score in double figures for the second time this season, while freshman guard Bensley Joseph added four points, a career-best six rebounds and a career-high four assists in a career-best 28 minutes.
Senior guard Michael Devoe, the ACC's third-leading scorer, finished with 20 points, but Miami held him to 6-of-15 shooting from the floor, including a 2-of-7 mark from deep. Senior guard/forward Jordan Usher added 16 points, while Coleman scored 15 and junior guard Kyle Sturdivant chipped in with 12.
Senior forward Khalid Moore, who paced Georgia Tech with 19 points on 9-of-12 shooting, in the teams' Jan. 29 matchup in Atlanta, fouled out with zero points on two shots.
The Hurricanes recorded 10 steals and forced 18 turnovers, while committing just 12, resulting in an 18-6 edge in fast-break points. Miami, one game after becoming the second team in ACC history to not attempt a free throw in a contest, also went 20-of-26 (76.9 percent) at the line.
The Hurricanes now head to Winston-Salem, N.C., for their first of two straight road games, slated for Saturday at 3 p.m. against Wake Forest, live on RSN from Lawrence Joel Veterans Memorial Coliseum.
To keep up with the University of Miami men's basketball team on social media, follow @CanesHoops on Twitter, Instagram and Facebook.
MIAMI HURRICANES POSTGAME NOTES
– The Hurricanes moved to 16-12 all-time against Georgia Tech, including 8-5 at home and 9-6 in Larrañaga's tenure.
– Larrañaga, who entered the game with the 10th-most victories of any active Division I coach, is now 687-471 in 38 years as a head coach, including 217-137 in 11 seasons at Miami.
– Now owning 100 victories in ACC regular season play, Larrañaga is the 14th head coach in league history to reach triple digits.
– Larrañaga has reached triple-digit regular season victories in three different DI conferences and at three DI different schools, as he won 101 in the MAC while at Bowling Green (1986-97) and 165 in the CAA while at George Mason (1997-2011), becoming the first coach in history to do so.
– With 111 ACC wins (regular season and tournament), Larrañaga passed Dave Odom for sole possession of the No. 13 spot on the all-time leaderboard.
– For the first time this season, Miami used a starting lineup of McGusty, Moore, Waardenburg, Walker and Wong.
– The start for Walker, which came on his 21st birthday, was his first of the season and 17th of his career.
– As announced prior to tip-off, Miller, who started 20 of Miami's first 23 contests, missed tonight's game with a right leg injury and is day-to-day moving forward.
– Now with 32 steals in ACC play this year, Moore moved from tied for third up to co-second place, alongside Shane Larkin (2012-13), on Miami's ACC-only single-season list.
– Miami rallied from a deficit of 14-plus points to win for the third time this season, as it also did so on 11/29/21 versus North Texas (14) in Kissimmee, Fla., and on 1/5/22 at home against Syracuse (18).
– The Hurricanes improved to 16-1 this season when scoring 65-plus points and won their 15th such game in a row.
– The other time in 2021-22 the Hurricanes had five double-digit scorers was on 1/26/22 at Virginia Tech, with McGusty (19), J. Miller (18), Moore (13), Waardenburg (12) and Wong (12) reaching that mark.
– This is the 10th time this season Miami has posted double-digit steals, including the seventh in the last 10 outings.
– The Hurricanes, picked No. 12 in the ACC preseason poll, now have as many wins (17) this year as they had losses last year, in three fewer games.
– Miami improved to 6-6 on the season when trailing at halftime, including 4-3 in conference play.
– In two matchups with Georgia Tech this season, the Hurricanes held Devoe to 10-of-26 shooting (38.5 percent) from the field.
– Wong's free-throw attempt with 9:42 on the first-half clock was Miami's first attempt from the line in 51:26 of game action, dating back to the final eight seconds of the matchup with Notre Dame on 2/2/22.
– The Hurricanes outscored Georgia Tech by 12 points, 16-4, over the last 5:35 of the first half, as well as made six of their last eight field goals of the frame compared to a 1-of-7 mark at the other end to close out the half.
– Six players—four on Georgia Tech and two on Miami—had four-plus fouls in the game, with Sturdivant and Moore both fouling out for the visitors.
– Walker, who made his 75th appearance as a Hurricane, scored double-digit points for the 20th time, including the fifth this year.
– Walker's previous eight-rebound performance in 2021-22 was on 2/2/22 versus Notre Dame, while his other 26-minute outing was on 11/13/21 against UCF.
– Walker owns four prior outings in which he made six field goals, with the most recent one on 3/10/21 against Clemson in the ACC Tournament in Greensboro, N.C.
– Waardenburg scored in double figures for the 20th time, including the eighth this season.
– The only other games in which Waardenburg had five assists came on 1/8/22 at second-ranked Duke and on 11/13/18 versus Stephen F. Austin, while his previous eight-rebound outing this year was against Florida A&M on 11/21/21.
– Waardenburg's previous outing with six made free throws was on 2/8/20 at Florida State.
– Wong tallied double-digit points for the 54th time, including the 21st in 2021-22.
– Moore, who picked up his fourth foul with 11:59 remaining, recorded his 45th five-assist outing, including his eighth this year.
– Moore, who reached 175 steals as a collegian, logged double-digit points for the 73rd time, including the 16th in 2021-22.
– McGusty registered double-figure points for the 85th time, including the 57th at Miami and 22nd this season.
– The other outing in which McGusty had four steals this year was on 1/18/22 against North Carolina.
– Joseph's prior career highs in rebounds (five) and minutes (22) both came in the 1/29/22 game at Georgia Tech, while his previous top mark in assists (two) came on four occasions, including in that prior matchup with the Yellow Jackets.