MBB Drops 71-68 Heartbreaker at Pittsburgh
PITTSBURGH – The University of Miami men's basketball team led by eight with under three minutes to play Saturday afternoon at the Petersen Events Center, but could not hold on in a narrow 71-68 setback at Pittsburgh.
Fifth-year senior guard Jordan Miller scored a team-high 18 points, including 14 in the first half, for No. 20/19 Miami (16-5, 7-4 ACC) in front of a sold-out crowd of 12,508.
After a sluggish start offensively, the Hurricanes went on an 8-0 run in 67 seconds and then, after a Pittsburgh (15-7, 8-3 ACC) basket, followed it with a 7-0 surge in 93 seconds. The 15-2 burst in just 3:26 included six straight made field goals and 10 points by Miller, helping Miami turn a four-point deficit into a nine-point edge, 26-17, with 5:25 on the first-half timer.
The Hurricanes upped the run to 20-5 and the lead to a game-high 11, 31-20, with 2:35 to go in the frame, but the Panthers scored eight of the last 10 points and Miami took a 33-28 advantage into the locker room.
In the first eight minutes of the second half, Miami shot 4-of-5 from 3-point range and pushed its lead back to 11 multiple times, including to 53-42 with 12:13 to go. The Panthers, though, would not go away and closed within three, 61-58, with 5:38 on the clock.
The Hurricanes responded with a 7-2 burst to stretch the lead back to eight, 68-60, with 2:26 to play, but Pittsburgh scored the next nine points to go in front, 69-68, with 26 seconds left. It marked the first lead for the home team since 8:01 remained in the first half.
Miami had multiple chances to regain the lead, but the Panthers held on and hit a pair of free throws with 2.5 seconds left to make it a game-ending 11-0 run over the final 2:03.
After starting 5-of-17 from the floor, Miami went 21-of-36 the rest of the way to finish 26-of-53 (49.1 percent). The Panthers opened 8-of-30, but went 18-of-35 over the last 21 minutes to finish 26-of-65 (40.0 percent).
Pittsburgh went 7-of-14 (50.0 percent) from 3-point range in the second half alone and also ended the contest with a 12-1 edge in offensive rebounds that led to a 17-2 margin in second-chance points.
Miller's 18 points came on 7-of-9 shooting, including a 6-of-7 clip before the intermission. Fourth-year junior guard Isaiah Wong scored 14 points on his 22nd birthday, while third-year sophomore forward Norchad Omier recorded 11 points and a team-best nine rebounds.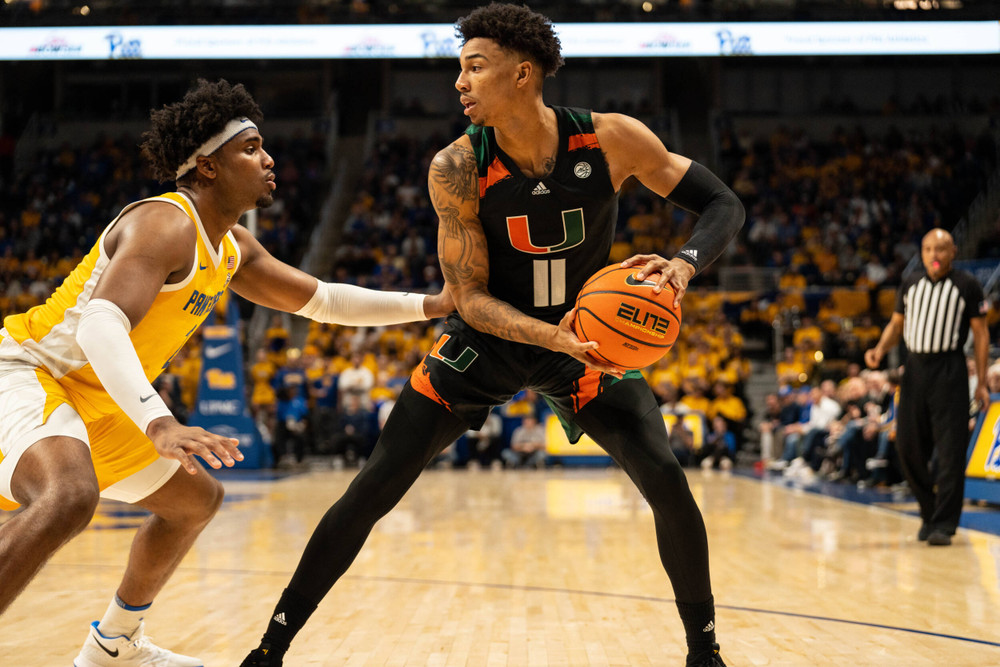 Hinson paced all scorers with 21 points, including 19 on 7-of-11 shooting—that included a 5-of-9 ledger from deep—in the final 21 minutes. Jamarius Burton registered 19 points to go along with game highs in rebounds (10), assists (seven) and steals (three), while fellow graduate student guard Greg Elliott added 11 points for the Panthers.
Their three-game road stint complete, the Hurricanes now return home for a Tuesday night matchup with Virginia Tech, slated for 7 p.m. on ESPNU from the Watsco Center in Coral Gables, Fla.
To keep up with the University of Miami men's basketball team on social media, follow @CanesHoops on Twitter, Instagram and Facebook.
MIAMI HURRICANES POSTGAME NOTES
– Miami went scoreless for the opening 3:54 of action, its longest opening drought in any game this season, but then went on a 9-2 run to take a 9-8 lead with 13:21 on the first-half clock.
– Through five minutes, both teams shot just 2-of-7 from the floor, including a 1-of-6 start for the Hurricanes.
– Each of Miami's last three losses have come by one possession in a Saturday road game: 83-81 (OT) at NC State on 1/14/23, 68-66 at Duke on 1/21/23 and 71-68 at Pittsburgh on 1/28/23.
– Miami entered Saturday with a perfect 9-0 record this season when leading at halftime and last lost when up at the break on 3/27/22 against third-ranked Kansas in the NCAA Tournament Elite Eight in Chicago.
– The last time the Hurricanes dropped a game they led by double digits was on 3/11/22 against seventh-ranked Duke in an 80-76 setback in the ACC Tournament semifinals in Brooklyn, N.Y., after holding an 11-point edge.
– Miller's 14 first-half points tied for the fifth-most by a Hurricane before the break this season, including the co-second-most on the road.
– Wong moved past Dennis Burns (1985-89) for sole possession of ninth place on Miami's all-time scoring list, now owning 1,608 points.
– Omier's streak of five consecutive double-digit rebounding games came to an end, but he has now posted either 10-plus points or 10-plus boards in all 21 contests this season.