MBB Falls to No. 21 Duke, 85-78, in ACC Semifinals
GREENSBORO, N.C. – Despite losing Third Team All-ACC honoree Norchad Omier to injury after just 66 seconds, the top-seeded University of Miami men's basketball team battled fourth-seeded Duke down to the wire in an 85-78 setback in the ACC Tournament semifinals.
Fourth-year junior guard Isaiah Wong paced No. 14/13 Miami (25-7, 15-5 ACC) with a game-high 22 points, but No. 21 Duke (24-8, 14-6 ACC) earned the victory in front of a blue-clad crowd of over 15,000 at the Greensboro Coliseum.
After the Blue Devils jumped out to a seven-point lead, Miami responded with nine straight points in just 2:32 to go ahead, 16-14, with 10:32 left in the half. Duke charged back up by four, but sophomore guard Bensley Joseph scored five points in 17 seconds to put Miami on top, 32-31, with 3:42 on the clock.
The Blue Devils, though, closed the session on 10-4 run and took a five-point lead, 41-36, into the break. Duke shot 57.7 percent (15-of-26) through 20 minutes, including 66.7 percent (4-of-6) from 3-point range. Miami also posted strong clips, at 48.4 percent (15-of-31) and 41.7 percent (5-of-12) respectively, while also forcing eight turnovers.
The Blue Devils scored five of the first seven points coming out of the locker room and took a game-best eight-point edge, 46-38, with 18:59 remaining. Miami, though, progressively chipped away and got it down to one, 66-65, exactly 12 minutes later.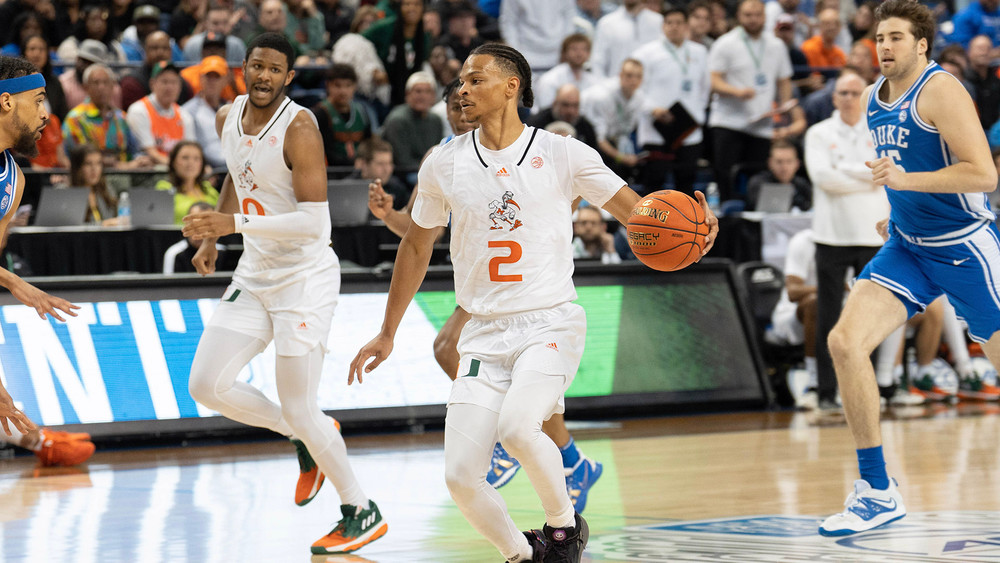 The Hurricanes stayed within one possession until fewer than five minutes remained, but could not climb all the way back without Omier, as Duke held on for the seven-point decision.
Duke finished the night shooting 54.9 percent (28-of-51) from the field, 50.0 percent (8-of-16) beyond the arc and 84.0 percent (21-of-25) at the line. Facing a Miami team without its leading rebounder for the final 38-plus minutes, the Blue Devils also had a 36-24 margin on the glass.
The Hurricanes did force 12 turnovers and committed only six, with just one in the second half, leading to a 14-5 ledger in points off giveaways.
Wong, who started 7-of-9 from the floor through 28 minutes, finished 8-of-15 and also hit all four of his free throws. Fifth-year senior guard Jordan Miller, who played all 40 minutes to set a season high, totaled 17 points on 8-of-13 shooting to go along with a team-best seven rebounds and three assists.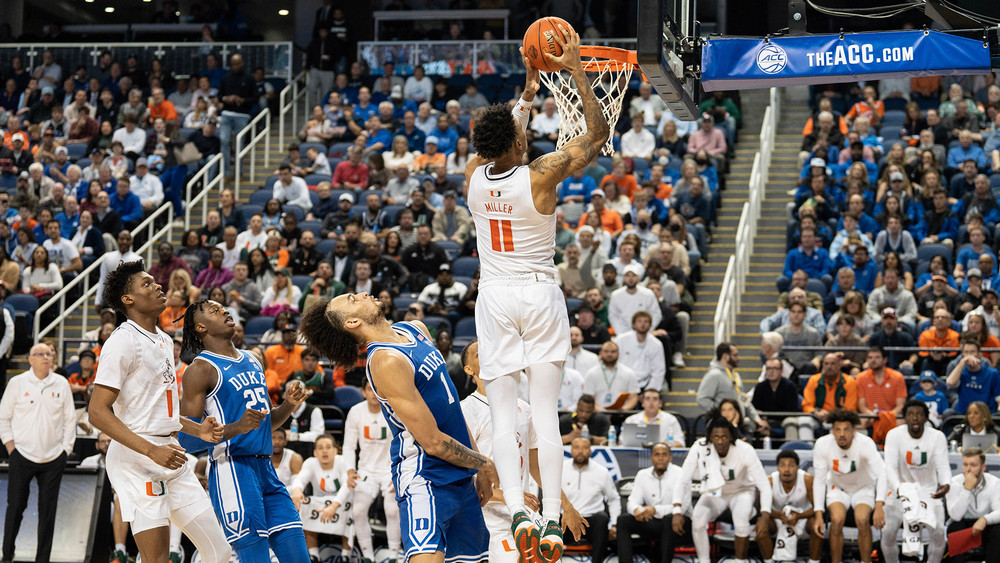 Third-year sophomore guard Nijel Pack scored 11 points, while Joseph and fellow sophomore guard Wooga Poplar each logged 10, the latter tying a career high with four assists.
Freshman center Kyle Filipowski logged 17 points and a game-best 11 rebounds for Duke, shooting 8-of-9 from the field. Dariq Whitehead notched 16 points, while fellow freshman guard Tyrese Proctor scored 15.
Freshman forward Mark Mitchell recorded 14 points for the Blue Devils and junior guard Jeremy Roach, who went 6-of-7 at the stripe, added 13. Each team had five double-digit scorers in the game.
The Hurricanes now await their matchup for the NCAA Tournament, as they are set to make the field for the sixth time in head coach Jim Larrañaga's 12-year tenure, including the second in a row.
To keep up with the University of Miami men's basketball team on social media, follow @CanesHoops on Twitter, Instagram and Facebook.
MIAMI HURRICANES POSTGAME NOTES
– Omier, who suffered a right ankle on a rebound on just the third possession of game, played 21-plus minutes every other Miami game this season and had 10-plus points and/or 10-plus rebounds in all but one, including a double-double in 14 contests.
– Miami fell to 19-18 all-time in the ACC Tournament, including 13-11 under Larrañaga, 0-4 versus Duke, 12-3 as a higher seed, 4-1 as the top seed, 6-4 as a top-four seed, 12-13 as a single-digit seed, 1-4 against fourth seeds, 13-17 versus single-digit seeds, 3-12 in second games, 1-4 in the quarterfinals, 0-2 in 1v4 games, 12-8 in Greensboro and 14-10 in North Carolina.
– Friday marked the first time Miami trailed at halftime since 1/16/23 in an eventual 82-78 home victory over Syracuse.
– The Hurricanes have played 44 games (31-13) against ACC foes over the last two seasons and Friday was just the second time they lost by greater than two possessions.
– Duke's 85 points set a record for the most by a Miami opponent in the ACC Tournament, eclipsing the mark of 82 set three times.
– The Blue Devils' 54.9 percent (28-of-51) field-goal clip also set a new high mark for a Miami foe in the ACC Tournament, surpassing the 52.8 percent (28-of-53) ledger by North Carolina on 3/9/17.
– Duke became just the third team to hit at least half its 3-pointers versus the Hurricane in an ACC Tournament contest.
– The 21 made free throws by the Blue Devils ranks as the third-most by a Miami opponent in ACC Tournament play.
– Filipowski's 88.9 percent (8-of-9) ledger from field the set the record for the best field-goal percentage (min. five FGM) by an opposing player against the Hurricanes in ACC Tournament action, eclipsing the 80.0 percent (8-of-10) mark by Duke's Paolo Banchero on 3/11/22.
– Whitehead became the seventh player to make six-plus free throws without a miss against Miami in an ACC Tournament affair.
– Wong moved past Durand Scott (2009-13) for sole possession of fourth place on the Hurricanes' all-time made free throws list with 396.
– Wong eclipsed Anthony King (2003-08) for sole possession of ninth place on Miami's all-time games played leaderboard with 126.
– Wong surpassed both John Salmons (1998-2002) and Eric Brown (1985-89) for sole possession of fifth place on the program's all-time starts list with 107.
– Wong moved past Mike Wittman (1964-67) for sole possession of seventh place on the Hurricanes' all-time 20-point games leaderboard with 34.
– Fourth-year junior forward Anthony Walker played a season-high 24 minutes, seven above his prior top mark, compiling six points and four rebounds.
– Freshman forward AJ Casey played a career-high-tying 15 minutes, matching the mark he set on 11/27/22 at UCF.