Understanding the Assignment
CORAL GABLES, Fla. – Pride and disappointment might not be similar emotions, but they can assuredly go together.
They both fit the bill in describing the most recent showing by the University of Miami men's basketball team. Trailing Florida State by 24 points at halftime and by 26 early in the second frame, the Hurricanes cut the deficit to one and missed a buzzer-beater to fall, 61-60, at a sold-out Watsco Center.
Those emotions, along with many others, were on the mind of assistant coach DJ Irving when he left the arena Saturday evening after another thrilling installment of the Sunshine State rivalry.
"I was definitely happy our guys fought back. It was exciting to see that they could compete and stay locked in for that long, even being down so much—down 26 at one point—and not just give up," Irving shared. "We showed that against Syracuse, as well. It's good that we know going forward that we're capable of doing that, but you definitely never want to be down that match. Happy that we were able to come back, but also anxious to figure out why we got down so much."
Outscored 43-19 in the first half, Miami shot 26.1 percent (6-of-23) overall and 8.3 percent (1-of-12) from 3-point range. It forced just two turnovers and committed seven, while getting outscored 26-10 in the paint and 6-0 on fast breaks.
The Hurricanes then posted a 41-18 margin in the second half, shooting 45.2 percent (14-of-31) from the floor and 46.2 percent (6-of-13) beyond the arc. They forced 15 turnovers and committed only three, as well notched a 16-14 edge in paint points and an 11-0 advantage in fast-break points.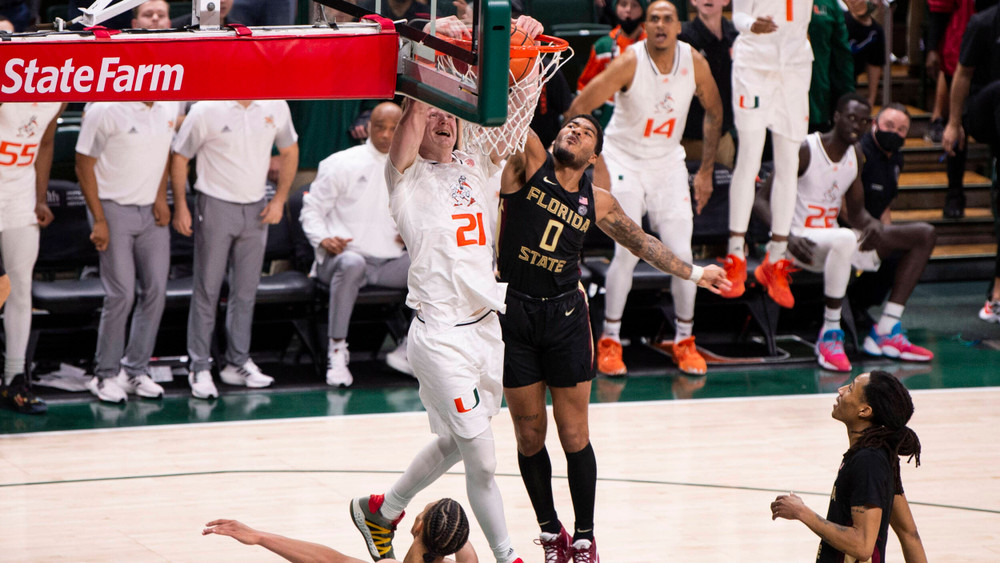 To Irving, after reviewing the film, much of the change between the first half and the second came in two specific areas.
"I think it was maybe us thinking a little bit too much in the beginning because Florida State playing that switching-one-through-five defense, kind of like a matchup zone," Irving said. "I thought we were thinking a little bit too much in the beginning. In the second half, we did a good job of upping our defensive pressure, which led to our offense. So, I think, moving forward, we've just got to [get to that] a little sooner."
Third-year sophomore guard Isaiah Wong finished the afternoon with 22 points, including 18 in the second half, and eclipsed 1,000 points as a collegian with his second basket of the game. Sixth-year redshirt senior guards Kameron McGusty and Charlie Moore scored 12 apiece for Miami (14-5, 6-2 ACC).
The three of them are veterans, as are the Hurricanes' other two starters, sixth-year redshirt senior forward Sam Waardenburg and fourth-year junior guard Jordan Miller. Together, the five own a combined 531 collegiate appearances, including 375 starting nods.
That experience is why Irving is not concerned about an emotional letdown carrying over from the tough defeat when the Hurricanes they take the court Wednesday at 7 p.m. at Virginia Tech.
"I think—because we've got so many veteran guys that have been around so long—I'm not really worried about that. These guys are mature," Irving remarked. "Most of these guys are a year away from being professionals. They're already acting like professionals. So, they know what we've got to do going into the next game. Going into [Monday's] practice, they understand the assignment in being ready to go."
Miami's matchup with the Hokies, at Cassell Coliseum in Blacksburg, Va., pits two familiar teams against one another. The two sides meet twice a year due to ACC scheduling and have played some memorable contests of late.
Two of the last three games went to overtime—including an exhilarating triple-overtime Miami road win on Feb. 19, 2020 in which Wong had 27 points and 12 rebounds—and the other one was a two-point decision. While the rosters are not completely the same, there are some familiar faces on both sides.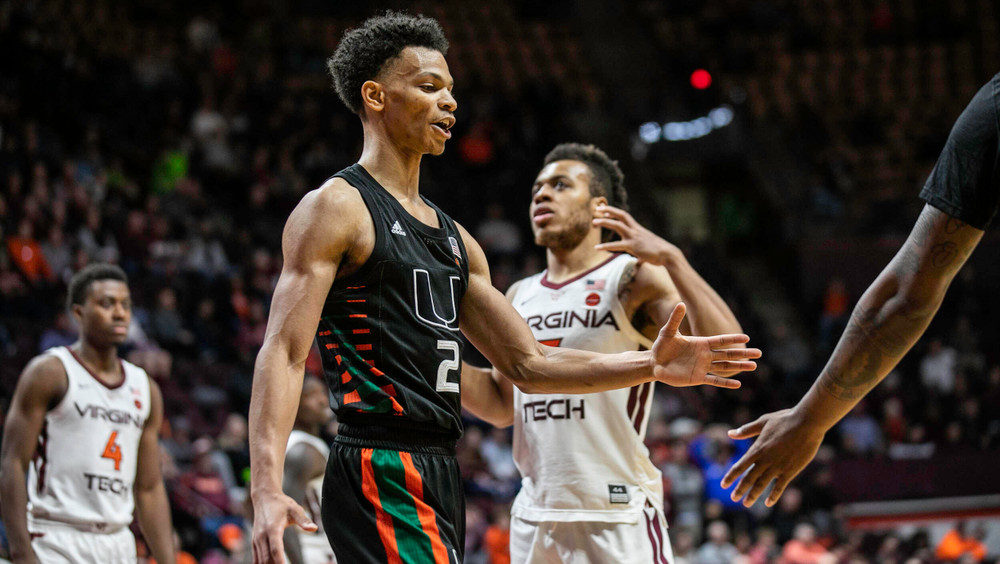 Furthermore, despite Virginia Tech's 10-9 (2-6 ACC) record, the Hokies are currently No. 40 in KenPom, boasting both a top-55 offense and defense.
"Definitely, as a coaching staff, we've been talking about that; they're a lot better than their record," Irving said. "The games that they've been losing have been coming down to the wire, so I definitely expect another one, [particularly] knowing the history of Miami and Virginia Tech, especially over the last couple years. Kam and Isaiah have all been a part of these [recent close] games. I definitely expect … on their home court, it's going to be a battle to the end."
Virginia Tech, under third year head coach Mike Young, is known for its high-level offensive sets. It also has two standout forwards—graduate student Justyn Mutts and redshirt senior Keve Aluma—who form one of the finest frontcourts in the ACC.
Mutts is averaging 10.5 points and a team-best 7.3 rebounds per game, while Aluma, a reigning Second Team All-ACC honoree, is posting 15.9 points and 6.7 boards per contest.
"Very, very meticulous and detailed in how they run their stuff. [They use] a bunch of different actions; actions leading to more actions," Irving said. "[They are] always trying to go to their two big fellas, Mutts and Aluma. It's very different than what we've been playing against in Florida State, Duke and North Carolina. Those teams are trying to get up and down the court as quickly as possible; these guys are taking their time, using the shot clock and getting it to their bigs."
Given the Hokies' reliance on their talented frontcourt duo, Miami will need the players tasked with guarding those players to step up.
That is why Irving feels Miller, who checks in at 6-foot-7, could be poised to be a key player Wednesday night, as could some of the team's reserves.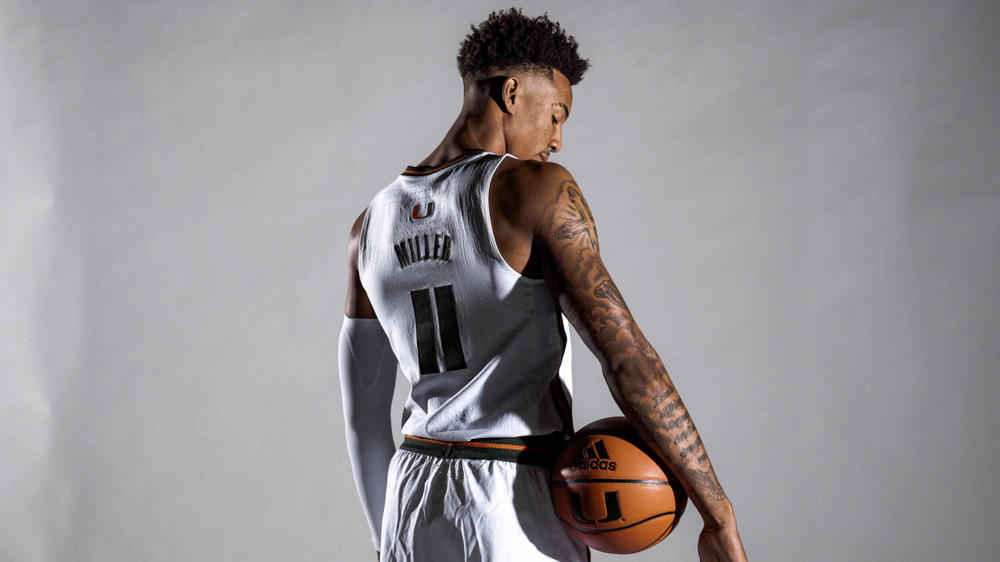 "I think, obviously, our bench can always help. I think because Jordan was in foul trouble the last game, he's going to be a key to this game, especially with their two bigs being the focal point of their offense," Irving shared. "I feel like Jordan can come up big for us and help us win this game, for sure."
The game in Blacksburg will be televised live on ACC Network HERE, with Angel Gray and Dan Bonner on the call. Joe Zagacki will have the radio broadcast on AM 560 Sports WQAM HERE, while live stats can be found HERE.
After playing Virginia Tech, Miami has a second straight road contest, slated for Saturday at noon, live on RSN from McCamish Pavilion in Atlanta.
To keep up with the University of Miami men's basketball team on social media, follow @CanesHoops on Twitter, Instagram and Facebook.