Wong Named to USBWA Oscar Robertson Trophy Midseason Watch List
CORAL GABLES, Fla. – Isaiah Wong of the University of Miami men's basketball team is on the USBWA Oscar Robertson Trophy Midseason Watch List, as announced Thursday afternoon.
Chosen by the USBWA board, the group includes 50 players from across the nation at the DI level. Wong is one of seven from the ACC, second-most of any league, alongside Wake Forest's Tyree Appleby, North Carolina's Armando Bacot, Duke's Kyle Filipowski, North Carolina's Caleb Love, NC State's Terquavion Smith and Clemson's Hunter Tyson.
A fourth-year junior guard, Wong is averaging a team-best 16.7 points per game, sixth-best in the ACC, for No. 17/16 Miami (15-3, 6-2 ACC). He owns seven 20-point performances, including six in the team's last nine contests.
In addition to his scoring prowess, Wong's 1.6 steals and 3.8 assists per game both lead the Hurricanes, placing him seventh and No. 13, respectively, in the ACC. The Piscataway, N.J., native is also sixth in the league in free-throw percentage (83.0), ninth in assist-to-turnover ratio (2.03) and No. 12 in in field-goal percentage (45.5).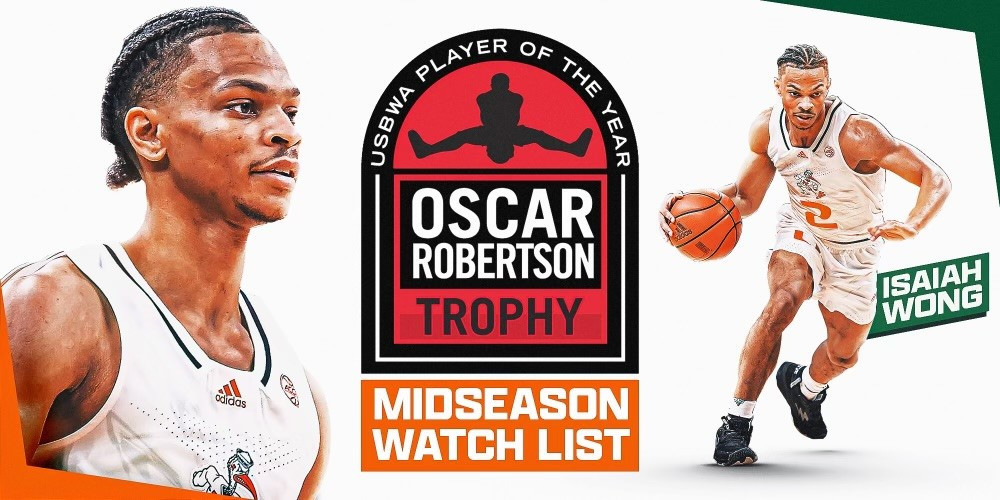 The 36 points Wong put up against Cornell on Dec. 7, 2022, remain the top total by any player in the conference this season, while his 10 assists versus St. Francis (PA) on Dec. 17, 2022, tie him for the third-highest mark in the league this year. He earned USBWA National Player of the Week status on Dec. 13, 2022, and is a two-time ACC Player of the Week.
Since the 1958-59 season, the USBWA has named a National Player of the Year. In 1998, the award was named in honor of the University of Cincinnati Hall of Famer and two-time USBWA Player of the Year Oscar Robertson. It is the nation's oldest award and the only one named after a former player.
At the conclusion of the regular season, the entire USBWA membership will vote for the award. The winner of the award will be announced at the Final Four in Houston with the formal presentation to follow at the annual USBWA Awards Luncheon hosted by the Missouri Athletic Club in St. Louis.
Wong and the Hurricanes resume play Saturday at noon against Duke, live on ESPN from Cameron Indoor Stadium in Durham, N.C.
To keep up with the University of Miami men's basketball team on social media, follow @CanesHoops on Twitter, Instagram and Facebook.