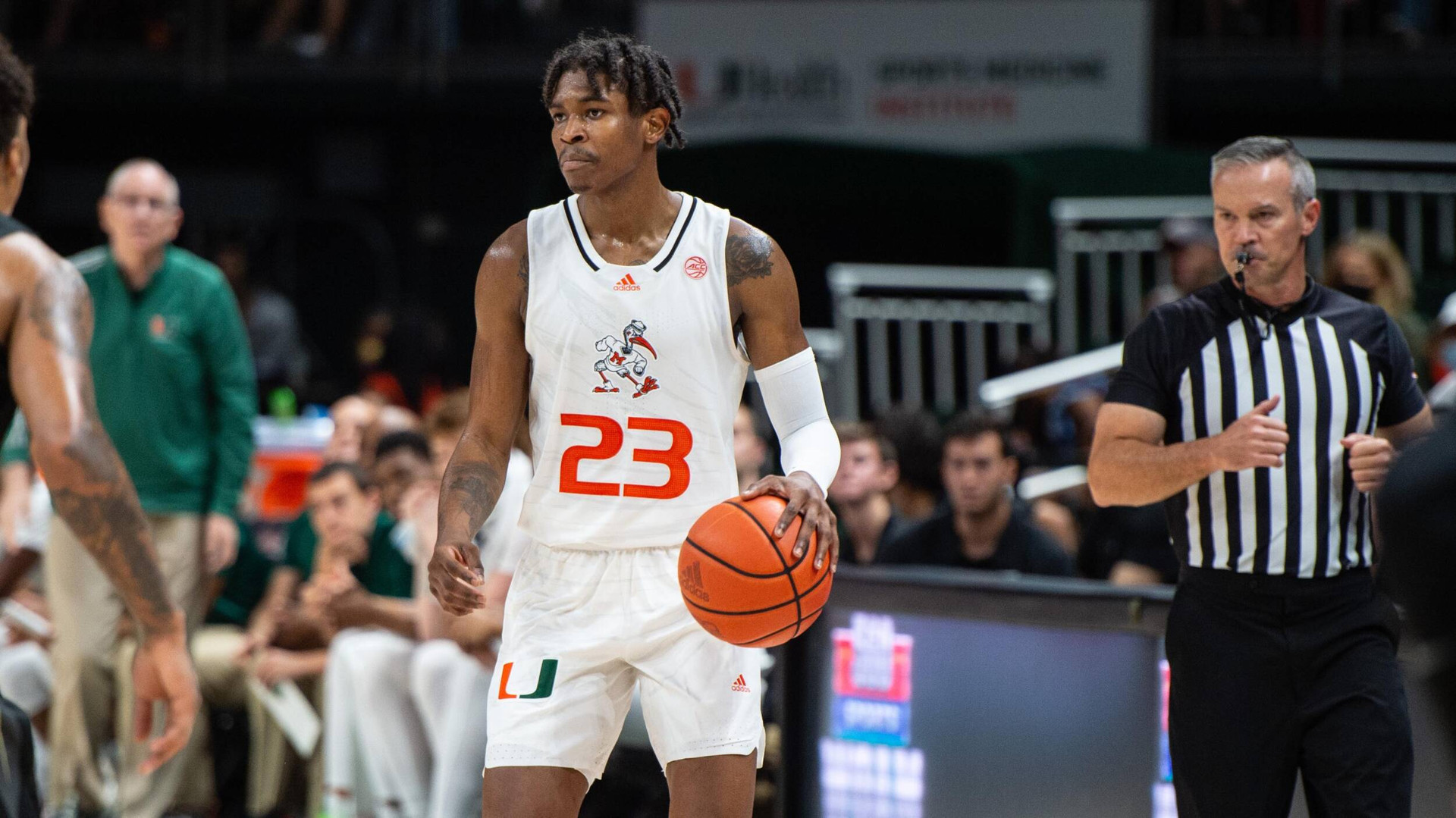 CORAL GABLES, Fla. – Every game is a learning experience.
Sometimes, games also confirm what is already known. That was the case for the University of Miami men's basketball team in its narrow 95-89 setback to UCF Saturday afternoon at the Watsco Center.
One clear takeaway from the defeat was something the Miami (1-1) coaching staff already knew and is aware must be addressed moving forward.
"Well, clearly the rebounding is an issue, especially getting ready to play FAU, which is one of the top offensive rebounding teams in the country," head coach Jim Larrañaga said. "It's a weakness that we've got to figure out how to improve."
Every team, no matter its caliber, has areas that need work. Identifying those deficiencies so they can be fixed or, at least, masked is essential.
As the Hurricanes prepare for the aforementioned matchup with Florida Atlantic, set for Tuesday at 6 p.m. at Abessinio Court at FAU Arena in Boca Raton, Fla., Larrañaga has his team trying to do just that.
"We just have to be more conscious of it. Our players have to take more responsibility, they have to be more physical and have to be prepared to block their men out," the two-time ACC Coach of the Year said. "We were doing a lot of switching and that sometimes creates a problem because it creates mismatches; we end up with our big players guarding perimeter players away from the basket and our guards underneath trying to guard their bigs. So, we're probably going to have to make an adjustment there."
Although Miami certainly did not get the result it was looking for, there were some positives from the game. Most notable was the way the Hurricanes got to the free-throw line, as they went 31-of-39 from the stripe.
The 31 makes tied for the most by a Miami team in Larrañaga's 11-year tenure, while the 39 attempts set a new high during that span.
Sixth-year redshirt senior guard Kameron McGusty alone went 14-of-17 at the line, both numbers career highs and the latter tied for third-most by a Hurricane since the program rebirth (1985-86), en route to a career-high-tying 28 points.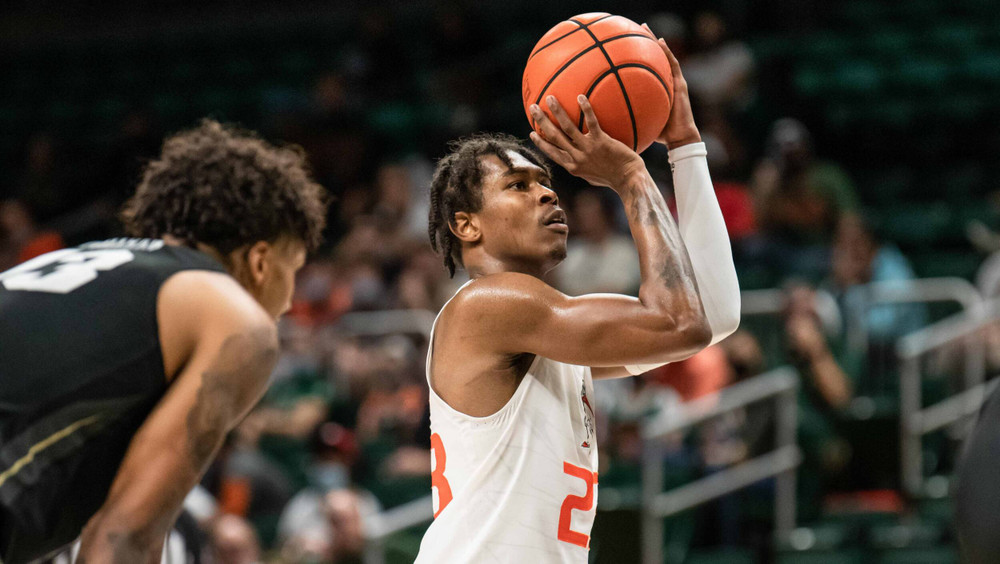 "The first thing is, in that particular game against Central Florida, there were a lot of possessions," Larrañaga said of Miami's ability to get to the line so often. "That may be more of the case this year; we'd like to play in more of an up-tempo situation. Secondly, our leading scorers—Kam McGusty and Isaiah Wong—are very, very good at getting to the basket. So, that's going to be something that we keep trying to develop more and more."
Wong, a third-year sophomore guard, hit all five of his free throws and finished with 20 points, 15 of which came in a scintillating three minutes and 50 seconds of action. Another third-year sophomore, forward Anthony Walker, also scored in double figures, notching 12 points for his 13th double-digit point total in his last 16 outings, dating back to last season.
In addition, sixth-year redshirt senior forward Sam Waardenburg finished with 16 points, setting a new career high. He is averaging 13.0 points per game through the first two outings of 2021-22, his highest mark in any two-game stretch of his career.
The strong play comes after the Auckland, New Zealand, native missed all of last season due to a left foot injury and went over 600 days between competitive games.
"Sam is our best frontcourt defender, our best shot blocker and probably our best defensive rebounder over a long period of time. His versatility—because he's going to play both the four and the five—is going to be very impactful," Larrañaga shared. "His ability to hit the open shot—especially the 3-point shot—will create opportunities for the other players to drive the ball to the basket. Sam's off to a good start and we want him to keep building on that."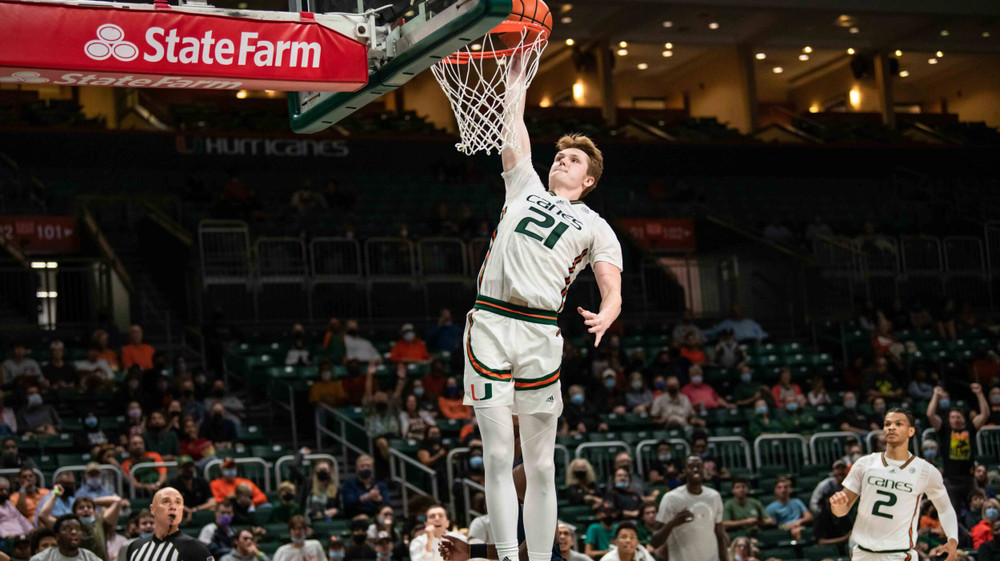 Up next for Waardenburg and the Hurricanes is that South Florida showdown with Florida Atlantic. The Owls are 1-1 on the young season after dropping a 99-92 road result at New Mexico and posting a 78-56 home win versus Warner.
Junior guard Michael Forrest is the go-to performer for Florida Atlantic, leading the team in points (16.5), rebounds (6.5) and assists (3.5) per outing.
The Lauderhill, Fla., native is not the only Owl, though, whom the Hurricanes will have to lock in on to succeed defensively Tuesday night.
"[Florida Atlantic is] just a terrific offensive team, very well-balanced," Larrañaga said. "They've got a great point guard [in Forrest]; he had 26 in their first game. They've got an excellent freshman, [Alijah Martin], he's a two-guard who can really shoot. And they're very big. They're all over the offensive glass and that's a major concern to us."
One other factor Miami will have to deal with when it takes the court for opening tip—and likely in the hour leading up to that—is a rowdy, fired-up crowd of Florida Atlantic fans.
In what will be the Hurricanes' first non-conference true road game since a Dec. 2, 2019, victory at Illinois—that was 715 days before this one—the team will be headed into a hostile environment. That is something Larrañaga will indeed address with his team, but it will not be a prime focus.
Instead, most of the attention will be on doing what Miami sets out to do from a strategic standpoint, as is the case each time it plays a game.
"Well, we'll talk about [the crowd], certainly, but the focus has to be on the game, executing the game plan. When you execute your game plan, you put yourself in a good position to win the game," Larrañaga said. "It's when you don't execute, when you don't rebound, when you don't defend, when you don't switch properly or you don't trap properly, that's when you run into problems. The fans can be a major factor in the game if they get behind the home team and give them energy, but if the visiting team can get out in front and quiet the crowd, that's always very helpful."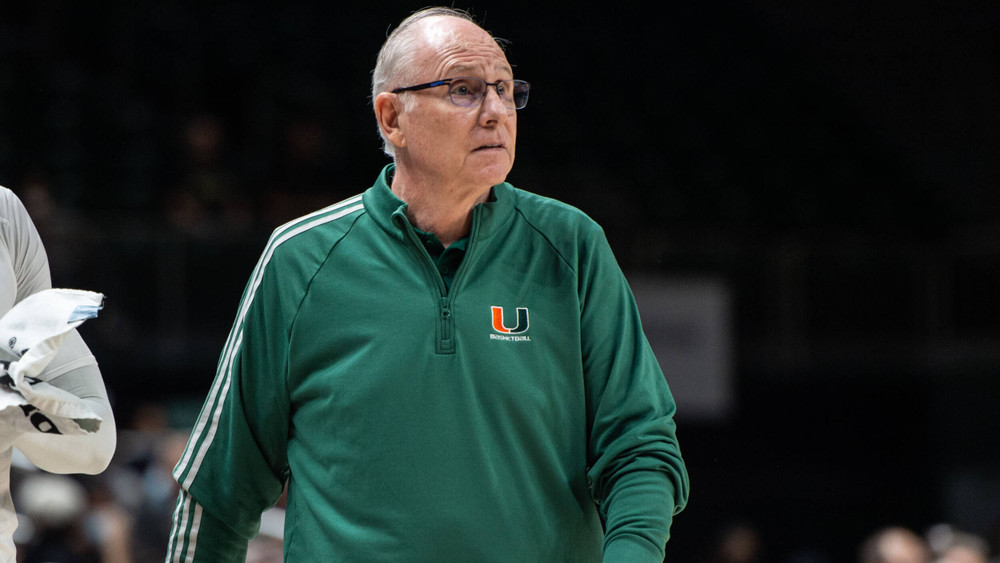 The Hurricanes are 24-1 all-time against Florida Atlantic, tied for their eighth-most wins against any opponent and tied for their fifth-most against current Division I programs. Miami's .960 winning percentage in the series is its best all-time against any foe it has played at least nine times.
On the road, Miami owns a 5-1 ledger against the Owls, with the lone setback coming in a 74-73 overtime decision on Dec. 3, 2002. That was the last time the two teams met in Boca Raton, with the Hurricanes winning nine in a row since then, including notching a 74-60 home victory on Nov. 8, 2019, in the most recent meeting.
Tuesday's matchup will be televised live on CBS Sports Network HERE, with Dave Ryan and Bob Wenzel on the call. Joe Zagacki will have the radio broadcast on AM 560 Sports WQAM HERE, while live stats can be found HERE.
After its visit to Florida Atlantic, Miami returns home to Coral Gables, where it hosts Florida A&M Sunday at 8 p.m., live on ACC Network from the Watsco Center.
To keep up with the University of Miami men's basketball team on social media, follow @CanesHoops on Twitter, Instagram and Facebook.