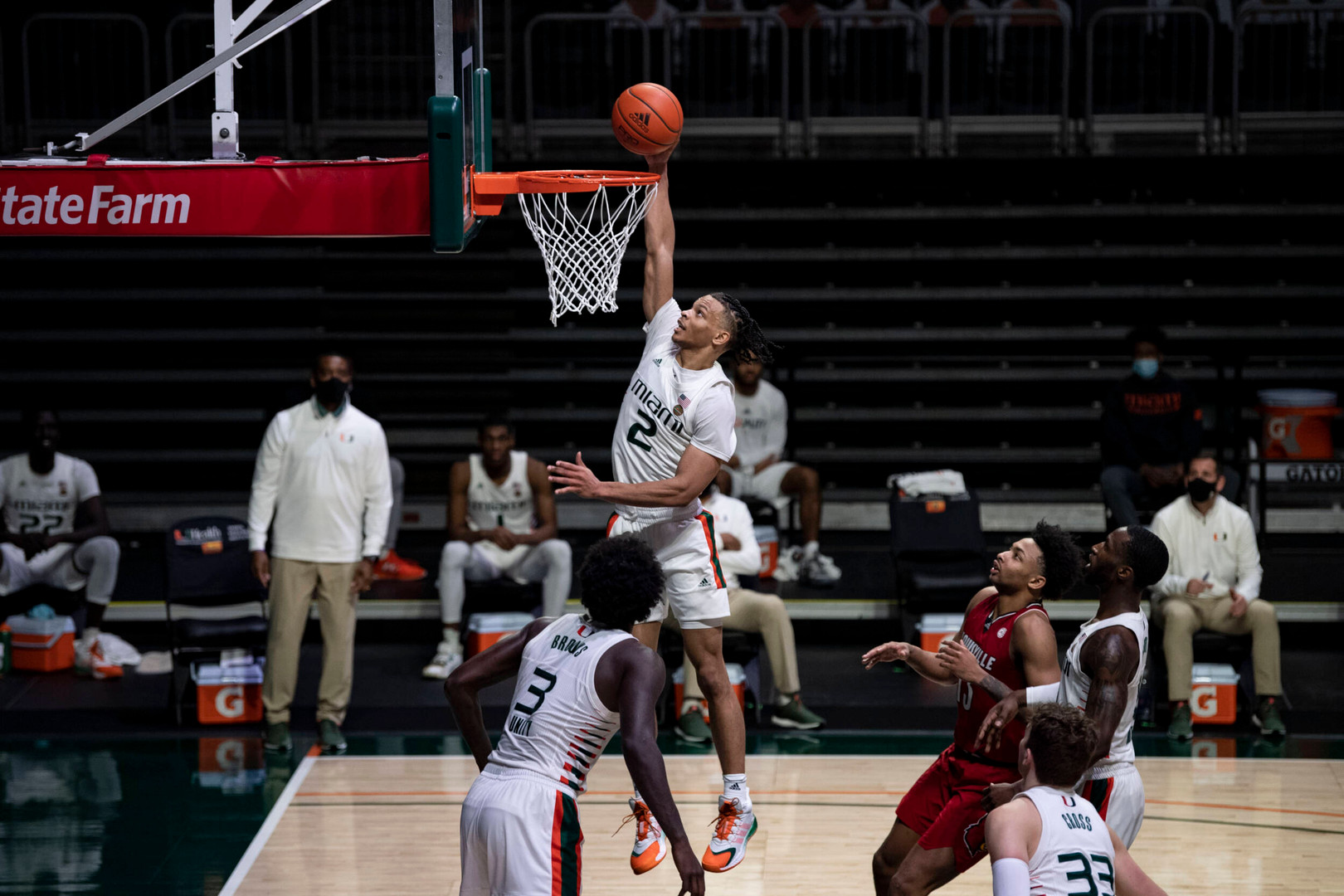 CORAL GABLES, Fla. – Isaiah Wong arrived at Miami with a glittering, attention-grabbing resume.
As a high school senior, he'd been rated among the top 100 players in the nation by all of the major scouting services. He helped lead his team to the state championship game. And after averaging 22 points and 7.4 rebounds per game, he'd been recognized as the Philadelphia Catholic League's most valuable player for a second straight year.
More than a handful of top college programs – including Villanova and Connecticut, among others – recruited the guard, hoping to land Wong on their rosters. Ultimately, it was Miami and the opportunity to play in the ultra-competitive ACC that intrigued Wong.
It didn't take long for the freshman to learn, though, that college basketball – particularly in the ACC – was tougher than anything he'd experienced on the court prior.
The shots he'd made all his life weren't falling the way they had in the past. He began overthinking the game he'd loved all his life. Frustration and uncertainty set in.
"The whole process was hard. It's hard going through the process of trying to figure out what is a good play, what is a good decision to make on how to play defense, what spots you need to play on defense. I was struggling a little bit and I was really getting into my own head," said Wong, who averaged a meager 3.1 points during his first 18 games as a Hurricane. "I'd come out of every game and feel like it was me versus me. I was the only one stopping me from doing what I needed to do."
A year later, everything is different.
As the Hurricanes continue making their way through a challenging, injury-plagued season, Wong has emerged as one of Miami's leaders – and one of the ACC's most improved players.
Through 19 games, the sophomore is averaging a team-high 17.4 points for the Hurricanes. He is second on the team with 102 rebounds, 44 assists and 24 steals. And in the ACC, only three players – Pittsburgh's Justin Champagnie, Duke's Matthew Hurt and Louisville's Carlik Jones – have higher scoring averages.
The turnaround, Wong's coaches say, has been a testament to the guard's sheer determination.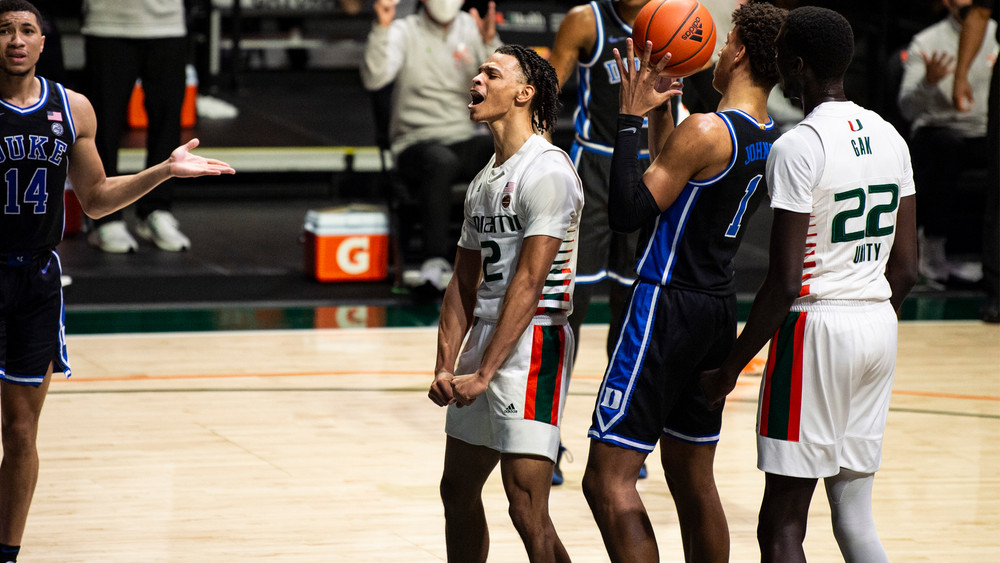 "He had an adjustment period. Everybody saw it. But to his credit, it made him work harder," said assistant coach Adam Fisher, who recruited Wong and worked with him extensively during last season's challenging stretch. "He's probably one of the hardest workers I've been around in coaching."
Added head coach Jim Larrañaga, "Zay, early on in his freshman year, was learning so much that it made him think too much. When you're learning, you can't play. You're thinking 'Should I go left or should I go right? Should I deny the guy I'm assigned to or let him catch the ball? Should I help now on this screen or stick with my man?' There was a lot going through his mind. But once he learned it – and by [last] February, he'd learned it – he became very, very confident. He had a great February and March of his freshman year and he's just kept going."
Wong credits both Fisher and Larrañaga with helping him find his footing. There were more than a few times Fisher and the guard had lunch on campus, their conversations focused on anything but basketball. Shooting sessions in the gym became more like games than drills.
Larrañaga encouraged Wong to do a bit more film study, a process the guard embraced, particularly during individual meetings with his coaches. Wong's family helped him navigate those first few months on campus, too, with his mother Lachelle Wong and his brothers Brian, Tyler and Elijah providing encouragement and making regular appearances at Miami's games.
When veteran guards Chris Lykes and Kameron McGusty missed a February game at North Carolina last year, Wong was called on to make his first start.
Then, he says, things began changing.
"I feel like I got over the hump just playing my natural game. I'd see a couple baskets go in and ever since that North Carolina game, I felt real comfortable. I felt like I knew what my role was," said Wong, who had 19 points against the Tar Heels. "I just went off, going with that energy, knowing that I had to play hard every possession. We had a lot of good guards [last] year. I knew playing defense was something I was in the game for, so I played defense the whole time and I got a lot of minutes. It felt real good. I felt like after that, coming into games was easier and it felt like high school again, just going through that competition."
Wong finished his freshman season as a regular starter and Miami's fourth-leading scorer behind veterans Lykes, DJ Vasiljevic and McGusty. He went into the offseason determined to get bigger, faster and stronger.
And even amidst the uncertainty of last summer, when gyms were closed and workouts paused because of the COVID-19 pandemic, Wong found ways to get his work in, his parents buying him a hoop at home the rising sophomore used regularly.
He transformed his body, adding 20 pounds of muscle to his 6-foot-3 frame, knowing more strength would make him more of a force in the paint, when needed. He began studying the games of NBA guards like Chris Paul, Kemba Walker, Kyrie Irving and Ja Morant.
He hasn't stopped working and improving since – and opponents have noticed.
"He's become the guy now that's No. 1 on the scouting report. He's going to be double-teamed. He's going to be keyed on, which last year he wasn't," Fisher said. "He's had to adjust to that and I think that's a huge credit to him. It's tough to maybe be the third, fourth guy on the scouting report and then be the No. 1 offensive option. And he's still scoring 20, 25 points. His ability to adjust in-game, too. He's had a couple slow starts and then he's been able to read what they're doing and he turns zero points in the first half to 17, 18 points and five, six assists. That's what I'm proud of him about – his ability to adjust."
Said Larrañaga, "In Isaiah Wong, you see a kid who's continued to improve. He's improved on his scoring. He's improved on his assist-to-turnover ratio. He's improved his defense. He's improved his rebounding. And he has a great mindset. The other thing I admire a lot about a player like Isaiah is he doesn't get too high or too low."
For his part, Wong says his work isn't finished. There is still plenty of room for him to continue growing in the game.
He wants to continue to improve on his passing. He hopes to become one of Miami's leaders – even if he prefers leading by example instead of delivering impassioned locker room speeches.
And he wants to make sure he does his part to help the Hurricanes finish the season strong and make a deep run in the ACC Tournament.
"At the end of the day, it's a team game and I feel like I need to get my teammates the ball so we can help each other," Wong said. "And hopefully, we can have most of our players come back for the ACC Tournament. I feel like we can do damage in the ACC Tournament if we have our players healthy by then. We're going to fight until we can't fight anymore. We're going to put it all on the line. … We're all in this together."