MBB Defeats St. Francis Brooklyn, 79-56
CORAL GABLES, Fla. – The University of Miami men's basketball team topped St. Francis Brooklyn, 79-56, Wednesday night at the Watsco Center.
Miami (5-1) third-year sophomore guard Nijel Pack set a season high with a game-high 23 points in the victory and helped the Hurricanes thoroughly dominate play for the final 35-plus minutes.
St. Francis Brooklyn (2-3) opened 5-of-7 from the floor and 4-of-4 at the line, scoring nine straight points and racing out to a 13-5 lead after just 4:25 of action. After that early burst by the visitors, Miami took full control. It allowed an equal 13 points the rest of the half and used a 10-0 surge to build a cushion as high as 14, en route to a 38-26 edge at the intermission.
The Hurricanes continued their improved play at both ends of the floor early in the second session and upped their advantage to 23 points, 57-34, with 12:07 on the clock. Miami kept its lead at 14-plus the rest of the way and claimed its second 20-point triumph of the season.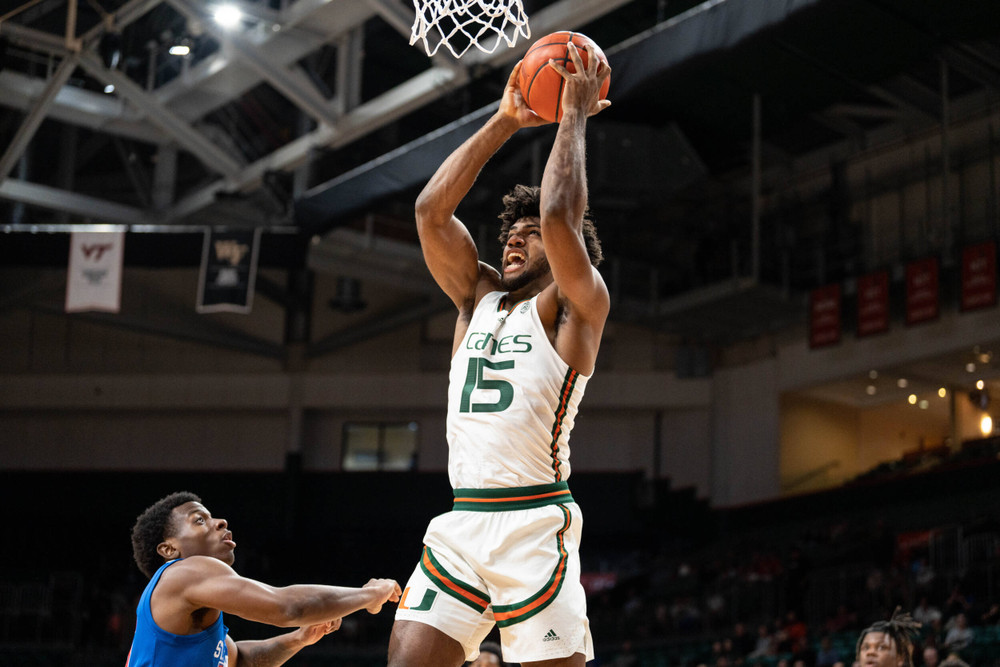 Miami shot 51.9 percent (28-of-54) on the night and held the Terriers to a 35.7 percent (20-of-56) mark. It also outscored St. Francis Brooklyn by 20 in the paint, 42-22, by 20 on fast breaks, 27-7, and by 14 in points off turnovers, 26-12.
Pack's 23 points came on a sensational 9-of-13 clip from the field, including a 3-of-6 ledger at the line. Third-year sophomore forward Norchad Omier posted a 13-point, 10-rebound double-double, his third of the year, on 5-of-7 shooting, adding four steals. Fourth-year junior guard Isaiah Wong scored 10 points and set a career high with a game-high-tying four steals.
Just one Terrier ended the night with double digits in the scoring column, as senior guard Tedrick Wilcox Jr., logged 18 points on 6-of-14 shooting, including a 5-of-10 mark from deep. The rest of the team went just 14-of-41 (34.1 percent) overall and 2-of-8 (25.0 percent) on 3-pointers.
Up next for the Hurricanes is a visit to Addition Financial Arena in Orlando, Fla., for its first true road game of the season, a matchup with UCF Sunday at 5 p.m., live on ESPNU.
To keep up with the University of Miami men's basketball team on social media, follow @CanesHoops on Twitter, Instagram and Facebook.
MIAMI HURRICANES POSTGAME NOTES– From 9:05 of the first half to 12:07 of the second half, a span of just under 17 minutes, Miami outscored the Terriers by 24 points, 39-15. – After starting 5-of-7 (71.4 percent) from the floor, St. Francis Brooklyn shot just 4-of-19 (21.1 percent) the rest of the first half and 15-of-49 (30.6 percent) the rest of the game. – Pack scored 12 points in the first half alone to eclipse his full-game total in each of the past three outings. – Omier now has double-digit points in five of his first six games as a Hurricane, double-digit rebounds in four of them and a double-double in three.
– Along with setting a career high in steals, Wong tied his career best in blocks (two) and his season high in rebounds (six).
– In a career-high-tying 28 minutes, sophomore guard Bensley Joseph dished out a career-best six assists, eclipsing his prior high of four on 2/9/22 versus Georgia Tech. – Freshman forward Danilo Jovanovich made his Miami debut.