MBB Logs 76-65 Victory at Notre Dame
NOTRE DAME, Ind. – The University of Miami men's basketball team earned a 76-65 road triumph Friday afternoon over Notre Dame at Purcell Pavilion at the Joyce Center.
No. 14/16 Miami (13-1, 4-0 ACC) withstood multiple runs by the homestanding Fighting Irish, but a game-high 21 points from third-year sophomore guard Nijel Pack in a return to his home state of Indiana.
"We're always concerned going on the road with what kind of environment we'll be in, how we'll play," Miami head coach Jim Larrañaga said. "And Notre Dame, they shoot the three so well, we just kept emphasizing to our guys, 'You've got to guard the 3-point line.' I didn't think we did a great job, but because our defense and our offense really combined to give us the lead for most of the game, I think our guys played with a lot of confidence down the stretch."
Miami, which made 11 of its first 17 shots behind a 5-of-5 clip by Pack, used a 7-0 run in 53 seconds midway through the first half to take a 25-16 edge with 9:25 on the clock. Notre Dame (8-6, 0-3 ACC) answered with an 11-1 burst in 4:42 and went ahead, 27-26, with 4:20 to go in the frame.
The Fighting Irish went on a late 7-0 surge and, after holding Miami to 1-of-9 shooting down the stretch, took a narrow 34-33 edge into the locker room.
The Hurricanes opened the second session on a 14-4 run, capped by a 3-pointer by Pack, to go in front, 47-38, with 15:05 left. After Notre Dame pulled within two, Miami scored nine straight points, including another Pack long-range make, in 94 seconds to take a then-game-best 11-point cushion, 60-49, with 8:28 remaining.
Miami, which hit seven straight shots in the second half, extended its lead as high as 14 on the way to its seventh straight ACC road triumph and second consecutive undefeated December.
The Hurricanes shot 50.9 percent (29-of-57) from the floor and committed just nine turnovers, while holding Notre Dame to a 44.6 percent (25-of-56) mark and forcing 17 giveaways. Miami had a 25-7 edge in points off turnovers, a 42-30 edge in paint points and a 10-0 margin in fast-break points.
Pack's 21 points, his second-most as a Hurricane, came on 8-of-13 shooting, including a 5-of-8 ledger from 3-point range. The Indianapolis native added a season-high-tying three steals to lead all players.
Third-year sophomore forward Norchad Omier posted 18 points on 8-of-11 shooting to send him past 1,000 in his career, plus grabbed seven boards and blocked a game-high three shots. Fourth-year junior guard Isaiah Wong notched 15 points to cross the 1,500 threshold and also reach 889 in ACC play, good for a new program record. Fifth-year senior guard Jordan Miller added 12 points and a team-best eight rebounds.
Trey Wertz paced the Fighting Irish with 15 points, but Miami forced him into five turnovers. Fellow graduate student guards Dane Goodwin and Marcus Hammond scored 14 and 12 points, respectively, in the setback.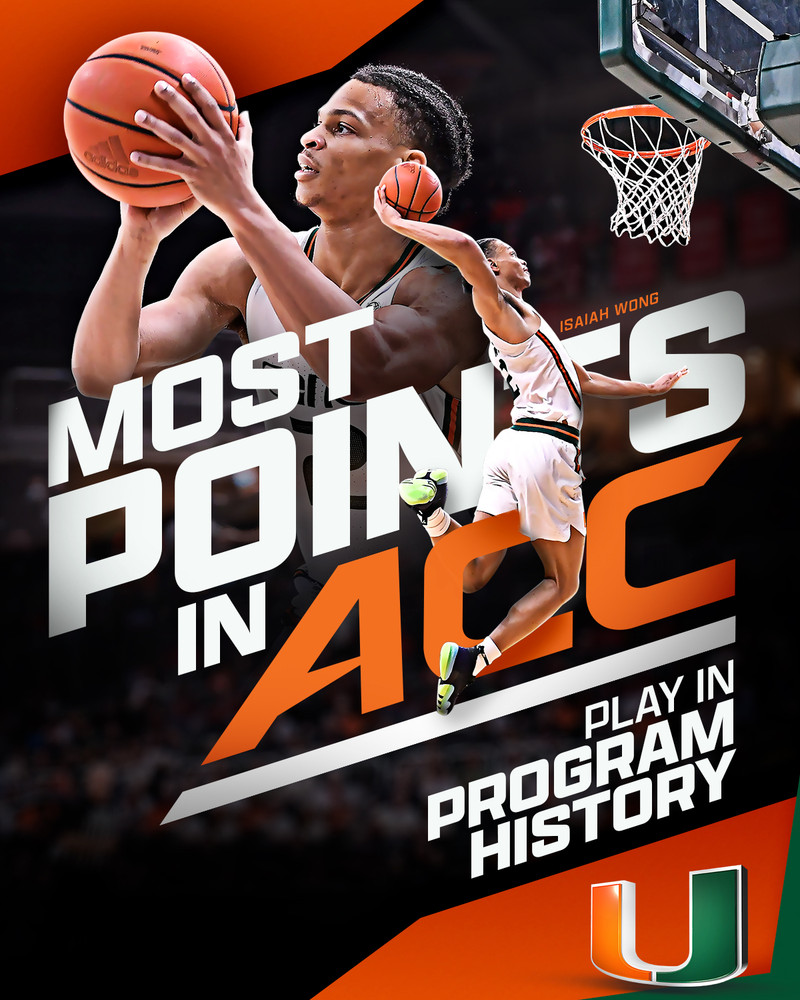 Miami is back in action next Wednesday in Atlanta when it faces Georgia Tech at 7 p.m., live on RSN from McCamish Pavilion.
To keep up with the University of Miami men's basketball team on social media, follow @CanesHoops on Twitter, Instagram and Facebook.
MIAMI HURRICANES POSTGAME NOTES
– Miami has now won at least 13 of its first 14 games for the sixth time in program history, including the second time in Larrañaga's 12-year tenure and the first since 2015-16.
– The Hurricanes improved to 4-0 in ACC play for the third time ever, joining a 5-0 start last season and a 13-0 beginning in 2012-13.
– This is the 12th time in program history the Hurricanes have posted a nine-game winning streak and the first time they have done so in back-to-back seasons.
– Miami improved to 12-0 in December games over the last two seasons, as it went 6-0 in 2022 after going an equal 6-0 in 2021.
– The Hurricanes seven-game ACC road winning streak dates back to 2/12/22 at RV/No. 25 Wake Forest.
– According to Tim Reynolds of the Associated Press, Miami's 29 victories during the 2022 calendar year are its most since posting an identical 29-9 mark in 2013.
– After conceding zero fast-break points Friday, Miami now has a 42-0 advantage in that category over its last three games.
– The only other time Pack recorded four steals in a game was 2/5/22 at TCU, during his tenure at Kansas State.
– Wong moved past Johnny Hemsley (1996-2000) for the No. 11 spot on Miami's all-time scoring list and also became the 11th Hurricane with 1,500-plus points, now owning 1,507 in his career.
– Wong's 889 points in ACC play put him one above Jack McClinton, who notched 888 from 2006-09.
– Omier scored 809 of his 1,002 collegiate points during his two seasons at Arkansas State.