MBB Tallies 78-74 Road Win at No. 20/19 Clemson
CLEMSON, S.C. – The University of Miami men's basketball team snapped ACC-leading Clemson's 15-game home winning streak Saturday evening with a 78-74 victory in a top-25 matchup at Littlejohn Coliseum.
Third-year sophomore guard Nijel Pack paced No. 23/21 Miami (18-5, 9-4 ACC) with a game-high 20 points in the road win over No. 20/19 Clemson (18-6, 10-3 ACC).
The Tigers raced out to a 10-4 lead after just three-and-a-half minutes, but Miami countered with a game-tying 8-2 burst in just 93 seconds on the way to building a 30-25 edge with 4:57 on the clock. Clemson later used a 7-0 surge to go up, 35-31, with 2:42 left in the half, but the Hurricanes scored the final four points before the break to level the score at 35 through 20 minutes.
The Hurricanes conceded zero first-half offensive rebounds, but Clemson shot 6-of-12 (50.0 percent) from 3-point range and 5-of-6 (83.3 percent) from the line. Miami, meanwhile, had six offensive boards, but just 3-of-12 (25.0 percent) and 4-of-7 (57.1 percent) respective clips before the break.
Four different Hurricanes hit 3-pointers in the first five minutes of the second half, sparking a 17-7 run that also included an old-fashioned three-point play and put Miami ahead by 10 points, 52-42, with 14:29 to go. It then extended the cushion to a game-best 12, 56-44, with 11:10 remaining.
The Tigers responded soon thereafter with another 7-0 run, this one in just 70 seconds, to make it a three-point margin, 61-58, with 6:06 to go. Miami scored the next five points and went back up by eight, 66-58, with just 4:39 in the game.
Clemson then made three straight shots, along with a free throw, and trimmed the deficit back to three, 68-65, with 2:51 left. After a Miami basket, the Tigers again got it down to three, 70-67, with 1:26 on the ticker, but the Hurricanes scored the next three points from the line to take a six-point edge, 73-67, with only 27 seconds to go.
The home team again closed within three, but Pack hit two free throws with 4.8 ticks left to make it a five-point cushion. The Tigers hit a 3-pointer with exactly one second to play, slicing the advantage to two, but Pack made two more free throws three-tenths of a second later to ice the team's second top-25 victory in as many chances this season.
Miami ended the contest with a 38-28 edge on the glass, including a 9-2 margin offensively. It also shot 17-of-22 (77.3 percent) from the line, including 8-of-10 in the final minute alone. The Hurricanes shot 6-of-12 (50.0 percent) from 3-point range in the second half, while limiting the Tigers to a 4-of-13 (30.8 percent) mark after the break.
Pack, who finished three points shy of his season high in points, shot 6-of-14 from the floor and 6-of-6 at the stripe, while fourth-year junior guard Isaiah Wong recorded 15 points, including 11 in the second half. Sophomore guard Wooga Poplar notched 14 points, including 10 after the intermission, and five rebounds, shooting 4-of-5 from the floor, 2-of-3 from deep and 4-of-4 at the line.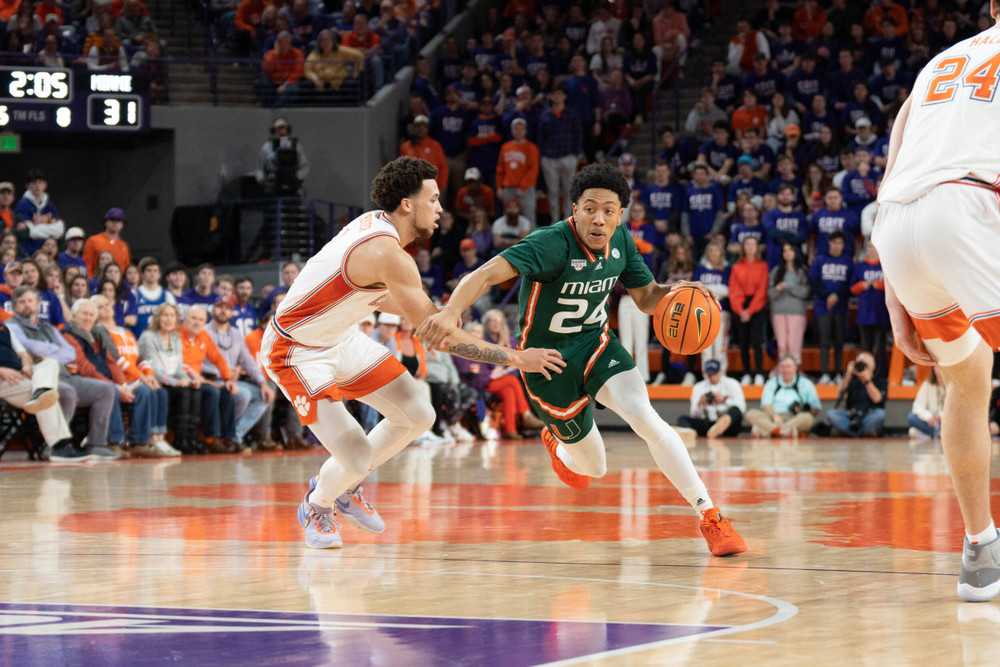 The Hurricanes' other two starters also finished with double-digit points, as fifth-year senior guard Jordan Miller scored 12 points and third-year sophomore forward Norchad Omier chipped in 10. The duo co-led Miami with seven rebounds.
Junior center PJ Hall scored 19 points, including 17 on 7-of-9 shooting in the second half, to pace the Tigers in their first home loss since Feb. 12, 2022. Graduate student guard Brevin Galloway notched 15 points, including nine in the first six-plus minutes of action. Graduate student forward Hunter Tyson scored 13 points and led all players with 10 rebounds.
The Hurricanes return home now for a "Big Monday" showdown at 7 p.m. against Duke, live on ESPN from the Watsco Center in Coral Gables, Fla.
To keep up with the University of Miami men's basketball team on social media, follow @CanesHoops on Twitter, Instagram and Facebook.
MIAMI HURRICANES POSTGAME NOTES
– In a matchup of two head coaches who entered tied for No. 10 on the ACC's all-time league wins list, Miami's Jim Larrañaga gained sole possession of the spot with his 114th such victory.
– Larrañaga and Clemson head coach Brad Brownell have now met 26 times in their careers—the most such contests between Larrañaga and a current fellow ACC coach—with the former increasing his edge to 16-10.
– The Hurricanes posted the fourth-most points by any team against Clemson this year, including the third-most in regulation, the second-most on the road and the most in regulation on the road.
– Saturday marked the first time since 12/17/22, the Tigers had regular starters Galloway, Hunter and graduate student guard Alex Hemenway all healthy.
– Both top-25 matchups in ACC play this season have featured Miami, with the Hurricanes winning, 66-64, over sixth-ranked Virginia on 12/20/22 and now defeating the Tigers.
– The Hurricanes improved to 10-10 under Larrañaga in ranked contests, including 8-6 in ACC competition.
– Miami is now 2-1 this season when tied at halftime, part of a 13-12 overall such record during Larrañaga's 12-year tenure.
– The Hurricanes have won 25 consecutive games when posting a positive rebounding margin, a stretch that dates back to the 2020-21 season and includes a 15-0 record this year.
– Omier continued his streak of posting 10-plus points and/or 10-plus rebounds in every game this season.
– Poplar tied his ACC high in points, set on 1/24/23 at Florida State, and matched his career highs in free throws both made and attempted, each of which he lasted recorded on 12/17/22 against St. Francis (PA).
– Pack tripled his season high in made free throws and finished one shy of his best mark as a collegian.