MBB Rolls to 86-59 Victory over Florida A&M
CORAL GABLES, Fla. – The University of Miami men's basketball team turned in a dominant performance Sunday night at the Watsco Center, recording an 86-59 wire-to-wire win versus Florida A&M.
Sixth-year redshirt senior guard Charlie Moore scored a season-high 20 points to pace Miami (3-1), which led by 15-plus for the final 23 minutes of its November home finale and remained undefeated in its all-time series with the Rattlers.
"I thought they might start launching more threes [after halftime], but we did a good job overall," Miami head coach Jim Larrañaga said of his team's defense. "We held them to under 36 percent overall and 28.6 percent from three for the game. … The rebounding has also been a major point of emphasis and we outrebounded them, 49-33."
After missing their first two shots, the Hurricanes hit five in a row on their way to building a double-digit lead in fewer than nine minutes. Miami's edge dropped below 10 for just 21 seconds the rest of the night and it led by 21 points, 42-21, when the halftime buzzer sounded, as it doubled up the Rattlers through 20 minutes.
Florida A&M (1-2), in the opening frame, got points from just three players, never scored more than four points in a row and shot just 25.0 percent (9-of-36) from the field. The Hurricanes, meanwhile, notched a 51.6 percent (16-of-32) mark at the other end, with Moore logging 12 first-half points on a 4-of-5 clip from 3-point range.
Miami stretched its advantage as high as 25, 58-33, with 14:12 to play, but the Rattlers would not fold, mounting a 10-0 run to make it a 15-point game with 10:21 on the clock. The Hurricanes, though, immediately answered with a 3-pointer by sixth-year redshirt senior guard Kameron McGusty, never let Florida A&M get any closer and eventually upped their edge as high as 30.
Miami went on to finish the game with a 27-point margin of victory, its largest since defeating Stetson by 22, 82-60, on Dec. 4, 2020.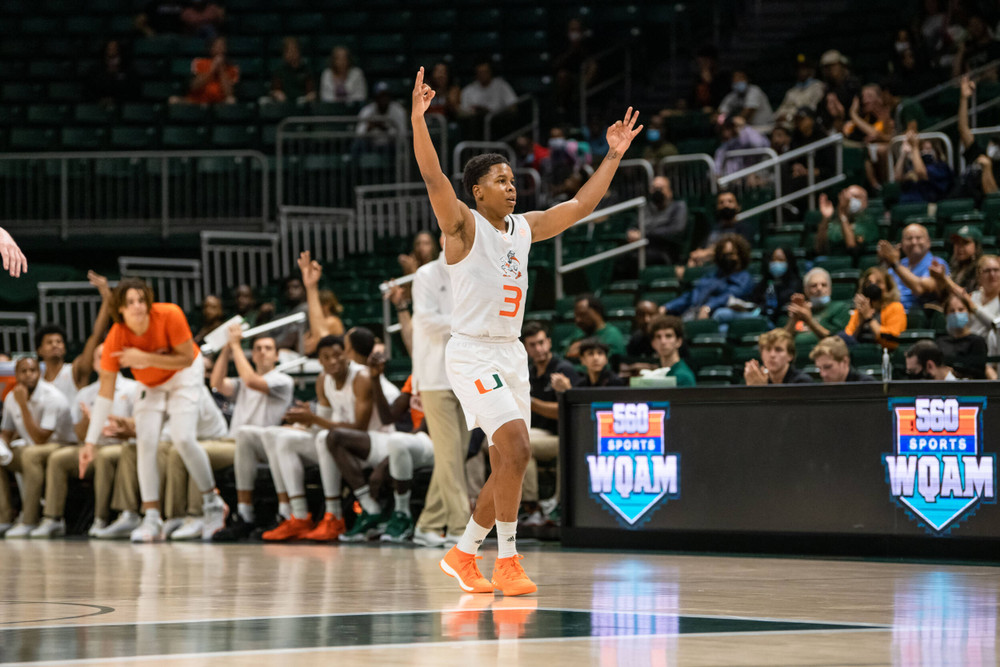 Moore finished with 20 points on 6-of-10 shooting, including a 5-of-7 mark from beyond the arc. The Chicago native, whose first 15 points came from long range, added co-game-highs in both assists (four) and steals (three).
"I liked that Charlie Moore took control of our team early," Larrañaga said. "He really quarterbacked us. It's his first game at Miami where he scored 20 points … [and he had] just a great all-around game."
Miami's two other backcourt starters, McGusty and third-year sophomore guard Isaiah Wong, also scored in double figures. The former posted 14 points on 6-of-11 shooting, while the latter tallied 19 on a superb 8-of-11 clip, including a 3-of-6 ledger from deep.
Sixth-year redshirt senior forward Sam Waardenburg co-led all players in both rebounds (eight) and assists (four), the second mark just one shy of his career best.
Graduate student forward DJ Jones led all players with 24 points for Florida A&M. He shot 11-of-19 from the floor and grabbed a co-game-high eight rebounds. Sophomore guard Jalen Speer added 19 points and went 4-of-8 from 3-point range.
Miami held senior guard MJ Randolph—he entered the night averaging 24.0 points, 8.0 rebounds and 8.0 assists per game—to just nine points, four boards and three assists. He shot 3-of-13 from the field, missed his first eight shots and did not score until the final 14 minutes.
The Hurricanes, who led for 38:58, concluded the night shooting exactly 50.0 percent (31-of-62) from the field, while limiting the Rattlers to a 35.3 percent mark (24-of-68). The Hurricanes' plus-16 margin on the glass included pulling down 16 offensive boards and allowing only 18 defensive rebounds.
In addition, the Hurricanes had a 24-7 advantage in bench points, their largest positive margin of the young season.
"The guys off the bench did a good job," Larrañaga said. "Anthony Walker, Jordan Miller, Wooga Poplar and Bensley Joseph all gave us a lot of quality minutes. That's a big key for us."
Miami now heads to the ESPN Wide World of Sports in Kissimmee, Fla., where it will play three games in four days. First up is a matchup with Dayton Thursday at noon, live on ESPN2.
To keep up with the University of Miami men's basketball team on social media, follow @CanesHoops on Twitter, Instagram and Facebook.
MIAMI HURRICANES POSTGAME NOTES
– The Hurricanes upped their unblemished record to 9-0 all-time against Florida A&M, all at home, and 2-0 in Larrañaga's tenure.
– Miami's nine victories against the Rattlers mark its highest total against any team it has never lost to.
– Larrañaga, who entered the game with the ninth-most victories of any active Division I coach, is now 673-465 in 38 years as a head coach, including 203-131 in 11 seasons at Miami.
– For the second time in a row, Miami used a starting lineup of McGusty, Moore, Waardenburg, Wong and sixth-year redshirt senior center Rodney Miller Jr.
– The Hurricanes are now 86-9 since the program rebirth (1985-86) against non-Power Five, in-state foes, including 65-4 at home, 18-4 under Larrañaga and 14-3 at the Watsco Center in his tenure.
– Miami has led by 16-plus points in three of its four games this season.
– Sunday marked Miami's 300th game at the Watsco Center, where it now owns a 212-88 (.707) mark all-time.
– The Hurricanes will not play another home game until 12/4, with the 13-day break their longest since a 30-day stretch from 11/16/19 to 12/14/19.
– Miami, which scored over 85 points for the second time this season, set new top marks in field goals made (31), field goal percentage (50.0), field goals attempted (62) and rebounds (49).
– Jones tied for the most made field goals by a Miami opponent since the start of 2018-19, becoming the ninth individual to do so in three-plus campaigns.
– Before Moore, the last Hurricane to make five 3-pointers in a game—none did so last season—was Chris Lykes on 3/11/20 against Clemson in the ACC Tournament in Miami's last outing of the 2019-20 season.
– Moore, who eclipsed 150 made 3-pointers in his career, recorded 20-plus points for the 21st time, including the first this year.
– Moore also scored in double figures for the 59th time, including the second this season.
– Wong, who surpassed 750 points and reached 1,750 minutes played as a Hurricane, registered double-digit points for the 36th time, including the third in 2021-22.
– McGusty tallied double-figure points for the 67th time, including the 39th at Miami and fourth in as many games this year.
– Waardenburg, who reached 150 made field goals as a collegian, posted four assists for the second time in four games this season after hitting that mark just three times in 83 outings through his first three active collegiate campaigns.
– J. Miller, who reached 100 assists in his career, finished with a season-best nine points and co-season-high seven rebounds.