MBB Defeats Wake Forest, 74-72, in ACC Tournament Opener
GREENSBORO, N.C. – The top-seeded University of Miami men's basketball team started the postseason with a 74-72 victory Thursday afternoon over ninth-seeded Wake Forest in the ACC Tournament quarterfinals.
Fifth-year senior guard Jordan Miller paced No. 14/13 Miami (25-6, 15-5 ACC) with a team-high 18 points at the Greensboro Coliseum. The victory put the Hurricanes in the ACC Tournament semifinals for the fifth time and clinched the fifth 25-win season of head coach Jim Larrañaga's 12-year tenure.
Each team got off to slow starts offensively, with Miami missing its first five shots and Wake Forest (19-14, 10-10 ACC) opening 1-of-10. The Hurricanes built an early 10-4 edge through seven minutes, but the Demon Deacons came back to level the score on four occasions.
After the last such time, Miami used a 9-2 run to go ahead by seven points, 30-23, with 2:57 on the clock, en route to taking a five-point cushion, 34-29, into the locker room.
The Hurricanes used a 19-5 run, including an 8-0 burst in just 67 seconds, early in the second session to go up by a then-game-best 17 points, 55-38, with 13:05 to go. They extended the advantage to 18, 61-43, with 9:51 remaining after opening the frame 11-of-13 (84.6 percent) from the floor.
Miami held a 15-point edge with under six minutes left, but the Demon Deacons tallied an 11-2 surge, including eight consecutive points in 85 seconds, to cut it down to six, 67-61, with 3:17 to go. They continued to chip away and made it a two-point game, 74-72, with seven ticks left after hitting back-to-back-to-back 3-pointers.
After a missed front-end by the Hurricanes, Wake Forest had a chance to win at the buzzer, but the half-court heave sailed wide and Miami claimed the victory.
The Hurricanes, who led for 32-plus minutes and never trailed in the final 35 minutes, shot 52.5 percent (31-of-59) from the field. Wake Forest posted just a 40.9 percent (27-of-66) ledger at the other end, but had the edge in both offensive rebounding (13-9) and forced turnovers (12-10), as well as made five more 3-pointers.
Miller added nine rebounds, five assists and two steals to his team-best point total, finishing 8-of-16 from the floor and 2-of-4 beyond the arc. Fourth-year junior guard Isaiah Wong, in his first game as the ACC Player of the Year, posted 17 points on a dazzling 7-of-10 shooting performance. He also logged a co-team-high five assists to match Miller.
Third-year sophomore forward Norchad Omier notched his 14th double-double of the year with 14 points and a team-leading 10 rebounds, adding a team-best three blocks and two steals.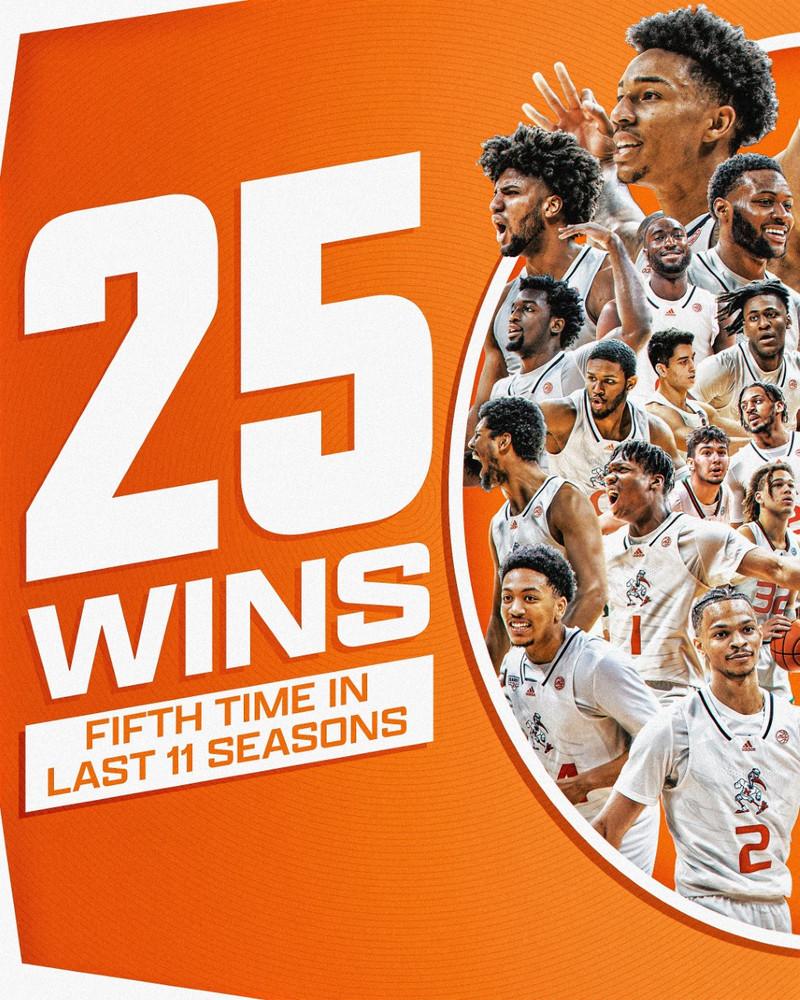 Wake Forest graduate student guard Tyree Appleby, the ACC's leader in both points and assists per game, paced all scorers with 24 points, but Miami held him to 8-of-24 shooting, including a 5-of-15 long-range clip, and five assists.
Sophomore guard Cameron Hildreth registered 17 points and a game-best seven assists for the Demon Deacons, while graduate student guard Daivien Williamson added 14. Freshman forward Bobi Klintman scored seven points and led all players with 11 rebounds.
The Hurricanes make their second straight ACC Tournament semifinal appearance Friday at 7 p.m. against either fourth-seeded Duke, ranked No. 21, or fifth-seeded Pittsburgh, live on ESPN or ESPN2.
To keep up with the University of Miami men's basketball team on social media, follow @CanesHoops on Twitter, Instagram and Facebook.
MIAMI HURRICANES POSTGAME NOTES
– After their 0-of-5 start, the Hurricanes went 15-of-27 (55.6 percent) the rest of the first half, while the Demon Deacons followed their 1-of-10 start by shooting 11-of-18 (61.1 percent) the remainder of the frame.
– The other five times the Hurricanes reached the ACC Tournament semifinals were 2010, 2013, 2016 and 2022.
– The Hurricanes' 13 ACC Tournament wins under Larrañaga are tied with Virginia for the third-most of any school since the start of his tenure in 2011-12.
– Miami improved to 19-17 all-time in the ACC Tournament, including 13-10 under Larrañaga, 3-0 versus Wake Forest, 12-2 as a higher seed, 4-0 as the top seed, 6-3 as a top-four seed, 12-12 as a single-digit seed, 2-0 against ninth seeds, 13-16 versus single-digit seeds, 15-4 in opening games, 5-9 in the quarterfinals, 1-2 in 1v9 games, 12-7 in Greensboro and 14-9 in North Carolina.
– This is the fifth time in the last 11 seasons, all under Larrañaga, the Hurricanes have reached 25 wins, after never previously doing so even once.
– Miami's 251 wins under Larrañaga since 2011-12 are the fourth-most of any ACC team in the league that full stretch, breaking a tie with Florida State.
– The Hurricanes' 31 made field goals tied their top mark ever in ACC Tournament play, matching the record set in their most recent outing, 3/11/22 versus Duke.
– Wong's 70 percent (7-of-10) field-goal clip is the third-best by Miami player in ACC Tournament play (min. six FGM).
– Wake Forest's 31 3-point attempts and 66 field-goal attempts rank as the second- and third-most, respectively, by a Miami foe in ACC Tournament competition.
– Appleby's 24 field-goal attempts marked the highest total ever by a Hurricane opponent in the ACC Tournament, shattering the prior record of 20 by Pittsburgh's Justin Champagnie on 3/9/21.
– Appleby's 15 3-point shots also set the record for most long-range attempts by a Miami opposing player in ACC Tournament action, surpassing the previous mark of 13 by North Carolina's PJ Hairston on 3/17/13.
– Wong tied Durand Scott (2009-13) for fourth place on Miami's all-time made free throws list with 392.
– Wong tied Anthony King (2003-08) for ninth place on the program's all-time games played leaderboard with 126.
– Wong passed Anthony King (2003-08) and moved into a tie with both John Salmons (1998-2002) and Eric Brown (1985-89) for fifth place on the Hurricanes' all-time starts list with 106.
– Miller has scored double-digit points and made six-plus field goals in all three ACC Tournament games he has appeared in at Miami.
– Miller now has five-plus assists five times this season after hitting that mark just twice in his first four college seasons.
– Third-year sophomore guard Nijel Pack fouled out with 2:44 left, the first disqualification in his 82 collegiate outings, after totaling nine points and a season-high-tying five rebounds.
– Sophomore guard Wooga Poplar finished with eight points and a career-high-tying seven rebounds.