Pack, Wong Named to Wooden Award Watch List
CORAL GABLES, Fla. – Two University of Miami men's basketball players are on the John R. Wooden Award Preseason Top 50 Watch List, as announced Tuesday afternoon, live on ESPN.
Guards Nijel Pack and Isaiah Wong are both among the 50 selections from players across the nation at the Division I level. Each of them also previously made the Naismith Trophy Player of the Year Watch List.
Miami is one of only 10 schools with multiple players on the list, joining Baylor, Creighton, Duke, Gonzaga, Kansas, Kentucky, North Carolina, Texas and UCLA. The ACC leads all leagues with 10 players in the group.
Pack recorded 17.4 points per game last year at Kansas State, shooting 45.5 percent overall, 43.6 on 3-pointers and 84.5 percent at the stripe. He garnered First Team All-Big 12 and Big 12 Most Improved Player plaudits in his final year with the Wildcats.
A 6-foot, 184-pounder from Indianapolis, Pack scored 30-plus points three times in 2021-22, including 35 against the eventual NCAA champion, Kansas. Through two games with the Hurricanes this season, Pack is averaging 15.0 points, 3.0 rebounds, 3.0 assists and 1.0 turnover per game.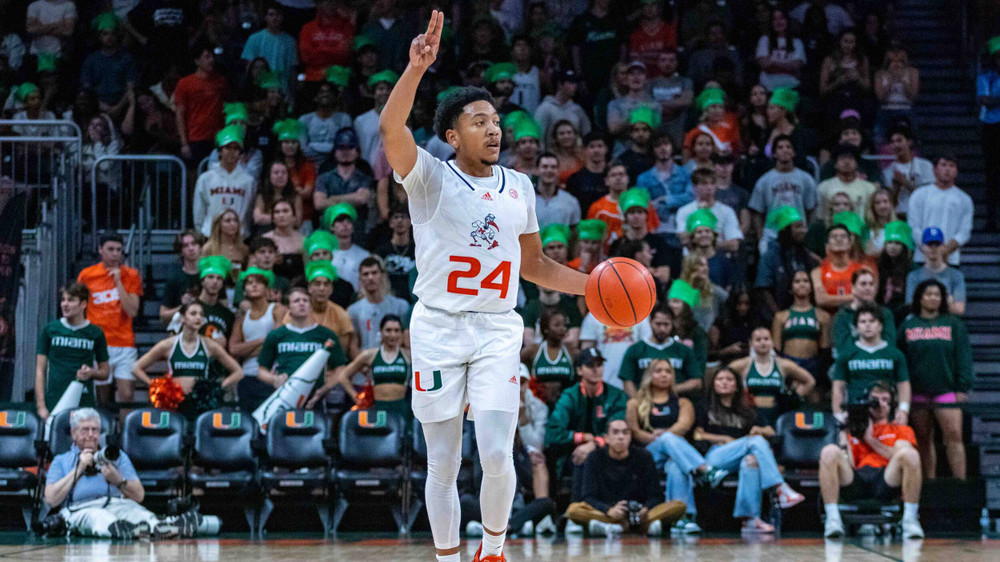 Wong, a Preseason First Team All-ACC selection and one of 20 players on the NABC Player of the Year Watch List, had a superb 2021-22 campaign in which he averaged 15.3 points per game. The Piscataway, N.J., native claimed Third Team All-ACC status for the second straight season.
A 6-foot-4, 184-pounder, Wong has 1,299 points in his career and is just one away from being the 18th Hurricane to reach 1,300. Through two outings this year, he is averaging a team-high 15.5 points per game to go along with 4.5 rebounds and a team-best 3.5 assists per contest.
The players on the list are considered strong candidates for the 2023 John R. Wooden Award Men's Player of the Year presented by Wendy's. Players not chosen to the preseason list are still eligible for the Wooden Award midseason list, late season list and the National Ballot. The National Ballot consists of 15 top players who have proven to their universities that they meet or exceed the qualifications of the Wooden Award.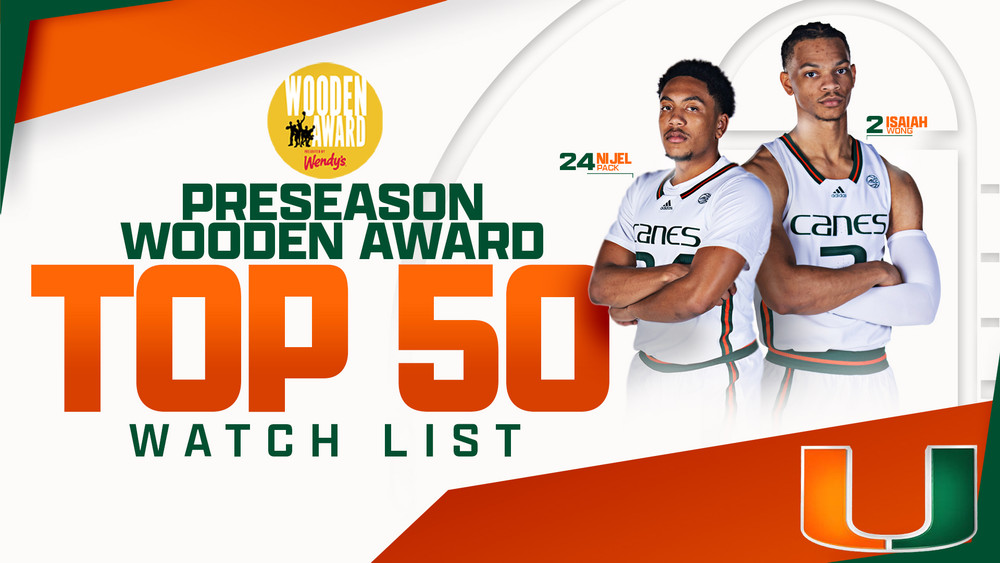 Nearly 1,000 voters will rank in order 10 of those 15 players when voting opens prior to the NCAA Tournament and will allow voters to take into consideration performance during early round games. The Wooden Award All American Team will be announced the week of the Elite Eight. The winner of the 2023 John R. Wooden Award will be presented in Los Angeles in April.
Pack, Wong and the Hurricanes resume play Tuesday at 7 p.m. when they host Florida A&M at the Watsco Center, live on ACC Network Extra.
To keep up with the University of Miami men's basketball team on social media, follow @CanesHoops on Twitter, Instagram and Facebook.