MBB Edges Wake Forest, 92-84
CORAL GABLES, Fla. – The University of Miami men's basketball team picked up its seventh consecutive victory with a 92-84 wire-to-wire triumph over Wake Forest Saturday night.
Despite playing without a starter due to COVID protocols for the second consecutive game, Miami (11-3, 3-0 ACC) used sizzling offense from start to finish to take down the Demon Deacons at the Watsco Center.
The Hurricanes, behind a game- and season-high 25 points on 11-of-18 shooting from third-year sophomore guard Isaiah Wong, shot 61.5 percent on the night, their best mark since Dec. 25, 2017. It also marked their third-best ledger ever in ACC play, including their top tally since Feb. 13, 2013.
"We had so many guys make so many different contributions. Isaiah, obviously, was the biggest with 25 points and some key baskets down the stretch," Miami head coach Jim Larrañaga said. "But Charlie Moore was the one that got us off to such a great start and then Kam McGusty was the one that they ended up fouling at the end and he helped us stay in front by making his free throws. Then you have Deng Gak and Anthony Walker and Jordan Miller doing their jobs, both defensively and offensively. So, just a great team effort."
After a nearly even start to the game, Miami held Wake Forest (11-3, 1-2 ACC) scoreless for over five minutes and scored 10 straight points to go in front by 12, 18-6. The Hurricanes, though, did not stop there.
Buoyed by a 6-of-9 start from 3-point range, including a 3-of-3 clip by sixth-year redshirt senior guard Charlie Moore, Miami upped its run to 19-6 and grabbed a 15-point edge, 27-12, with 8:29 on the clock. The Demon Deacons, though, made their final 10 field goals of the half to pull within five and the margin sat at just that, 43-38, entering the intermission.
Moore and fourth-year junior guard Jordan Miller, who also started 3-of-3 on 3-pointers, combined for 25 first-half points, with 12 and 13, respectively. At the other end, three Wake Forest big men—junior forward Jake LaRavia, senior forward Khadim Sy and graduate student center/forward Dallas Walton—combined for 13-of-18 shooting, logging 27 first-half points.
Early in the second half, after Miami went up by eight, Wake Forest hit back-to-back 3-pointers to make it 52-50, but the Hurricanes countered with seven straight points to spark a 12-4 run that gave the Hurricanes a 10-point edge, 64-54, with 13:56 to go. The surge included eight points from sixth-year redshirt senior guard Kameron McGusty, who was previously scoreless.
Wake Forest trimmed its deficit back down to three, but the Hurricanes countered once again, this time using an 8-1 run to go up by 10, 80-70, with 5:58 remaining. From there, the Demon Deacons cut the margin to three twice, but never pulled any closer, as Miami held on to earn their third ACC win in as many attempts.
"There were so many things we had to guard. Their post game was ridiculously good. They're also an excellent 3-point shooting team and they're a great transition team," Larrañaga said of withstanding Wake Forest's runs. "It's very, very hard to stay out in front of a team like that and yet, we led from start to finish, which is a real tribute to our players."
In addition to setting a season best in points, Wong also set a season high in makes, finishing one shy of his career best. He added a season-high-tying four assists in the victory.
Moore finished with 18 points, shooting 6-of-7 from the floor, 3-of-3 on 3-pointers and 3-of-4 at the line. The Chicago native also dished out a co-game-high seven assists, one off his season best, and committed just one turnover.
Miller, who eclipsed 1,000 points with his first basket of the game, totaled 17 points on 7-of-9 shooting, including a 3-of-5 ledger from deep. McGusty scored 15 points, all in the second half, and went 10-of-11 from the line, both new top tallies in ACC play, while grabbing a game-high eight rebounds.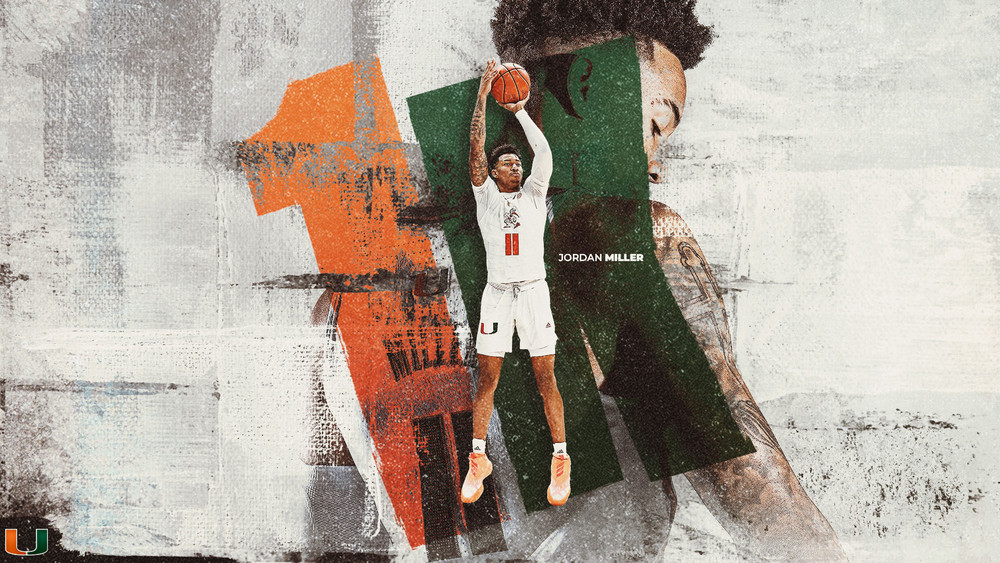 LaRavia finished with a team-high 19 points for the Demon Deacons, shooting 9-of-13 from the floor, while notching seven rebounds and six assists. Senior forward Isaiah Mucius scored 17 points, including 14 in the second half, and went 5-of-9 from long range.
Graduate student guard Alondes Williams, the ACC's second-leading scorer, registered 15 points, six rebounds and a co-game-high seven assists. Miami held him without a point for the first 19 minutes of action. Walton scored 13 points on 5-of-6 shooting, while Sy added 10 on an equal mark
Following a 7-of-10 start from 3-point range, Miami went just 2-of-8 the rest of the way to finish 9-of-18. The 50 percent clip, though, still marked the team's second-best total of the season.
The Hurricanes have now scored 90-plus points in back-to-back games for the first time since November 2016 and for the first time in ever consecutive ACC contests.
"I think the opponent has a lot to do with that. We're playing teams that are very up-tempo, that look to score quickly," Larrañaga said of the offensive success. "We're not a team that just slows it down, but we want to be more selective. We need our opponents to play some half-court defense. We executed our game plan very well and were able to score at a high level."
The Hurricanes finished the night with 19 assists and just nine turnovers, as well as shot 19-of-27 (70.4 percent) from the stripe, whereas the Demon Deacons were 4-of-8 (50.0 percent).
Miami now wraps up the third three-game ACC homestand in program history Wednesday at 8 p.m. against Syracuse, live on ACC Network.
To keep up with the University of Miami men's basketball team on social media, follow @CanesHoops on Twitter, Instagram and Facebook.
MIAMI HURRICANES POSTGAME NOTES
– The Hurricanes moved to 13-13 all-time against Wake Forest, including 10-2 at home and 8-5 in Larrañaga's tenure.
– The home team has won 12 campus-site games between Miami and Wake Forest during Larrañaga's 11 seasons.
– Larrañaga, who entered the game with the ninth-most victories of any active Division I coach, is now 681-467 in 38 years as a head coach, including 211-133 in 11 seasons at Miami.
– With 211 wins as an ACC head coach, Larrañaga passed current Clemson head coach Brad Brownell for sole possession of the No. 15 position on the all-time leaderboard.
– Now owning 105 ACC wins (regular season or tournament) as a head coach, Larrañaga surpassed Everett Case and moved into a tie with Bud Millikan for No. 14 all-time.
– For the second time this season, Miami used a starting lineup of McGusty, J. Miller, Moore, Wong and fifth-year redshirt junior forward Deng Gak.
– As announced prior to the game, sixth-year redshirt senior forward Sam Waardenburg was unavailable due to COVID protocols for the second consecutive outing.
– Freshman guard Wooga Poplar returned to action after missing the previous game due to COVID protocols.
– The Hurricanes are currently the only team in the ACC with a 3-0 league record and sit alone atop the conference standings.
– Miami is 3-0 in ACC play for the second time ever and first since 2012-13, when it started league play 13-0.
– The Hurricanes are riding a seven-game winning streak for the first time since 11/10/17 to 12/22/17 when they started the 2017-18 season with a 10-0 record.
– Miami last scored 90-plus points in consecutive games in the first two contests of the 2016-17 campaign: 92 versus Western Carolina on 11/11/16 and 94 at North Florida on 11/16/16.
– According to the ACC office, Miami is the first team to score 90-plus points in back-to-back ACC regular season games in nearly five years, with Florida State the last to do so, on 2/5/17 against Clemson and 2/8/17 versus NC State.
– The Hurricanes last scored 92-plus points in regulation on 11/13/18 when they notched 96 versus Stephen F. Austin.
– In Larrañaga's 11-year tenure, the Hurricanes are now 18-1 when tallying 90-plus points, including 7-1 in ACC play.
– The only other times Miami reached a 60 percent field-goal clip in an ACC game are 2/13/13 when it went 30-of-47 (63.8 percent) at Florida State and 1/31/10 when it shot 24-of-38 (63.2 percent) against Virginia Tech.
– The last time the Hurricanes shot at least 60 percent in a game was 12/25/17, when it posted a 30-of-50 ledger (60.0 percent) against Middle Tennessee State in the Diamond Head Classic in Honolulu.
– Miami's three best 3-point percentages of the season have come in its last three games: 48.3 percent (14-of-29) versus Stetson on 12/20/21, followed by 52.6 percent (10-of-19) on 12/29/21 versus NC State and now 50.0 percent (9-of-18) against Wake Forest.
– Over the past three contests, the Hurricanes are shooting 33-of-66 from 3-point range, good for an even 50.0 percent clip.
– Miami shot at least 64 percent in the second half for the second straight game, as it went 16-of-25 (64.0 percent) tonight and 18-of-28 (64.3 percent) on 12/29/21 against NC State.
– Wake Forest registered 23 assists, the most by a Miami foe since No. 16 Virginia Tech had 25 in an overtime affair on 2/6/21.
– McGusty, who made his 125th appearance as a collegian, moved past 1,450 points and 250 made free throws, as well as reached 400 rebounds.
– McGusty, who has now made double-digit free throws in a game four times this season, tallied double-figure points for the 76th time, including the 48th at Miami and the 13th in 2021-22.
– McGusty's prior high in made free throws in ACC play was six, most recently recorded on 12/29/21 versus NC State, while his previous high in attempts was nine on 2/14/21 at Notre Dame.
– J. Miller's 13 points in the first half alone tied for his second-most in any game this season, trailing only the 25 he scored in the most recent contest, 12/29/21 versus NC State.
– J. Miller, who eclipsed 1,000 points in his career on a layup just 1:28 into the game, tallied double-digit points for the 54th time, including the fourth this season.
– Moore, who eclipsed 3,500 minutes played as a collegian, scored in double figures for the 64th time, including the seventh this year.
– Moore also recorded five-plus assists for the 40th time, including the third this year.
– Wong notched his 18th 20-point performance, including his fourth in 2021-22.
– Wong also registered double-figure points for the 46th time, including the 13th this season.
– Third-year sophomore forward Anthony Walker fouled out with 50.6 seconds left, the fourth disqualification of the season by a Hurricane and the second for Walker.