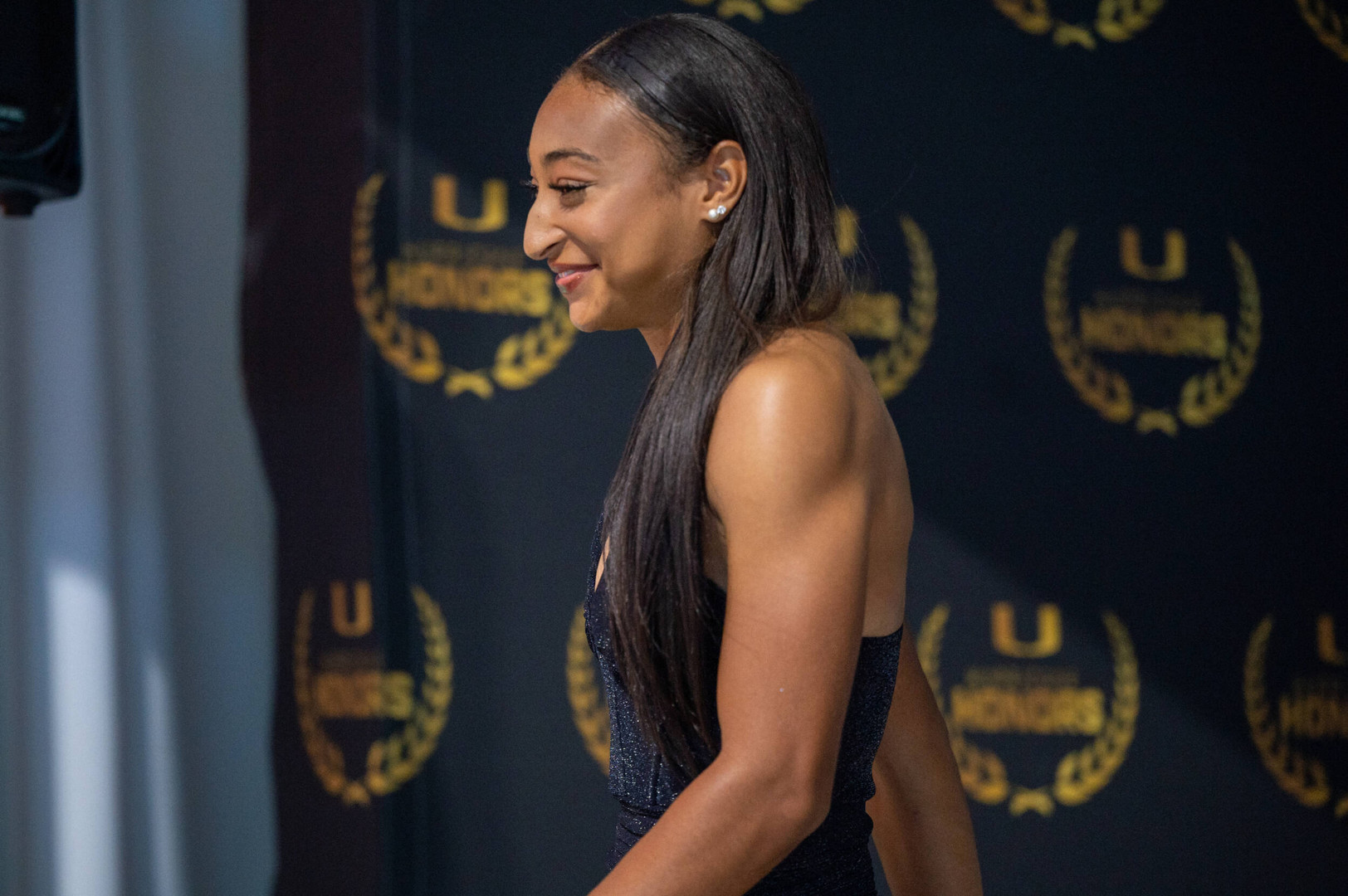 CORAL GABLES, Fla. – Lauryn Harris is a standout on the Hurricanes track team, a veteran who helped lead Miami to the ACC Outdoor Track & Field Championships last spring.
She's also a standout in the classroom, set to graduate this spring with a degree in political science. She's a member of Miami's Student-Athlete Advisory Committee, the co-president of UM's Black Student-Athlete Alliance and an ACC Unite Award winner.
Now, Harris can add history-maker to her already dazzling resume.
The senior became the first recipient of Miami's new Ibis Award, an honor Harris accepted while surrounded by hundreds of her fellow student-athletes at the inaugural Hurricane Honors awards ceremony held Sunday evening at the Carol Soffer Indoor Practice Facility.
And after she'd received countless congratulatory hugs and handshakes from teammates, friends, and members of Miami's athletic department, Harris caught her breath and reflected on her most recent accomplishment – one, she conceded, took her completely by surprise.
"This is extremely special. It's an amazing feeling. I didn't expect it, for one, but it just really shows me that all my hard work is paying off, so I'm really grateful," said Harris, a hurdler and jumper for the Hurricanes. "I'm really appreciative that we have such a caring and loving athletic department, that they put all this work in to making us feel special and honoring us."
Harris was one of 23 student-athletes recognized at Sunday's ceremony where Miami's athletic department celebrated the Hurricanes' accomplishments not only in competition, but in the community and classroom as well.
Among the award winners for community service were wide receiver Michael Redding III and distance runner Daphnee Lavassas, who were named the winners of the Most Engaged Hurricane Award, while rowing student-athlete Alyssa Bacchus, cross country student-athlete Dillon Fields, football student-athlete Kam Kinchens, basketball student-athlete Jordan Miller, and swim and dive student-athletes Una Forsythe and Nicole Sowell, all received ACC Top 6 for Service Awards.
"I think this is a great celebration, an honor for all of the student-athletes who pour a lot into the University," said Miller, a second-team All-ACC selection who helped lead the Hurricanes to the first Final Four appearance in program history this spring. "We're student-athletes. The student comes first. For us to be recognized for the things we do for the University, for each other and for the community is a great feeling."
Added Redding, "It means a lot. I think we needed this, as student-athletes, as a collective. To have the opportunity to come together and see different sports and connect with different sports and celebrate each other, we don't get the opportunity to do that all the time, so it really means a lot for us."
Along with recognizing the work Miami's student-athletes have done in the community, Sunday's Hurricane Honors also gave the Hurricanes an opportunity to celebrate some of their accomplishments on the field, the court, the track and in the pool.
Alexa Noel, a transfer from Iowa who is currently ranked in the top 10 in the ITA Collegiate Tennis Rankings, was named the Best Female Newcomer of the Year, while Arkansas State transfer Norchad Omier, the first Nicaraguan-born player to earn a Division I college basketball scholarship and another key contributor during the Hurricanes' Final Four run, was named the Best Male Newcomer of the Year.
"I'm not trying to brag, but I'm used to being the first one doing something," Omier laughed when describing what it meant to be one of inaugural Hurricane Honors award winners. "It feels great. Coming here to a new school, it's just amazing to feel this type of love."
Diver Mia Vallée, the 2022 1-meter springboard NCAA National Champion, was named the Best Female Student-Athlete, while Isaiah Wong, the ACC Men's Basketball Player of the Year, was named the Best Male Student-Athlete.
As special as the evening was for all of the student-athletes in attendance, Sunday was also particularly memorable for staff member Alicia Simpson, who received a standing ovation when she was named the first winner of the Hurricane Honors Unsung Hero award.
"It meant everything. All those kids standing up and screaming and hollering…it was pure joy," Simpson said. "I never in my wildest dreams thought something like that would happen to me. These are my babies. I don't care what sport it is. They're my babies…I love these kids and my coworkers. You guys are my family."
And once all the awards were handed out on Sunday, Miami's student-athletes had a chance to truly celebrate not just their accomplishments, but each other.
Pictures were taken, hugs were taken, and memories were made.
All of that is what made the evening special for Shirelle Jackson, Miami's executive associate athletic director for student-athlete development.
"It was special because this was a night for them," Jackson said. "To watch them come into the IPF – which we tried to transform – excited, happy, and surprised, I couldn't ask for anything else…Our athletic department leadership truly cares about the student-athlete experience. To have in [University vice president/Director of Athletics] Dan Radakovich and [Senior Deputy Director of Athletics] Jennifer Strawley the support to be able to pull off something like this, it's an athletic department effort to show our student-athletes that when we talk about The U Family, this is what we're talking about. When we talk about life after sport, this is what we're talking about. We're just so excited to give them an evening of fun, recognition and gratitude. This is a night about gratitude."
Added Radakovich, "The student-athletes here give so much to our University and we want to be able to give them a time to relax and celebrate each other and the great work they've done during the course of this past year. Hopefully, they enjoyed it, and this will be the first of many of these coming down the path."
2023 Hurricane Honors Award Winners
Hurricane Leadership Academy Award
Leo Bierbaum, Men's Tennis
HER (Honor.Empower.Rise) Award
Elle Mezzio, Women's Track & Field
Career Cane Award
Semrit Nijjar, Volleyball
Rising Star Award
Isaiah Horton, Football
Kyla Oldacre, Women's Basketball
Most Engaged Hurricane Award
Daphneé Lavassas, Women's Cross Country/Track & Field
Michael Redding III, Football
Most Engaged Team Award
Track & Field
ACC Top Six for Service
Alyssa Bacchus, Rowing
Dillon Fields, Men's Cross Country/Track & Field
Una Forsythe, Women's Swimming & Diving
Kamren Kinchens, Football
Jordan Miller, Men's Basketball
Nicole Sowell, Women's Swimming & Diving
Outstanding Community Service Student-Athlete Award
Sky Klein, Women's Soccer
Outstanding Community Service Team Award
Football
Unsung Hero Award
Alicia Simpson
Female Scholar Athlete
Daevenia Achong, Women's Tennis
Male Scholar Athlete
Lou Hedley, Football
Comeback Student-Athlete of the Year
Julia Edwards, Women's Soccer
Jalen Rivers, Football
Best Female Newcomer of the Year
Alexa Noel, Women's Tennis
Best Male Newcomer of the Year
Norchad Omier, Men's Basketball
Best Female Student-Athlete (MVP)
Mia Vallée, Women's Swimming & Dive
Best Male Student-Athlete (MVP)
Isaiah Wong, Men's Basketball
Ibis Award
Lauryn Harris, Women's Track & Field