University of Miami Athletics
Dan Radakovich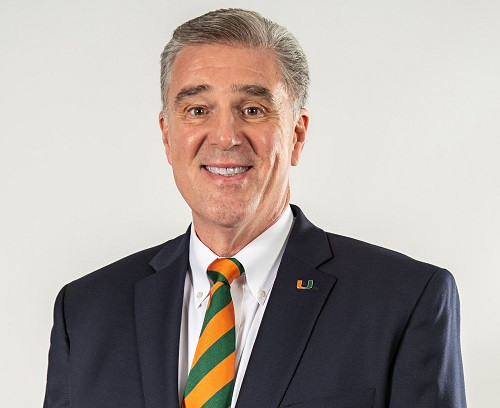 Dan Radakovich was named the 14th Director of Athletics in University of Miami history on December 8, 2021, returning to his graduate school alma mater as one of the nation's most decorated and successful college athletics administrators.
Radakovich, who most recently served as Director of Athletics at Clemson for nine years, launched his career at UM in 1983 as the Hurricanes' athletic business manager, an experience which charted a course that has now spanned seven schools and 30-plus years as a visionary leader in all aspects of college athletics.
"This is a significant moment for the future of athletics at the University of Miami," University President Julio Frenk said upon Radakovich's hire. "Dan is one of the most highly regarded athletics directors in the country. He knows Miami well, from his time at the U and at Clemson, an ACC peer. His proven success, and the success that Dan has helped enable for student-athletes in the classroom and in competition, is reflective of our values. He has the experience, the relationships, and the passion it takes to ignite and sustain excellence—the very core of our bold vision for the future of Hurricanes Athletics."
In his first 18 months in Coral Gables, Radakovich has worked with campus leaders to chart an ambitious course for Miami Athletics with respect to facilities, sport sponsorship, fundraising and staff development. He hired three new head coaches (baseball, golf, rowing) and extended the contracts of six others. He has worked closely with football head coach Mario Cristobal to ramp up recruiting, evaluation, sports science and creative resources. Miami has announced plans to build a new football operations center, the on-campus "forever" home for Hurricanes football, a towering structure that will raise the student-athlete experience for all sports. UM recently opened the Susan and Stephen Symons Basketball Training Center and The Ruiz Family Baseball Strength & Conditioning Center.
This past year, Miami's men's basketball team reached its first-ever Final Four, while the women's basketball team advanced to the first Elite Eight in school history. UM also posted its highest Learfield Directors' Cup finish since 2016. Miami was one of seven schools – and the only ACC school – to have players drafted in the 2023 NFL, NBA, WNBA and MLB Drafts. In 2021-22, Miami was one of just two schools (along with North Carolina) to have its football team qualify for a bowl game, its men's basketball team reach the Sweet 16 and its baseball team host a regional.
Miami's most recent NCAA Graduation Success Rate was 93 percent, matching the school record set in 2012. UM student-athletes posted a Spring 2023 grade point average of 3.17, the school's highest non-COVID semester ever. Miami also captured the 2022 NCAA Team Works Community Service competition with 100 percent participation from its student-athletes.
Miami Athletic Development raised more than $26 million this past fiscal year, an increase of 36 percent over the previous year, and increased its total number of donors by more than 8,000.
Radakovich is the immediate past President of LEAD1, which represents athletic directors at the Division I level. He was named 2017 SportsBusiness Journal Athletic Director of the Year after being a finalist in 2015. In 2014, Radakovich was one of 13 people, including one of only five FBS Directors of Athletics, to be named to first College Football Playoff committee.
At Clemson, Radakovich oversaw the most successful stretch in Tigers football history as the program won two national championships (2016, 2018), six ACC titles and made six College Football Playoff appearances.
Radakovich continuously led the Tigers athletic department to high achievements, both on the field and in the classroom, while developing significant upgrades in finance and facilities.
Clemson set a school record in the NCAA's most recent Graduation Success Rate (GSR) report, posting a 95 percent score, which also tied for first in the ACC amongst public schools. Eight Tigers programs earned perfect scores. Clemson student-athletes recorded nine semesters with a 3.0 GPA or higher, including a record 3.57 GPA in the spring of 2020. Radakovich guided the department successfully throughout the pandemic, helping Clemson to reopen athletic operations, including safely hosting 112,367 fans at Memorial Stadium in 2020, third most in the nation.
In 2020-21, Clemson had its best finish in the Learfield Directors' Cup since 2007, finishing No. 36. Highlighting the athletic year, the football program claimed the ACC title and appeared in the College Football Playoff, the men's soccer program claimed the 2020 ACC championship, and the women's soccer program advanced to the Elite Eight. Additionally, Radakovich oversaw the development of the softball program at Clemson, which officially began in the spring of 2020. That program earned the ACC regular-season championship in 2021 and made its first trip to the NCAA Tournament. Clemson also made NCAA appearances in men's basketball, indoor and outdoor track & field and men's and women's golf.
During Radakovich's tenure, IPTAY, the school's fundraising arm, saw significant increases in contributions and he was instrumental along with the IPTAY Board of Directors in the Cornerstone Partner Program, which together has helped fund numerous investments in infrastructure and the student-athlete experience.
During the 2018-19 school year, Clemson won its second football national championship in three years, defeating Alabama 44-16. During the 2017-18 school year, Clemson became the first school in history to reach the College Football Playoff, advance to the Sweet 16 of the NCAA Men's Basketball Tournament and host a baseball regional in the same season.
Since 2013, Clemson received approvals for more than $200 million in facility improvements and increased spending on direct student-athlete development programs, including nutrition, mental health and professional development, by $2.4 million. His department increased overall revenue from $69 million in fiscal year 2014 to a budgeted $131 million in fiscal year 2020. Littlejohn Coliseum opened to rave reviews following a $63 million renovation. The Allen N. Reeves Football Complex opened in 2017, setting the standard for football facilities around the country. The Nieri Family Student-Athlete Enrichment Center opened as a state-of-the-art facility for student-athlete development in the classroom and community. The development, rebranding and expansion of football's P.A.W. Journey highlighted a best-in-class approach to preparation for life after their Clemson football careers.
Prior to his arrival, Radakovich amassed a wealth of experience serving in significant athletic administrative roles at Georgia Tech, LSU, American, South Carolina, Long Beach State and UM.
Radakovich came to Clemson from Georgia Tech, where he served as Director of Athletics for six years (2006-12). He hired football head coach Paul Johnson, who was inducted into the College Football Hall of Fame in 2023, and rebuilt McCamish Pavilion, home to the Yellow Jackets' men's and women's basketball teams. Prior to his tenure at Georgia Tech, Radakovich worked as a Senior Associate Athletic Director at LSU from 2001-06. He had many responsibilities with the football program, including the year the Tigers won the national title in 2003.
From 2000-01 Radakovich was Director of Athletics at American University. Between 1994 and 2000, he served as Chief Financial Officer at South Carolina. He gained experience on the West Coast from 1989-94, when he was a Senior Associate Athletic Director at Long Beach State. Radakovich worked at The U from 1983-85 as Athletics Business Manager.
Radakovich, a native of Aliquippa, Pa., is a 1980 graduate of Indiana (Pa.), where he earned a bachelor's degree in finance. He was also a football letterman and student coach with the Crimson Hawk program, and he was inducted into the school's athletic hall of fame in 2021. He previously was enshrined into the Beaver County Sports Hall of Fame in 2008 and was recognized as a distinguished alumnus from Indiana in 2009.
Radakovich and his wife, Marcie, have two sons, Christian, a 2012 Georgia Tech graduate, and Grant, a 2015 Mercer graduate who was a tight end on Clemson's 2016 national championship football team.