Surging Hurricanes Set to Host Syracuse
CORAL GABLES, Fla. – The University of Miami men's basketball team is on a seven-game winning streak, with four of those victories over Power Five foes.
The biggest key in the success? Elite offense.
Miami (11-3, 3-0 ACC) is up to No. 25 in offensive efficiency, according to KenPom, and has scored over 90 points in each of its last two games. It is the first time any ACC team has done that in consecutive regular season league games since February 2017 and the first time the Hurricanes have ever done so.
There is one player in particular whom 11th-year head coach Jim Larrañaga feels has made the biggest impact on the team's offensive execution.
"Well, I think our offensive philosophy has always been to share the ball and Charlie Moore's style of play has become contagious. Charlie is a very willing passer; he gives the ball up effortlessly," the two-time ACC Coach of the Year shared. "And now, Isaiah Wong, Kam McGusty, Jordan Miller and Sam Waardenburg, they're all doing it. That's why we've ended up with a lot more assists than turnovers and a lot more scoring. I'd also credit our opponents for creating really up-tempo, exciting games. When you play so many possessions, a team can get into a very good offensive rhythm and that's what has happened in these last two contests."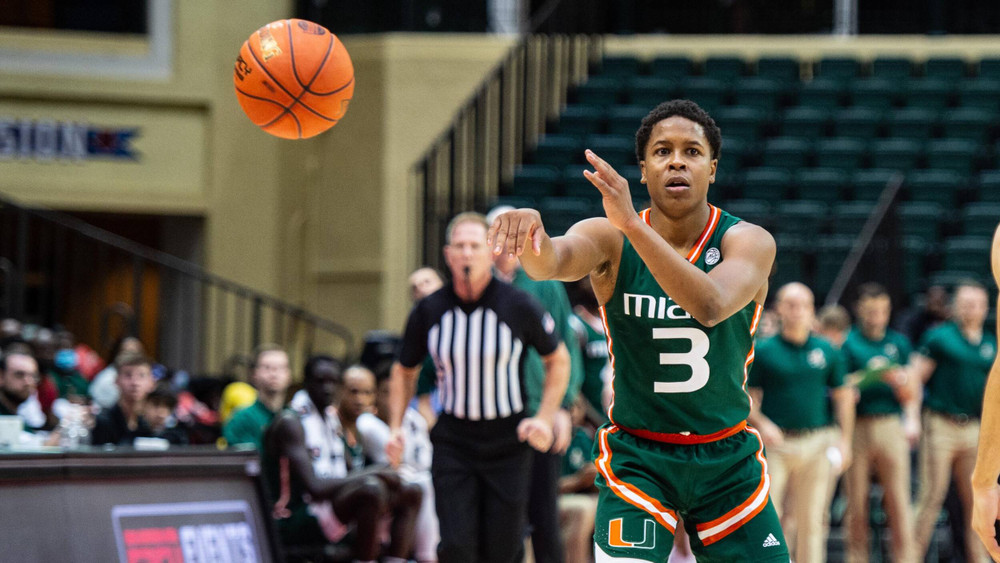 In the Hurricanes' last game, a 92-84 victory over Wake Forest Wednesday night at the Watsco Center, the offensive display was particularly good, even by the team's lofty standards.
Miami shot over 59 percent in both halves and finished with a 61.5 percent clip (32-of-52), its highest mark in a game since Dec. 25, 2017. The team posted 19 assists—led by seven from Moore, a sixth-year redshirt senior guard—and just nine turnovers.
Wong, a third-year sophomore guard, paced all scorers with a season-high 25 points on 11-of-18 shooting, adding a co-season-high four assists. Moore scored 18 points, finishing 6-of-7 from the floor and making all three of his 3-pointers.
Miller, a fourth-year junior guard, recorded 17 points on 7-of-9 shooting and went 3-of-5 beyond the arc. McGusty, a sixth-year redshirt senior guard who won ACC Player of the Week honors, scored all 15 of his points in the second half and shot 10-of-11 from the line.
"I think Wake Forest is [really good]. They have great size and scoring ability, especially in the paint. They are much bigger and more physical than us. With that being said, I was really happy with the way our guys were able to execute on offense and keep scoring," Larrañaga said. "We got off to a great start thanks to Charlie Moore; he played great early. And then, in the second half, when Wake Forest was making its run, Isaiah Wong—as he has done repeatedly throughout his career—just stepped up and kept scoring to keep us ahead, even when it was just by three points. He'd make a big basket, make a shot or make a play and that allowed us to stay out in front for the whole game."
For Miller, meanwhile, the outing was his second elite performance in a row. He scored a season-high 25 points three days prior in the 91-83 win over NC State.
A first-year Hurricane who joined the team from George Mason, Miller's performances came at a key time, as Miami played its last two games without sixth-year redshirt senior forward Sam Waardenburg due to COVID protocols.
After averaging 6.4 points per game in his first 12 outings, Miller put up 42 total points in the two wins. The Middleburg, Va., native, who surpassed 1,000 collegiate points with his first basket against Wake Forest, shot 16-of-25 from the floor and 7-of-11 from long range on the week.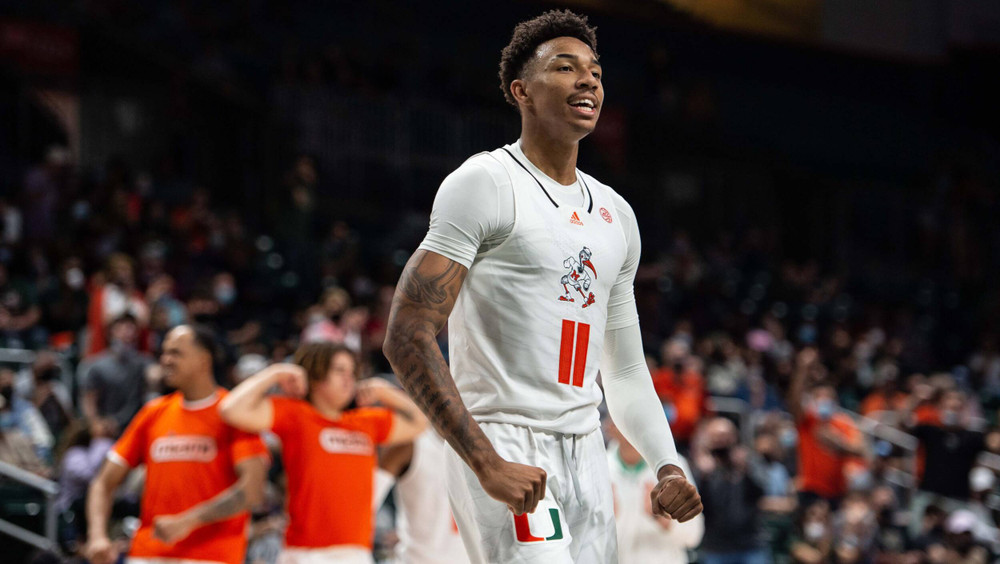 "My own thought is Jordan is getting more and more comfortable, more and more confident," Larrañaga said of Miller's recent surge. "[He is] feeling better and better about the way he is playing and how much his team shares the ball with him. He's getting more touches and feels more included as the season progresses and we play more and more games."
Miller and the Hurricanes now wrap up a three-game ACC homestand, the third such occurrence in program history, Wednesday at 8 p.m. against Syracuse.
The Orange are under the direction of 46th-year head coach Jim Boeheim, the second-winningest coach in Division I men's collegiate basketball history. For his nearly five decades as the Syracuse head coach, the constant with Syracuse has been its 2-3 zone.
One of the few teams in the nation that exclusively plays zone defense, the Orange can give their opponents fits. Miami, which has never eclipsed 70 points in its 10 meetings with Syracuse since the latter joined the ACC, is well aware of that.
"I think Syracuse is a very good team. They have a lot of good players. They have a lot of size. They're bigger at every position than us and that's what makes the zone so challenging," Larrañaga said. "[Boeheim has] actually made an adjustment; he's added a 1-3-1 zone to his arsenal. So, you've got to be prepared for the 2-3 and you've got to be prepared for the 1-3-1. You have to be prepared for their size and the length that they play that zone with because they play it differently than anybody else that we'll play all season."
Syracuse enters the week at 7-6 (1-1) on the season, but features one of the most prolific offensive attacks in the nation. It ranks No. 19 in the KenPom offensive efficiency and is averaging 78.2 points per game.
The Orange's entire starting lineup is averaging over 11 points per game, led by Buddy Boeheim's 19.5 per contest, fourth-best in the ACC. They are shooting 45.7 percent overall and 37.2 percent from deep.
"When you prepare for an opponent, sometimes you can focus on one or two or even three guys, but with Syracuse, they have five guys in double figures," Larrañaga shared. "They have a lot of different ways to score the ball. They're an outstanding shooting team from three and from two. So, they can spread your defense out and they can also drive you. They're very good in around the basket. They're just, really, a complete offensive team."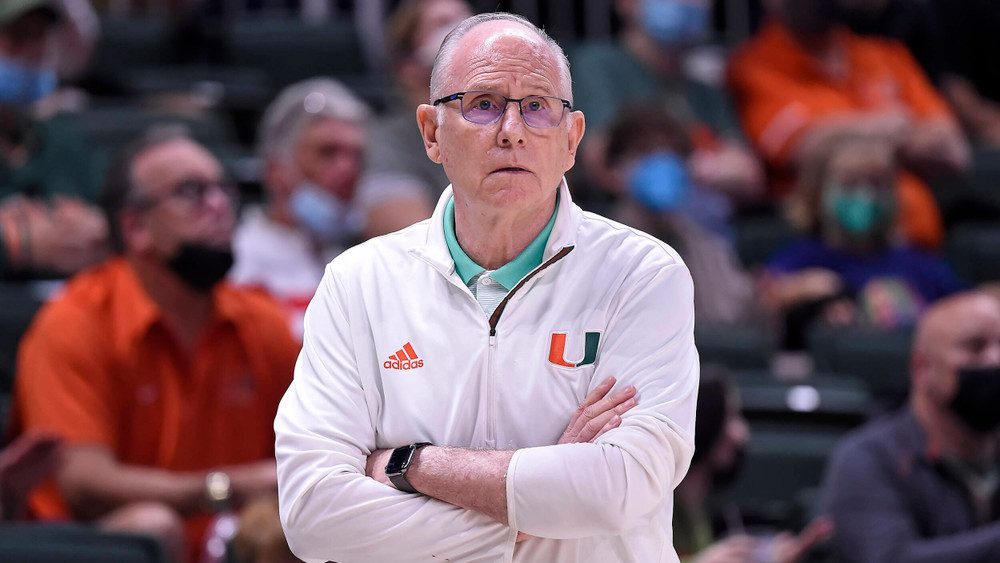 Miami owns a 9-20 all-time record versus Syracuse—that includes a 5-10 ledger at home—but has been much better during Larrañaga's tenure than before it. He is 4-6 against the Orange thus far after the Hurricanes were just 5-14 prior to his time at the helm.
The 2013 Associated Press National Coach of the Year is looking for a strong contingent of Miami fans to come out Wednesday night and support the team to continue that recent success versus Syracuse.
"We've won seven in a row. We have so many challenges ahead of us. This is our last home game for a while," Larrañaga said. "We have to go on the road to Duke and Florida State after this. So, we're really hoping that the local community—our local fans—will get behind this team and cheer them on to victory."
Wednesday's matchup will be televised live on ACC Network HERE, with Angel Gray and Dan Bonner on the call. Joe Zagacki and Danny Rabinowitz will have the radio broadcast on AM 560 Sports WQAM HERE. Action can also be heard on 90.5 FM WVUM HERE and in Spanish on WMYM 990 AM HERE. In addition, live stats for the contest will be available HERE.
Following its outing against Syracuse, Miami will travel to Durham, N.C., for its first true road game in over a month, set for Saturday at 8 p.m. against second-ranked Duke, live on ACC Network from Cameron Indoor Stadium.
To keep up with the University of Miami men's basketball team on social media, follow @CanesHoops on Twitter, Instagram and Facebook.
Single-game tickets for 2021-22 Miami men's basketball games are still on sale and can be purchased HERE or by calling the ticket office at 1-800-GO-CANES. For more details, dial that number or email canestix@miami.edu.