MBB Earns 92-83 Win over Virginia Tech
CORAL GABLES, Fla. – The University of Miami men's basketball team defeated Virginia Tech, 92-83, Tuesday night at the Watsco Center behind 17 points in a sub-six-minute stretch late in the second half by third-year sophomore guard Nijel Pack.
The Hurricanes trailed by five with under nine minutes to play, but Pack's scintillating shooting helped them improve to 12-0 on their home court. No. 23/21 Miami (17-5, 8-4 ACC) third-year sophomore forward Norchad Omier paced all scorers with a season-high-tying 21 points on 9-of-12 shooting after making his first eight shots.
Virginia Tech (13-9, 3-8 ACC) made its first six shots from the field, including a pair of 3-pointers, and its first two free throws to build a 16-8 lead after just 4:45. The strong start featured eight straight points in just 61 seconds.
Miami countered with a 15-2 burst in just 3:06, including an 8-0 run of its own, and also made six straight shots on the way to taking a 23-18 lead with 11:52 on the clock. The Hurricanes upped their lead to six on multiple occasions, but took a one-point advantage, 45-44, into the locker room.
Both teams shot 60-plus percent in the opening 20 minutes, as Miami went 18-of-30 (60.0 percent) and Virginia Tech posted a 17-of-27 (63.0 percent) clip, the best mark by a Hurricane foe in a frame this year. Each team also logged a perfect 6-of-6 free-throw mark.
Virginia Tech trimmed the deficit down to four with 26 ticks left, but the Hurricanes scored the final five points, including a vicious fast-break dunk by sophomore guard Wooga Poplar with two seconds left for an exclamation point, to win by nine.
After the teams played nearly evenly through the first seven minutes of the second session, Virginia Tech went on a 9-2 run to go ahead, 68-63, with 8:20 remaining and was 27-of-41 (65.9 percent) from the floor at that time.
Miami answered with an 11-1 spurt, including a trio of 3-pointers by Pack, to go back in front by five, 74-69 with 5:56 to play. The Hokies tied it at 76, but Pack scored eight straight points in 69 seconds to put the Hurricanes ahead by a then-game-best eight points, 84-76, with 2:28 to go. The Indianapolis native scored 17 of Miami's 19 points, on a perfect 6-of-6 clip, in a stretch of just 5:08.
Virginia Tech trimmed the deficit down to four with 26 ticks left, but the Hurricanes scored the final five points, including a vicious fast-break dunk by sophomore guard Wooga Poplar with two seconds left for an exclamation point, to win by nine.
Both teams made over 56 percent of their field goals, 41 percent of their 3-pointers and 82 percent of their free throws. Miami went 35-of-60 (58.3 percent), 8-of-19 (42.1 percent) and 14-of-17 (82.4 percent), respectively, while Virginia Tech shot 29-of-51 (56.9 percent), 7-of-17 (41.2 percent) and 18-of-20 (90.0 percent).
The Hurricanes, though, did hold the Hokies to just three makes on their last 12 field-goal attempts after they started 26-of-39 (66.7 percent). Miami, which also had an 11-2 lead in second-chance points and a 22-4 margin in fast-break points, tied for its fifth-most points ever in ACC play.
In addition to leading all scorers, Omier paced all rebounders with eight. The Bluefields, Nicaragua, native made all eight of his field goals in the first 24 minutes.
Fourth-year junior guard Isaiah Wong logged 18 points, including 16 in the first half, and set a career high with a game-best five steals. Pack finished with 17 points on 6-of-8 shooting, including a 5-of-7 clip from deep. Fifth-year senior guard Jordan Miller registered 14 points, six rebounds and a game-best five assists.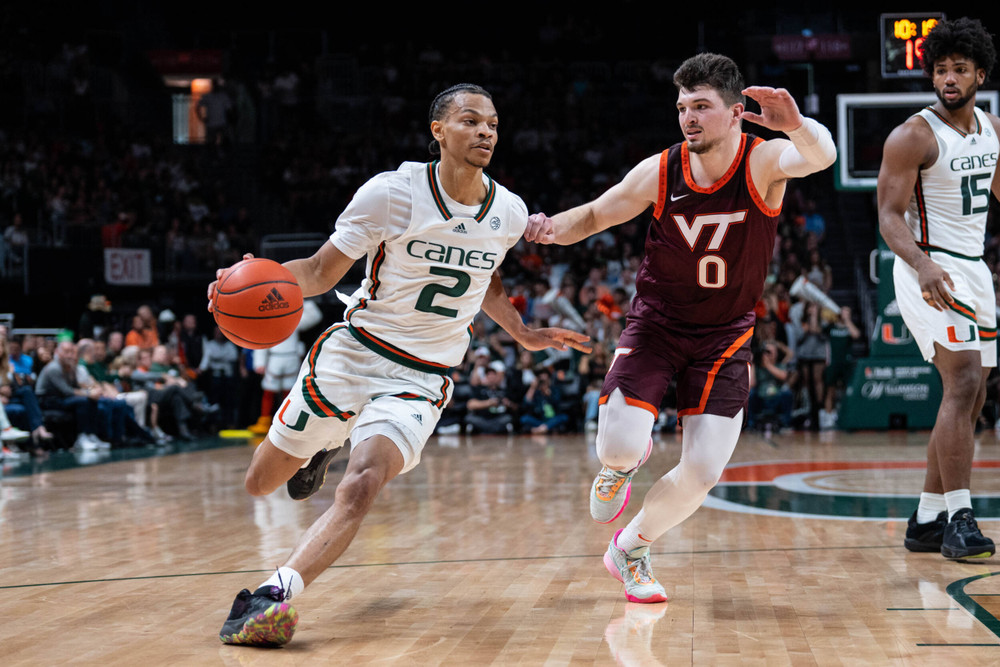 Senior guard Hunter Cattoor and sophomore guard Sean Pedulla, whom Miami forced into six turnovers, each scored 20 points for the Hokies. Both went 6-of-10 from the floor, with the latter making each of his first four attempts. They also went 5-of-5 and 6-of-6, respectively, from the line.
Graduate student forward Grant Basile notched 17 points and a team-high seven boards for Virginia Tech, while senior forward Justyn Mutts added 10 points in the loss.
Miami now faces No. 20/19 Clemson in a top-25 matchup slated for Saturday at 3 p.m., live on ACC Network from Littlejohn Coliseum in Clemson, S.C.
To keep up with the University of Miami men's basketball team on social media, follow @CanesHoops on Twitter, Instagram and Facebook.
MIAMI HURRICANES POSTGAME NOTES
– The Hurricanes' 92 points marked their most in an ACC game since 1/1/22 when it had 92 against Wake Forest, the outing it equaled for fifth-most in program history in ACC play.- According to Jared Berson, Virginia Tech became the first DI team this season to lose a game in which it shot at least 55 percent from the field, 40 percent beyond the arc and 90 percent at the stripe.
– Miami has shot 50-plus percent in both halves in two of its last three games, as it also did so on 1/24/23 at Florida State.
– Virginia Tech became the first team to shoot 50-plus percent in both halves against Miami since Cornell on 12/7/22.
– The Hokies' 63.0 percent clip from the field in the first half passed Maryland's 62.5 percent (15-of-24) ledger before the break on 11/20/22 in Uncasville, Conn., for the best mark in a session by a Miami opponent this season.
– The Hurricanes posted a first-half stretch during which they made eight of nine field-goal attempts (88.9 percent).
– Virginia Tech started 11-of-14 (78.6 percent) from the field through the first 10:15 of action, including hitting its first three 3-pointers.
– Both teams made their first eight free throws of the night, with neither one missing in the first 27 minutes.
– Five former Miami student-athletes who went on to play in their respective professional league were in attendance Tuesday night: Braxton Berrios, Dewan Hernandez, Jon Jay, David Njoku and Gaby Sanchez.
– The last six games in the Miami/Virginia Tech series have been decided by a combined 26 points, an average of 4.3 per game.
– Pack's 17 second-half points are the second-most in a frame by a Hurricane this year, trailing only Wong's before the break on 12/7/22 versus Cornell.
– Wong's 16 first-half points equal for the third-most in half by a Hurricane this season and are among six occasions—four of them are by Wong—a Miami player logged 16-plus in a single session this year.
– Wong's prior career high in steals was four, recorded multiple times, with the most recent occurrence on 1/4/23 at Georgia Tech.