Wong Tabbed to Wooden Award Late Season Top 20 Watch List
CORAL GABLES, Fla. – Isaiah Wong of the University of Miami men's basketball team is on the John R. Wooden Award Late Season Top 20 Watch List, as announced Monday night on ESPN2.
Chosen by a poll of national college basketball experts based on their performances during the 2022-23 season thus far, the list is comprised of 20 student-athletes who are frontrunners for one of the sport's most prestigious honors.
Wong is one of 17 players from the Wooden Award Midseason Top 25 Watch List who made the cut to 20, while three newcomers were added. The fourth-year junior guard is among four ACC players on the list—that number is tied for the most of any league—alongside North Carolina's Armando Bacot, Duke's Kyle Filipowski and NC State's Terquavion Smith.
A native of Piscataway, N.J., Wong leads No. 23/21 Miami (16-5, 7-4 ACC) in points (16.2), assists (3.6) and steals (1.4) per game. He is also averaging 4.7 rebounds per contest, while shooting 44.9 percent from the floor, 37.0 percent beyond the arc and 82.5 percent at the line.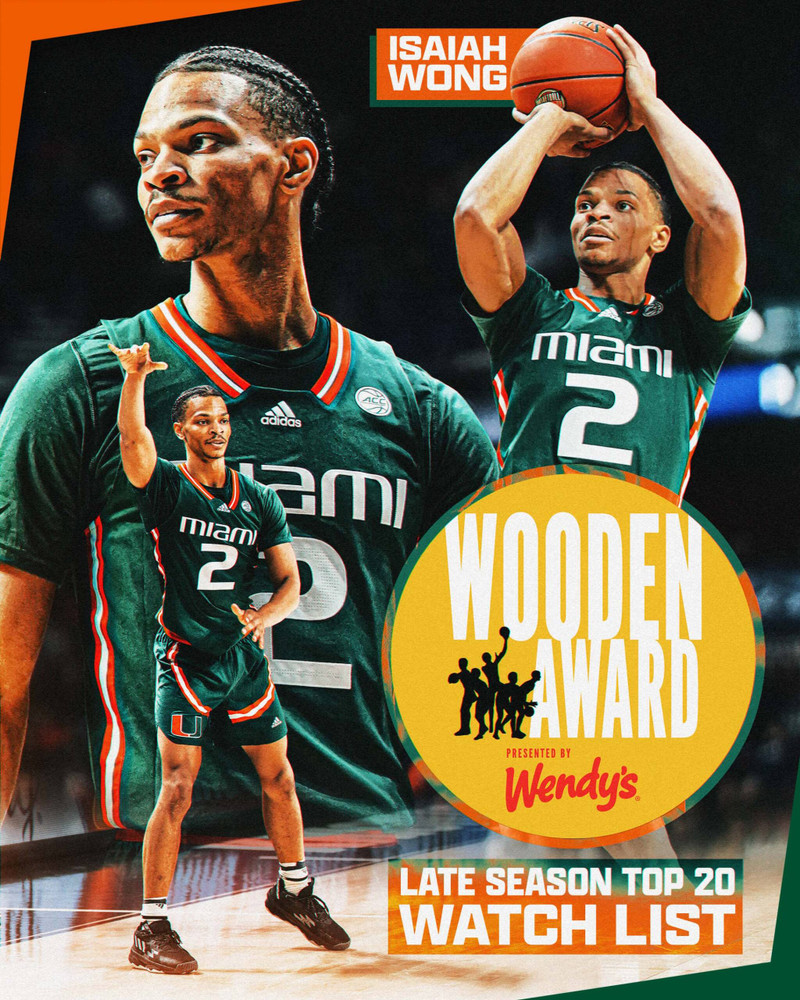 In addition to owning the ACC's highest single-game point total this season (36 vs. Cornell on 12/7/22), Wong also possesses the league's co-third-highest single-game assist mark (10 vs. St. Francis [PA] on 12/17/22). He ranks top-10 in the league in points per game, steals per game, free-throw percentage and assist-to-turnover ratio (1.88), as well top-15 in assists per game and field-goal percentage.
A two-time ACC Player of the Week this year, Wong earned Preseason First Team All-ACC status after claiming Third Team All-ACC status in each of the past two seasons.
Wong and the other 19 players on the list are considered strong candidates for the 2023 John R. Wooden Award Men's Player of the Year presented by Wendy's. Players not chosen are still eligible for the Wooden Award National Ballot, which consists of 15 top players.
Nearly 1,000 voters will rank in order 10 of those 15 players when voting opens prior to the NCAA Tournament and will allow voters to take into consideration performance during early-round games. The Wooden Award All American Team will be announced the week of the Elite Eight. The winner of the 2023 John R. Wooden Award will be presented in Los Angeles in April.
Wong and the Hurricanes resume play Tuesday at 7 p.m. against Virginia Tech, live on ESPNU from the Watsco Center.
To keep up with the University of Miami men's basketball team on social media, follow @CanesHoops on Twitter, Instagram and Facebook.