MBB Dominates Florida State, 86-63, in Tallahassee
TALLAHASSEE, Fla. – The University of Miami men's basketball team posted a resounding 23-point victory Tuesday night at the Donald L. Tucker Civic Center, defeating Florida State, 86-63.
Third-year sophomore guard Nijel Pack and fourth-year junior guard Isaiah Wong co-led No. 20/19 Miami (16-4, 7-3 ACC) with a game-high 18 points in the largest road win by either side in the history of the storied in-state rivalry. It also marked the largest home loss for the Seminoles since Dec. 5, 2012, and largest at home in ACC play since Jan. 22, 2005.
After Florida State (7-14, 5-5 ACC) scored four of the first five points, Miami went on an 18-0 run in just 2:41 to grab a 19-4 edge with 15:38 on the first-half clock. The burst included a trio of 3-pointers by Pack and one by sophomore guard Wooga Poplar.
The Hurricanes extended the lead up to 22 points, 39-17, with 8:46 on the clock after an 18-8 burst that included four more 3-pointers. Miami started 8-of-11 (72.7 percent) from beyond the arc, including hitting seven of its first nine attempts, and 15-of-22 (68.2 percent) overall.
Miami pushed its advantage as high as 28, 52-24, in the opening session and took a 26-point edge, 54-28, into the locker room. It shot 20-of-33 (60.6 percent) from the floor, including 9-of-14 (63.3 percent) from deep, and had a 19-0 margin in second-chance points through 20 minutes.
"Well, I thought we got off to a great start with a lot of energy and a lot of determination at both ends of the court. We defended very well in the first half; we only gave up 28 points, which is really good," Miami head coach Jim Larrañaga said. "But we also shot the ball extremely well. We shared the ball. [We had] 14 assists and 54 points. When we're sharing the ball and shooting the ball like that, it gives me a lot of confidence. I'm sure our players felt great about it."
The Hurricanes' stellar first half proved more than enough, as Florida State never got any closer than 21 after the intermission. Miami, meanwhile, stretched its cushion back up to 28 on multiple occasions on the way to the 112th ACC win of Larrañaga 12-year tenure, good for sole possession of 10th place in league history.
Miami ended the night with a staggering 40-23 edge on the glass—it was 22-6 in the first half alone—and led for nearly 38 minutes. The Hurricanes, who had their fourth-highest assist total of Larrañaga's tenure (23), made 29 of their first 47 shots and finished 31-of-55 (56.4 percent). They also hit 11 of their first 19 long-range shots on the way to an 11-of-22 (50.0 percent) mark, while holding the Seminoles to a 3-of-22 (13.6 percent) 3-point ledger at the other end.
Pack, who made his first four 3-pointers, shot 6-of-10 from the floor and led all players with a season-high-tying five assists. Wong went 5-of-9 overall, 4-of-7 from deep and 4-of-4 at the line, as well as pulled down a season-best nine rebounds to go along with three assists and zero turnovers.
Poplar totaled 14 points, his most ever in ACC play, and a season-high-tying three assists, while fifth-year senior guard Jordan Miller recorded 12 points on a perfect 5-of-5 field-goal clip. Third-year sophomore forward Norchad Omier recorded his 45th collegiate double-double, including his 10th this year, with 12 points and a game-best 11 rebounds, adding a career-high-tying four assists.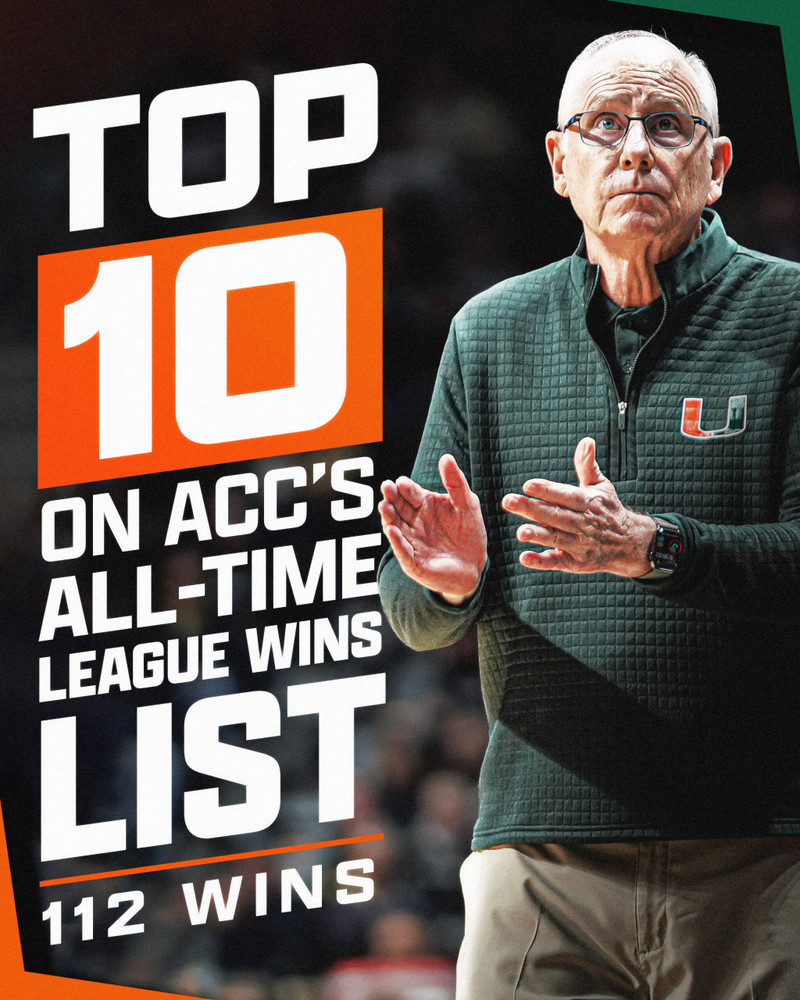 While Miami had five players with 12-plus points, no Seminole exceeded that number. Redshirt junior guard Caleb Mills paced the team with 12, but the Hurricanes held him to 4-of-12 shooting. Junior center Naheem McLeod logged 11 points on 5-of-5 shooting and sophomore guard Matthew Cleveland posted 10 points.
The Hurricanes now take on Pittsburgh in their third consecutive road game, with action slated for Saturday at 4 p.m., live on ESPNU from the Petersen Events Center in Pittsburgh.
To keep up with the University of Miami men's basketball team on social media, follow @CanesHoops on Twitter, Instagram and Facebook.
MIAMI HURRICANES POSTGAME NOTES
– With his 112th win in ACC play, Larrañaga passed Terry Holland, whom he worked for as an assistant for 11 years, for sole possession of the No. 10 spot on the ACC all-time leaderboard and is now one of just three active coaches on the list.
– The prior largest road win in series history was 18 by Florida State, 75-57, on 2/1/17, while the previous top mark for Miami was 16 points, 65-49, on 2/22/05.
– Miami's nine first-half 3-pointers tied for its eighth-most in a half, including its co-sixth-most before the break and co-fifth-most in league play, in the program's ACC era (since 2004-05).
– The Hurricanes first-half made field goals matched their 10th-highest total in a half in the ACC era, including their co-fifth-most in the first frame and co-third-most in league action.
– Miami logged 14 assists in the first half, its most in a frame this season, to post its co-seventh-most in a half in the ACC era, including its co-fifth-most before the intermission and co-second-most in league play.
– The last time the Hurricanes shot over 60 percent from the floor in a half was in the second session on 1/14/23 at NC State, when it posted a 61.9 percent (13-of-21) clip.
– Miami last scored 50-plus points in a half on 12/17/22 when it logged 54 after the break against St. Francis (PA).
– The only other team Miami led by 28-plus points this season was Louisville, which it held a 32-point edge against on 12/4/22 on the road.
– Tuesday marked the second straight game in the Miami/Florida State series with a halftime margin of 24-plus points, as the Seminoles led, 43-19, on 1/22/22 at the Watsco Center in an eventual 61-60 victory.
– Two of Florida State's last three defeats in ACC play by 23-plus points are against Miami, as the Hurricanes notched a 71-47 home victory on 1/27/13 and Wake Forest tallied a 71-46 home triumph on 2/9/13.
– Tuesday marked the Seminoles' largest home loss in ACC play since an 88-56 setback against Duke on 1/22/05, over 18 years ago.
– The last time Florida State lost at home by 23-plus points was on 12/5/12, when it dropped a 72-47 decision to Florida, which then employed current Miami strength & conditioning coach Preston Greene.
– Miami, which improved to 22-1 under Larrañaga when recording 20-plus assists, finished with its third-most assists ever in ACC play (23) and its highest total in any game since notching 26 on 1/21/18 at NC State.
– Poplar scored 10 points in the first 6:15 alone, tying his high in ACC play in a full game, which he set on 1/11/23 versus Boston College.
– Omier logged double-figure rebounds for the fifth consecutive game and recorded his fourth double-double during that stretch.
– Redshirt freshman guard Jakai Robinson scored the first points of his collegiate career on a field goal in the final minute.
– Wong now has 1,594 points as a Hurricane, tied with Dennis Burns (1985-89) for ninth-most in program history.
– In addition, Wong now owns 2,161 minutes of action in ACC play as a Hurricane, breaking the prior program record of 2,155 by Durand Scott (2009-13).