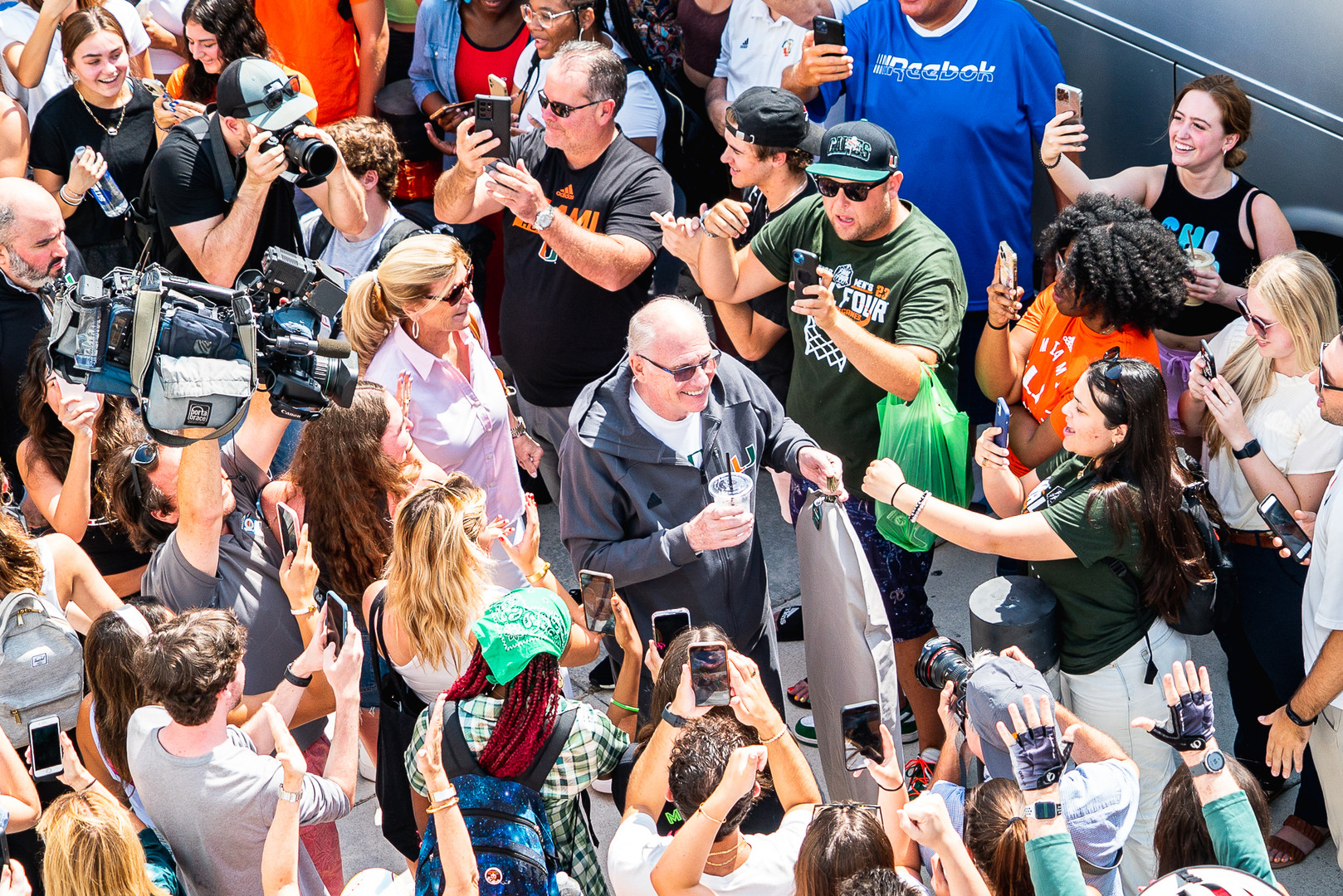 CORAL GABLES, Fla. – Jim Larrañaga has walked outside the doors of his office countless times.
Never, though, has Miami's head men's basketball coach encountered a scene like the one he and his players experienced on this warm, sunny Wednesday afternoon when hundreds of fans gathered outside the Watsco Center to send the Hurricanes off to Houston.
There, on Saturday night, Miami will play for the first time on college basketball's biggest stage: the Final Four.
Understandably, those fans were plenty excited to be a part of the journey.
They cheered as Larrañaga and the Hurricanes made their way through the crowd to board the buses that took them to the airport. They snapped pictures. And more than once, they chanted the seven words that have been heard during many of this season's most memorable moments.
"It's great…to be…a Miami Hurricane," they sang.
Each had their own reason to be there. Some of the fans brought their young children to meet the Hurricanes players; others were Miami students showing their classmates their support.
All, though, wanted to make sure the Hurricanes knew the Miami community was behind them.
"For me, I've always really been into college basketball," said Sadie Collins, a sophomore at UM who hails from Fort Myers. "I love watching our team play and I just want to make sure I give them some school spirit before they head off, to encourage them a little bit."
Added fellow Miami sophomore Georgia Macey of New York, "I just wanted to support the team. I'm actually on the dance team here, but we're not able to travel to Houston, so I just want to support them every chance I could."
For Miami, that support has been there throughout this memorable season.
On-campus groups Category 5 and The Eye have helped ensure the seats in Miami's student section were filled during all throughout the regular season. They've since hosted on-campus watch parties during Miami's run through the NCAA Tournament.
And the South Florida community has done its part, too, helping create a home-court advantage at the Watsco Center, where the Hurricanes lost just one game on their way to claiming a share of the regular-season ACC title earlier this year.
"This is amazing, amazing" said Dr. Patricia A. Whitely, Miami's Senior Vice President for Student Affairs. "Obviously, 41 years of being at the University, I've seen a lot with football. But to experience basketball coming back in 1984 at the Knight Center and now we're going to the Final Four? I cried. It's just so cool and the students have been really supportive. We have so many students going to Houston and the Watsco Center will be packed [for a watch party]. We're just thrilled. And it couldn't happen to a better coach and better players. For Coach L to do this, it's awesome."
Even away from the Watsco Center, the Hurricanes have discovered some newfound celebrity status, with fans and students recognizing them and congratulating them for all their accomplishments this season.
"It's been great. The fans are supporting us and when we're walking around, they're showing us love. We appreciate them for that," said Hurricanes guard Isaiah Wong, the ACC Player of the Year. "It just feels good to be in Miami right now…You're walking around and everybody's looking at you and everybody wants to say hello and say great game. It's great to be out here."
Still, as exciting as Wednesday's send-off and all the moments leading up to it have been, the Hurricanes know they have work to do once they get to Houston.
Their first challenge will be finding a way to get past yet another higher-seeded team, Connecticut.
But Larrañaga and the Hurricanes say they're ready to compete – and ready to continue making history for the Miami program.
"We've got to stick to the main goal. Win the game and play together," Wong said. "I feel like when we do that, it takes the pressure off. We have to rely on and trust each other…We're going to make great plays for each other and we're going to trust the person with the ball to make the best decisions."
Said Larrañaga, "I feel like I'm a pretty good motivator, but right now, my players don't need my motivation. They're already highly motivated themselves. They're great competitors and they're great friends. They really want to play well, not just for themselves, but for their teammates."