Miami Knocks off Virginia Tech, 78-75 at the Buzzer
BLACKSBURG, Va. – The University of Miami men's basketball team defeated Virginia Tech, 78-75, Wednesday night at Cassell Coliseum on a half-court buzzer-beater by Charlie Moore.
Miami (15-5, 7-2 ACC) trailed by six in the final seven minutes and by five in the final two, but stormed back down the stretch to earn its fourth road triumph in five attempts. The Hurricanes made five of their last seven shots and closed the night on an 8-0 run in the final two minutes, capped with Moore's game-winner to send the visiting bench streaming onto the court in jubilation.
Kameron McGusty, a sixth-year redshirt senior guard like Moore, paced Miami with a game-high 19 points, including 17 in the final 15 minutes.
"When we've played Virginia Tech in the last five years, it seems like it always comes down to the last possession—the last shot, the last stop—and tonight was no different. It was a tremendous college basketball game, very entertaining," Miami head coach Jim Larrañaga said. "There was a lot of great shot-making and there were a lot of great plays. You have to give our guys credit because we fell behind by [six points] late in the game and we could've easily said to ourselves, 'I'm tired. We tried hard, but we didn't get this one.' Instead, at the timeouts, you could tell they were bound and determined to get back in it and tie this game up and try to win it at the end."
The Hurricanes made eight straight shots early in the game and, during that stretch, posted a 14-1 run in just 3:06 to go in front, 20-9, with 13:18 on the clock. The surge included 12 consecutive points in only 2:05.
Miami's offense, however, then cooled down, as Virginia Tech (10-10, 2-7 ACC) countered with a 15-6 burst to cut the deficit to two, 26-24, with 4:12 remaining in the frame. The Hurricanes outscored the Hokies by three the rest of the session and took a 36-31 edge into the locker room.
Virginia Tech shot 7-of-15 (46.7 percent) from deep in the opening 20 minutes, but Miami forced 11 turnovers and committed just five, leading to an 18-3 edge in points off giveaways. The Hurricanes also got 14 first-half points from fourth-year junior guard Jordan Miller, a native of nearby Middleburg, Va., on 5-of-6 shooting, including a 2-of-3 clip from deep, to go along with a 2-of-2 mark at the line.
The Hokies scored six quick points—an old-fashioned three-point play and a 3-pointer—in the first 62 seconds of the second half to go ahead, 37-36. Virginia Tech upped its cushion to four, 62-58, with 8:50 remaining after a trio of free throws following a stretch of six consecutive made field goals, including two from beyond the arc.
Virginia Tech continued its offensive surge and took a game-high six-point advantage, 67-61, with 6:35 to play. The Hurricanes, though, answered with a 7-1 run in 1:12 to level the score at 68 with 4:53 on the clock.
After the teams exchanged baskets, the Hokies scored five points in a row to go up, 75-70, with 2:24 remaining. Miami then tied it at 75 just 75 seconds later after a Miller layup through a foul and a trio of free throws from third-year sophomore guard Isaiah Wong.
The Hurricanes got a defensive stop and then committed a turnover, followed by another stop, after which they called timeout with 1.8 seconds left to draw up the eventual exhilarating game-winning play.
"We sent Isaiah Wong and Jordan Miller down the floor to try and stretch their defense out. We had Sam Waardenburg screen for Charlie and just told Charlie to get on the run," Larrañaga said. "One of the major keys in a guy scoring a shot like that is you have to have someone who throws a great pass so he can catch it on the move. Kam McGusty has been inbounding the ball all season for us. He threw a perfect pitch, Charlie caught it on the dead run, took one dribble and then banked in a shot. But Charlie had already asked for the ball at the timeout, so we knew we were going to him. He wanted a chance to win it."
McGusty's second-half performance helped pave the way for the Miami comeback. After starting 1-of-8 from the floor, he made his final six shots of the night, including three from 3-point range. The Katy, Texas, native added a co-team-high seven rebounds and season-high-tying five assists in the victory.
Miller finished with 18 points on 7-of-9 shooting, also posting a co-team-best seven rebounds, two assists and two blocks. Moore posted 13 points and six assists, the first of which gave him 500 as a collegian. He shot 3-of-6 from 3-point range and logged a game-high five steals in a season-high-tying 38 minutes.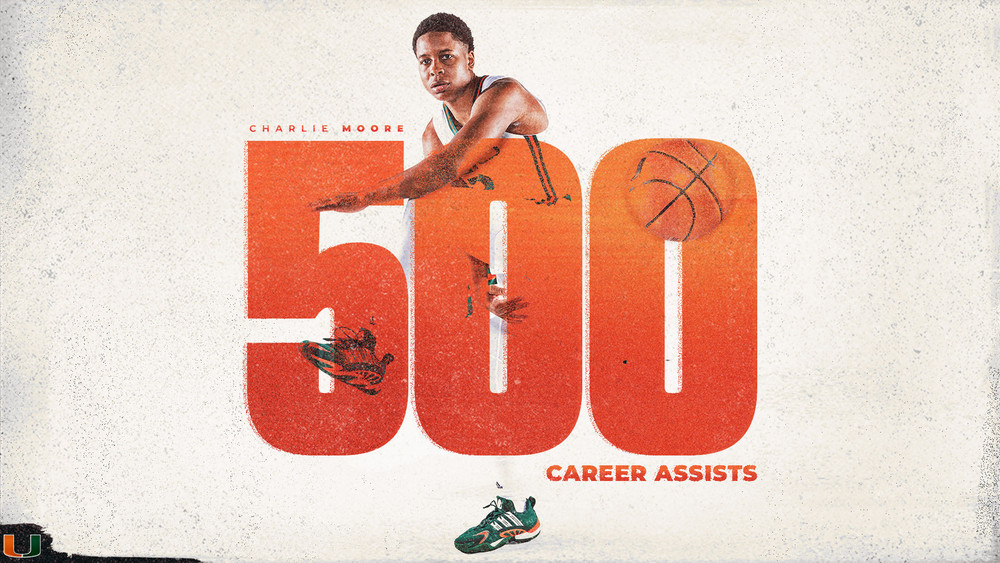 Wong scored 12 points, as did sixth-year redshirt senior forward Sam Waardenburg, the latter of whom went 4-of-4 from the field, 2-of-2 from deep and 2-of-2 at the line. The Hurricanes had five double-digit scorers for the first time all season.
Redshirt senior forward Keve Aluma paced Virginia Tech with 14 points, while three Hokies had 13 points apiece: junior guard Nahiem Alleyne, junior guard Hunter Cattoor and sophomore guard Darius Maddox.
Graduate student forward Justyn Mutts recorded nine points, a game-high 10 rebounds and a game-high eight assists for Virginia Tech. He scored all of his points in the final 12 minutes of the game.
Miami finished the night with a 61.1 percent clip (11-of-18) from 3-point range against the ACC's best 3-point percentage defense. That is the best mark by a Virginia Tech opponent during Mike Young's three seasons as head coach and the third-best ever by the Hurricanes in ACC play.
At the other end, meanwhile, the Hokies shot 50.0 percent (13-of-26) from deep. The Hurricanes, who totaled 10 steals, logged a 23-8 edge in points off turnovers and a 16-3 advantage in fast-break points to counteract the Hokies' 23-4 cushion in bench points.
Miami now heads to Atlanta, where it squares off with Georgia Tech Saturday at noon, live on RSN from McCamish Pavilion.
To keep up with the University of Miami men's basketball team on social media, follow @CanesHoops on Twitter, Instagram and Facebook.
MIAMI HURRICANES POSTGAME NOTES
– The Hurricanes moved to 25-19 all-time against Virginia Tech, including 9-10 on the road and 15-9 in Larrañaga's tenure.
– The last four meetings between the Hurricanes and Hokies have featured two overtime games and two one-possession games.
– Larrañaga, who entered the game with the ninth-most victories of any active Division I coach, is now 685-469 in 38 years as a head coach, including 215-135 in 11 seasons at Miami.
– For the 14th time this season, Miami used a starting lineup of McGusty, Moore, J. Miller, Waardenburg and Wong.
– Moore is one of just 31 active Division I players with 500-plus assists, a figure Indiana's Xavier Johnson also reached tonight after Moore did.
– Moore's five steals marked the fourth time this season a Hurricane has logged five-plus in a game this year, including the second time he has done so.
– The only two ACC games in which Miami has ever shot better from 3-point range (min. seven 3PM) were on 2/27/16 versus No. 11/NR Louisville (72.7 percent, 8-of-11) and 1/7/06 against No. 14/12 Maryland (63.2 percent, 12-of-19).
– The aforementioned game against Louisville on 2/7/16 was the last time Miami shot 60-plus percent from 3-point range in any game.
– The last time the Hurricanes won on a last-second shot was 11/16/21 when Isaiah Wong scored with 0.7 ticks remaining at Florida Atlantic, while the last time they won on a buzzer-beater with the clock at 0:00 was on 2/27/18 when they did so on a near-half-court heave from Ja'Quan Newton at ninth-ranked North Carolina.
– Mutts' eight assists tied for the second-most by a Miami opponent this season and marked the top such total by an ACC player.
– The game featured 14 lead changes and nine ties, both the second-highest marks in any of the Hurricanes' outings this season, trailing only the 15 and 10, respectively, on 1/11/22 at Florida State.
– Miami shot 51.9 percent (14-of-27) in the first half and 57.7 percent (15-of-26) in the second half, marking the first time since 1/1/21 versus Wake Forest it eclipsed 50 percent in both frames.
– The Hurricanes earned their 14th victory in Larrañaga's tenure (14-116) when trailing with 2:00 left, including their ninth in ACC play (9-78) and first this season (1-4).
– Miami last won a game when trailing with 2:00 remaining on 12/8/20 versus Purdue, when it came back from a 20-point deficit to garner the victory.
– The last time five Hurricanes scored in double figures in the same game was 3/9/21 against Pittsburgh in the opening round of the ACC Tournament in Greensboro, N.C.
– In the last seven games, the Hurricanes have forced 109 turnovers and registered 75 steals.
– According to ESPN's Bryan Ives, Miami is the first ACC team since Virginia in 2019-20 to have a stretch of six-plus consecutive games with at least five of them decided by one possession.
– The Hurricanes shot 90.0 percent (9-of-10) from the free-throw line, while the Hokies shot 80.0 percent (12-of-15).
– Miami logged an 18-4 advantage in paint points during the first half of action and finished with a 30-20 margin.
– J. Miller, who surpassed 400 made field goals and 2,750 minutes played as a collegian, scored in double figures for the 57th time, including the seventh this season.
– Waardenburg, who reached 150 free-throw attempts at Miami, scored double-digit points for the 19th time, including the seventh this year.
– McGusty, who eclipsed 1,150 points, 350 free-throw attempts and 3,500 minutes played in his career, registered double-figure points for the 82nd time, including the 54th as a Hurricane and 19th in 2021-22.
– McGusty tallied his sixth five-assist performance, all at Miami, including his third this season.
– Moore recorded double-figure points for the 69th time, including the 12th this year.
– Moore tallied five-plus assists for the 43rd time, including the sixth in 2021-22.
– Wong tallied double-digit points for the 52nd time, including the 19th this season.
– Third-year sophomore forward Anthony Walker tied a career high with three steals, matching the mark he set on 3/10/21 versus Clemson in the second round of the ACC Tournament in Greensboro, N.C.