MBB Falls to Florida State, 85-84, at the Buzzer
CORAL GABLES, Fla. – The University of Miami men's basketball team dropped a heartbreaking 85-84 decision Saturday evening against Florida State at the Watsco Center.
No. 13/11 Miami (23-6, 14-5 ACC) led by 25 points in the second half, but the Seminoles rallied back to hand the Hurricanes, playing without third-year sophomore guard Nijel Pack due to injury, their first home setback in 16 outings. Fifth-year senior guard Jordan Miller scored 21 points for Miami to pace all scorers, but the Seminoles won on a buzzer-beating 3-pointer.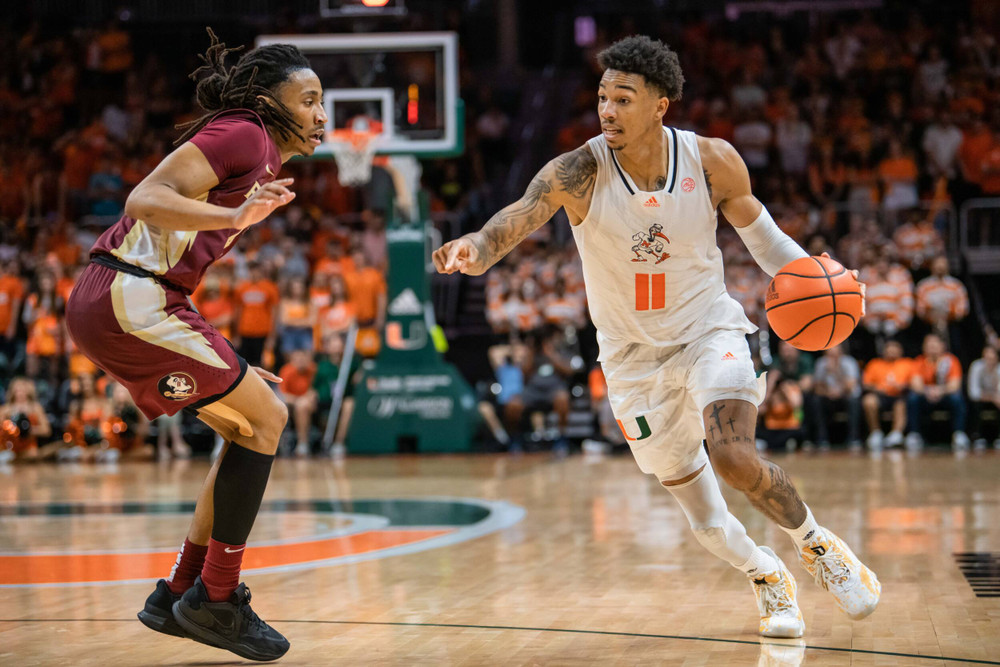 The Hurricanes raced out to a 14-2 lead in under three-and-a-half minutes, connecting on six of their first eight shots, including both 3-point attempts, and forcing four Florida State (9-20, 7-11 ACC) turnovers. The Seminoles, aided by back-to-back 3-pointers, twice trimmed the deficit down to five, but Miami answered right back. A 14-0 surge in just 3:15 made it 42-23 with 4:35 on the first-half clock.
Miami pushed the burst up to 22-2 over 6:19, building a 25-point lead, 50-25, with 1:29 left in the session. They went on to take a 23-point edge, 54-31, into the locker room behind 65.7 percent (23-of-35) shooting. It marked the second time this year the Hurricanes scored 54 points in the first half against the Seminoles and led by 23-plus through 20 minutes.
In the second half, Florida State at one point made 15 of 19 field goals, including seven in a row, and used a 35-10 extended run to go in front by one, 71-70, with 5:56 to go. The stretch included both 13-1 and 16-2 surges by the visitors.
The Seminoles upped their lead to four, 80-76, with 2:37 on the clock. Miami scored the next five points and went back in front on a putback dunk by third-year sophomore forward Norchad Omier with 38 ticks to play, but Florida State regained the lead 16 seconds later.
Miller hit a corner 3-pointer with under six seconds on the clock to put the Hurricanes ahead by two, but Florida State sophomore guard Matthew Cleveland's 35-foot runner at the buzzer dropped through the net and gave the Seminoles a one-point win.
After shooting 37.5 percent (12-of-32) in the first half, Florida State posted a 67.7 percent (21-of-31) ledger in the second frame. The Seminoles committed 10 turnovers in the first half and just one in the second.
Miami, meanwhile, shot 37.9 percent (11-of-29) after the break and tallied eight turnovers, the latter mark doubling its first-half total.
Miller, whose 21 points came on 9-of-16 shooting, added seven rebounds, two assists and a season-high-tying three steals. Omier logged 15 points on a 7-of-12 clip to go along with a game-best eight rebounds.
Fourth-year junior guard Isaiah Wong scored 14 points, sophomore guard Bensley Joseph added 12 and sophomore guard Wooga Poplar notched 11. Joseph, who started in place of Pack, tied a career high with seven rebounds and finished one shy of his top mark with a co-game-best five assists.
Cleveland scored 20 points on 8-of-15 shooting to co-pace the Seminoles alongside junior guard Darin Green Jr., the latter of whom led all players with four steals. Redshirt junior guard Caleb Mills registered 13 points and five assists, while sophomore guard Jalen Warley posted 11 points, a team-best seven boards and five assists. Freshman guard Chandler Jackson chipped in 10 points, as each team had five double-digit scorers.
Following a midweek bye, Miami faces Pittsburgh in the regular season finale Saturday at 6 p.m., live on ACC Network from the Watsco Center.
To keep up with the University of Miami men's basketball team on social media, follow @CanesHoops on Twitter, Instagram and Facebook.
MIAMI HURRICANES POSTGAME NOTES
– As announced prior to tip-off, Pack, a 27-game starter for the Hurricanes, missed Saturday's contest due to a lower extremity injury.
– Saturday marked the third sellout of the month at the Watsco Center, including the second in a row.
– Larrañaga has now coached 1,200 games in his career, fourth-most among active Division I head coaches.
– Miami's 65.7 percent clip in the first half marked its second-best in any session this year, trailing just a 66.7 percent (20-of-30) mark versus Wake Forest before the break on 2/18/23.
– The Hurricanes' combined halftime margin in two games against the Seminoles this year was plus-49, as they had a 54-28 edge at the break on 1/24/23 in Tallahassee, Fla.
– After it took 3:38 for Miami to build a double-digit lead in the teams' first meeting this season, the Hurricanes needed just 2:36 to do so this time.
– Miami's streak of 29 straight victories when winning the rebounding battle—the stretch dated back to the 2020-21 season—came to an end, as the Hurricanes had a 31-30 edge on the glass.
– The Hurricanes' last defeat when up by 15-plus points came on 1/6/19 at Louisville (up 15), while their last time losing when ahead by double digits at halftime was 12/1/18 versus Yale (up 10) in a neutral-site game in Miami.
– Each of the Hurricanes' last four losses are by three points or fewer, while five of their six defeats overall are by six points or fewer.
– Wong tied Elton Tyler (1997-2000; 2001-02) and John Salmons (1998-2002) for No. 10 on the program's all-time games played list with 124.
– Wong passed Davon Reed (2013-17) to move into the top three on the Hurricanes' ACC-only career made 3-pointers list with 117.
– Wong moved past four players to take over sixth place on Miami's ACC-only single-season scoring list with 301, becoming the seventh Hurricane to reach 300 such points in a year.
– Miller eclipsed Anthony Harris (2004-07) to enter the top 10 on the program's ACC-only career made field goals leaderboard with 209.
– Miller moved past Davon Reed (2013-17) for sole possession of fifth place on the program's ACC-only career steals list with 62.
– Miller surpassed six Hurricanes to go from No. 14 up to eighth on the program's ACC-only single-season scoring list with 295.
– Miller passed Anthony Harris (2005-06) to move up to eighth on Miami's ACC-only single-season assists leaderboard with 60.
– Miller jumped four players to go up to sixth on the program's ACC-only single-season minutes list with 656.
– Omier moved past Tonye Jekiri (2014-15) and tied Kenny Kadji (2011-12) for third place on the Hurricanes' ACC-only single-season blocked shots list with 25.
– Joseph set or tied ACC bests in points (12), rebounds (career-high-tying seven), assists (five), made field goals (four) and minutes (career-high 37).