MBB Falls, 83-81, in Overtime at NC State
RALEIGH, N.C. – The University of Miami men's basketball team rallied from a 10-point halftime deficit to take a four-point lead Saturday afternoon at PNC Arena, but dropped an 83-81 overtime decision against NC State.
Fourth-year junior guard Isaiah Wong paced No. 16/15 Miami (14-3, 5-2 ACC) with a game-high 25 points, including 18 after halftime.
"I thought that was a very entertaining college game. Both teams played very hard and, I'd say, very well, for the most part. It comes down to the overtime," Miami head coach Jim Larrañaga said. "We just had too many turnovers for the game. We only have five assists with 17 turnovers. I would prefer the opposite."
After the teams played evenly through 15-and-a-half minutes, NC State (14-4, 4-3 ACC) closed the frame on a 14-4 run to take a 42-32 lead into the locker room. Miami shot 56.0 percent (14-of-25) before the break, including start 10-of-15, but committed nine turnovers and forced just three.
The Hurricanes opened the second frame on an 8-0 run to pull within two, 42-40, with 17:43 to go. NC State countered with an 11-2 burst to go back ahead by nine, 53-44, just 2:20 later, but Miami answered right back with an 19-6 surge to go in front by four, 63-59, with 8:20 remaining.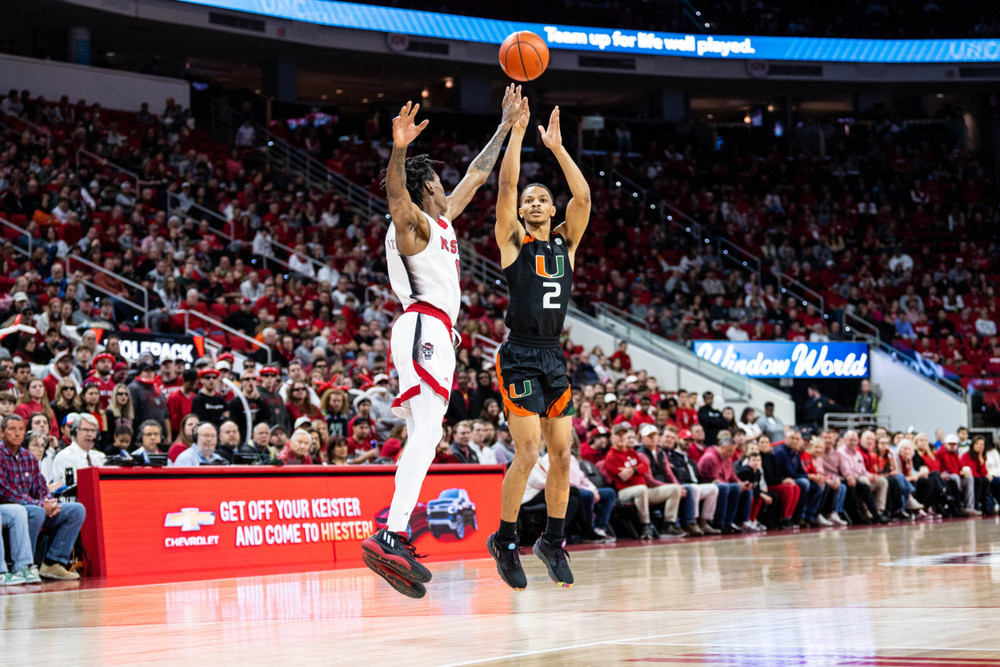 The Wolfpack retook the edge, 65-64, exactly four minutes later after a 6-1 run, but Miami scored four points in a row to go up, 68-65, with 3:46 on the clock. NC State answered again, this time with an 8-2 burst to go up, 73-70, with 55 ticks left. Miami fifth-year senior guard Jordan Miller then drilled a game-tying 3-pointer with 27 seconds to go and the Hurricanes got a stop at the other end to force overtime.
Miami took an 81-78 edge with 2:13 on the overtime ticker, but NC State scored the next five points to go ahead by one, 82-81, with 30 seconds to go and added a free throw 18 seconds later to double the advantage. It then forced a turnover at the other end to claim the home win.
The Hurricanes shot a dazzling 56.9 percent (29-of-51) from the field and held NC State to a 44.0 percent (33-of-75) mark. However, Miami committed 17 turnovers and forced only four, as well as grabbed only four offensive rebounds while allowing 15, leading to the differential of 24 field-goal attempts. The four turnovers marked the fewest ever by a Miami opponent in ACC play.
Wong's 25 points came on a superb shooting line, as he went 7-of-9 from the floor, 2-of-3 beyond the arc and 9-of-10 at the line, as well as grabbed six rebounds. Third-year sophomore forward Norchad Omier posted his second straight 13-point, 13-rebound performance, shooting 6-of-9 from the field and blocking a season-high-tying four shots in a career-best 40 minutes.
Miller scored 13 points in the defeat, while sophomore guard Bensley Joseph added 11 on 4-of-5 shooting.
Sophomore guard Terquavion Smith, the ACC's leading scorer, tallied 20 points to pace the Wolfpack, but Miami head him to 7-of-20 shooting, including a 2-of-9 mark from deep. Sophomore forward Ernest Ross had 17 points on 8-of-10 shooting and a co-team-high nine boards, while graduate student forward DJ Burns Jr., notched 13 points to go along with nine rebounds of his own and a game-best seven assists. Graduate student guard Jarkel Joiner posted 11 points on a 4-of-14 clip from the floor.
Miami now returns home for its third game in three days, as it hosts Syracuse at 7 p.m. in a Big Monday matchup, live on ACC Network from the Watsco Center in Coral Gables, Fla.
To keep up with the University of Miami men's basketball team on social media, follow @CanesHoops on Twitter, Instagram and Facebook.
MIAMI HURRICANES POSTGAME NOTES
– Through the first seven-and-a-half minutes, Miami shot 6-of-9 (66.7 percent) from the floor and NC State went 4-of-14 (28.6 percent) at the other end.
– After the two teams committed just one foul (on NC State) in the first eight minutes of action—leading to media timeouts at the 11:57 and 11:38 marks—Miami committed four in the next minute.
– The prior low mark for turnovers in an ACC game by a Miami foe was five by both Syracuse on 1/25/14 and Boston College on 1/19/10.
– Miami is now 12-13, including 8-8 in ACC play, in overtime games in Larrañaga's 12-year tenure.
– The Hurricanes dropped to 220-17 (98-12 ACC) under Larrañaga when leading with 2:00 left in overtime, to 99-12 (37-7) when shooting over 50 percent and 73-8 (30-6 ACC) when scoring 80-plus points.
– The defeat snapped Miami's 11-game winning streak when four-plus players score in double figures and its nine-game winning streak when making more 3-pointers than its opponent, both of which went back to the 2021-22 season.
– The Hurricanes fell to 7-8 in their last 15 games trailing by double digits, dating back to 11/26/21 versus North Texas in Kissimmee, Fla.
– Miami also dropped to 8-3 in its past 11 games when down at the half, going back to 2/9/22 against Georgia Tech.
– The Hurricanes faced a double-digit deficit in the first half and a margin of nine-plus points in both games against NC State this season.
– Miller crossed the 1,500-point threshold in just his 122nd collegiate game (69 at George Mason and 53 at Miami).
– Joseph's 11 points marked his most in an ACC contest and the first time he has reached double figures in conference play.
– Wong has now scored 22-plus points in six of the last eight contests, with 24-plus in three of them.