"Goals Don't Really Change"
CORAL GABLES, Fla. – The University of Miami men's basketball team turned in one of its finest seasons ever last year.
The Hurricanes went 26-11 (14-6 ACC) and advanced to the Elite Eight of the NCAA Tournament for the first time in program history. After starting 4-3, Miami rattled off 22 wins in its next 29 games, one of its most dominant stretches ever.
Monday night at 7:30 p.m., Miami will turn the page to 2022-23 when it tips off against Lafayette in its season opener at the Watsco Center.
First, though, it will look back at last year's achievements. Following a celebratory video, the Elite Eight banner will be unveiled in the Watsco Center rafters, illuminating the Hurricanes' achievements for all to see in perpetuity.
It will be a moment of joy that came through continued effort and preparation from so many members of the program last season—most of all, of course, the players.
"I think milestones are great and I think symbolism is great. The banner is a symbol of all the hard work that went into last season by a lot of people," Miami head coach Jim Larrañaga said. "Charlie Moore, Isaiah Wong, Kam McGusty, Jordan Miller and Sam Waardenburg, they get a lot of credit. But we could not have accomplished what we did without the help of Bensley Joseph, Wooga Poplar, Anthony Walker, Deng Gak, Rodney Miller and Harlond Beverly. A lot of guys had to contribute to our success last season. Some of it was just [about being] a great practice player, being a great guy on the scout team, like Filip Gkogkos, Thomas Oosterbroek and Jakai Robinson.
"Guys have to chip in and help wherever they can when their chance comes," Larrañaga added. "Every one of our players was ready to do that."
Picked 12th in the ACC. Ended the year as one of eight teams left standing.

🔸 Finished with four top-25 wins and two top-10 wins
🔸 ACC top-four finish with dubs over Duke and UNC
🔸 A total of 26 wins and an NCAA Elite Eight appearance.

Proud is an understatement. pic.twitter.com/rKkG9soDBo

— Canes Hoops (@CanesHoops) March 28, 2022
As a No. 10 seed, Miami's run in March Madness may have been unexpected by those outside the building. However, the members of the program knew the team had what it took to be successful.
Larrañaga, who guided the Hurricanes to the Swet 16 in both 2013 and 2016, knew if his team could force its opponent to adjust more to his team than vice versa, it would be in good position. The Hurricanes' small-ball strategy led to just that.
Miami's speed and quickness overwhelmed seventh-seeded USC in the Round of 64, as it notched a 68-66 victory over the No. 21/22-ranked Trojans, who boasted a significant height advantage.
In the next round, Miami did it all over again against an even more imposing team, as second-seeded Auburn boasted a frontline featuring two All-Americans, both of whom went on to be first-round picks. It was no problem for the Hurricanes, though, as they throttled the No. 8/7-ranked Tigers, 79-61.
Once in the Sweet 16, Miami faced a different type of foe in No. 11-seeded Iowa State, but it still executed to near perfection in a 70-56 triumph that cemented the group in all-time Hurricane lore.
Each win led to a raucous locker room celebration. Larrañaga preaches to his teams that they play the game and not the score—a motto Miami followed quite well in March—but once the final horn sounded, the jubilation came out.
That, unsurprisingly for a man with 696 wins and a bevy of coaching accolades, tied into another message Larrañaga gave to his team before it began NCAA Tournament action.
"Once the game is over, now all the emotions pour out. And if you win, it's celebration. Enjoy the moment, cheer for each other, dance, sing, include everybody you possibly can—our fans, our friends, our families—and just enjoy every single second," the two-time ACC Coach of the Year said. "I think, even before the tournament began, I told the players at our first team meeting, 'This is what you work for all season long. So, the best thing you can do is realty enjoy it and have fun playing with your teammates. Enjoy the moment.' Sometimes, teams get uptight and they press and they make some critical errors because of it."
While Monday's pregame ceremony will assuredly include time for reflection, neither Larrañaga nor his staff and players have dwelled on last year's success.
The soon-to-be UM Sports Hall of Fame inductee even said at the team's media day last month that, despite the achievements, as competitors, his players wanted to reach the Final Four last year. Understandably so, of course.
However, getting to the Final Four is not a talking point for this team, neither is returning to the Elite Eight. The focus is not on replicating last year or going deeper in the "Big Dance" this year.
Rather, the focus is on the now and the goals remain the same they always are.
"I think you can't look back and all of a sudden start thinking, 'Well, we need to do that again.' The first thing is, you've got to think in the present, work in the present and prepare for the present because if you look in the past or you look too far forward into the future, you're not going to be able to play as well," Larrañaga shared. "You've got to really focus on the job at hand. You can never underestimate an opponent. We lost to Central Florida at home. We almost lost to Florida Atlantic there; Isaiah Wong made a game-winning shot with a second left. That's the kind of thing [that can happen]. You've got to prepare one day at a time, one game at a time. I think, when you do that, you have a much better chance of accomplishing your goals.
"[You don't] look down the road and say, 'Well, we reached the Elite Eight so this year we've got to try to get to the Final Four,'" Larrañaga continued. "No, every year you should try to get to the Final Four, every year you should try to win the national championship, every year we should try to win the ACC Tournament and win the ACC regular season. Those goals don't really change. You've got to work at them every day."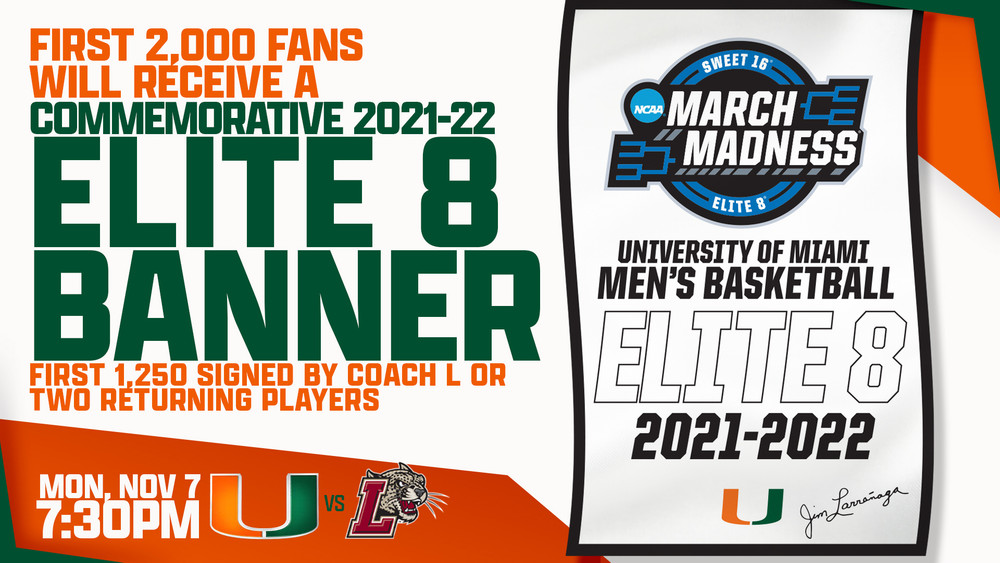 While Larrañaga is clearly, by no means, looking ahead to March, he does like what he has on this year's roster.
Although Gak, McGusty, Rodney Miller, Moore and Waardenburg are gone, the Hurricanes do return two starters in Jordan Miller and Wong. They also welcome two elite transfers, in Norchad Omier and Nijel Pack.
The team assuredly has the talent to turn in another excellent campaign, not only because its talent, but also the makeup of the locker room and the overall mentality.
"I'm excited because I'm enjoying this year's team. The roster is a really good group of guys who work really hard," Larrañaga said. "When you have as much competitive spirit as these guys have and you have such good senior leadership in Isaiah Wong, Anthony Walker and Jordan Miller, [that really helps]. Those guys are hungry and determined. They've set a very good example for the younger guys, including Nijel and Norchad and Bensley, who has been a very good leader, as well, but he's young. So, we're heading in the right direction."
The 2022-23 Hurricane will begin charting their course Monday night, but not before one final look back at all they accomplished in 2021-22.