MBB Wins, 76-70, at Virginia Tech
BLACKSBURG, Va. – The University of Miami basketball team completed a season sweep of Virginia Tech with a 76-70 victory Tuesday night in front of a sold-out crowd of 8,925 at Cassell Coliseum.
No. 13/11 Miami (23-5, 14-4 ACC) recorded its seventh consecutive league victory, the program's longest streak in a decade, behind a co-game-high 17 points and game-best 14 rebounds from third-year sophomore forward Norchad Omier.
After Virginia Tech (16-12, 6-11 ACC), buoyed by a stretch in which it made seven of eight field goals, raced out to a 17-8 edge with 12:23 on the first-half clock, Miami quickly answered. The Hurricanes used a 14-2 surge, featuring a pair of 7-0 bursts, in just 3:57 to go up by three, 22-19, with 8:03 left in the frame.
The Hokies scored the next six points to go back ahead by three, but the Hurricanes outscored them by seven the rest of the session and took a four-point edge, 36-32, into the locker room.
Miami scored the first five points of the second half to take a nine-point advantage, 41-32, with 18:20 to play. Virginia Tech responded by twice trimming the lead back to one, but Miami then hit back-to-back 3-pointers on the way to claiming a game-best 10-point cushion, 57-47, with 9:58 remaining.
The Hokies never got closer than three the rest of the way, as Miami claimed its seventh Quadrant 1 triumph of the year without ever trailing in the second half.
Entering the night as the sixth-best offensive team in the nation according to KenPom, the Hurricanes shot just 42.2 percent (27-of-64) from the field, but made up for it with a resounding 14-7 margin on the offensive glass and also held the sharpshooting Hokies to just 33.3 percent (9-of-27) 3-point shooting.
In addition, Miami went 15-of-19 (78.9 percent) from the line, including 7-of-8 in the final 45 seconds. At the other end, Virginia Tech went just 5-of-7 (71.4 percent) at the stripe.
Four Hurricanes joined Omier in double figures, as Miami had a quintet of players with 10-plus points for the first time since Feb. 4 at Clemson. Third-year sophomore guard Nijel Pack posted 16 points, while fourth-year sophomore guard Isaiah Wong had 13 on the way to entering the top five on Miami's all-time scoring list.
Playing in his home state for the final time as a collegian, fifth-year senior guard Jordan Miller notched 11 points and nine rebounds, narrowly missing his third double-double of the season. Sophomore guard Bensley Joseph chipped in 10 points off the bench, shooting 2-of-3 on 3-pointers and 4-of-4 on free throws.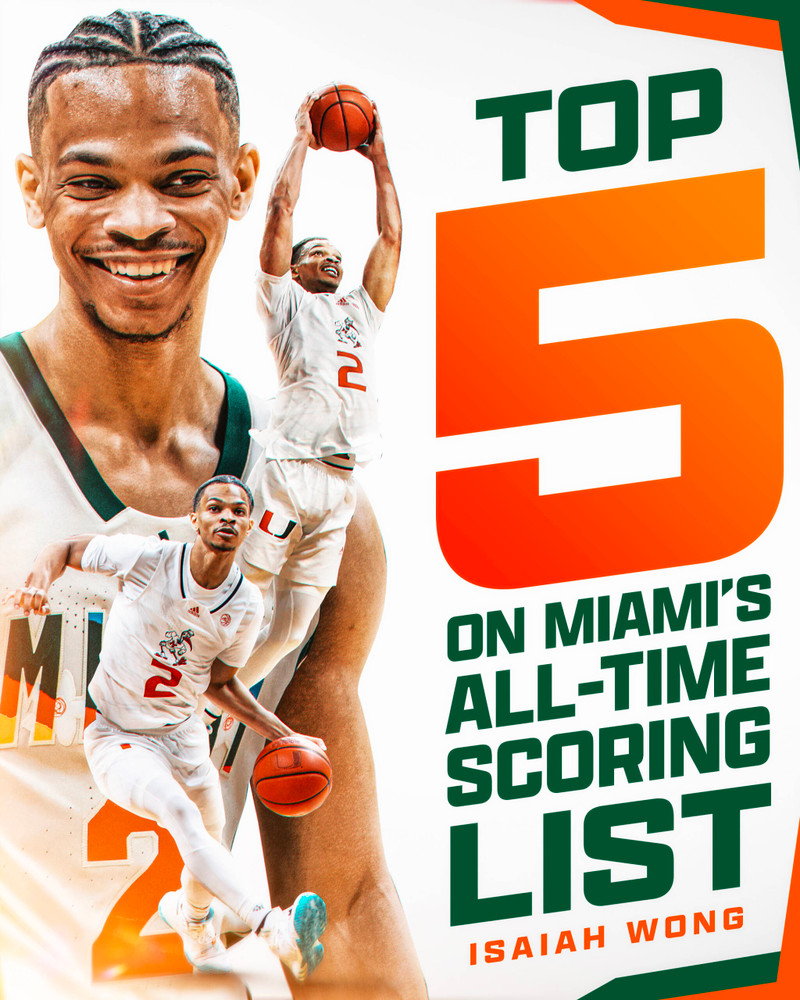 Sophomore guard Sean Pedulla co-led all scorers with 17 points for the Hokies, but Miami limited him to a 6-of-15 shooting clip, including a 2-of-9 mark from deep. Senior guard Hunter Cattoor played all 40 minutes for the Hokies and scored 15 points on 5-of-10 3-point shooting. Graduate student forward Grant Basile added 13 points in the setback.
The Hurricanes now return to Coral Gables, Fla., for a two-game homestand to cap the regular season, with the first contest Saturday at 4 p.m. against Florida State, live on ESPN2 from the Watsco Center.
To keep up with the University of Miami men's basketball team on social media, follow @CanesHoops on Twitter, Instagram and Facebook.
MIAMI HURRICANES POSTGAME NOTES
– Two of the top 3-point shooting teams in the ACC combined for just a 5-of-22 mark in the first half, as Miami went 3-of-11 (27.3 percent) and Virginia Tech posted a 2-of-11 (18.2 percent) clip.
– Miami had zero assists in the first eight minutes of action, but logged 10 the rest of the way.
– The last seven games between the Hurricanes and Hokies have been decided by a combined 32 points, an average of just 4.6 per contest.
– The Hurricanes have now won back-to-back games against Virginia Tech when holding the lead with 3:00 left after the team doing so was 1-4 in the prior five meetings between the two sides.
– Miami head coach Jim Larrañaga earned his 719th victory, tying Don Haskins for No. 32 on the all-time wins list (min. five years at a DI school).
– The Hurricanes have won seven straight ACC games for the first time since their ACC title-winning 2012-13 campaign when they started 13-0 after also winning their ACC finale the year before to make it 14 in a row.
– Miami's seven-game winning streak is the longest of any team in a Power Six league, just ahead of the six-game mark by both Texas A&M and UCLA.
– The Hurricanes went 7-4 (6-4 ACC) in true road games in 2022-23, giving them a 17-6 (14-6 ACC) such mark over the last two seasons.
– Wong passed Tim James (1995-99) and Robert Hite (2002-06) to move into the top five on Miami's all-time scoring list with 1,723 points.
– Wong moved past Don Curnutt (1967-70) to enter the top five on the Hurricanes' career made free throws list with 382.
– Wong surpassed John Salmons (1998-2002) for second place on Miami's all-time minutes played list with 3,798.
– Wong eclipsed Robert Hite (2005-06), Sheldon McClellan (2015-16) and Chris Lykes (2018-19) to move into the top 10 on the Hurricanes' ACC-only single-season points leaderboard with 287.
– Miller tied Davon Reed (2013-17) to move into the top five on Miami's career ACC-only steals leaderboard with 59.
– Pack tied Jack McClinton (2007-08) for second place on Miami's ACC-only single-season made 3-pointers list with 51.
– Pack passed four Hurricanes to tie Rion Brown (2013-14) for sixth place on the program's ACC-only single-season 3-point attempts leaderboard with 116.
– Omier moved past Kenny Kadji (2012-13) and tied Tonye Jekiri (2014-15) for fourth place on the program's ACC-only single-season blocks leaderboard with 24.
– For Omier, the double-double was his 47th as a collegian, including his 12th this season at Miami.
– Joseph's 10 points, his first time in double figures since 1/14/23 at NC State, nearly matched his total from the prior five games combined, as he tallied 11 over that stretch.
– Joseph tied a career high, set on 11/16/21 at Florida Atlantic, with four made free throws, a figure that also doubled his season and ACC highs.