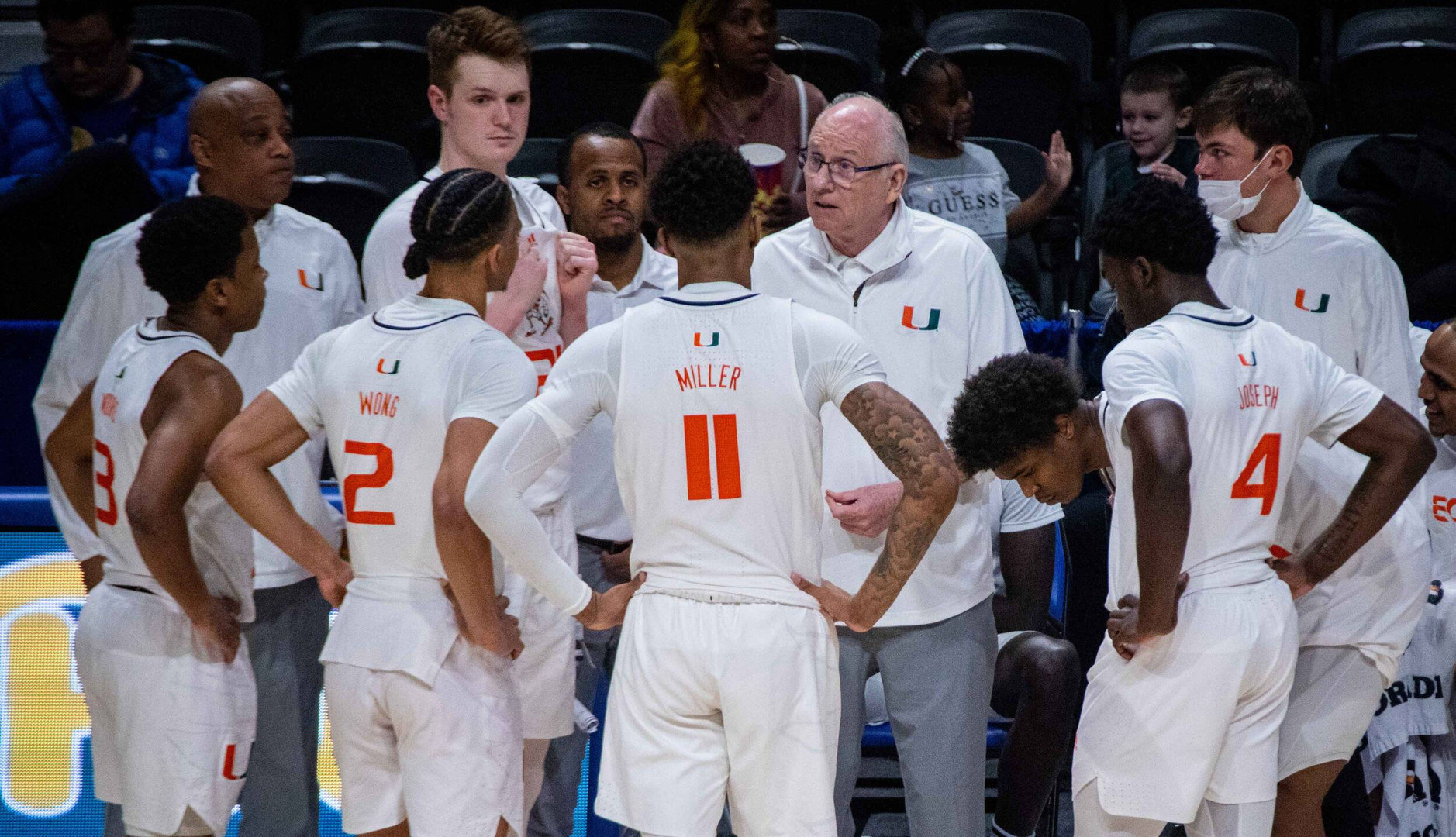 CORAL GABLES, Fla. – For months, Miami head coach Jim Larrañaga has stressed that the ACC regular season slate is a marathon.
Now, that marathon is over. The Hurricanes finished it with a 14-6 record, good for the fourth-best mark of any team.
Up next is a different type of a race, a much shorter one: the ACC Tournament.
"The regular season is a marathon because it has 20 games. Each of them has equal value in terms of trying to win your league," Miami head coach Jim Larrañaga said. "So, whether you finish, like Duke did, 16-4 and in first place, it doesn't matter who you beat [because] … as long as you've got the best record in the league, you've won the marathon. That's different when you get to the postseason because the postseason is a sprint. You're in a heat. You win the heat, you move on to the next heat until you can win the championship. So, it's survive and advance, win and move on, lose and go home. And that's what it is when you're in a sprint; you either win your heat or you're out."
Miami (22-9, 14-6) will begin its sprint at the Barclays Center in Brooklyn, N.Y., a bit later than most of the league, as the Hurricanes earned a double-bye in the ACC Tournament as the fourth seed. Thus, they will not play until Thursday.
Meanwhile, six teams begin action on Tuesday and three of them advance to Wednesday, when another five teams start their sprint.
This is the fourth time in the last 10 years Miami has garnered a double-bye in ACC Tournament play. Thus, Larrañaga assuredly knows the value in the extra days off.
"You have a little more time to rest and prepare your team for a one-and-done game," the two-time ACC Coach of the Year said. "Whereas, when you have to get there on Monday [if you are playing] on Tuesday, you've got very little time to actually rest and recover from the regular season. For me, that recovery period is very, very important."
Miami has found ample success in the ACC Tournament during Larrañaga's first 10 seasons, posting an 11-9 mark. That is the co-fourth-highest total of any team in the conference since the 2012 event.
Included in that ledger is, of course, the Hurricanes run to the 2013 ACC Tournament crown, a first in program history. Miami has reached at least the quarterfinals all but two times during his tenure and last year did so as the No. 13 seed, the first such team ever to do so.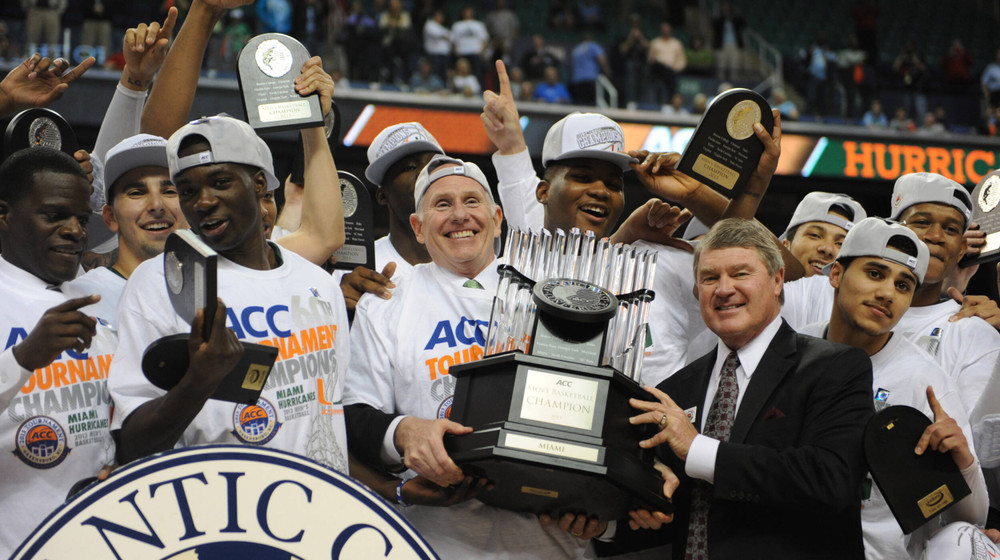 It is clear Larrañaga knows what it takes to excel on this stage and he intends to share that with his players in advance of the games this week.
"Well, the first thing is I'm going to tell my team is, 'Everybody you play is a really good team.' It's because, in these situations, you're not playing the team you played during the regular season," Larrañaga said. "Everybody, by now, has figured out their best way of playing; their players are going to be at their best. Nobody's got the home-court advantage; it's going to be on a neutral site. And so, to even win one game, you have to be at your best in that one game. To win the tournament, you have to be at your best three, four or five nights in a row. In our case, it would be three nights in a row."
Miami is entering the ACC Tournament coming off an invigorating 75-72 victory in its regular season finale Saturday at Syracuse.
For the second time this year, the Hurricanes stormed back from an 18-point deficit to take down the Orange. This time, they did so on the road after trailing by 10 with 2:20 left and by seven with 1:10 to go.
Fourth-year junior guard Jordan Miller led the way with his first double-double as a Hurricane, tallying a season-high-tying 25 points on 10-of-13 shooting to go along with a season-best 13 rebounds. He scored the final six points of the afternoon over the last 25 seconds.
Sixth-year redshirt senior guard Kameron McGusty, a First Team All-ACC honoree, tallied 19 points, while third-year sophomore guard Isaiah Wong, a Third Team All-ACC designee, posted 15. Sixth-year redshirt senior guard Charlie Moore, an Honorable Mention All-ACC pick and an ACC All-Defensive Team selection, chipped in 11 points and forced three turnovers in the final minute.
Despite the thrill of that win, it will not be a factor for Miami as it heads back to the Empire State to begin postseason action.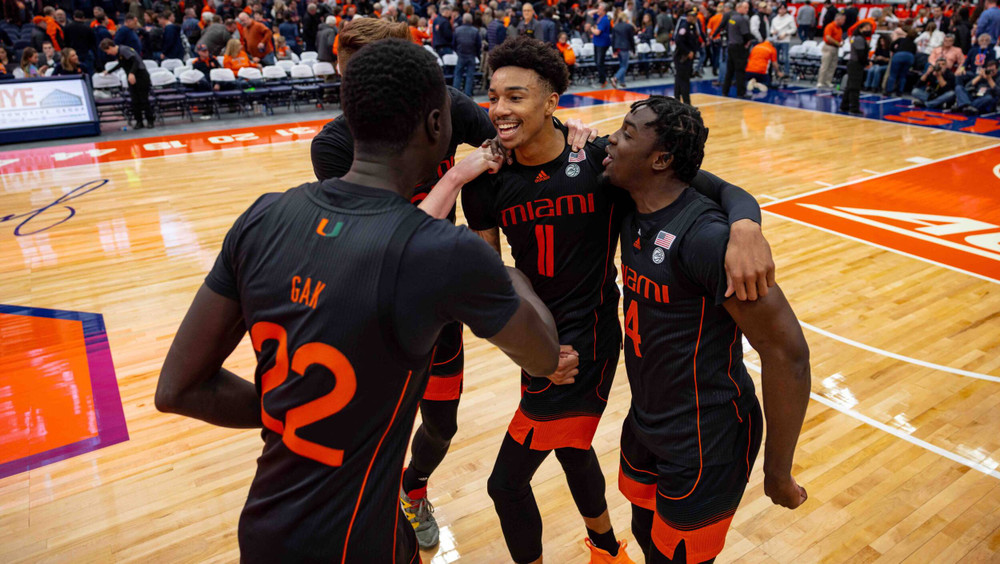 "No, it's not something we dwell on," Larrañaga shared. "It's always about preparing for the next opponent. Especially when it comes to Syracuse; nobody plays the 2-3 zone for 40 minutes like Jim Boeheim's teams do."
While Syracuse is not a possible opponent for Miami in its opening game, two other teams it defeated in the regular season are: fifth-seeded Wake Forest and No. 13-seeded Boston College.
Initially, the Hurricanes actually had three possible foes, prior to the Eagles' 66-46 victory over No. 12-seeded Pittsburgh in the opening round.
The opponent, however, is not a focus for Miami right now anyway. Instead, the team's attention is internal.
"We're preparing to be the best that we can be. We're trying to be the best that we can be, no matter who we play because even though whomever we play [we have already faced before], they're going to be a very different team," Larrañaga said. "It's just the way it is. It's not that their style is going to change. It's their level of confidence that comes from knowing everybody is 0-0 going into this tournament. You're not looking at your record and saying, 'Oh, we're not very good because we had a losing record' or saying, 'We didn't have a great season.' No, [you look at it like], 'This is a great opportunity for us to get on a roll and try to win our way into the NCAA Tournament by winning the ACC."
Wake Forest is 23-8 (13-7 ACC) on the season and is led by graduate student guard Alondes Williams. The ACC Player of the Year is averaging 19.3 points and 5.3 assists per game.
Miami is 14-13 all-time versus the Demon Deacons, including 2-0 on a neutral court—both matchups came in the ACC Tournament—and 9-5 in Larrañaga's tenure.
The sides met twice this season, with the Hurricanes taking both matchups. First, without sixth-year redshirt senior forward Sam Waardenburg unavailable due to COVID-19 protocols, Miami logged a 92-84 triumph on Jan. 1. Then, it rallied from a 13-point deficit, including a 10-point mark in the second half, for a 76-72 road decision on Feb. 12.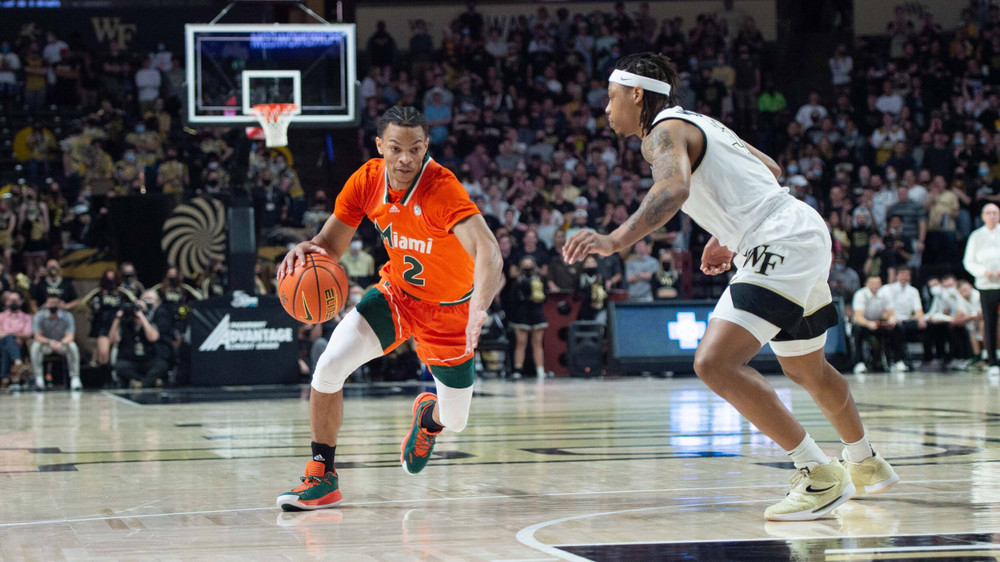 "The difference between Wake Forest when we played them twice during the regular season and what they're doing now is they've gone to an oversized lineup, as big a lineup as any college team in the country," Larrañaga said. "They are playing a lot with Alondes Williams, who is 6'5, at the point. And then [they have] guys who are between 6'6 and 6'8 at the two, Jake LaRavia at the three, Khadim Sy at the four and Dallas Walton at the five. That is a humongous lineup, whether it starts [or not]. It doesn't have to necessarily start, but they're playing LaRavia, Sy and Walton a lot together, which is much different than the team that we played a month ago."
Boston College, following its win against the Panthers, is 12-19 (6-14 ACC) on the season. It is paced by graduate student guard Makai Ashton-Langford's 12.0 points and 3.3 assists per outing.
Miami owns a 27-27 all-time ledger against the Eagles, including a 1-2 tally on neutral courts, a 1-1 mark in the ACC Tournament and a 14-3 record under Larrañaga.
The Hurricanes earned an 81-70 road triumph over Boston College last Wednesday, a victory that clinched their double-bye and gave Larrañaga the program's all-time wins record (221).
"They're a team that has terrific athletes at the one, two and three, and then two huge guys at the four and five," Larrañaga shared. "Their big guys can really score the ball and they are very efficient. Their guys have the capability of getting hot. They're a volume team. They don't play slow; they play very aggressively at both ends of the court."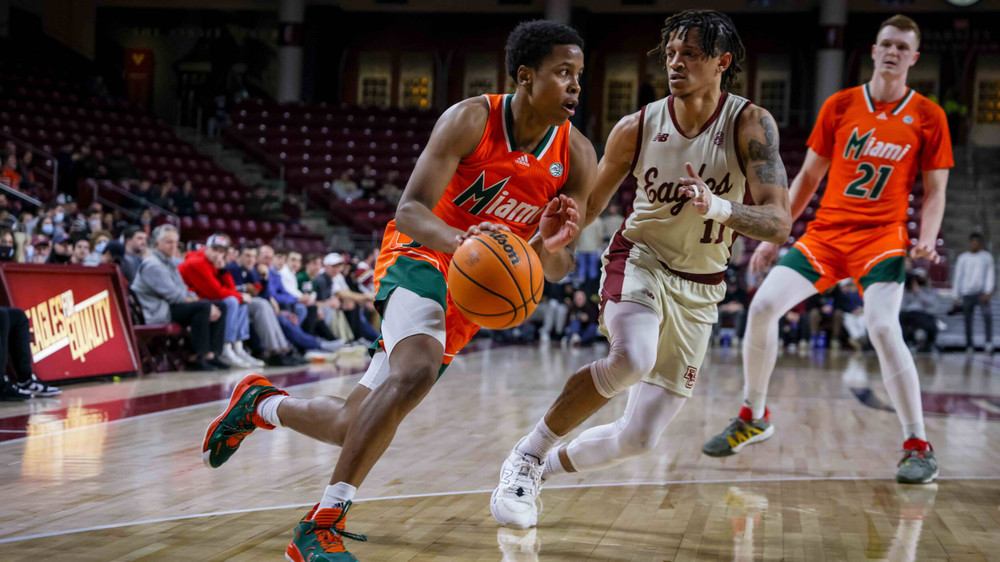 While Coral Gables might be one of the farthest ACC cities from Brooklyn, the New York metro area is home to thousands of Miami alumni.
Larrañaga would like to see the Hurricane faithful in the area head to the Barclays Center and cheer on their team this week.
"We hope that [the Miami fans] in the Northeast will realize that we're playing at the Barclays Center and the ACC Tournament is right in their backyard," he said. "Hopefully all of our alums, friends and fans in New York will come and support the Hurricanes."
The Hurricanes' ACC Tournament opener will be televised live on ESPN2 HERE, with Dan Shulman, Jay Bilas and Holly Rowe on the call. Joe Zagacki will have the radio broadcast on AM 560 Sports WQAM HERE, while Jay Alter, Sean Kelley and Bob Valvano will call the game for ESPN Radio HERE. In addition, live stats can be found HERE.
The winner of Thursday afternoon's game will play Friday at 7 p.m., on ESPN or ESPN2, against either top-seeded and seventh-ranked Duke, eighth-seeded Florida State or ninth-seeded Syracuse in the ACC Tournament semifinals.
To keep up with the University of Miami men's basketball team on social media, follow @CanesHoops on Twitter, Instagram and Facebook.