Miller and Wong Selected in NBA Draft
CORAL GABLES, Fla. – Jordan Miller and Isaiah Wong of the University of Miami men's basketball team were both picked in the second round of the 2023 NBA Draft.
Miller, a fifth-year senior guard, went No. 48 overall to the Los Angeles Clippers. Wong, a fourth-year junior guard, landed at No. 55 overall, going to the Indiana Pacers.
This is the fourth time in program history multiple Hurricanes were chosen in the same NBA Draft, joining 1968, 1970 and 2018.
Miller and Wong are the 24th and 25th players in program history to hear their names called in the NBA Draft. They are the first to do so since 2019, when the Toronto Raptors selected Dewan Hernandez with the No. 59 selection.
Miami has now had at least one player chosen in four of the past seven NBA Drafts, with six total Hurricanes picked in that span. Miller and Wong join Hernandez, Davon Reed (No. 32 in 2017), Lonnie Walker IV (No. 18 in 2018) and Bruce Brown Jr. (No. 42 in 2018).
Miller is the fourth Hurricane selected by the Clippers, joining Guillermo Diaz (2006), Constantin Popa (1995) and Joe Wylie (1991). Wong is the second Miami player picked by the Pacers in the NBA Draft, alongside James Jones (2003), while Don Curnutt (1970) went to Indiana in the ABA Draft.
A native of Middleburg, Va., Miller spent two years at Miami after beginning his career with three seasons at George Mason. In 2022-23, he earned Second Team All-ACC, NABC Second Team All-District 2, ACC All-Tournament Second Team and NCAA Midwest All-Region Team plaudits.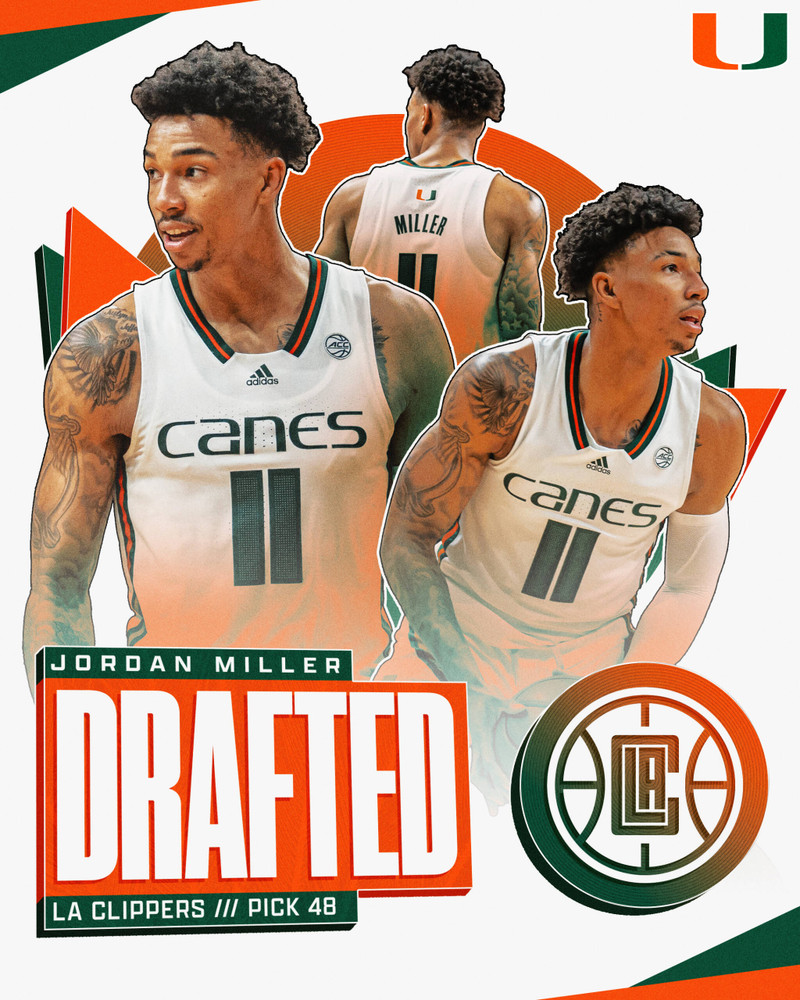 Miller averaged 15.3 points, 6.2 rebounds, 2.7 assists and 1.2 steals in a team-high 35.0 minutes per game. He shot 54.5 percent from the floor, 35.0 percent from 3-point range and 78.4 percent from the free-throw line. Miller's play helped the Hurricanes to their finest season ever, as they posted a 29-8 (15-5 ACC) record, shared the ACC regular season title and reached the Final Four for the first time.
In his five-year career, Miller averaged 12.8 points, 6.0 rebounds, 1.7 assists and 1.2 steals in 32.4 minutes per game, while shooting 51.5 percent from the field. He totaled 1,824 points as a collegian.
Wong, who hails from Piscataway, N.J., is one of the most decorated players in program history. In 2022-23, he was the ACC Player of the Year, an NABC Third Team All-American, a Wooden Award finalist, a Jerry West Award finalist, an ACC All-Tournament First Team honoree and an NCAA Midwest Region All-Tournament Team designee.
Wong averaged a team-high 16.2 points, 4.3 rebounds, a team-best 3.2 assists and a team-leading 1.4 steals in 33.4 minutes per game during his historic season. He shot 44.5 percent from the field, 38.4 percent beyond the arc and 84.5 percent from the stripe.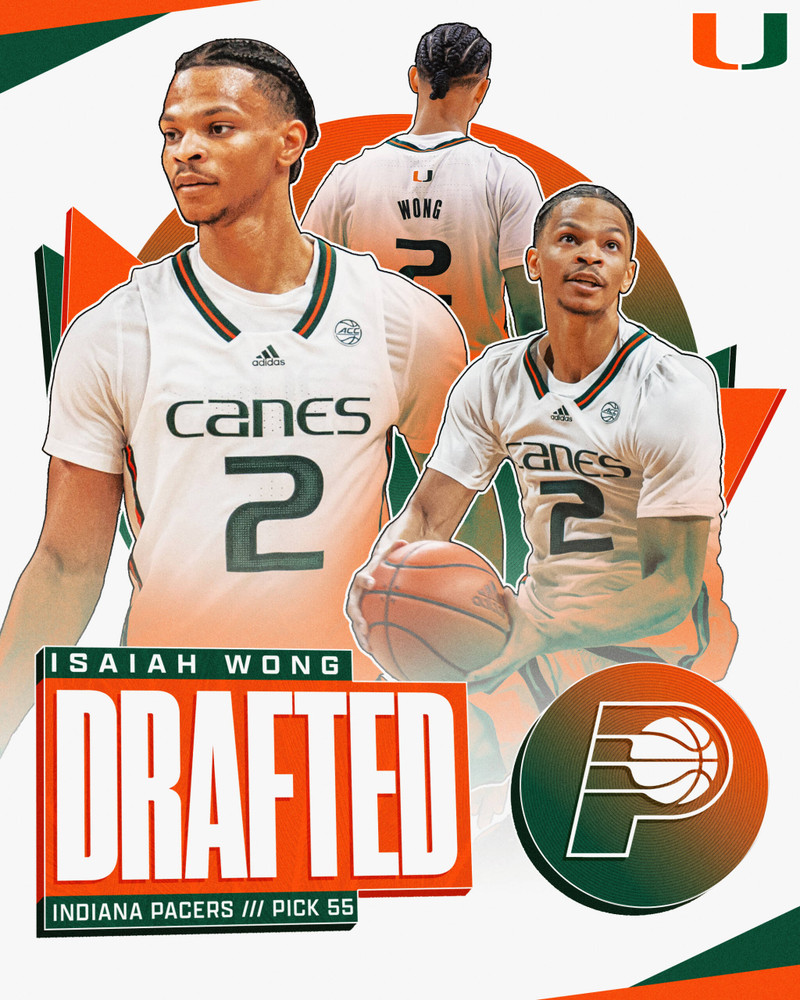 In his career as a whole, Wong averaged 14.1 points, 4.1 rebounds, 2.2 assists and 1.0 steal in 31.1 minutes per game. He recorded 1,866 points as a Hurricane to rank fourth all-time and also became the second three-time All-ACC honoree in program history.
To keep up with the University of Miami men's basketball team on social media, follow @CanesHoops on Twitter, Instagram and Facebook.