One Challenge Behind, Another Ahead
CORAL GABLES, Fla. – When the University of Miami men's basketball team departed for the ESPN Wide World of Sports last week, it knew three difficult games were on the horizon. It was just a question of against whom they would be.
The Hurricanes knew they would face Dayton, a team that has played in four of the last seven NCAA Tournaments, Thursday in its opening game at the ESPN Events Invitational in Kissimmee, Fla., but that was all.
Well, they also knew they would be in for tough tests against whatever other opponents came their way in the bracket.
"We played three really good programs," Miami associate head coach Chris Caputo said. "[It was] very challenging, which we knew [it would be] because, really, if you look at the tournament, it was potentially the strongest field in all of the MTE's this season. And so, you knew you were going to get three really, really good games."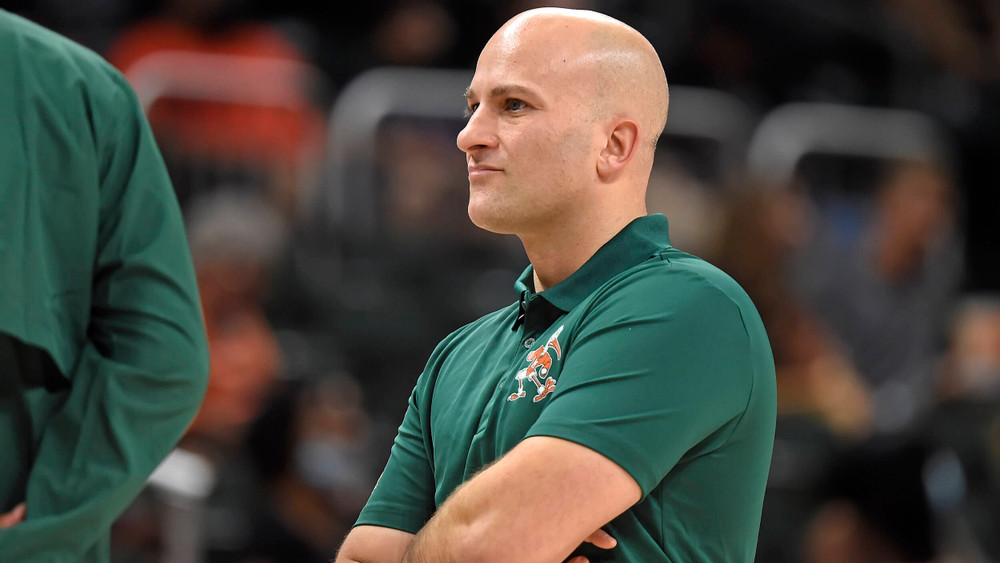 Miami indeed got just that, finishing 1-2 with losses to the tournament champion, Dayton, and a top-10 team, Alabama. In between, the Hurricanes knocked off North Texas, which won Conference USA and reached the NCAA Tournament Round of 32 last season.
The Hurricanes' first affair was a 76-60 setback against Dayton, which toppled fourth-ranked Kansas the next day and then edged Belmont to win the crown.
The Flyers held Miami to (4-3) just one double-digit scorer, as third-year sophomore Isaiah Wong paced the team with 10 points. Dayton also shot a blistering 57.9 percent from 3-point range, the top mark by a Miami foe since Jan. 27, 2019.
"While Dayton certainly had not performed up to their capabilities at home, losing those three games, we knew going into the game, it was going to be a very big challenge," Caputo shared. "Obviously, it proved to be, [as they went] ahead and won the tournament. You're talking about a program that has incredible history and, obviously, an enormous fan base that traveled with them to the tournament and it really felt like a home game for them."
In the Friday affair against North Texas, Miami trailed by as many as 14, including facing a 12-point deficit at the half. That margin for the Mean Green, however, was not enough.
The Hurricanes outscored North Texas by 18, 41-23, in the second half to earn a six-point victory, 69-63. It marked their biggest comeback win since Dec. 8, 2020.
Wong again led the way for Miami, this time scoring 21 points on 9-of-17 shooting. Sixth-year redshirt senior guard Kameron McGusty added an 18-point, 12-rebound double-double, the latter mark setting a career high.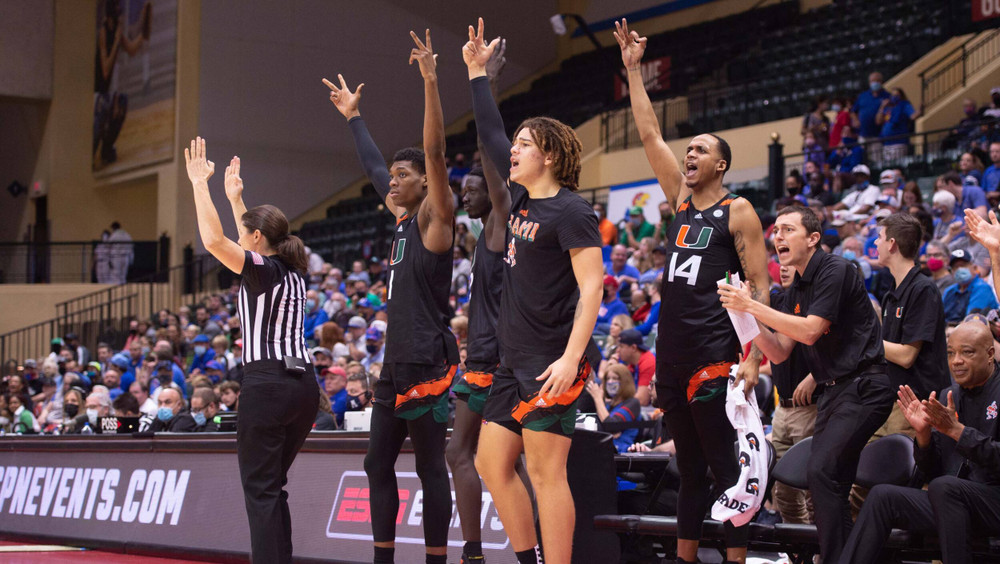 "North Texas is another program we have a lot of respect for. They won a game in the NCAA Tournament last year and returned some key guys," Caputo said. "It was a great battle and then they went and beat Drake, who was in a lot of people's preseason top-25 and a team that a lot of people talked about for a [potential] at-large bid. It was a good win for us."
Miami capped the tournament by playing a top-10 non-conference opponent in the regular season for the first time since Nov. 17, 2014. Unlike that day, when Miami knocked off No. 8/7 Florida in Gainesville, Fla., the Hurricanes could not pull off the upset.
Although it built a 28-17 first-half advantage, Miami could not continue that performance over the final 26 minutes. The Crimson Tide scored 63 points in the second half of a 96-64 triumph.
McGusty recorded his second straight double-double, notching 21 points and 10 rebounds, while Wong added 14 points and sixth-year senior guard Charlie Moore scored 12.
"We played a very good first half against a top-10 team and then it was a very disappointing finish to the game," Caputo said. "But, I thought, for most of the first half, in a lot of ways, we had the game under control. So, there are some things to build upon."
After playing 120 minutes of basketball in four days against three quality opponents, the Hurricanes certainly learned more about their team.
They displayed glimpses of what they can be defensively, while continuing to showcase a similar offensive feel to the season's first four games. Now, it is about improving in both of those areas moving forward.
"I think, if we could bottle the defensive second half against North Texas and the first half against Alabama, we'd all be very happy with our defense. And I think we're still trying to find ourselves offensively, as a group, in terms of trying to continue to generate good shots," Caputo shared. "We're doing a good job taking care of the ball and getting to the free-throw line. We believe we're a very good 3-point shooting team [based off what we see] statistically in practice and [from] just looking and guys' careers who just haven't been able to either make or generate just enough good threes. That's something we've got to continue to work on as the season goes on."
Also on display for the Hurricanes in Kissimmee was, of course, the play of McGusty, who has developed into one of the best guards in the ACC.
Through seven games this season, he is averaging 17.6 points, 7.1 rebounds, 1.6 assists and 1.6 steals per game. The Katy, Texas, native owns three double-doubles—matching his prior career total entering the season—and, as aforementioned, two of them came at the ESPN Events Invitational.
It is clear that, after deciding to withdraw from the NBA Draft and return to Miami, the 6-foot-5, 190-pounder is making the most of his final collegiate season.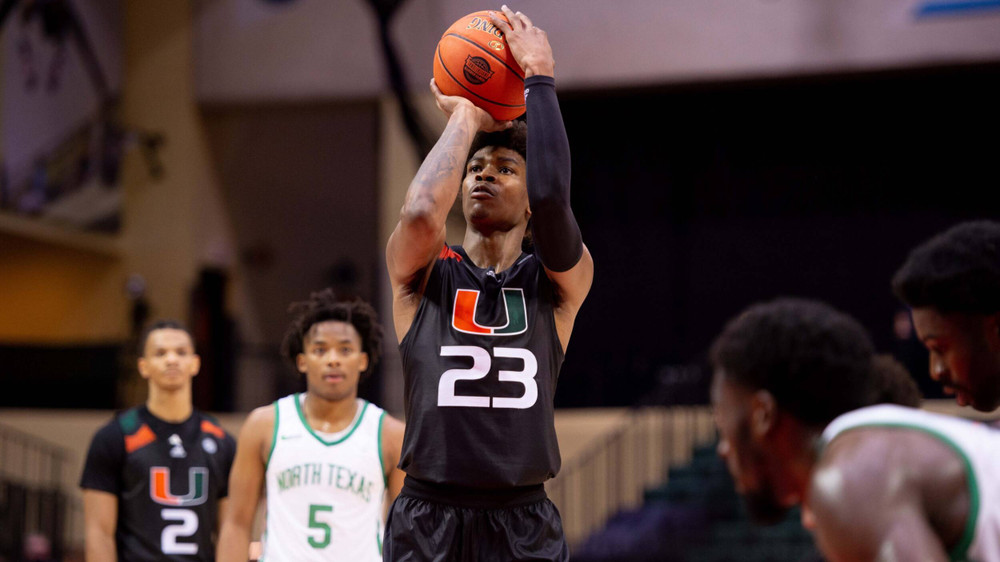 "I think he's in the best shape of his career; I think he would admit that," Caputo said. "It's taken a little bit for him to get to that point, but I think when you're in great shape, you can really compete on both ends for long stretches. He's been able to do that. I think he's taken it upon himself to work to become a very good defender.
"He's an older senior and somebody who's very serious about his craft and basketball and being a good player. He works at it," Caputo added. "He's very much in line with a lot of the guys that we've had here kind of at his size category and position who were really serious about competing, being two-way players, winning and hoping to have a career after college, playing professionally. So, I think he's in a good mental space and, going forward, hopefully he can continue that into the ACC [schedule]."
That start of that conference slate is right around the corner, but Miami has one other game to get through first.
The Hurricanes will meet Penn State Wednesday at 9:15 at the Bryce Jordan Center in University Park, Pa., in the annual Big Ten/ACC Challenge Presented by Continental Tire. It is part of a difficult 10-day stretch for Miami that includes five games, all against Power Five or high-quality mid-major opponents.
Penn State, currently 4-2 on the season, is in its first campaign under the direction of head coach Micah Shrewsberry. He is a former assistant for the Boston Celtics, where he spent five years working alongside Jay Larrañaga, the son of Miami head coach Jim Larrañaga.
And that is not the only coaching connection between the Hurricanes and Nittany Lions.
"Coach Shrewsberry is somebody we knew very well throughout the years, being at Purdue and playing Purdue last year. He was responsible for a lot of the offensive concepts," Caputo said. "So, I think we're very familiar with a lot of things they do and, obviously, they're going to be very familiar with us with Adam Fisher, our former assistant coach, now there as the associate head coach. There will be a good amount of familiarity [between the staffs], which is not always common in the Big Ten/ACC Challenge."
Fisher worked at Miami for eight years, serving as the director of basketball operations from 2013-15 and as an assistant coach from 2015-21. He departed in March to work for Shrewsberry, returning not only to where he attended college, but also much closer to family.
Coaching against a friend and former colleague, as will be the case when Miami's staff matches up with Fisher, is a difficult task for multiple reasons. The first, of course, is that familiarity from an X's and O's standpoint.
The second is that it leads to rooting against someone whom you otherwise hope the best for.
"Obviously, you always root for the people that you worked with to have success, whether they're an assistant coach somewhere or they're a head coach, but not when you play them," Caputo remarked. "We've played James Johnson—he's been with us at George Mason and Miami—who's at NC State. You always kind of pay attention to their scores and you're hoping for the best for them. But again, not when we play them. It would be the same thing for Penn State. But certainly, 'Fish' has had a great impact on our program.
"I'm very happy for him that he was able to go back to his alma mater, where he's from, where his wife is from, where their families live," Caputo continued. "His daughter is now able to grow up with both sets of grandparents right around the corner, in-state. That's a great thing. Obviously, you always wish well on those people, and yet, there's no morality when you step on the court. We've got to go hand them a loss if we can."
In order to do that, Miami will need to slow down a quality offensive attack that features several standout players. Two of them are junior forward Seth Lundy and senior guard Sam Sessoms, both of whom are averaging 15.3 points per game.
Meanwhile, fifth-year senior forward John Harrar is averaging a near double-double at 9.7 points and 10.7 rebounds per game, while senior guard Jalen Pickett ranks No. 18 among active Division I players with 491 career assists.
The Nittany Lions, who went 11-14 (7-12) during the 2020-21 campaign, tied for No. 12 in the Big 10 preseason poll. They are coming off a solid 1-1 showing at the Emerald Coast Classic in Niceville, Fla., against a pair of teams that combined for four wins in the 2021 NCAA Tournament.
"They have a very strong starting five, guys that play a lot of minutes and have a lot of experience. They did very well in the tournament, losing to a good LSU team in overtime and then handling Oregon State pretty well, by 15," Caputo said. "Tough, physical defensive team [and a] 3-point shooting team on offense. [They are] a very methodical offensive team, so we're going to have an [opponent] more like North Texas than Alabama in the sense of you're going to really have to commit to defending for long shot clocks. I think we've got to, again, be prepared to try to replicate those two halves defensively from Orlando for a game, if you want to win on the road."
The Hurricanes and Nittany Lions are two of the most successful programs in the Big Ten/ACC Challenge of late. Both teams are 6-1 in the last seven years, matching Duke for the best record during that stretch. Only two other teams, Virginia (5-1) and Iowa (5-2), boast even five wins in the event since 2014-15.
Most recently, Miami logged a 58-54 win over Purdue, with Shrewsberry on the sideline as an assistant, in the 2020 event. That was the game on Dec. 8, 2020, in which the Hurricanes last overcame a double-digit deficit, as they trailed by 20 points total, including by 18 at the break, before defeating the Boilermakers.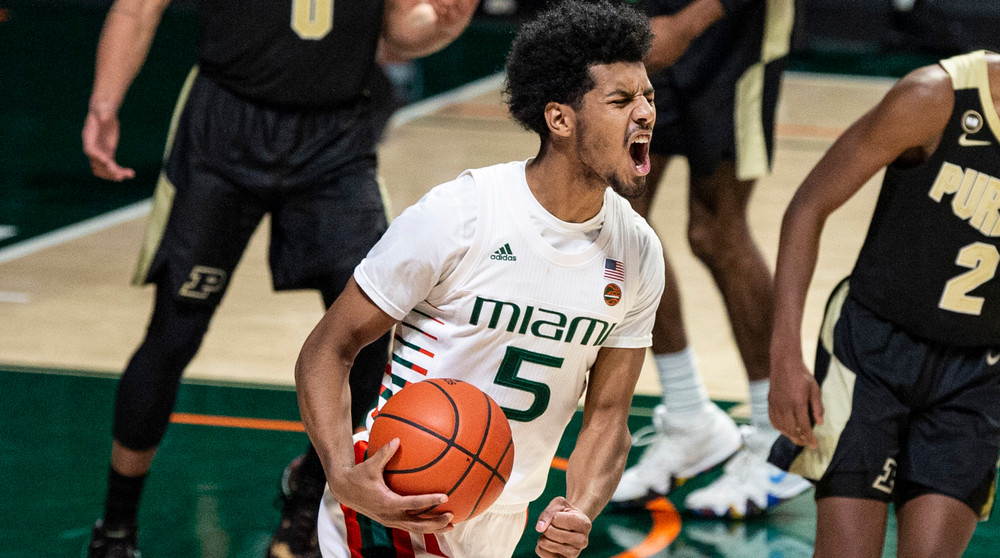 The previous year, Miami went on the road to Illinois and knocked off the Fighting Illini, 81-79, at the State Farm Center in Champaign, Ill.
Those triumphs came after a narrow 57-54 loss to Rutgers in 2018, which followed four consecutive victories from 2014-17 against No. 24/25 Illinois, at Nebraska, versus Rutgers and at No. 12 Minnesota.
"I think we've had good teams. Obviously, prior to the last couple years, we were really one of the better teams in the ACC for a long stretch," Caputo said of Miami's success in the event. "…I think the credit goes to our players. We take pride in representing the ACC. We enjoy those moments where you're on a big stage, playing on national television and there are some bragging rights involved. It's important to us to represent our league well. It's really a fun event to play in.
"It's great to watch the other scores throughout the week to see how the league is doing and this will be no exception," Caputo continued. "I'm sure we're going into a great environment at Penn State. I'm sure they'll have great fan support. We've done this a number of times on the road and hopefully we can do it again."
Miami's Big Ten/ACC Challenge matchup will be televised live on ESPNU HERE, with Mike Corey and Chris Spatola on the call. Joe Zagacki will have the radio broadcast on AM 560 Sports WQAM HERE, while live stats can be found HERE.
After playing the Nittany Lions, Miami returns home to the Watsco Center to host Clemson Saturday at noon, live on ACC Network, in its conference opener.
To keep up with the University of Miami men's basketball team on social media, follow @CanesHoops on Twitter, Instagram and Facebook.