MBB Edges Boston College, 71-69, in OT to Reach ACC Semis
BROOKLYN, N.Y. – The University of Miami men's basketball team tallied a thrilling 71-69 overtime victory over Boston College in its ACC Tournament opener Thursday afternoon at the Barclays Center.
Fourth-seeded Miami (23-9, 14-6 ACC) turned a six-point deficit in the final 10 minutes into a five-point lead with under four to go, but the No. 13-seeded Eagles rallied back to force overtime. Both teams scored just four points in the extra session until fourth-year junior guard Jordan Miller hit a run-out layup as time expired to send the Hurricanes streaming onto the court in jubilation.
Sixth-year redshirt senior guard Kameron McGusty paced Miami with a game-high 16 points in the win, which clinched the program's fourth ACC Tournament semifinal appearance, including its first since 2016.
"I told the players, 'This is the most fun time of the year. Everybody looks forward to March Madness. For us, the ACC Tournament is the beginning of that,'" Miami head coach Jim Larrañaga said. "Hitting a game-winning shot in overtime, that is something you will remember the rest of your life."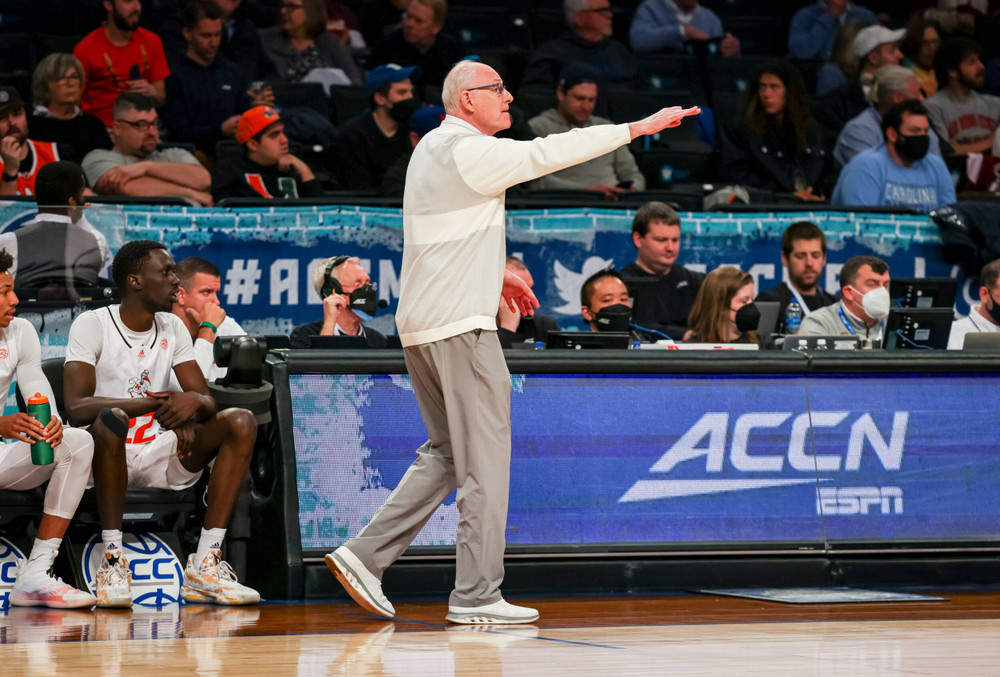 Boston College (13-20, 6-14 ACC) junior forward Quinten Post scored 10 points on 4-of-4 shooting in the first 4:09, including hitting back-to-back 3-pointers to open the game, to help the Eagles build a 14-7 lead. Miami, though, quickly answered with a 14-3 surge, beginning with consecutive 3-pointers, in just 3:13 to take a 21-17 edge with 11:20 on the clock.
The burst was part of a stretch during which the Hurricanes made 10 consecutive field goals, as they started 11-of-14 from the floor. Miami's offense then started to cool off, as the Eagles went on a 9-4 run to take a 26-25 lead with 6:59 on the clock. The Hurricanes outscored them by three the rest of the frame and took a two-point cushion, 34-32, into the locker room.
Both teams made over half their field goals in the first half, with Miami going 15-of-26 (57.7 percent) and Boston College shooting 14-of-27 (51.9 percent). Neither side attempted a free throw.
Miami built a game-best five-point lead, 39-34, with 17:42 to go, but the Eagles scored six straight points to start a 13-2 spurt that gave them a six-point advantage, 47-41, with 13:50 to play.
The Eagles eventually extended their lead to six, multiple times, but the Hurricanes used a 14-3 surge to take a 61-56 lead with 3:55 on the clock. Miami held Boston College without a point for five-plus minutes and scored nine straight points.
Boston College countered with a 6-1 run to tie the score at 62 with 1:27 to go. At the other end, Miami missed a 3-pointer, but sixth-year redshirt senior guard Charlie Moore got the rebound–just his 10th on the offensive end this season–and quickly shot it up and in to put the Hurricanes ahead, 64-62, with 57 ticks left.
After a defensive stop, McGusty split a pair of free throws to make it a three-point game. Boston College freshman guard Jaden Zackery then drilled a 3-pointer with 21.2 seconds to go, evening the score at 65. Miami did not get a shot off at the other end, sending the contest to overtime.
Each team scored four points in the first two-and-a-half minutes of overtime and then both went cold from the field. Miami had a chance to take the lead in the final minute, but turned the ball over.
At the other end, graduate student guard Makai Ashton-Langford air-balled a turnaround jump-shot, the Eagles' fifth straight miss, with five seconds left. Sixth-year redshirt senior forward Sam Waardenburg grabbed the rebound and gave the ball to Moore, who took two dribbles and sent a 50-foot pass to Miller, who was sprinting down the left side of the court.
The Middleburg, Va., native caught the ball with exactly one second left and laid it in off the glass to win it at the buzzer.
"I was concerned I might need a timeout; I glanced up at the clock. But by the time I would've called it, we were already running. And so, we didn't want to [stop that]. Once you see your players in motion and they look like they know what they're doing, [you want to let them go]. They didn't look to the bench and say, 'Should we call a timeout?' They just took off and scored."
McGusty's game-best point total came in a season-high 43 minutes and on 6-of-12 shooting, as all five Miami starters shot at least 50 percent, as did one of its two reserves. Moore scored 15 points on a 7-of-14 clip, adding a co-game-high six assists.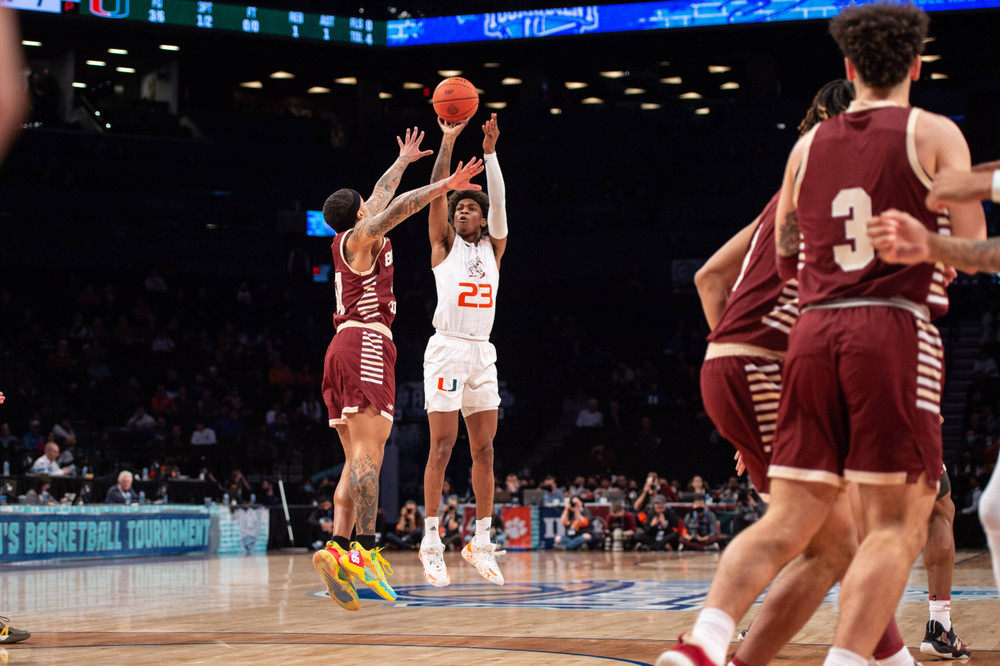 Wong notched 14 points on 6-of-12 shooting, adding a career-high-tying six assists in a career-high-tying 42 minutes to co-lead all players. Miller scored 13 points on a 6-of-8 ledger in a season-best 39 minutes, while Waardenburg had nine points, a season-high-tying game-best nine rebounds and a career-high-tying three blocks in a season-high 39 minutes.
Post led the Eagles with 14 points, but Miami held him to four points on 2-of-6 shooting over the final 40 minutes of action. Graduate student guard Brevin Galloway scored 12 points, while Zackery had 11.
Senior forward/center James Karnik totaled 10 points on 5-of-7 shooting, while sophomore guard DeMarr Langford Jr., also had 10. Ashton-Langford, the Eagles' leading scorer, had nine points on just 4-of-15 shooting after recording 21 in the teams' prior matchup.
The two sides posted similar marks in all three shooting categories. Miami went 30-of-56 (53.6 percent) from the floor, 6-of-19 (31.6 percent) on 3-pointers and 5-of-8 (62.5 percent) at the stripe. Boston College shot 29-of-57 (50.9 percent) overall, 6-of-15 (40.0 percent) beyond the arc and 5-of-11 (45.5 percent) at the line.
"I think you have to give a lot of credit to Boston College's coaching staff and players in terms of making adjustments from [when we played them] last week to this week," Larrañaga said. "We had it in our game plan that they might show the zone, but what they did with the zone is what made it so impactful. They kept switching from man to zone back to man to zone. And we didn't get in a good rhythm. That gave them a lead and we had to battle back, but then the credit goes to our players for just stepping up and making plays. It's incredible the way they have done that throughout the season."
The Eagles made just three of their final 12 long-range shots after making each of their first three to begin the afternoon.
The Hurricanes are back in action Friday at 7 p.m. against top-seeded and seventh-ranked Duke in the ACC Tournament semifinals, live on ESPN from the Barclays Center.
To keep up with the University of Miami men's basketball team on social media, follow @CanesHoops on Twitter, Instagram and Facebook.
MIAMI HURRICANES POSTGAME NOTES
– The Hurricanes moved to 28-27 all-time against Boston College, including 2-2 at neutral sites, 2-1 in the ACC Tournament and 15-3 in Larrañaga's tenure.
– Miami now leads the all-time series with the Eagles for the first time since winning the inaugural game between the two schools on 12/4/62.
– The other four times the Hurricanes reached the ACC Tournament semifinals were 2010, 2013 and 2016.
– Miami improved to 18-16 all-time in the ACC Tournament, including 12-9 under Larrañaga, 11-2 as a higher seed, 1-0 as the fourth seed, 5-2 as a top-four seed, 11-11 as a single-digit seed, 2-0 versus No. 13 seeds, 7-1 against double-digit seeds, 2-2 in Brooklyn, 14-4 in openers, 1-1 in 4/13 games and 2-0 in overtime.
– The lone prior overtime contest for Miami in the ACC Tournament was on 3/10/11 against Virginia in Greensboro, N.C., when the Hurricanes won, 69-62.
– The Hurricanes moved to 4-3 all-time at the Barclays Center, including regular season affairs.
– Larrañaga, who entered the game with the 10th-most victories of any active Division I coach, is now 693-473 in 38 years as a head coach, including 223-139 in 11 seasons at Miami.
– With 223 victories as an ACC head coach, Larrañaga moved past Carl Tracy for sole possession of the No. 12 spot on the conference's all-time leaderboard.
– Larrañaga now has 117 victories in ACC competition (regular season and ACC Tournament), placing him in a tie with Norman Sloan for No. 12 all-time.
– For the 23rd time this season, Miami used a starting lineup of McGusty, J. Miller, Moore, Waardenburg and Wong.
– With 57 steals on the year, McGusty passed Steven Edwards (1992-93) to enter the top 10 on the program's single-season leaderboard, tying John Salmons in both 2001-02 and 2000-01 for No. 10 on the list.
– With 140 assists in 2021-22, Moore passed Anthony Harris (2004-05), Thomas Hocker (1987-88), Kevin Norris (1997-98)  and Thomas Hocker (1989-90) to enter the top 10 on the program's single-season leaderboard, going from No. 12 up to eighth.
– Miami has 23 wins in a season for the 10th time in program history, including the fourth in Larrañaga's 11-year tenure.
– The Hurricanes now own a 12-12 record in overtime games under Larrañaga, with Thursday their first such game of the year.
– Miami last played an overtime game on 2/6/21 against Virginia Tech, dropping an 80-76 result in Coral Gables, Fla.
– Miami now has nine wins this season in games it trailed by seven-plus points and 12 in contests it trailed in the second half.
– The Hurricanes moved to 22-3 this season when scoring 65-plus points, including 20-3 when scoring 70-plus.
– Thursday marked the second time this season Miami won a game on a basket with triple-zeroes on the clock, as Moore hit a half-court buzzer-beater at Virginia Tech on 1/26/22.
– Boston College is the first team with five double-digit scorers against the Hurricanes since Wake Forest on 1/1/22.
– The Hurricanes shot over 50 percent from the field in both halves in each of their games against Boston College, as they also did so on 3/2/22.
– Prior to Boston College, the last team to reach 50 percent in both halves versus Miami was Virginia Tech on 2/26/22.
– Thursday's contest featured a tie score for 6:58 of action, the most in any Miami game this season, passing the prior mark of 6:50 on 12/1/21 at Penn State.
– Miami posted a 9-2 edge in fast-break points in the first half, but Boston College had an 8-0 margin in second-chance points.
– The Hurricanes did not get called for their first foul of the game until 4:16 remained on the first-half clock, but committed three in the first two minutes of the second half.
– Waardenburg tied for the third-most blocks in an ACC Tournament game by a Hurricane, becoming the six Miami player to tally three-plus and notching the eighth such occurrence.
– J. Miller recorded the second-best single-game ACC Tournament field-goal percentage (min. 6 FGM) in Miami history, trailing only Reggie Johnson's 6-of-6 mark on 3/11/10 versus Wake Forest.
– Miami's 30 made field goals tied the program record in an ACC Tournament contest, matching a mark posted three times before.
– The Hurricanes' 53.6 field-goal percentage is the fourth-best in an ACC Tournament game in program history.
– Miami tied for its third-most assists ever in ACC Tournament action, recording 14.
– Boston College's 29 made field goals matched the highest mark ever by a Miami foe in the ACC Tournament, equaling a total logged by Pittsburgh on 3/9/21 and by North Carolina on 3/8/18.
– The Eagles' 17 assists matched the the third-highest total by a Miami opponent in the ACC Tournament, tying a mark posted four times previously.
– J. Miller, who played in his 100th game as a collegian and surpassed 1,200 points, logged double-digit points for the 64th time, including the 14th this season.
– McGusty, who eclipsed 1,750 points in his career, recorded double-digit points for the 93rd time, including the 65th at Miami and 30th in 2021-22.
– Wong, who reached 75 steals as a Hurricane, scored in double figures for the 61st time, including the 28th this season.
– Wong registered his fifth five-assist performance, including his second this year.
– Wong's prior season high in assists was five on 1/11/22 at Florida State, while the previous times he logged six assists in a game were on 2/6/21 against Virginia Tech and 1/16/21 versus Louisville.
– Moore tallied double-digit points for the 79th time, including the 22nd in 2021-22.
– Moore posted his 51st five-assist showing, including his 14th this season.
– The other game this season in which Waardenburg had nine rebounds was on 2/16/22 at Louisville.