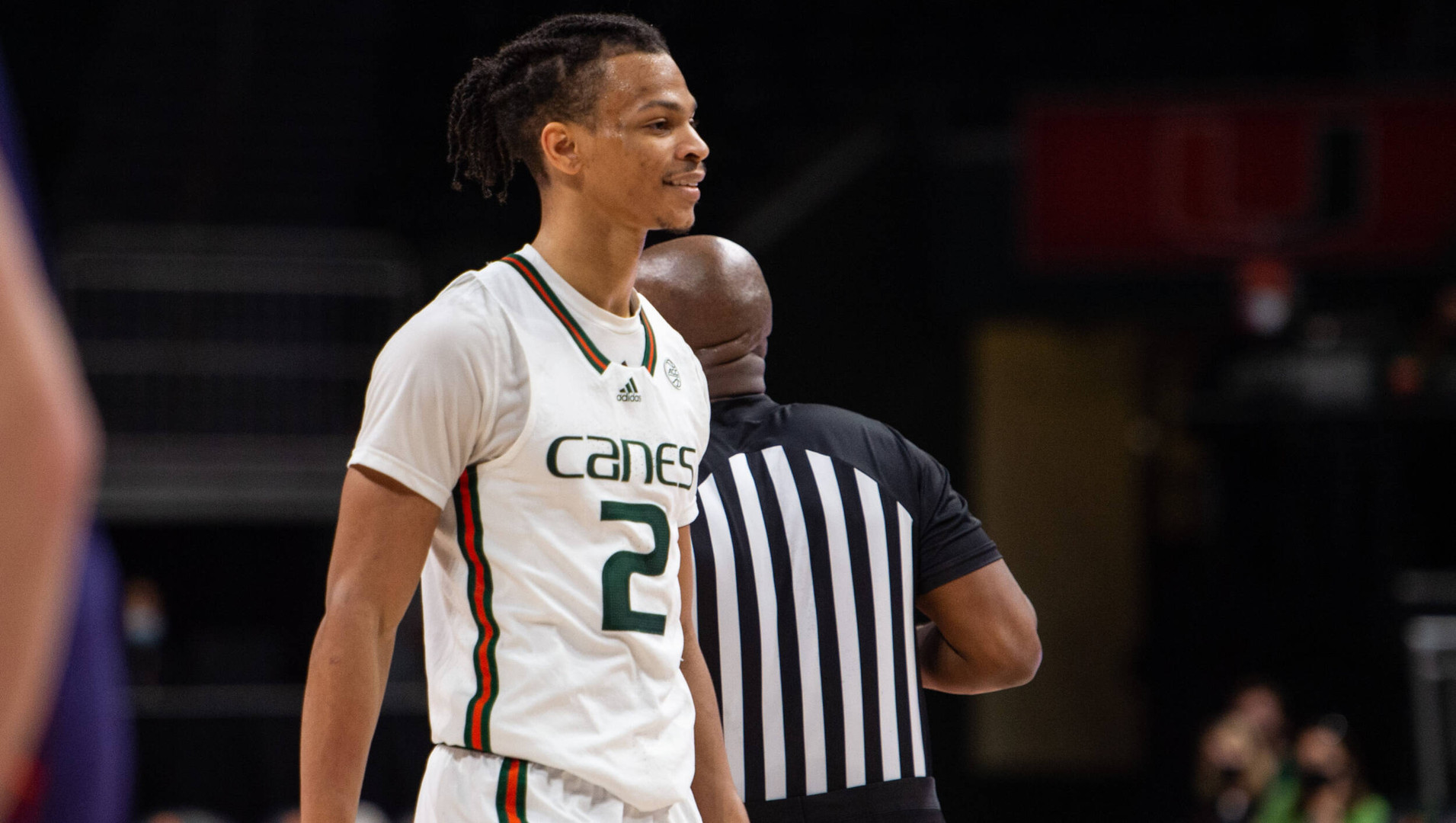 CORAL GABLES, Fla. – The University of Miami men's basketball team has proven time and time again it thrives in the second half.
The Hurricanes are 5-3 when trailing at the intermission, winning four such games in a row. They are also a perfect 7-0 in holding onto a halftime lead. Miami (12-3, 4-0 ACC) is averaging 42.7 points on 51.3 percent shooting in the second half compared to 34.4 points on 43.5 percent shooting in the first half.
Most recently, the Hurricanes used a dominant second-half display to rally past Syracuse Wednesday night at the Watsco Center. Miami trailed by 18 points in the final minute of the first frame and by 14 at the break, but dropped 58 points on 56.7 percent shooting (17-of-30) after the break to post an 88-87 win over the Orange.
"In the first half, as a team, we struggled. It was just [about] trying to figure out what we needed to do and just how to come back from a big deficit," third-year sophomore guard Isaiah Wong said. "But I think, the team, we figured it out during the second half and we knew we could come back at any time. We just needed to figure out how to space the floor, how to create for one another and have somebody catch fire.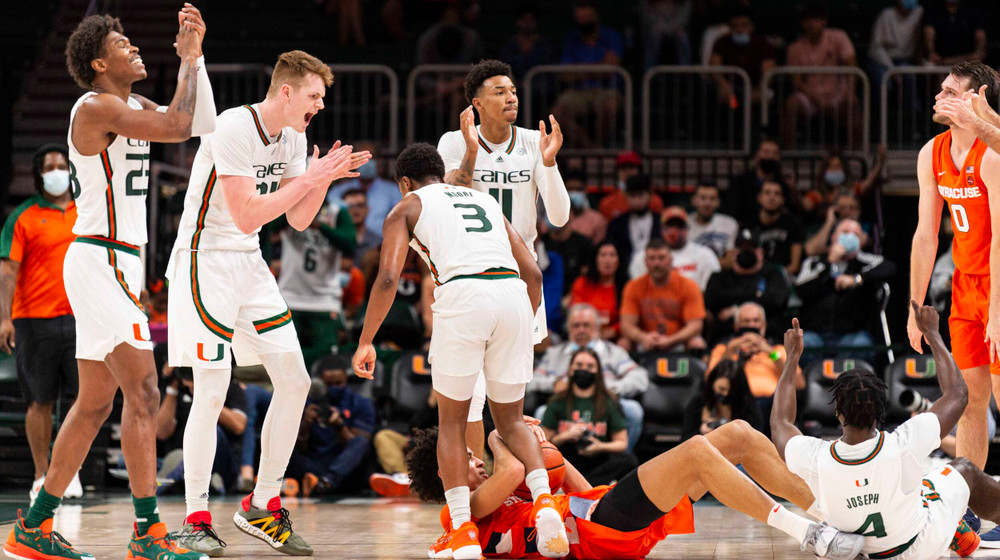 "We felt like in the second half, we brought the intensity," Wong added. "We had people helping each other and I think we figured it out. We came out in the second half with fire, hitting shots and playing defense with pressure. We felt like that's why we came back and won."
Charlie Moore led the way for Miami, notching a season-best 25 points, five rebounds and six assists, while shooting 6-of-10 from 3-point range, the first player in the nation to achieve that line against a Division I opponent.
Fellow sixth-year redshirt senior guard Kameron McGusty scored 19 points, including 12 in the second half, and tied a season high with five assists. Fourth-year junior guard Jordan Miller posted 11 points, a co-game-high eight rebounds and a career-best six steals, the most by a Hurricane in over six years and tied for the third-most ever by a Miami player.
Wong, meanwhile, scored all 14 of his points in the final 11 minutes. He went 8-of-9 from the line to help ice the comeback win.
The late surge has been a consistent theme for Wong in 2021-22 and is a big reason why Miami has been so efficient in the second half. The Piscataway, N.J., has turned into a Mariano Rivera of sorts—a dominant closer.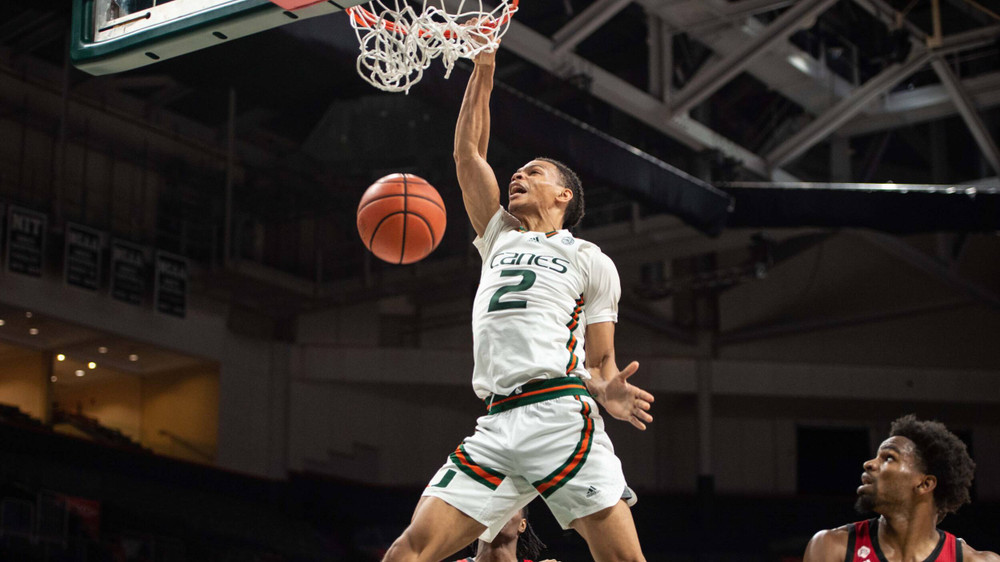 Wong is averaging just 5.7 points in the first half, while shooting 41.5 percent overall, 18.5 percent from deep and 59.1 percent at the line. In the second half, those numbers skyrocket to 10.6 points on 56.4, 33.3 and 78.6 percent figures, respectively.
"I feel like in the first half, I just try to figure … out what they're playing [on the defensive end]," Wong shared. "When I start to feel it and when I start to notice it coming in, it just always happens in clutch time. So, the last 10 minutes, during the second half, that's when it really comes in and I start to figure it out. I just get more comfortable."
A reigning Third-Team All-ACC performer who currently ranks seventh in the league in scoring at 16.3 points per game, Wong thrives on the chance to step up in big spots.
"Coach L [and my] teammates, they all rely on me," Wong said. "They're like, 'Hey, this is your time. This is what you do.' They trust me and … I trust in myself to be one of those players."
Wong actually had a quiet start to his career, averaging just 2.8 points per game on 29.8 percent shooting in his first 17 collegiate outings as a freshman in 2019-20.
In the next game, on Jan. 21, 2020, at eighth-ranked Duke, Wong had a then-season-high eight points. It was then that he started to settle in as collegian.
The following game, at North Carolina, Wong scored 19 points, his first of nine straight double-digit point totals. Since then, he has been one of the finest players in the ACC.
"Just going into the Duke game, we weren't winning, but I felt like I was starting to feel more comfortable. [I was] just getting more touches and getting more easy layups and buckets," Wong recalled. "I felt like I was … just helping the team as much as possible and gaining coach's trust. When North Carolina came, he started me and I felt like I was getting more touches and I was getting more good possessions. I felt more comfortable playing and that's what really got me going."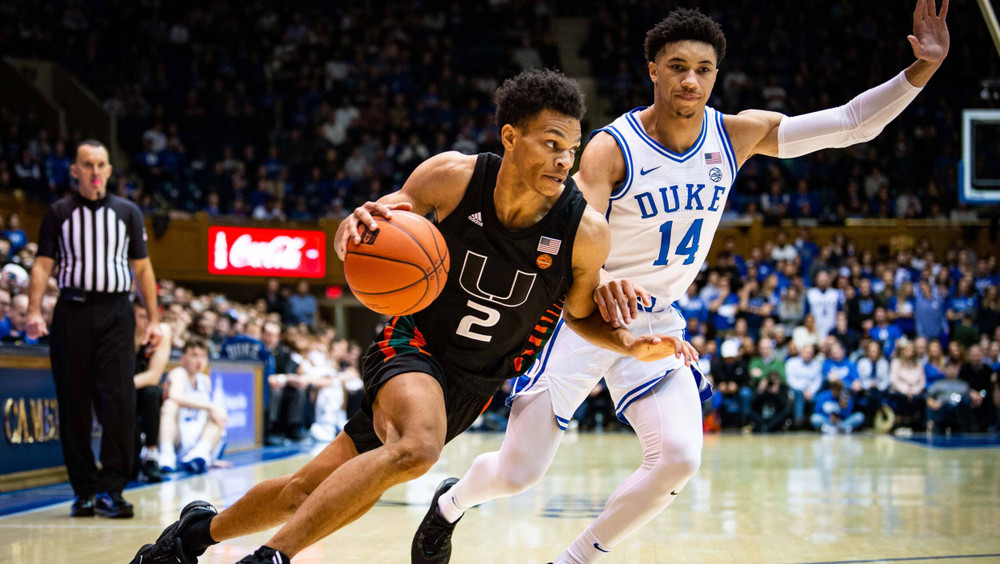 Miami now returns to Cameron Indoor Stadium in Durham, N.C., for the first time since that career turning point for Wong.
The ACC-leading Hurricanes square off with the second-ranked Blue Devils Saturday at 8 p.m. in their first true road game since a Dec. 1 win at Penn State.
"They're number two in the country, so this is one of the really tough games we have this season … but coming into this game, we've got to take it how we take every game," Wong said. "[We need to] just try to be the most professional team [we can be in our approach] and just try to play to the best of our abilities, look at the scout and try to help the team win."
The Blue Devils are 12-1 (2-0) on the season with wins over teams such as Kentucky, Gonzaga, Virginia Tech and Georgia Tech. They are led by freshman forward Paolo Banchero, a potential top-three NBA Draft choice, who is averaging 17.1 points and 7.5 rebounds per game.
Meanwhile, junior forward Wendell Moore Jr., another potential All-American, is averaging 16.3 points, 5.4 rebounds and 4.8 assists per game, the latter mark second-best in the ACC.
Banchero and Moore are one of two teammate duos in the ACC who both rank top-eight in scoring. McGusty (18.3) and Wong form the other.
That Miami can match the Blue Devils in that category, however, is not the prime contributing factor to the Hurricanes' confidence entering the game. Rather, it comes from the team's strong play of late.
The Hurricanes have won eight games in a row, their longest streak since starting the 2017-18 campaign with 10 straight victories. Miami is also 4-0 in ACC play for the second time ever and first since 2012-13.
"That helps a lot. Just coming into this game with four ACC wins, we're all … sharing the ball and we have good energy in the locker room," Wong remarked. "I feel like that is … going to help us. We're just trusting each other going into the game. With all that and with the 4-0 [ACC record] and the eight-game winning streak, we're rolling right now. We're on a little hot streak and we're going to bring it into that game, too."
Miami is 8-22 all-time against Duke, including 2-11 on the road and 6-7 under 11th-year head coach Jim Larrañaga. The six victories are tied for the second-most by any team since "Coach L" started his tenure at The U in 2011-12.
Two of those wins are on the road, as the Hurricanes are one of just five teams with multiple wins at Cameron Indoor Stadium during that timeframe.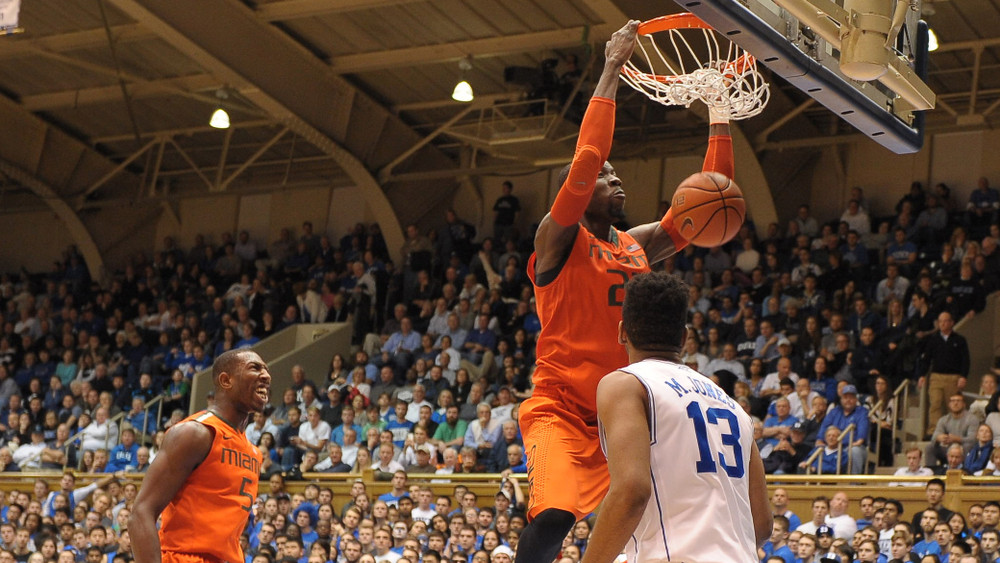 Despite Miami's success of late, including a 77-75 home win on Feb. 1, 2021, in the most recent meeting with the Blue Devils, Wong knows it will be a difficult task to earn a victory in Duke's vaunted arena. The Hurricanes, however, are ready to give it their all.
"We're just trying to get the best of what each player has," Wong said. "Coming into that game, we're just going to play hard, just go how the game flows and just try to come up with the win on Saturday."
The action between Miami and Duke will be broadcast live on ACC Network HERE, with Jay Alter and Malcolm Huckaby on the call. Joe Zagacki will have the radio broadcast on AM 560 Sports WQAM HERE. In addition, live stats for the contest will be available HERE.
After playing the Blue Devils, the Hurricanes visit Tallahassee, Fla., where they take on Florida State Tuesday at 8 p.m., live on ACC Network from the Donald L. Tucker Civic Center.
To keep up with the University of Miami men's basketball team on social media, follow @CanesHoops on Twitter, Instagram and Facebook.