MBB Picked Fourth in ACC, Wong Named Preseason First Team All-ACC
CORAL GABLES, Fla. – The University of Miami men's basketball team placed fourth in the ACC preseason poll, as announced Tuesday night live on ACC Network.
The fourth-place prediction is tied for the highest in program history, matching the marks in both 2017-18 and 2008-09. Miami earned 1,138 points in the balloting, 74 more than fifth-place Florida State.
The Hurricanes received two first-place votes, tied with Duke for the third-most in the league. It is the first time Miami has ever claimed multiple first-place votes in an ACC preseason poll. The Hurricanes earned their lone prior such vote in 2017-18.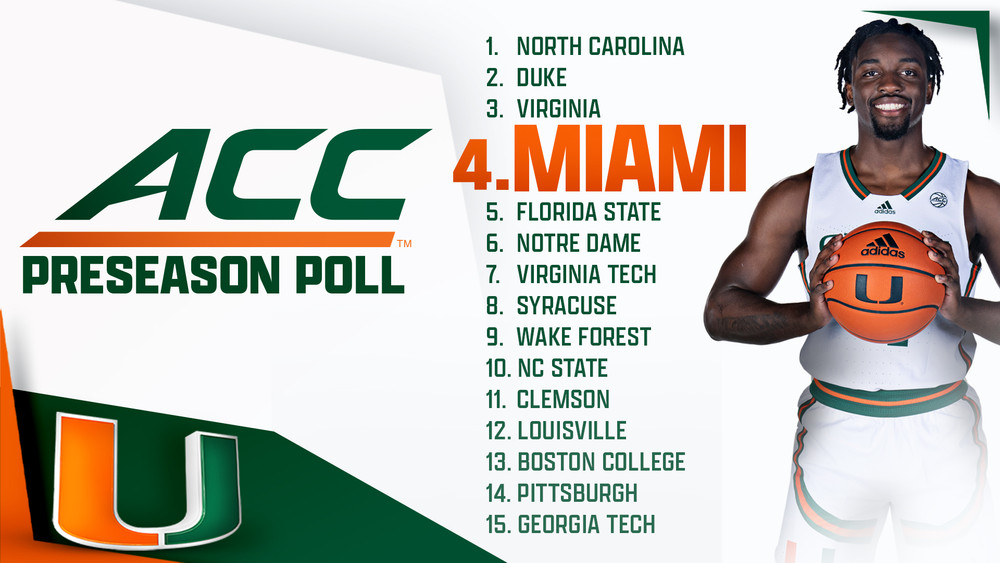 Along with the predicted order of finish, the ACC also revealed the preseason all-league teams Tuesday night and one Hurricane made the cut, as Isaiah Wong claimed Preseason First Team All-ACC plaudits.
This is the second consecutive year Wong, who averaged 15.3 points per game last year, has been tabbed a first-team choice, making him the first player in program history to garner two Preseason First Team All-ACC accolades. He joins Chris Lykes as the only Hurricanes with multiple Preseason All-ACC recognitions, regardless of team.
In addition, Miami has now placed received a Preseason First Team All-ACC nod in each of the last three years after doing so just twice before that.
The fourth-year junior guard from Piscataway, N.J., placed second in the Preseason All-ACC voting with 81 points, 23 more than third-place Caleb Love of North Carolina. He also finished second in the ACC Preseason Player of the Year balloting, notching five votes.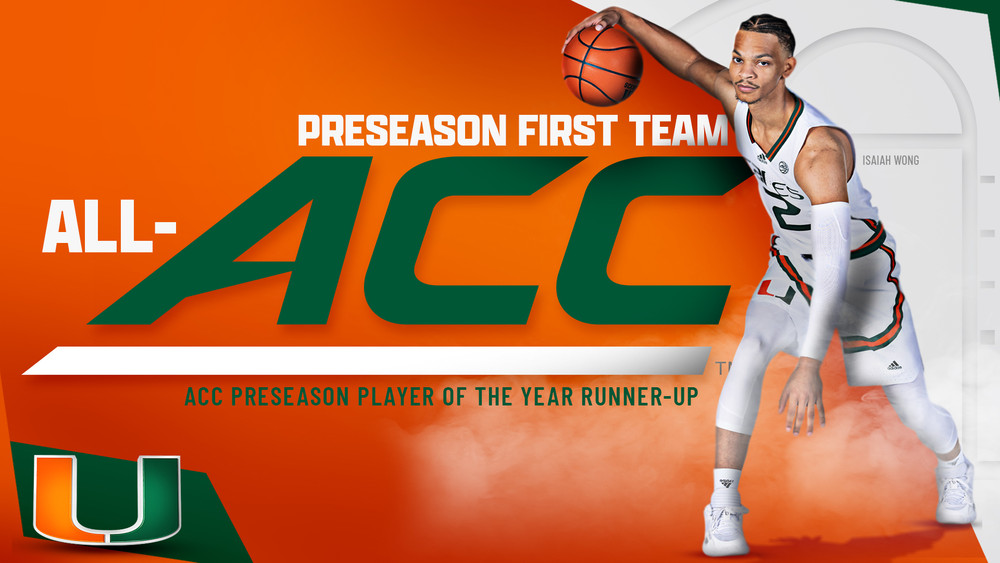 Wong and the Hurricanes begin their 2022-23 campaign Oct. 30, when they host IUP in a 2 p.m. exhibition game at the Watsco Center.
To keep up with the University of Miami men's basketball team on social media, follow @CanesHoops on Twitter, Instagram and Facebook.
Predicted Order of Finish (101 total votes)
First-place votes in parentheses
1. North Carolina (90), 1504
2. Duke (2), 1339
3. Virginia (6), 1310
4. Miami (2), 1138
5. Florida State, 1064
6. Notre Dame, 971
7. Virginia Tech (1), 921
8. Syracuse, 700
9. Wake Forest, 672
10. NC State, 548
11. Clemson, 528
12. Louisville, 477
13. Boston College, 368
14. Pitt, 320
15. Georgia Tech, 260
Preseason All-ACC (101 total votes)
First Team
Name, School, Votes
Armando Bacot, North Carolina, 100
Isaiah Wong, Miami, 81
Caleb Love, North Carolina, 58
Terquavion Smith, NC State, 46
Jeremy Roach, Duke, 35
Second Team
Name, School, Votes
Jayden Gardner, Virginia, 32
Dereck Lively II, Duke, 19
Justyn Mutts, Virginia Tech, 18
PJ Hall, Clemson, 17
RJ Davis, North Carolina, 14
Preseason Player of the Year
Name, School, Votes
Armando Bacot, North Carolina, 82
Isaiah Wong, Miami, 5
Caleb Love, North Carolina, 4
Jeremy Roach, Duke, 3
PJ Hall, Clemson, 2
RJ Davis, North Carolina, 2
Terquavion Smith, NC State, 1
Hunter Cattoor, Virginia Tech, 1
Dariq Whitehead, Duke, 1
Preseason Rookie of the Year
Name, School, Votes
Dereck Lively II, Duke, 57
Dariq Whitehead, Duke, 25
Tyrese Proctor, Duke, 5
Mark Mitchell, Duke, 3
Tyler Nickel, North Carolina, 2
Jalen Washington, North Carolina, 2
JJ Starling, Notre Dame, 2
Kyle Filipowski, Duke, 2
Prince Aligbe, Boston College, 1
Isaac McKneely, Virginia, 1
Seth Trimble, North Carolina, 1