MBB Rallies to Beat Clemson, 80-75, in ACC Opener
CORAL GABLES, Fla. – Trailing by nine with under five minutes left, the University of Miami men's basketball team stormed back to defeat Clemson, 80-75, Saturday afternoon at the Watsco Center in its first game of the 2021-22 ACC slate.
Sixth-year redshirt senior forward Sam Waardenburg scored a career-best and co-game-high 18 points for Miami (6-3, 1-0 ACC), which made six of its last seven shots and closed the thriller on a 19-5 run.
"I thought that was one of the finest comebacks on an outstanding team," Miami head coach Jim Larrañaga said. "When I watch Clemson, they are so efficient offensively with their 3-point shooting and PJ Hall inside makes it very difficult to defend them. Their defense is tough, you've got to figure out how to attack it. I think Sam Waardenburg's performance tonight, going 6-of-10 from the field with 18 points, three assists, one turnover, one steal and two blocks is one of the best frontcourt performances we have had in quite a while."
The Hurricanes started just 3-of-13 from the field, as Clemson (5-4, 0-1 ACC) built an early 16-8 lead through just 7:09. Aided by quality 3-point shooting, Miami pulled even at 30 with 3:34 remaining in the half.
Clemson, though, closed the frame on a 10-4 burst, capped with a 3-pointer by fifth-year senior David Collins in the closing seconds to give the Tigers a 40-34 edge at the break.
Both teams posted strong clips from long range in the opening 20 minutes. Miami, which started 5-of-9 on 3-pointers and just 1-of-9 from two, went 5-of-12 (41.7 percent), while Clemson shot 7-of-12 (58.3 percent) beyond the arc.
The Tigers connected on 7-of-9 field goals during an early second-half stretch to rebuild their eight-point lead, 57-49, with 11:58 left. Miami, though, had a burst in which it shot 6-of-8 to trim the deficit to two, 59-57, with 8:59 to go.
Clemson upped its edge to a game-high nine, 70-61, with 5:02, but the Hurricanes scored 12 straight points—the first five from Waardenburg—in 2:20 to put Miami ahead, 73-70, with 2:29 left.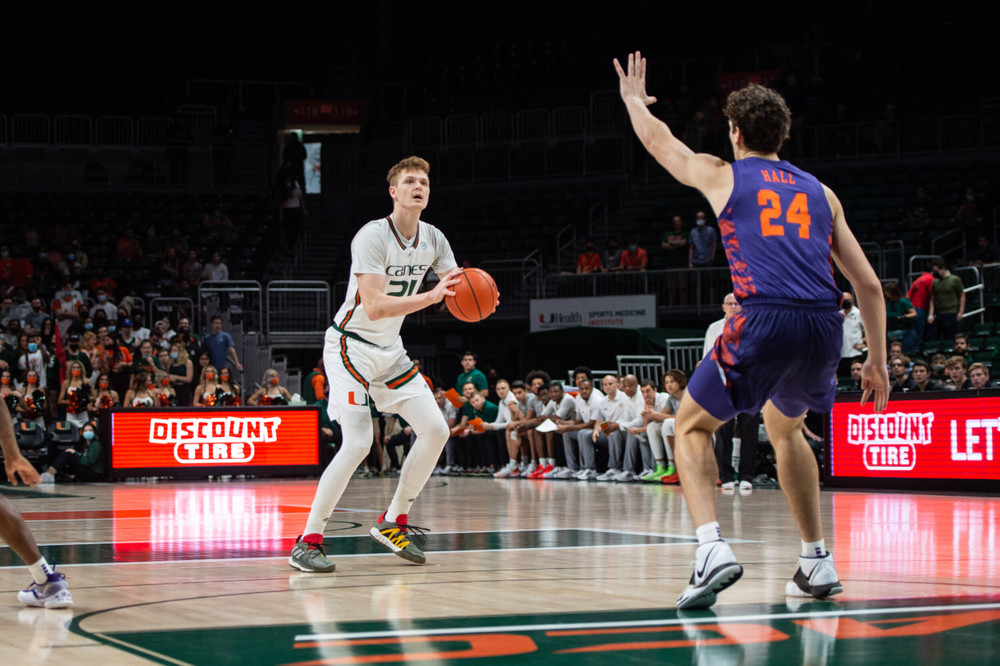 The Hurricanes did not stop there, though, continuing the run until it went all the way up to 19-3, as they closed out the game by shooting 5-of-6 at the line in the final 30 seconds. Clemson got the final bucket of the afternoon to make it a five-point final margin.
"I think our defense picked up," Larrañaga said of the Hurricanes' finish to the game. "Jordan Miller's defense on PJ Hall was the difference because PJ was drawing fouls on us and he was scoring with his back to the basket. What Jordan did is, he kept the ball out of his hands."
Waardenburg shot 4-of-7 from 3-point range in the win, marking the second consecutive game he connected on four shots beyond the arc. His six made field goals also tied a career high, previously set on Dec. 21, 2019, against Coppin State.
Sixth-year redshirt senior guard Kameron McGusty scored 15 points and third-year sophomore guard Isaiah Wong tallied 13. Miller, a fourth-year junior guard, scored a season-high 13 points on 5-of-7 shooting, with a 3-of-5 clip from 3-point range, including the eventual game-winning 3-pointer. All of his points came after halftime.
Sixth-year redshirt senior guard Charlie Moore added eight points, a season-high five assists and a career-best two blocks.
Hall, a sophomore forward, paced the Tigers with 18 points, finishing 6-of-14 from the floor and 6-of-6 at the line. Collins recorded 15 points, a game-best nine rebounds and a co-game-high five assists, but Miami forced him into five turnovers.
Sophomore guard Chase Hunter scored 15 points, finishing 3-of-4 from long range, and senior forward Hunter Tyson added 10.
The Hurricanes led for just 2:55, but it was the final 2:55. They shot 60.0 percent (15-of-25) from the field in the second half, including 46.2 percent (6-of-13) from long range, to earn the win. They also logged a 21-10 margin in points off turnovers in the game, while forcing 18 and committing just eight.
"I'm very excited for this team. They have worked really hard. This is a great week," Larrañaga said. "We went to Orlando and struggled against Alabama in the second half and to bounce back and play two really good games and win both, one on the road and then one at home—with our students coming out to support us—that was huge. To have those fans—our students—cheering for us [really helped] and the band was great. I'm hoping as the season progresses we can get more and more fans to the games because that makes a huge difference."
Up next for Miami is a home matchup with Lipscomb, set for Wednesday at 8 p.m. at the Watsco Center, live on ACC Network.
To keep up with the University of Miami men's basketball team on social media, follow @CanesHoops on Twitter, Instagram and Facebook.
MIAMI HURRICANES POSTGAME NOTES
– The Hurricanes moved to 15-17 all-time against Clemson, including 9-4 at home and 9-6 in Larrañaga's tenure.
– Larrañaga, who entered the game with the ninth-most victories of any active Division I coach, is now 676-467 in 38 years as a head coach, including 206-133 in 11 seasons at Miami.
– With 676 victories in his career, Larrañaga passed Denny Crum for sole possession of No. 34 on the all-time Division I wins list.
– For the sixth time this season and fourth in a row, Miami used a starting lineup of McGusty, J. Miller, Moore, Waardenburg and Wong.
– The Hurricanes improved to 7-11 all-time in ACC openers, including 5-6 at home, 5-6 under Larrañaga, 3-5 at home under Larrañaga and 1-1 versus Clemson.
– Miami also upped its mark to 12-6 all-time in ACC home openers, including 6-5 in Larrañaga's tenure.
– The last seven Miami/Clemson games have now been decided by a combined 28 total points, good for an average of just 4.0 per contest.
– In four of the last five Miami/Clemson matchups, the winning team trailed at halftime.
– The last time the Hurricanes shot 60-plus percent in a half was on 2/1/21, posting a 60.7 percent clip (17-of-28) in the second frame of a win over Duke.
– Waardenburg, who drew three offensive fouls in the first 22 minutes of the game, tallied double-digit points for the 16th time, including the fourth this season.
– After making a high of three 3-pointers in a game twice in his career previously, Waardenburg has now hit four in back-to-back outings.
– In addition, Waardenburg led Miami in scoring for the second game in a row after never previously doing so.
– Freshman guard Wooga Poplar surpassed 100 minutes played in his young career.
– McGusty, who eclipsed 1,350 points and 300 free-throw attempts as a collegian, scored in double figures for the 71st time, including the 43rd at Miami and eighth this year.
– J. Miller, who moved past 950 points in his career and played a season-high 35 minutes, scored in double digits for the 51st time, including the first this year.
– J. Miller also made multiple 3-pointers for the first time as a Hurricane, tripling his prior season high, with the last one giving the Hurricanes the lead for good with 2:55 remaining.
– Wong, who reached 50 steals at Miami, scored double-figure points for the 41st time, including the eighth in 2021-22.
– Moore, who eclipsed 450 assists as a collegian, notched his 38th five-assist outing as a collegian, including his first as a Hurricane.