CORAL GABLES, Fla. – The University of Miami men's basketball team continued its string of road excellence Wednesday night at Boston College.
The Hurricanes recorded an 81-70 victory over the Eagles at Silvio O. Conte Forum in a game they never trailed after Boston College scored the opening basket.
Miami (21-9, 13-6 ACC) is now 9-2 in true road games this season. The only other teams in the nation with at least nine such wins and fewer than three such losses are Davidson, Duke, USC, Wisconsin and VCU.
According to freshman guard Wooga Poplar, the team's success away from home is largely due to its mentality, in a variety of ways.
"Keeping composed, basically not taking people for granted [based off] how their record is, being humble and taking games one by one," he said.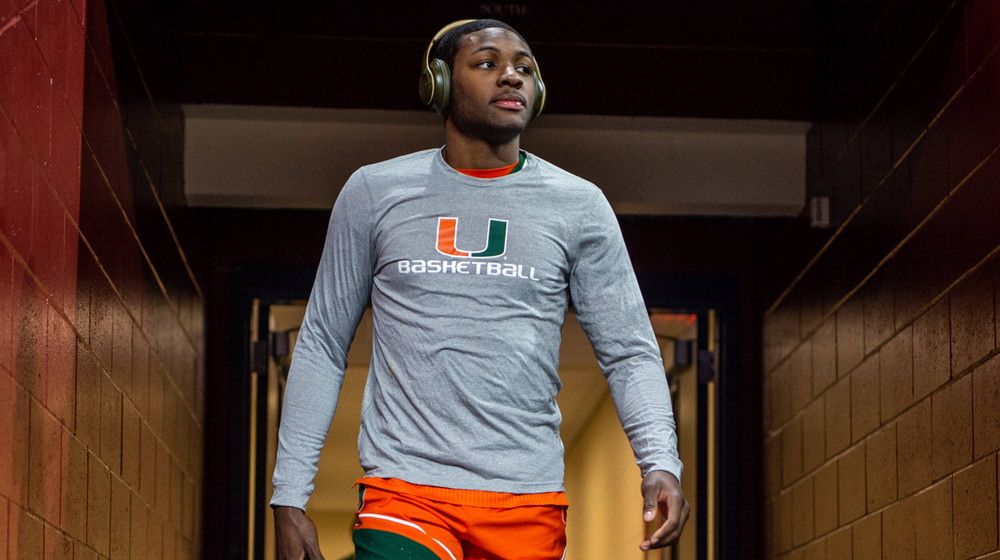 The Hurricanes shot over 55 percent from the floor in each half versus the Eagles and ended the night with a 56.4 clip (31-of-55) that ranks as their second-best mark of the season. Miami also reached 80-plus points for the 10th time this season.
The win, which gave head coach Jim Larrañaga the program record with 221 victories, featured 15 assists and 10 turnovers. The ball movement was a particular key in the Hurricanes' offensive performance, but they also got the job done on the defensive end of the floor.
"Sharing the ball, playing [well] with each other and effort," Poplar said of what led to the stellar showing. "I feel like we were disruptive on defense. And [we were] just playing as a team."
Fourth-year junior guard Jordan Miller scored 18 points on 8-of-10 shooting, while sixth-year redshirt senior forward Sam Waardenburg stuffed the stat sheet with 16 points, five rebounds, four assists and two steals.
Kameron McGusty scored 10 points despite foul trouble and fellow sixth-year redshirt senior guard Charlie Moore totaled eight points and a game-best five assists, breaking Miami's ACC-only single-season program assists record in the process.
Third-year sophomore guard Isaiah Wong, however, stole the show. He scored a season-best 27 points, just three shy of his top mark as a collegian. The Piscataway, N.J., native shot 9-of-16 from the floor, 5-of-9 on 3-pointers to tie a career high in makes and 4-of-4 at the line.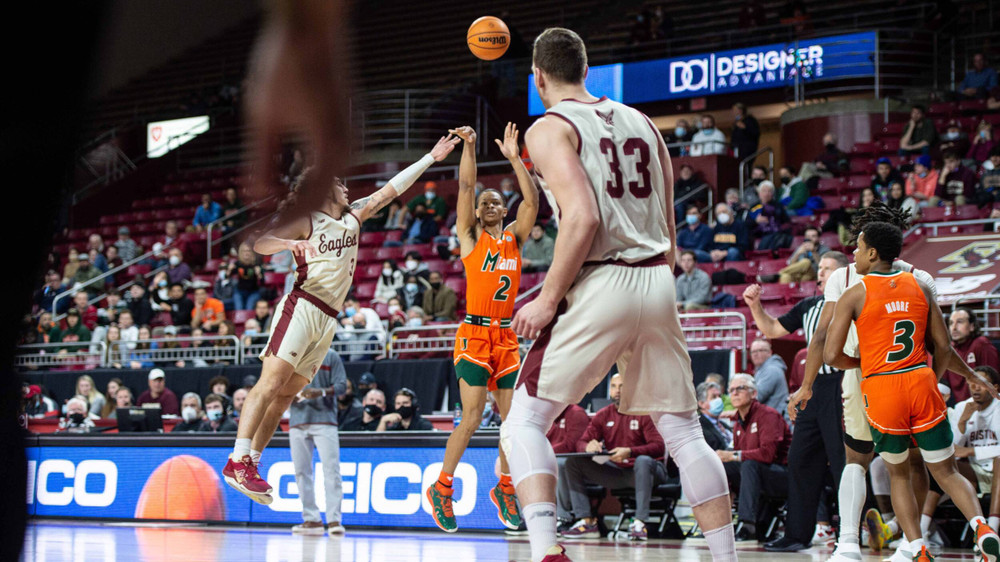 "He was [not shooting as well] his last couple games, but his shot was falling," Poplar said. "I feel like if he's hitting shots, he can do that every night."
Wong, McGusty and Moore are three talented veterans whom Poplar has played behind during his inaugural collegiate campaign.
All three are potential All-ACC players and they have a combined 376 appearances at the college level. Few rookies in the nation have had the chance to learn from a better, deeper crop of players at their position.
"I just feel like it has helped me a lot because they're way older than me," Poplar said. "I'm only 19. So, I have time to get through my mistakes and be better and just probably pick up in their shoes next year."
Although he has learned and improved on the hardwood during the 2021-22 campaign, Poplar actually feels his "way of looking at things, just as a human" is where he has made the biggest leap in his development.
Now, just one regular season game remains in the Philadelphia native's freshman season. It comes Saturday at 1 p.m. against Syracuse at the Carrier Dome in Syracuse, N.Y.
The two teams met earlier this season, with the Hurricanes logging a scintillating 88-87 home victory on Jan. 5 after rallying from an 18-point deficit. Miami shot just 34.3 percent (12-of-35) in the first half, but posted a 56.7 percent clip (17-of-30) in the second half against the Orange's vaunted 2-3 zone defense.
"In the second half, the effort picked up," Poplar recalled. "And I feel like the crowd at UM, they gave us momentum."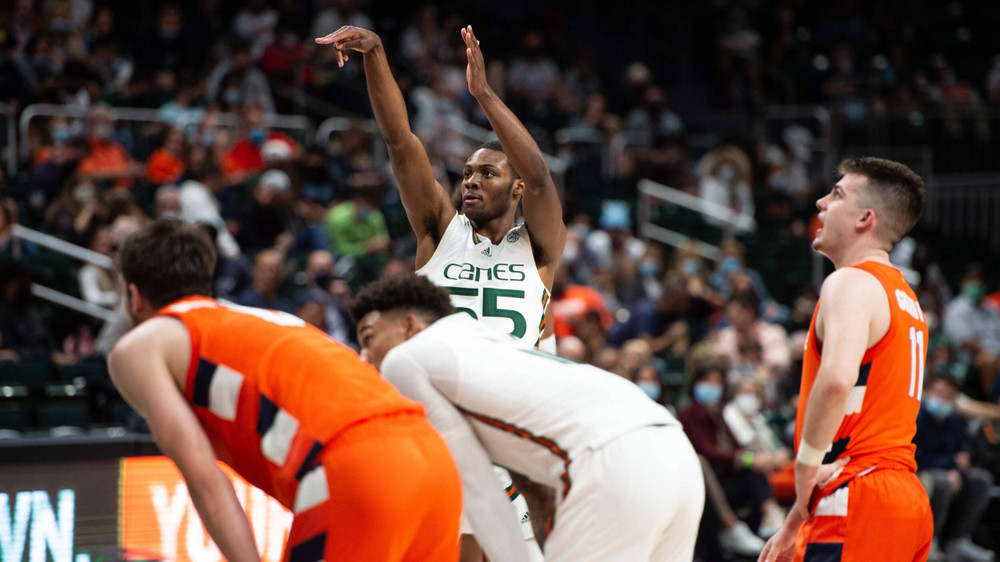 Although Miami managed to come away with the win, the high-scoring Orange turned in a dazzling offensive showing. They became the first Hurricane foe with three 20-point scorers in over 30 years and they shot 50.0 percent (29-of-58) from the field.
Poplar knows that such a balanced, dynamic offensive team makes for a stiff test for the Hurricanes, who must be well in-tune with the scouting report when they take the court Saturday afternoon.
"Just knowing your personnel. So, whatever their weakness is, trying to force them to that," Poplar said of what Miami needs to do defensively against a foe that has so many weapons. "And just playing as a team. Like, helping, being in the right space at the right time, holding your own and guarding your yard."
Syracuse is 15-15 (9-10 ACC) on the season and is led by senior guard Buddy Boeheim's 19.0 points per game, the second-best mark in the league.
The Hurricanes own a 10-20 all-time record versus the Orange, including a 3-10 ledger on the road and a 5-6 mark in Larrañaga's 11-year tenure.
Miami's regular season finale will be shown live on ESPNU HERE, with Mike Monaco and Steve Evans on the call. Joe Zagacki will have the radio broadcast on AM 560 Sports WQAM HERE, while live stats will be available HERE.
Following the conclusion of the regular season, the Hurricanes will travel to the ACC Tournament at the Barclays Center in Brooklyn, N.Y., where they will have a double-bye and will open play Thursday at a to-be-determined time against a to-be-determined opponent.
To keep up with the University of Miami men's basketball team on social media, follow @CanesHoops on Twitter, Instagram and Facebook.