MBB Tops No. 4 Indiana, 85-69, to Earn Second Straight Sweet 16 Bid
ALBANY, N.Y. – The fifth-seeded University of Miami men's basketball team defeated fourth-seeded Indiana, 85-69, Sunday night at MVP Arena to claim a second consecutive Sweet 16 appearance.
Fourth-year junior guard Isaiah Wong scored a game-high 27 points for No. 16/15 Miami (27-7, 15-5 ACC) to help the team defeat No. 21/19 Indiana in a top-25 NCAA Tournament second-round showdown.
The Hurricanes jumped out to an 8-0 lead after just 2:13, connecting on four straight field goals after an opening miss. That helped Miami build an early 10-point edge, 13-3, after only 4:02, as it started 6-of-8 from the floor and Indiana (23-12, 12-8 B1G) opened just 1-of-6.
Aided by back-to-back 3-pointers, the Hurricanes extended their lead to 13 points, 28-15, with 9:52 on the first-half clock. The Hoosiers then scored 10 straight points in 99 seconds to close within three, 28-25, with 7:17 left in the frame. Miami countered with a 10-3 run, including eight points by Wong, to go back up by double digits, 38-28, with 3:05 to go.
Indiana eventually scored the final five points of the frame, including a buzzer-beating corner 3-pointer by fifth-year senior forward Miller Kopp, to make it 40-35 at the break. Miami shot 55.2 percent (16-of-29) in the opening 20 minutes and notched an 8-2 margin in fast-break points.
The Hoosiers scored the opening eight points after halftime and, after never leading in the first half, gained their first advantage with 18:37 to go and upped it to 43-40 with 17:42 left. Miami, though, quickly recovered and soon logged a 16-2 surge in 4:49—it scored nine straight points in just 2:05 to end it—to go back up by a dozen, 63-51, with 8:15 remaining.
Indiana closed back within seven, but never got any closer. Miami eventually drilled back-to-back 3-pointers in the closing minutes to go up by 15 points, 75-60, with 3:26 to play. Although the Hoosiers made back-to-back-to-back 3-pointers, the Hurricanes continued to score at the other end, making their final seven shots and scoring the last eight points to win by 16 points, their largest margin of the night.
Miami finished with a 48.6 percent (34-of-70) clip from the field, including a 39.1 percent (9-of-23) ledger from 3-point range. The Hurricanes posted a dominant 48-31 margin on the glass and compiled more offensive rebounds (20) than Indiana had defensive rebounds (19). Head coach Jim Larrañaga's team totaled a 29-11 cushion in second-chance points, 14-0 tally in bench points and a 46-28 ledger in paint points.
Wong's 27-point performance, good for the co-fourth-most by a Hurricane in the NCAA Tournament, came on a 9-of-17 shooting from the field, including a 4-of-6 mark from deep, along with a perfect 5-of-5 line on free throws. The ACC Player of the Year also grabbed eight rebounds in the win.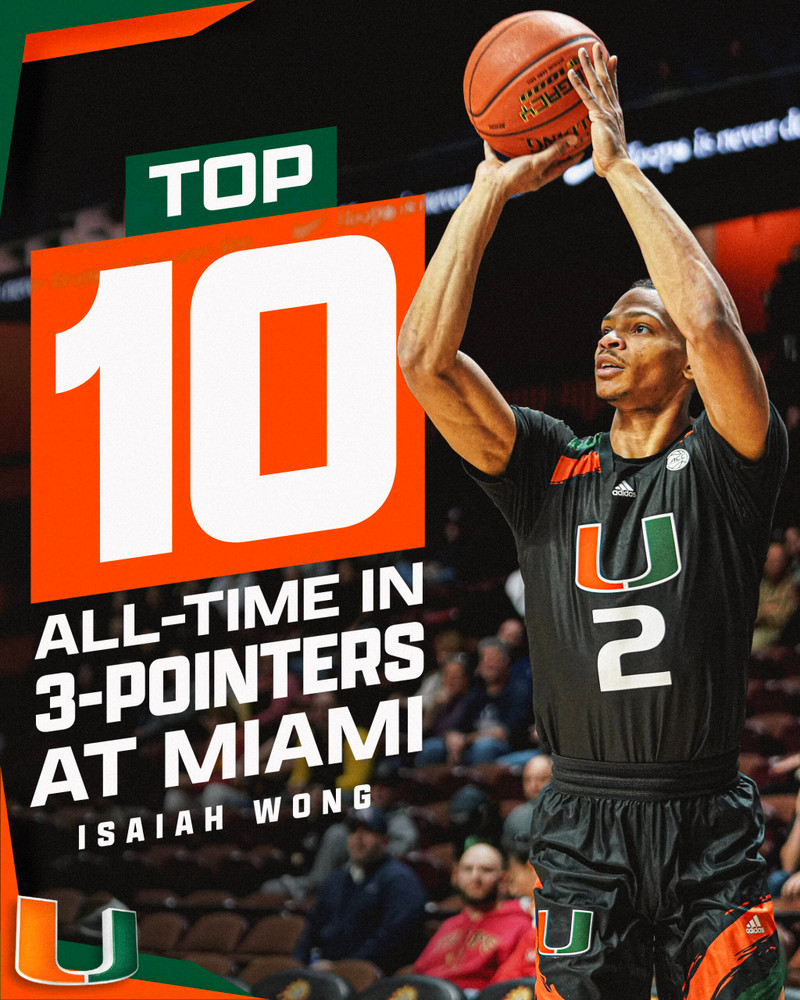 Fifth-year senior guard Jordan Miller amassed 19 points on 9-of-16 shooting, adding five rebounds and two blocks. Third-year sophomore guard Nijel Pack, an Indianapolis native playing against his home state school, scored 12 points in the win. Third-year sophomore forward Norchad Omier scored seven points and pulled down a game-high 17 rebounds to break the program's NCAA Tournament single-game record he set two days prior and post the top total by a Hurricane in any regulation game since November 2018.
Fourth-year junior forward Trayce Jackson-Davis, a First Team All-American, paced the Hoosiers with 23 points, eight rebounds and five blocks, finishing 7-of-10 from the field and 9-of-11 at the line. Freshman guard Jalen Hood-Schifino scored 19 points, but Miami held him to 8-of-22 shooting, including a 3-of-11 clip from deep. Redshirt senior forward Race Thompson added 11 points.
Up next for Miami, which led for 33-plus minutes in Sunday's victory, is a matchup with top-seeded Houston, ranked No. 2/1 nationally, Friday at 7:15 p.m. at the T-Mobile Center in Kansas City, Mo., live on CBS.
To keep up with the University of Miami men's basketball team on social media, follow @CanesHoops on Twitter, Instagram and Facebook.
MIAMI HURRICANES POSTGAME NOTES
– The Hurricanes made three 2-point field goals in the first two minutes, eclipsing their total (two) from the entire first half Friday night against Drake in the Round of 64.
– Both teams shot exactly 4-of-10 (40.0 percent) from 3-point range in the first half.
– Two Miami starters, Omier and sophomore guard Wooga Poplar, played just eight minutes each in the first half due to foul trouble.
– Between the final 54 seconds of the first half and the first 2:18 of the second frame, Indiana went on a 13-0 run over 3:14 of action
– Miami moved to 13-11 all-time in the NCAA Tournament, including 9-5 under Larrañaga, 4-4 as a lower seed, 2-1 as the fifth seed, 10-9 as a single-digit seed, 1-0 versus fourth seeds, 5-7 against single-digit seeds, 1-0 in 4/5 games, 2-0 in New York, 5-2 in the second round and 3-2 against Big Ten teams.
– This is the first time in program history Miami has reached the NCAA Tournament Sweet 16 in consecutive seasons.
– Three of Miami's last four NCAA Tournament wins are by at least 14 points, with both Round of 32 victories—each against a higher-seeded team—over the last two seasons by 16-plus points.
– The Hurricanes have outplayed their NCAA Tournament seed each of the last two years after previously doing so just once in program history (2000 Sweet 16 as a sixth seed).
– Larrañaga now owns 723 victories in his 39-year career, tying Jerry Slocum for No. 31 on the all-time wins list (min. five years at a Division I school).
– Miami's 27 victories tie for the second-most in program history, equaling the mark in 2015-16 and trailing only the 29 triumphs in 2012-13.
– With 53 wins over the last two seasons, Miami has set a new program record for victories in a two-year span, eclipsing the prior record of 52 set from 2014-16.
– The Hurricanes' streak of nine consecutive games determined by single digits, tied with Winthrop for the longest active streak in the nation according to Stats Perform, came to an end, as Miami had a double-digit margin for the first time since an 81-59 win over RV/No. 24 Duke on 2/6/23.
– Miami has scored 63-plus points in all 34 games it has played this season, one of just five teams—the others are Gonzaga (36), Marshall (32), Toledo (35) and Youngstown State (34)—to do so in every outing this year, per Stats Perform.
– The Hurricanes' victory extended the ACC's all-time record streak of consecutive Sweet 16 appearances to 43, a stretch that dates back to 1980.
– Miami's 85 points set a program record in NCAA Tournament, passing the 80 it scored against Missouri on 3/14/02.
– The Hurricanes also set a program record for NCAA Tournament made field goals with 34, eclipsing the prior mark of 32 on 3/20/22 versus Auburn.
– Miami set another program NCAA Tournament single-game record with 48 rebounds, passing the previous top mark of 47, logged against Lafayette on 3/12/99 and versus St. Mary's on 3/21/08.
– The Hurricanes' 70 field-goal attempts place second in program history in NCAA Tournament play, behind only the 76 against Purdue on 3/14/99.
– Miami's plus-17 rebounding margin marked its best ever in NCAA Tournament action, per Stats Perform.
– Omier now has the top two NCAA Tournament single-game rebounding totals by a Hurricane, as his 14 in the first-round win over Drake on 3/17/23 rank second.
– Indiana's 63 field-goal attempts are good for the third-most by a Miami opponent in an NCAA Tournament contest.
– The Hoosiers blocked seven shots, tied for the second-most by a Miami foe in NCAA Tournament competition.
– Hood-Schifino's 22 field-goal attempts set a record for the most by a Miami opposing player in the NCAA Tournament, breaking the mark of 21 set by Patrick Mills of St. Mary's on 3/21/08, while his 11 3-point attempts put him in a tie for second place and his eight made field goals matched the third-highest such total.
– Jackson-Davis became the first opposing player to record five blocked shots in an NCAA Tournament game against Miami.
– Jackson-Davis' nine made free throws rank as the second-most by a Miami opponent in NCAA Tournament play, trailing only the 10 by Missouri's Clarence Gilbert on 3/14/02, while his 11 attempts also tie Gilbert for second-most, behind just the 12 by Tulsa's Brandon Kurtz on 3/24/00.
– Third-year sophomore guard Trey Galloway notched five steals, good for the most ever by a Miami foe in the NCAA Tournament and the top mark by a Hurricane opponent in any game since Syracuse's Kadary Richmond had the same total on 1/19/21.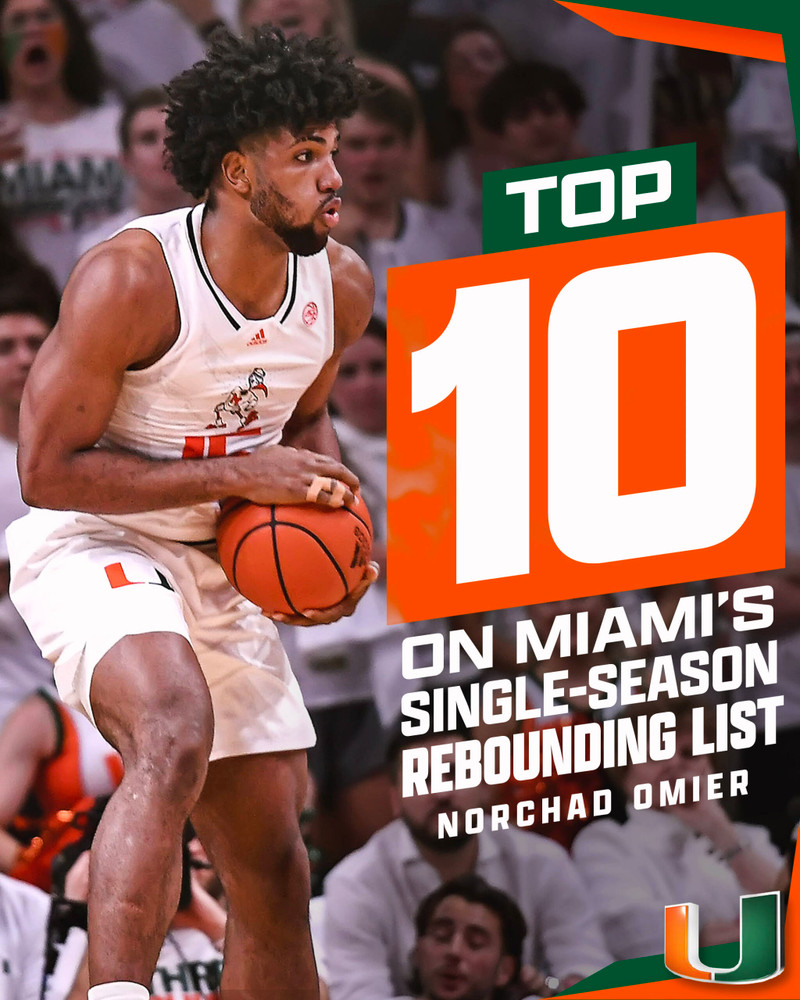 – Wong passed both Rion Brown (2010-14) and Guillermo Diaz (2003-06) to enter the top 10 on Miami's all-time made 3-pointers list, placing ninth with 175.
– Wong tied Robert Hite (2002-06) for seventh place on the program's all-time field-goal attempts leaderboard with 1,406.
– Wong passed DJ Vasiljevic (2016-20) and tied Julian Gamble (2008-11; 2012-13) for seventh place on Miami's all-time games played list with 129.
– Wong passed Kevin Norris (1994-98) and tied Robert Hite (2002-06) for third place on the Hurricanes' all-time starts leaderboard with 109.
– Wong tied Darius Rice (2000-04) for sixth place on the program's all-time 20-point games list with 35.
– Wong is now the second player in Miami history to play 4,000 minutes and the fifth to score 1,800 points.
– Omier passed Wayne Canady (1969-70), Bill Soens (1966-67) and Mike McCoy (1961-62) to go from No. 11 to eighth on Miami's single-season rebounding list with 342.
– Omier passed Jimmy Graham (2007-08) and Ron Godfrey (1959-60) to move into a five-way for eighth place on the Hurricanes' single-season personal fouls list with 100, the 12th occurrence of a player reaching triple digits.
– The 17 rebounds by Omier are the most by a Hurricane since Keith Stone had 18 on 2/19/20 in a triple-overtime game at Virginia Tech, the most by a Miami player in regulation since Ebuka Izundu had 19 on 11/13/18 and the most by a Hurricane in regulation against a Power Six foe since Tonye Jekiri had 17 on 1/20/16 at Boston College.
– By grabbing 17 boards in just 26 minutes, Omier averaged one every 92 seconds, good for the fourth-best mark by any player (min. 25 minutes) in an NCAA Tournament game since the field expanded to 64 in 1985, per Stats Perform, behind only showings by Kentucky's Oscar Tshiebwe in 2023 (79), Notre Dame's LaPhonso Ellis in 1989 (83) and Kansas' Scot Pollard in 1997 (92)