Larrañaga Sets Miami Record in 81-70 Win at BC
CHESTNUT HILL, Mass. – University of Miami head men's basketball coach Jim Larrañaga made history with his team's 81-70 victory Wednesday night at Boston College.
The two-time ACC Coach of the Year now has 221 victories in his 11 seasons at the helm of the Hurricanes, breaking a program record that stood for 55 years.
Third-year sophomore guard Isaiah Wong scored a season- and game-high 27 points for Miami (21-9, 13-6 ACC), which led for over 37 minutes and trailed for only 100 seconds at Silvio O. Conte Forum. The Hurricanes, who held an edge of 10-plus points the entire second half, clinched a double-bye in the ACC Tournament with their ninth true road win in 11 such tries.
"I don't get emotional about anything individually. My whole goal has always been about the team," Larrañaga said. "Individual honors are nice—they recognize people—but the most important thing for a coach is for the team to do well, for the players to win and feel good about themselves. This team was expected to finish 12th and they finished [at least] fourth and got a double-bye in the tournament. I'd say that's an outstanding job by those guys and my coaching staff, who are the ones that have basically mapped out the plan of how to be productive and how to beat some of these teams."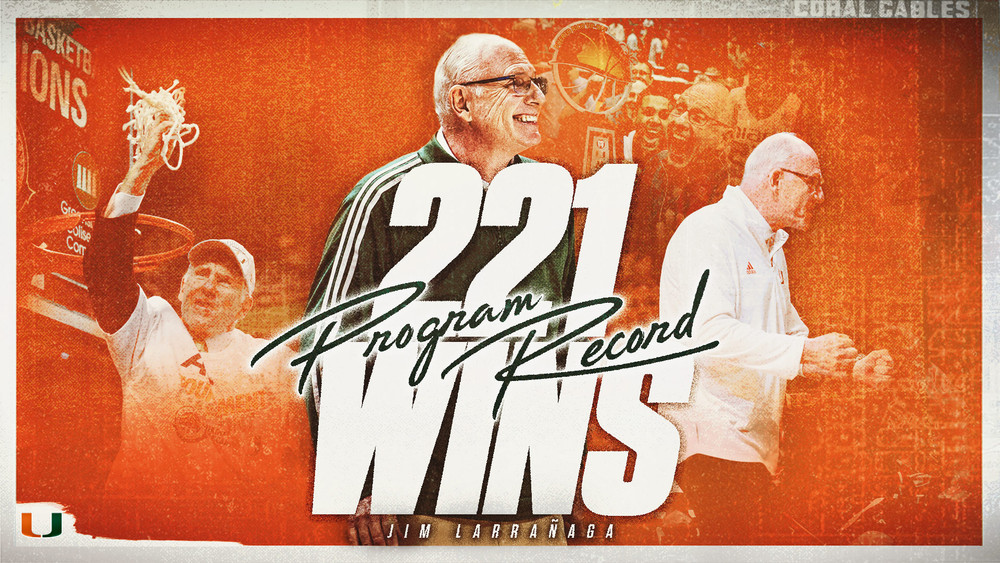 After Boston College (11-18, 6-13 ACC) scored the opening basket, Miami tallied nine straight points in 87 seconds to take a lead it would never relinquish.
The Hurricanes started 14-of-22 (63.6 percent) from the field, grabbing early control of the game. They extended their lead as high as 17 points, 40-23, in the opening half. The Eagles scored the final basket of the frame and Miami took a 15-point advantage, 40-25, into the locker room.
Wong scored 17 points, including 12 of the Hurricanes' first 18, in the opening 16-and-a-half minutes, starting 5-of-7 from the floor, 3-of-4 from deep and 4-of-4 at the line. Miami also recorded six first-half steals, including five in the opening nine minutes, while Boston College had zero, leading to a 17-4 cushion in points off turnovers.
The Hurricanes continued their strong play at both ends in the second session and pushed their cushion up to 19, 60-41, with just 11:25 to play. Miami then went scoreless for 3:06 and the Eagles scored eight unanswered points to cut the margin to 11 with 8:38 remaining.
Boston College got its deficit down to 10, 70-60, with 5:23 to play, but the Hurricanes never let the lead slip below double digits. In fact, they went on a 9-2 run to extend it back to 17 with just 2:18 to go, on their way to the 11-point victory.
Wong's 27 points came on 9-of-16 shooting, including a 5-of-9 mark from 3-point range to tie his career high in makes. He added a co-game-best seven rebounds and two steals.
Fourth-year junior guard Jordan Miller scored 18 points on a blistering 8-of-10 shooting, finishing one shy of his season high in makes. The Middleburg, Va., native added six rebounds in the victory.
Sixth-year redshirt senior forward Sam Waardenburg recorded 16 points, shooting 5-of-7 from the floor, 3-of-5 on 3-pointers and 3-of-3 at the stripe, as well as dishing out four assists. Kameron McGusty recorded 10 points and four assists, while fellow sixth-year redshirt senior guard Charlie Moore totaled eight points and a game-high five assists, en route to breaking Miami's nine-year-old ACC-only single-season assist record.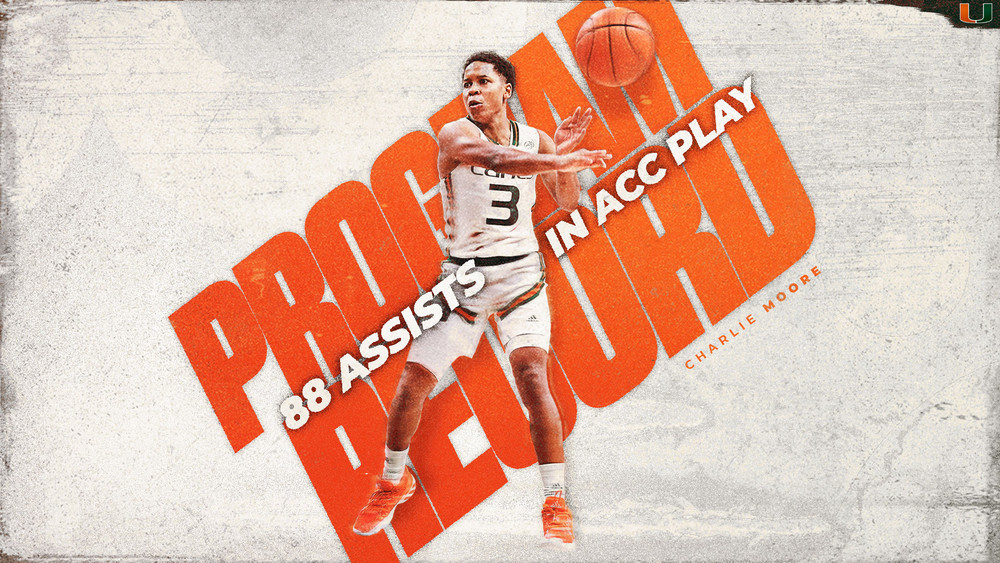 "We scored over 80 points. We shared the ball very well," Larrañaga said. "Isaiah caught fire early; he had 17 at the half and 27 for the game. Sam Waardenburg was terrific. Jordan Miller was terrific. Charlie was himself, had another good game. Kam got himself in foul trouble, but hit some very key baskets in the second half. Anthony Walker and Bensley Joseph came in off the bench and gave us some quality minutes."
Graduate student guard Makai Ashton-Langford paced the Eagles with 21 points, 19 of which came in the second half, during which he shot 7-of-11. It marked the highest single-half total by a Miami foe this season.
Senior forward/center James Karnik recorded 13 points and a co-game-high seven rebounds, while graduate student guard Brevin Galloway notched 11 points. Junior forward Quinten Post added 10 points and shot 5-of-6 from the field, as did Karnik.
The Eagles shot 60.0 percent (18-of-30) in the second half after posting just a 38.5 percent clip (10-of-26) in the first half. They finished with a 50.0 percent mark (28-of-56) on the night.
The Hurricanes, meanwhile, posted a clip of 55-plus in each half to register a 56.4 percent ledger (31-of-55) overall, their second-best mark of the season. They also recorded nine steals and posted a 21-12 edge in points off turnovers.
Miami now travels to Syracuse, N.Y., where it caps the regular season Saturday at 1 p.m. against Syracuse, live on ESPNU from the Carrier Dome.
To keep up with the University of Miami men's basketball team on social media, follow @CanesHoops on Twitter, Instagram and Facebook.
MIAMI HURRICANES POSTGAME NOTES
– The Hurricanes moved to 27-27 all-time against Boston College, including 11-14 on the road and 14-3 in Larrañaga's tenure.
– Miami is now .500 in its series with the Eagles for the first time since it was 1-1 after a matchup on 12/29/89.
– Wednesday's decision snapped a seven-game winning streak by the home team in the Miami/Boston College series, as the last time a visitor won was when the Hurricanes did so on 1/20/16.
– Larrañaga, who entered the game with the 10th-most victories of any active Division I coach, is now 691-473 in 38 years as a head coach, including 221-139 in 11 seasons at Miami.
– With 221 victories at Miami, Larrañaga eclipsed Bruce Hale (1954-67) for the program's all-time wins record.
– Now owning 104 victories in ACC regular season play, Larrañaga passed Norman Sloan for sole possession of No. 12 on the all-time list.
– For the 21st time this season, Miami used a starting lineup of McGusty, J. Miller, Moore, Waardenburg and Wong.
– Moore now has 90 assists in ACC play this season, breaking the record of 87 set by Shane Larkin in 2012-13, with his historic pass coming on a 3-pointer by Waardenburg with 10:34 on the first-half clock.
– With 61 steals this year, Moore passed Vernon Jennings (1998-99) to enter the top five on the program's single-season leaderboard, placing co-fifth, alongside Robert Hite (2003-04).
– Moore has now played 618 minutes in league action this year, moving from co-No. 14 up to ninth place on the program's ACC-only single-season list, passing Guillermo Diaz (2005-06), Anthony Lawrence II (2018-19), Sheldon McClellan (2015-16), Bruce Brown Jr. (2016-17), Durand Scott (2012-13) and Sheldon McClellan (2014-15).
– With 1,167 points, Wong passed Ja'Quan Newton (2014-18) and Kevin Presto (1,156) to enter the top 30 on Miami's all-time scoring list, checking in at exactly No. 30.
– Wong now has 803 points in ACC play at Miami, passing Durand Scott (2009-13) for second place on the program's ACC-only all-time leaderboard and becoming the second Hurricane to reach 800.
-With 291 points in conference action this year, Wong passed Kenny Kadji (2012-13), Robert Hite (2005-06), Sheldon McClellan (2015-16), Chris Lykes (2018-19), Davon Reed (2016-17) and Rion Brown (2013-14) to enter the top 10 on the Hurricanes' ACC-only single-season leaderboard, placing seventh.
– Wong now has 105 made field goals in ACC play in 2021-22, logging the seventh triple-digit mark in program history and entering the top five on the program's ACC-only single-season list, passing Kenny Kadji (2012-13), Jack McClinton (2007-08), Robert Hite (2005-06), Guillermo Diaz (2005-06), Rion Brown (2013-14) and his own mark last year to check in at fourth place.
– With 241 made field goals in ACC competition in his career, McGusty entered the top five on the Hurricanes' ACC-only all-time list, tying Chris Lykes (2017-21) for fifth place.
– McGusty now has 657 minutes played in ACC action this year, passing Rion Brown (2013-14) and Shane Larkin (2012-13) to enter the top five on the program's ACC-only single-season leaderboard, placing fourth.
– With 1,592 minutes played in ACC competition in his career, McGusty moved past Dwayne Collins (2006-10), James Dews (2006-10) and Rion Brown (2010-14) to go into the top 10 on the program's ACC-only career leaderboard, checking in at ninth.
– Miami has 21 wins in a season for the 14th time in program history, including the sixth in Larrañaga's 11-year tenure.
– The Hurricanes moved to 20-3 this season when scoring 65-plus points, including 18-3 when scoring 70-plus.
– The only game this season in which Miami logged a better field-goal percentage was on 1/1/22 versus Wake Forest, when it logged a 61.5 percent tally (32-of-52).
– Miami got just two points from its bench on the night, including none in the first half.
– Wednesday marked the third time in 19 ACC games the Hurricanes did not get beat on the glass, as each team tallied 28 rebounds.
– Before Ashton-Langford's 19-point second half, Florida A&M's DJ Jones held the top single-half mark versus Miami this season, as he scored 18 after the break on 11/21/21.
– Wong's 17 first-half points tied the mark set by Waardenburg on 1/18/22 versus North Carolina for the most by a Hurricane before the break this season.
– The 17 first-half points also matched the third-highest total by a Miami player in a session this season—seventh occurrence with 17-plus—to trail only the second-half totals of 18 Wong recorded on 11/13/21 against UCF and 1/22/22 against Florida State.
– Wong, who surpassed 1,150 points and 400 made field goals at Miami, registered his 22nd 20-point showing, including his eighth in 2021-22.
– Wong, who also moved past 350 rebounds, scored in double figures for the 59th time, including the 26th this season.
– The only other time Wong made five 3-pointers in a contest was earlier this season on 1/18/22 against North Carolina.
– J. Miller, who eclipsed 1,150 points and 200 made free throws in his career, tallied double-digit points for the 62nd time, including the 12th this year.
– Moore, who moved past 550 assists as a collegian, posted his 49th five-assist outing, including his 12th this season.
– Waardenburg, who eclipsed 650 points and 2,750 minutes played as a Hurricane, scored in double-figure points for the 24th time, including the 12th in 2021-22.
– McGusty registered double-digit points for the 91st time, including the 63rd at Miami and the 28th this season.
– Freshman guard Wooga Poplar surpassed 250 minutes played in his young career.
– Freshman guard Bensley Joseph, playing about eight miles from his hometown of Arlington, Mass., logged a career-high-tying six rebounds to eclipse 50 in his first season as a collegian.