MBB Notches 80-72 Road Victory at North Carolina
CHAPEL HILL, N.C. – The University of Miami men's basketball team recorded its second "Big Monday" victory over a conference blue-blood in as many weeks with an 80-72 triumph over North Carolina at the Dean E. Smith Center.
Fifth-year senior guard Jordan Miller paced No. 15/13 Miami (21-5, 12-4 ACC) with 24 points and a season-best 11 rebounds, both game highs, helping the Hurricanes lead for the entire second half and build an edge as high as 14. It marked the eighth win over the six-time national champion Tar Heels in head coach Jim Larrañaga's 12-year tenure, including the fourth on the road.
The two sides played nearly even basketball throughout the first 20 minutes, as Miami led by no more than six and North Carolina (16-10, 8-7 ACC) did so by no more than three. After the Tar Heels started just 5-of-15 from the floor, they made their next six shots in a row on the way to connecting on seven of their last nine in the half. The stretch came with Miami third-year sophomore forward Norchad Omier, who played just six-first half minutes and did not post a point or rebound, on the bench with two fouls.
Nonetheless, the Hurricanes took a 35-34 edge into the break after shooting 4-of-9 (44.4 percent) from 3-point range, including a 3-of-4 ledger from third-year sophomore guard Nijel Pack, and holding North Carolina to a 1-of-11 (9.1 percent) mark at the other end.
Early in the second half, Miami used a 15-2 run in 5:20, including tallying nine straight points in just 2:29, to earn a game-high 14-point edge, 54-40, with 11:36 to play. The spurt included seven points by Pack to reach 20 on the night.
The Hurricanes retained an 11-point cushion with under three-and-a-half minutes left, but North Carolina logged six consecutive points in just 59 seconds to close the gap to five, 69-64, with 1:10 on the clock and then got it down to four, 73-69, with 36 ticks to go.
Miami, though, shot 7-of-8 at the line in the final 33 seconds to claim the eight-point road victory, the program's fourth such win in eight attempts against the Tar Heels under Larrañaga. The defeat also served as just North Carolina's fifth at home over the last three seasons, including its fourth in ACC play and second in 2022-23.
The Hurricanes' defense impacted the Tar Heels's 3-point shooting from start to finish, as they opened 1-of-16 through 28 minutes and 2-of-23 through 35 minutes on the way to a 5-of-31 (16.1 percent) final mark. Miami also won the rebounding battle, 40-32, and had a 9-2 margin in bench points.
Miller's 24-point, 11-rebound performance came on a superb 9-of-14 clip from the floor, good for a new season high in makes. He also shot 5-of-6 at the stripe and tallied two assists, while posting zero turnovers.
Pack finished with a season-high-tying 23 points, shooting 7-of-11 overall, 4-of-6 beyond the arc and 5-of-6 on 3-pointers. Fourth-year junior guard Isaiah Wong added 10 points, six rebounds, four assists and a game-best three steals.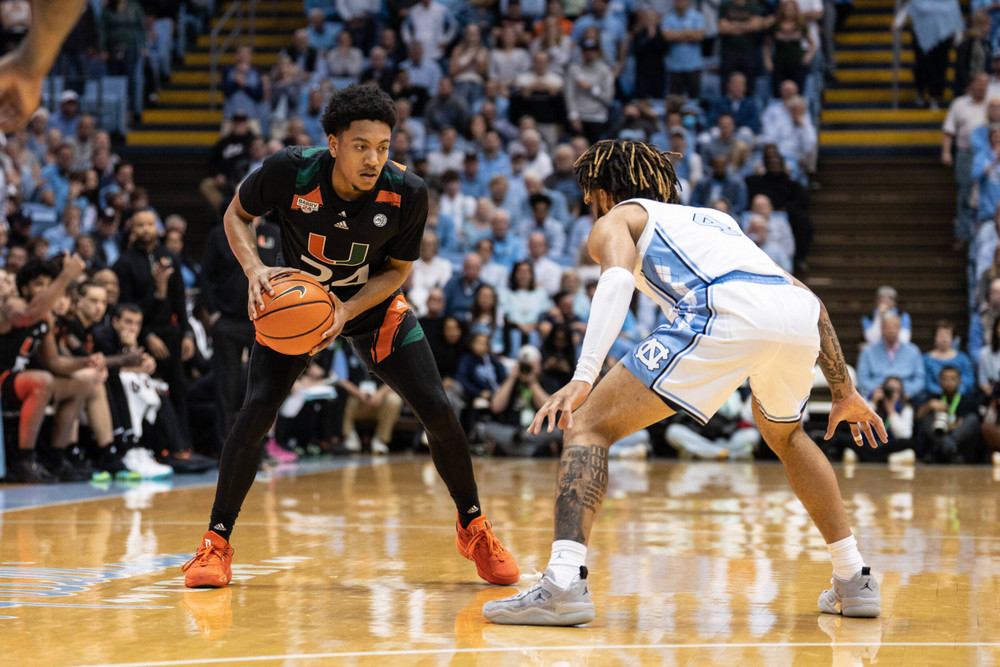 RJ Davis led North Carolina with 23 points, but went just 2-of-7 on long-range shots. Fellow junior guard Caleb Love totaled 20 points, but Miami forced him into a 2-of-12 ledger on 3-point attempts. Graduate student forward Leaky Black registered 13 points and a team-best nine rebounds.
Senior forward/center Armando Bacot, the ACC Preseason Player of the Year who entered the night averaging 17.6 points and 11.3 rebounds per contest, totaled just 12 points and four rebounds against the sturdy Miami defense.
After four days without a contest, the Hurricanes resume play Saturday at 2 p.m. against Wake Forest, live on RSN from the Watsco Center.
To keep up with the University of Miami men's basketball team on social media, follow @CanesHoops on Twitter, Instagram and Facebook.
MIAMI HURRICANES POSTGAME NOTES
– Pack (11), Miller (nine) and Wong (eight) combined for 28 of Miami's 35 first-half points, while Love (12) and Bacot (10) totaled 22 of the Tar Heels' 34 points before the intermission.
– For Bacot, North Carolina's all-time leading rebounder, the four boards tied for his ninth-fewest in 125 career outings.
– The Hurricanes are now 8-10 against North Carolina in Larrañaga's 12-year tenure, including 7-8 in ACC play and 4-4 on the road, after posting a 2-16 (1-8 ACC, 1-8 away) ledger before his arrival.
– Miami (8-10) is one of three teams with eight-plus victories over North Carolina since 2011-12, alongside Duke (15-12) and Virginia (12-8), while Pittsburgh (7-8) is the only other team with more than six.
– The Hurricanes joined Duke (six) as the only teams with four-plus road wins versus North Carolina in the last 12 years, while just Pittsburgh and Virginia have even three.
– After defeating both teams in an eight-day stretch, each one on ESPN's "Big Monday," Miami is now 16-19 versus Duke and North Carolina in Larrañaga's tenure, including 15-16 in ACC play and 7-9 on the road, after tallying just a 4-31 (2-17 ACC, 1-15 away) mark before his hire.
– Miami (16-19) owns the second-most wins against Duke and/or North Carolina since 2011-12, trailing just Virginia (18-17), while only Duke (15-12) has more than even 10.
– This is the fourth time Miami has beat both the Blue Devils and Tar Heels in the same season under Larrañaga, alongside 2012-13 (four times), 2016-17 and 2021-22.
– The Hurricanes possess seven road triumphs over Duke and/or North Carolina in the last 12 years, good for the most of any team in the country, while just Duke (six) has more than even five.
– Monday marked just the third time a ranked Miami team has played an unranked North Carolina team, including the first such occurrence in Chapel Hill, with the Hurricanes moving to 3-0 in such contests, following a pair of wins during the ACC title-winning 2012-13 campaign.
– The only other teams to beat North Carolina in Chapel Hill since the start of the 2020-21 season are Duke, Marquette and Pittsburgh (two).
– Larrañaga passed Vic Bubas for sole possession of the the No. 10 spot on the ACC's all-time league wins (regular season and ACC Tournament) list, now possessing 129.
– Wong moved past Darius Rice (2000-04) for fourth place on the Hurricanes' all-time minutes played list with 3,731.
– Wong passed Angel Rodriguez (2014-16) for third place on the program's all-time ACC-only career assists leaderboard with 153.
– Wong tied Anthony Lawrence II (2015-19) for second place on Miami's all-time ACC-only career steals leaderboard with 73.
– Wong moved past Guillermo Diaz (2004-05) for the fourth spot on the Hurricanes' single-season ACC-only made free throws list with 67.
– Omier eclipsed Ebuka Izundu (2018-19) and tied Tonye Jekiri (2015-16) for third place on Miami's ACC-only rebounds list with  153.
– Pack, who has back-to-back 20-point games for the first time as a Hurricane, has now connected on multiple 3-pointers in 12 of the last 13 games and on four-plus 3-pointers in six of the past nine contests.
– The prior 23-point showing for Pack, who set a season high in ACC play, came on 11/23/22 versus St. Francis Brooklyn.
– Miller finished one point shy of his Miami high of 25 points, which he has recorded three times, including once this season, on 12/10/22 against NC State.
– Monday's game marked the first time in 26 outings as a Hurricane in which Omier did to reach double digits in either points or rebounds.