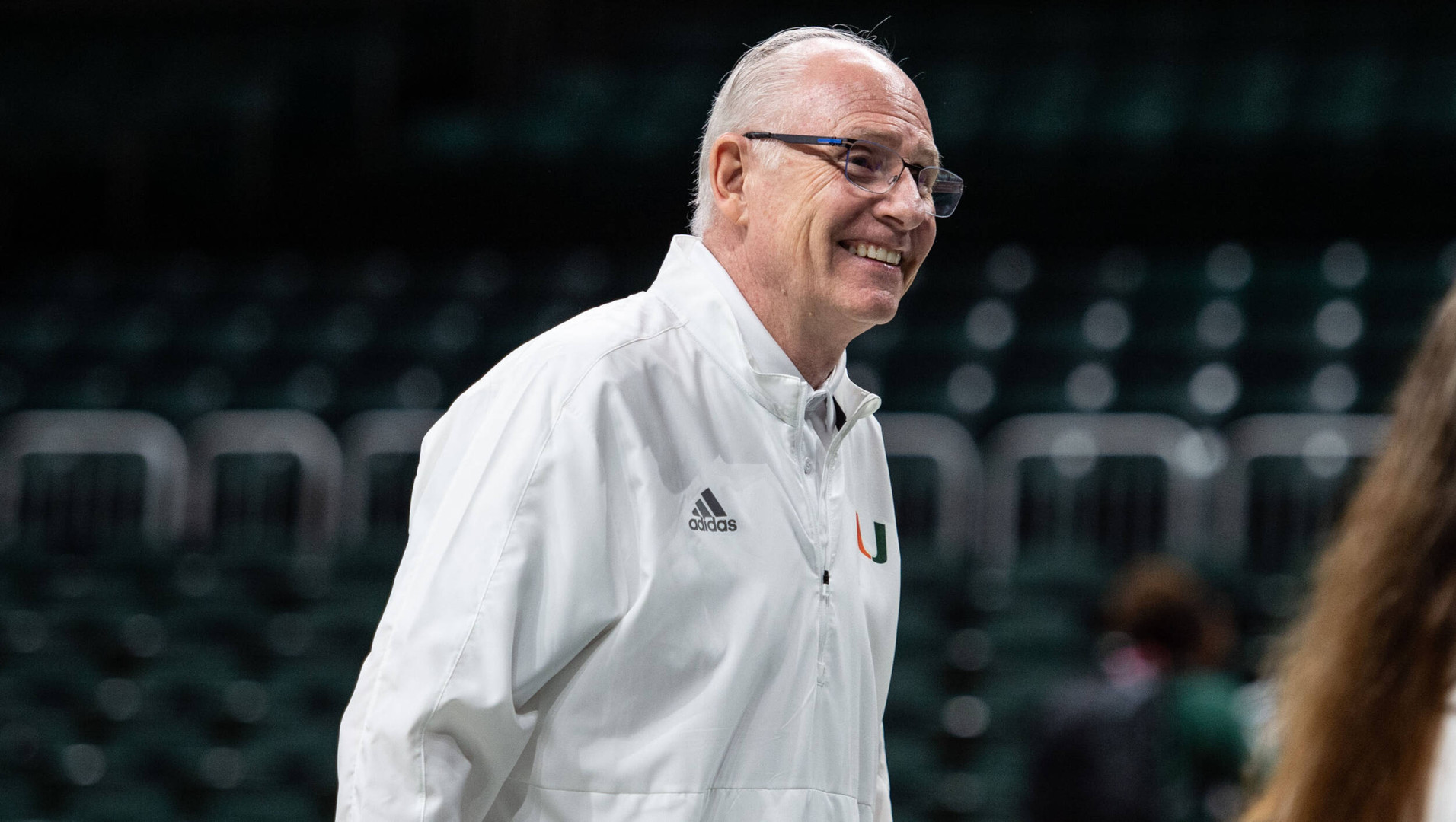 CORAL GABLES, Fla. – The University of Miami men's basketball team's next road trip, a visit to the Barclays Center in Brooklyn, N.Y., is an exciting one.
However, before looking forward to its next game, a team must always look back at its most recent one.
For Miami (7-3, 1-0 ACC) that was a review of its 76-59 victory over Lipscomb Wednesday night at the Watsco Center. The Hurricanes dominated the game for the final 26 minutes on their way to a third consecutive win.
"First of all, there were three things that we really needed to emphasize at the defensive end of the floor," Miami head coach Jim Larrañaga said. "We needed to defend the three, we needed to defend the cuts because they move very well without the ball and we needed to defend the low post.
"After analyzing the statistics and the video, they only scored twice out of 26 times on cuts, they only scored once out of five times on a low-post feed and they shot 7-of-28 from three," he continued. "So, the three things that we emphasized, we defended very, very well."
Fourth-year junior guard Jordan Miller keyed the Hurricanes' defensive effort, totaling seven rebounds, five steals and three blocks. He also posted 12 points and two assists at the other end, becoming just the second Division I player this season to reach all of those figures.
Miami, as a team, also excelled on offense against the Bisons. It shot over 50 percent from the floor in both halves and finished with a 51.6 percent clip on the evening.
Two players, in particular, led the way: sixth-year redshirt senior guard Kameron McGusty and third-year sophomore guard Isaiah Wong.
McGusty shot 12-of-19 overall, 4-of-7 from deep and 1-of-1 at the line, finishing with a career-high 29 points. His 12 made field goals also set a career high—as did his three blocked shots on the defensive side of the floor—while his four made 3-pointers put him one off his career best.
Wong, meanwhile, totaled 20 points on a blistering 9-of-13 mark from the floor. He went 8-of-9 inside the arc, as he repeatedly created quality shots off the bounce.
"Well, believe it or not, that's actually kind of an expectation that we have for both of them throughout this year," Larrañaga said of the duo. "They're both high-octane scorers and very good players who can play off of each other. They play very well together. We can rest one and the other one can carry us for a while. And when you add Charlie Moore to our backcourt, we actually have three outstanding, double-figure scorers."
The standout backcourt will now take its show on the road to the Big Apple for a matchup with Fordham Sunday at 11:30 a.m.
Miami is set to play the Rams in the home of the NBA's Brooklyn Nets. It will be the 19th time in Larrañaga's 11 years the team has played in an NBA arena. This season, though, there is a particular reason why the Hurricanes are headed to this venue at this time.
"I think it's very important this year because the ACC Tournament is going to be in Barclays," Larrañaga shared. "Playing a team like Fordham that stretches the defense, shoots a lot of threes and drives the ball is exactly the preparation we need to get ready for more ACC games."
Fordham was picked No. 14 in the Atlantic 10 after posting a 2-12 (2-11) record last season, but is already 7-4 on the year after winning four of its last five contests.
First-year head coach Kyle Neptune's roster features a trio of upperclassmen leading the charge. Junior guard Antonio Daye Jr., is Fordham's leading scorer at 18.0 points per game, while graduate student guard Darius Quisenberry is averaging 16.7 points per contest.
Graduate student forward Chuba Ohams, meanwhile, is averaging a double-double at 14.5 points and a staggering 11.8 rebounds per game.
"They are an outstanding 3-point shooting team," Larrañaga said. "Their two guards, Quisenberry and Daye, both average 17-18 [points per] game. They can shoot the three, they can put it on the ground and get to the basket. Those two guys are a real handful. Their big guy, Ohams, has had a game where he's had 20 points and 22 rebounds. So, he's a major concern of mine. This is a going to be a real challenge for our defense."
For six Hurricanes, including three staff members, the voyage to New York will be a trip to—or at least close to—home.
Larrañaga hails from the Bronx, N.Y., while associate head coach Chris Caputo is from Elmhurst, N.Y., and sixth-year redshirt senior center Rodney Miller Jr., is from Laurelton, N.Y. Freshman guard Jakai Robinson is from Ossining, N.Y., just outside the city.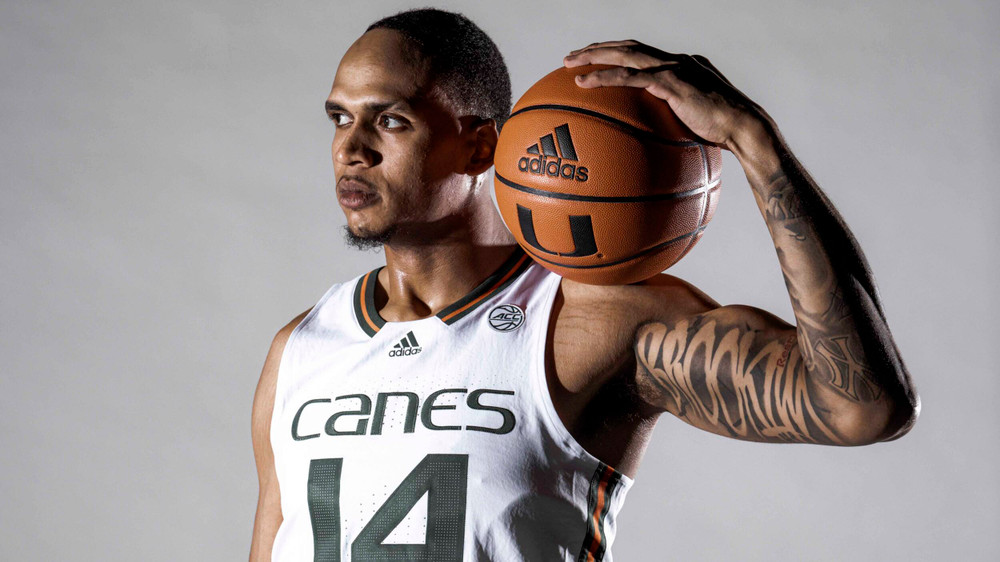 Meanwhile, Wong is from Piscataway, N.J., and director of basketball operations Jeff Dyer is a native of Hillsborough, N.J. Both—like the four previously mentioned—are within 50 miles and 90 minutes of Brooklyn.
For Larrañaga, though, this trip is about basketball, not catching up with friends and family.
"In actuality, my focus is strictly on my team," the two-time ACC Coach of the Year said. "My family will be there. My wife is coming with us and she'll meet with my family. I'll be with my players and coaches, trying to get ready for the game. I'll get a chance to maybe visit with my family after the game, but the most important thing is us playing hard and playing well and being the best version of ourselves we can be on Sunday morning."
While "morning" can sound a bit odd when referring to a college basketball game, that is indeed the case for this contest. It will actually be the seventh time in Larrañaga's 11 seasons Miami has a pre-noon tip-off and his team is 5-1 in the prior six.
Already this season, Miami has played at 11 a.m. once and noon twice, posting a 2-1 mark in those affairs. The pregame routine for this one will be similar to those two.
"I think it's the same preparation. We just have to get ourselves physically, mentally and emotionally ready so that, from start to finish, we're focused on playing basketball," Larrañaga shared. "Our players have played at all different times throughout their lives. When they were playing AAU ball, they sometimes had to play at 8 o'clock in the morning. So, 11:30 should be nothing special."
Wednesday's matchup will be televised live—a subscription is required—on FloSports HERE, with Andrew Bogusch and Scott Greene on the call. Joe Zagacki will have the radio broadcast on AM 560 Sports WQAM HERE, while live stats for the game will be available HERE.
Following its matchup with Fordham, Miami has seven days without a game and then hosts Stetson Dec. 20 at 7 p.m. at the Watsco Center in Coral Gables, live on RSN.
To keep up with the University of Miami men's basketball team on social media, follow @CanesHoops on Twitter, Instagram and Facebook.