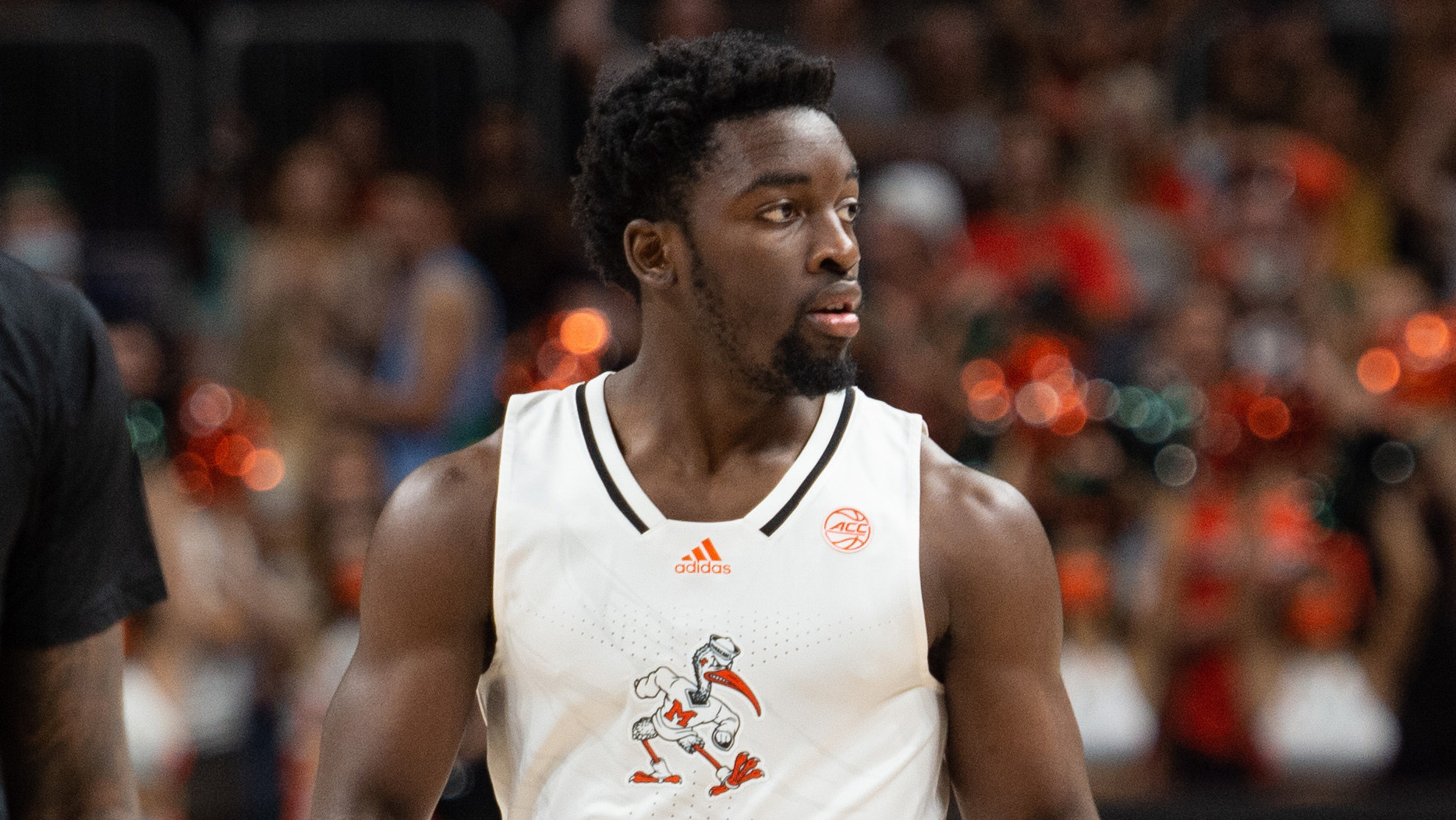 CORAL GABLES, Fla. – The transition from high school to college athletics is a difficult one, especially at the highest level of the sport in the ACC.
For a player coming off an injury that cost him his entire senior season, it can be even more challenging. That is the exact situation for Bensley Joseph of the University of Miami men's basketball team.
A freshman guard, Joseph did not play in 2020-21 at Putnam Science Academy in Putnam, Conn., due to a left ankle injury. He then watched Miami's entire exhibition game and season opener from the bench, biding his time behind a veteran-laden backcourt.
That time, though, was not long. Head coach Jim Larrañaga called on Joseph against UCF and he responded with 17 strong minutes of action. Joseph followed that with another solid 13-minute showing off the bench three days later at Florida Atlantic.
"Just trusting the process and just waiting for my time to come, working hard every single day in practice," Joseph said of how he showed the coaching staff he was ready to play. "It's hard to win at this level in this conference. I just feel like [I am] showing up every day with a hard-working mindset, just trying to get better at everything I can do. So, I feel like that's what is getting me some minutes right now. I'm just working hard and bringing energy, especially on the defensive end. That's something I take pride in."
A key for Joseph in being ready to hit the court running—literally and figuratively—when needed was remaining emotionally invested, even if the early outlook on his playing time looked bleak.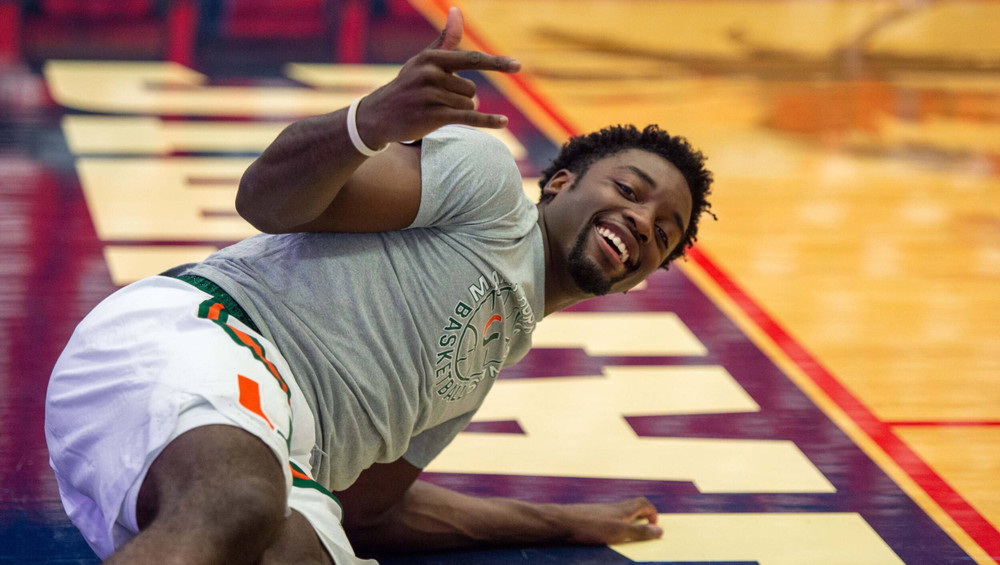 "My mindset was to just stay positive. I know my team; we have a veteran team right now. So, it's not going to come easy right now," Joseph shared. "It's just a patience thing, I just wanted to stay patient. I kept my head up [and I was] cheering for my team and [was just] waiting for my opportunity. Once my opportunity came and my name was called, I just knew all that work I've been putting in for the past couple months since I've been here, I just had to let it all show."
The 6-foot-1, 195-pounder's first action came in a loss, as Miami dropped a narrow 95-89 result to UCF Saturday at the Watsco Center. The next time out, he played in a victory for the first time, as the Hurricanes edged Florida Atlantic, 68-66, Tuesday night in Boca Raton, Fla.
Joseph, who hails from Arlington, Mass., is encouraged by the way his team bounced back from the setback versus the Knights and held on for a win in front of a nearly sold-out crowd at FAU.
That has him feeling like, even early in the season, the Hurricanes are where they need to be from a mental standpoint, just as he was when he was called upon to step up.
"UCF, they punched us in the mouth and I feel like we responded pretty well versus FAU. We've just got to keep responding and getting better all together," Joseph said. "Right now, everyone is bought in. We just [have to] keep buying in. Our team, we're not the biggest, we're probably not the strongest, but we're fast and we've got a lot of heart. So, I feel like if we put all those together and keep trusting what we're doing, trusting what Coach is saying and trusting the process all together as one, we could be unstoppable."
In the victory at Florida Atlantic, the Hurricanes led by 16 with under eight minutes to go before the Owls put up a furious rally. A 3-pointer by junior guard Michael Forrest evened the score at 66 with just 16 seconds on the clock.
However, in the face of a potentially painful loss, Miami stayed together. It executed offensively at the other end, with third-year sophomore guard Isaiah Wong dropping a driving layup off the glass and into the hoop with 0.7 ticks remaining.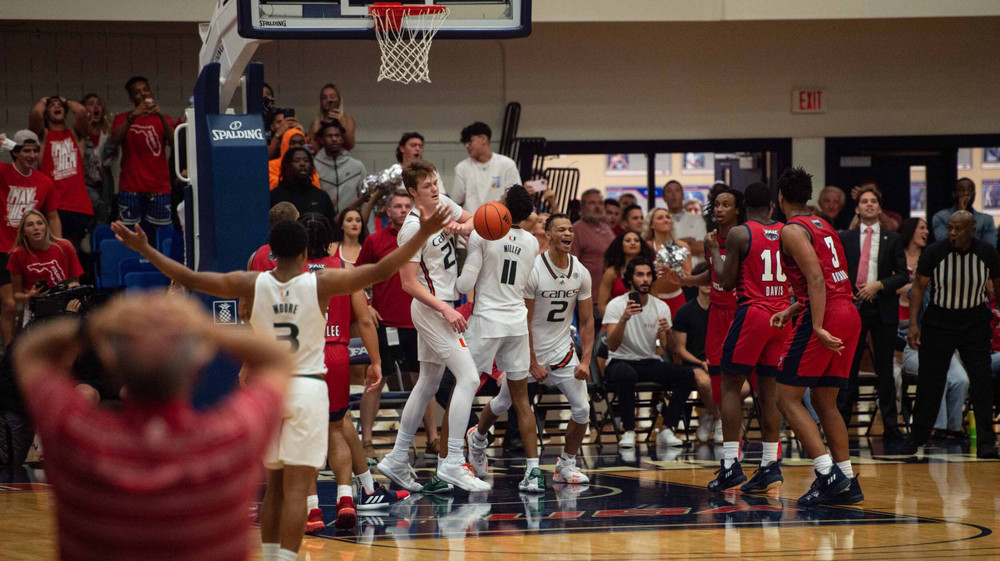 The Hurricanes then got the much-needed defensive stop on the final play, which also helped display the mentality of the team down the stretch.
"I saw a lot of composure. Guys didn't get caught up in the moment and try to do too much, just stayed composed and stayed relaxed. We stayed together," Joseph said. "Yeah, those moments can be very scary; tie ballgame [with the game] clock ticking down, but I feel like our composure as a team was very good and it was able to get Isaiah a bucket for a game-winning layup. That's how we play together."
Wong scored 18 points in the win to lead the Hurricanes, while sixth-year redshirt senior guard Kameron McGusty tallied 14 and went 12-of-14 from the stripe. Freshman guard Wooga Poplar—another newcomer who stepped up mightily—notched the first 12 points of his career and went 4-of-5 from the floor.
Miami shot 30-of-38 from the line, its second consecutive game reaching each of those figures after hitting both of them just once previously in Larrañaga's first 10 years at the helm.
Both of those games, as aforementioned, were against in-state foes. Now, Miami has a third straight Sunshine State team on the docket, as it faces Florida A&M Sunday at 8 p.m. at the Watsco Center.
This is the first time since the opening three games of the 2012-13 campaign—Nov. 9, 13 and 16—the Hurricanes are playing three consecutive games against Florida schools.
"I'll approach it just like any other game, but playing in-state schools, it's always a big competition and rivalry. It's like bragging rights for the school you play at," Joseph remarked. "Obviously, FAMU is going to try to come into Watsco and they're going to play as hard as they can and represent FAMU, where they're from. But I feel like, if we keep our composure and we play as hard as we can for all 40 minutes on the offensive and defensive side, we'll get the result we want."
The Hurricanes are 8-0 all-time against the Rattlers, good for their most wins against any team without a loss. All eight of those meetings, like this one, have come on Miami's home court. Just one, though, was during Larrañaga's tenure, a 90-59 victory on Nov. 16, 2017.
This year's Florida A&M team is 1-1 on the young season, boasting a 95-70 home win Monday over LeMoyne-Owen after a close 67-57 loss at Kansas State five days earlier in its season opener. The Rattlers went 8-12 (7-5 MEAC) last year and are now in a new conference, as they were picked sixth in the SWAC preseason poll.
Florida A&M's star through two contests has been senior guard MJ Randolph, who leads the team in points (24.0), rebounds (8.0) and assists (8.0) per game.
"I like the challenge in those type of guys because it kind of brings me into a mode where I want to personally shut them down and take them out of their loop," Joseph said of facing high-level opposing guards. "But, as a team, we're … going to focus on all their players—the whole team—and just try to shut them down as much as possible. Our team, we're big on defense and defense is what is going to win us lots of games … and hopefully we come out with a dub [in this one]."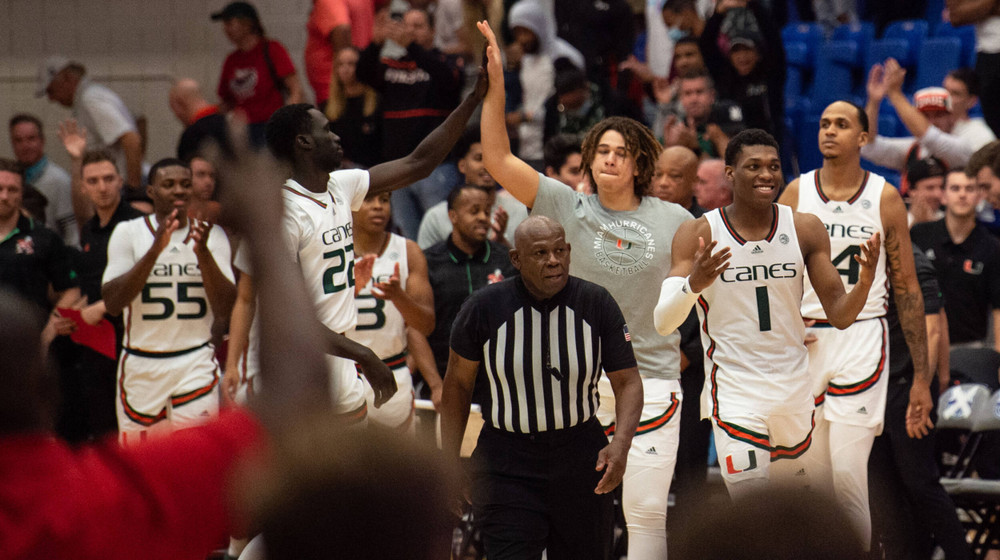 Sunday's affair will be broadcast live on ACC Network HERE, with Mike Monaco and Paul Biancardi on the call.  Joe Zagacki and Danny Rabinowitz will have the radio broadcast on AM 790 WAXY HERE. The game can also be heard on WVUM 90.5 FM HERE, while live stats will be HERE.
After playing Florida A&M, Miami will head to the ESPN Wide World of Sports in Kissimmee, Fla., where it plays three games in four days in the ESPN Events Invitational. Its first matchup is set for Thursday at noon against Dayton, on either ESPN or ESPN2.
Season tickets for the 2021-22 men's basketball home schedule start at $160 and are on sale now through the Miami Hurricanes ticket office. Tickets can be purchased HERE or by calling the ticket office at 1-800-GO-CANES. For more details, dial that number or email canestix@miami.edu.
To keep up with the University of Miami men's basketball team on social media, follow @CanesHoops on Twitter, Instagram and Facebook.