Elite Again! MBB Stuns Top-Ranked Houston, 89-75
KANSAS CITY, Mo. – The fifth-seeded University of Miami men's basketball team knocked off top-seeded Houston, 89-75, Friday night at the T-Mobile Center to claim a second consecutive Elite Eight appearance
Behind a game- and season-high 26 points from third-year sophomore guard Nijel Pack, who shot 7-of-10 from deep, No. 16/15 Miami (28-7, 15-5 ACC) led by as many as 17 against the Cougars, who entered the matchup ranked No. 2/1 in the country. This is the second time program history Miami has defeated a team ranked atop either national poll.
The Hurricanes scored seven straight points in just 61 seconds midway through the first half to go up by six, 29-23, with 7:12 on the clock. Houston (33-4, 17-1 AAC) responded with back-to-back 3-pointers, evening the score 47 seconds later.
The score remained level into the closing minutes of the half before Miami went on a 9-2 run in 1:43 to grab a seven-point edge, 40-33, with 2:53 on the clock. It eventually took a six-point edge, 42-36, into the intermission. Miami committed just one turnover in the opening 20 minutes and forced six at the other end, leading to 15-0 margin in points off giveaways and an 11-3 fast-break points total.
Miami scored the first five points of the second half, making it a 16-5 extended surge, to claim an 11-point lead, 47-36, with 18:53 to go. The Cougars answered with seven consecutive points in 1:42 to make it 47-43 with 17:01 remaining and then closed within two, 51-49, with 14:42 left.
The Hurricanes countered with a 19-4 burst in 4:19—including three 3-pointers by Pack, one by fifth-year senior guard Jordan Miller and another by sophomore guard Wooga Poplar—to go up by a game-best 17 points, 70-53, with 10:03 to play. Miami scored 11 points in a row to end the stretch.
Houston never got closer than 11 the rest of the way and the Hurricanes, who led by 16 in the final two minutes, ended the historic night with a 14-point victory, the Cougars' largest setback in over 12 months and their largest on a neutral court in nearly two years. Miami's 89 points were also the most against Houston by any team since November 2019.
Miami led for 34-plus minutes, including the entire second half, and trailed for just 2:20. The Hurricanes shot 57.1 percent (31-of-6), the second-best mark by any Houston foe this season. They also posted a 44.0 percent (11-of-25) beyond the arc and 84.2 percent (16-of-19) at the stripe.
At the other end, Miami limited Houston to a 37.5 percent (24-of-64) ledger overall, including a 29.0 percent (9-of-31) clip from deep. The Hurricanes also had just six turnovers in the contest.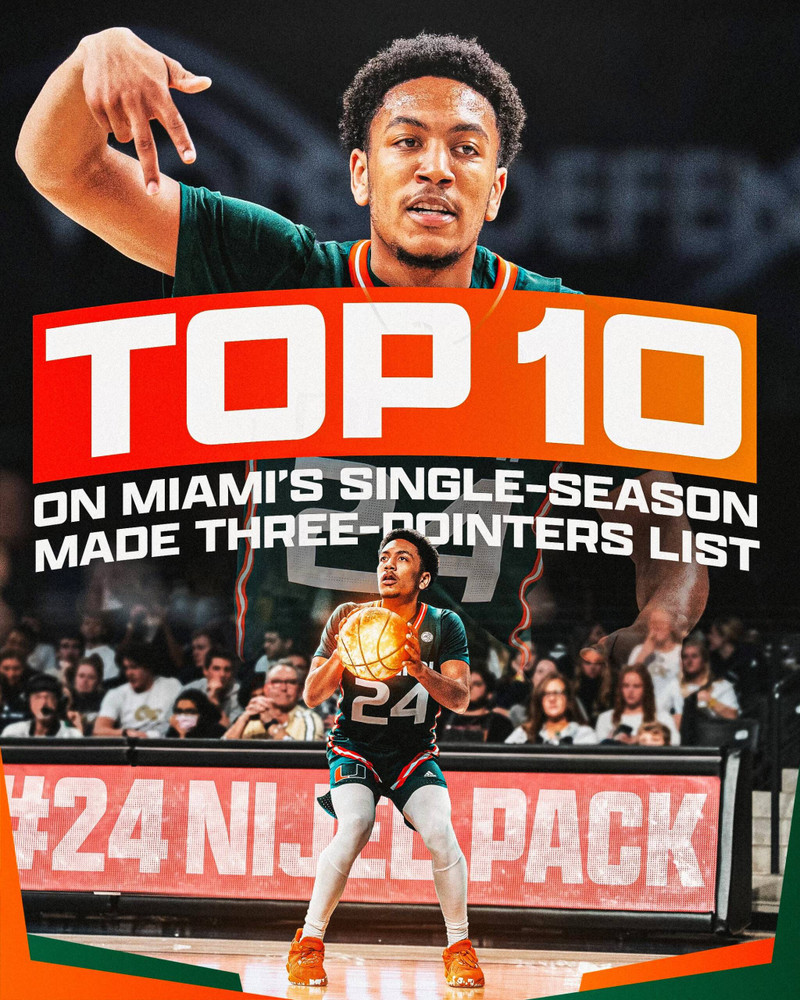 Pack, the only Hurricane to previously play at the T-Mobile Center, finished 8-of-12 from the floor and made seven of his first nine 3-point attempts, good for the second-most makes by a Hurricane in NCAA Tournament play. Fourth-year junior guard Isaiah Wong totaled 20 points, shooting 5-of-11 overall, 1-of-2 from deep and 9-of-11 at the line.
Miller logged 13 points, six rebounds and a team-best four assists. Third-year sophomore forward Norchad Omier had 12 points and a game-best 13 rebounds to record his 16th double-double of the year. Poplar added 11 points to give Miami a quintet of double-digit scorers.
Freshman forward Jarace Walker paced Houston with 16 points, a team-best 11 rebounds, a co-game-high five assists and a game-leading four blocks, but Miami held him to 4-of-16 shooting. Junior guard Jamal Shead scored 15 points and redshirt sophomore guard Tramon Mark had 14, as did senior guard Marcus Sasser, a First Team All-American whom Miami limited to 4-of-12 shooting.
Miami will now play either second-seeded Texas or third-seeded Xavier in the Elite Eight at a to-be-determined time Sunday at the T-Mobile Center.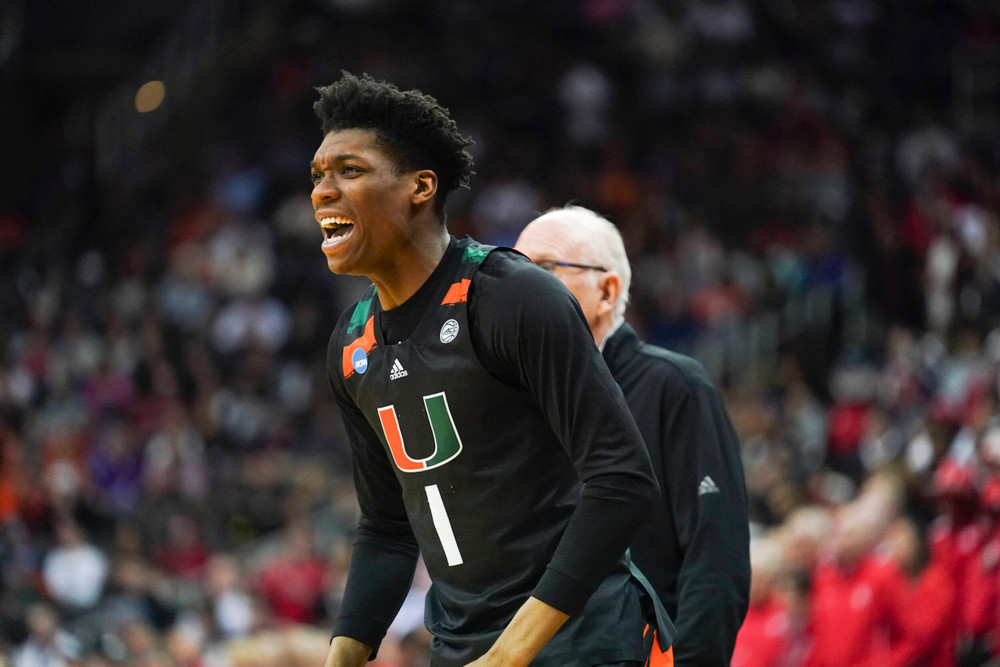 To keep up with the University of Miami men's basketball team on social media, follow @CanesHoops on Twitter, Instagram and Facebook.
MIAMI HURRICANES POSTGAME NOTES
– The Cougars started 6-of-11 (54.5 percent) from 3-point range through the first 14 minutes of action and then went 3-of-20 (15.0 percent) the rest of the way, including 2-of-14 (14.3 percent) in the second half.
– Miami, which did not commit a turnover until 5:30 remained in the first half, tied a season low in a frame with just one giveaway before the break, matching the mark they set in the second half on 3/10/23 versus No. 21 Duke in the ACC Tournament semifinals in Greensboro, N.C.
– The Hurricanes did not commit their second turnover of the night until 16:04 remained on the second-half clock.
– Miami moved to 14-11 all-time in the NCAA Tournament, including 10-5 under head coach Jim Larrañaga, 5-4 as a lower seed, 3-1 as the fifth seed, 11-9 as a single-digit seed, 1-1 versus first seeds, 6-7 against single-digit seeds, 1-0 in 1/5 games, 1-0 in Missouri, 2-3 in the Sweet 16 and 1-0 against AAC teams.
– This is the first time in program history Miami has reached the NCAA Tournament Elite Eight in consecutive seasons.
– Larrañaga now owns 724 victories in his 39-year career, passing Jerry Slocum and tying Ray Meyer for the No. 30 spot on the all-time wins list (min. five years at a Division I school).
– Miami's 28 victories are solely the second-most in program history, surpassing the mark in 2015-16 and trailing only the 29 wins in 2012-13.
– The only other time in program history the Hurricanes have defeated a team ranked No. 1 in either poll was 1/23/13 when they beat Duke, 90-63, in Coral Gables, Fla.
– The 33 wins by Houston are not only the most for any team Miami has defeated at the time of the game, but also the most for any team it has ever even played.
– The Hurricanes are the third team ever to make the Elite Eight in back-to-back years while seeded fifth or lower, per Stats Perform, alongside LSU (1986, 1987) and Butler (2010, 2011).
– Since 2019, no team has played five-plus games in the NCAA Tournament and posted a better winning percentage than Miami's .857 mark (6-1), per Stats Perform.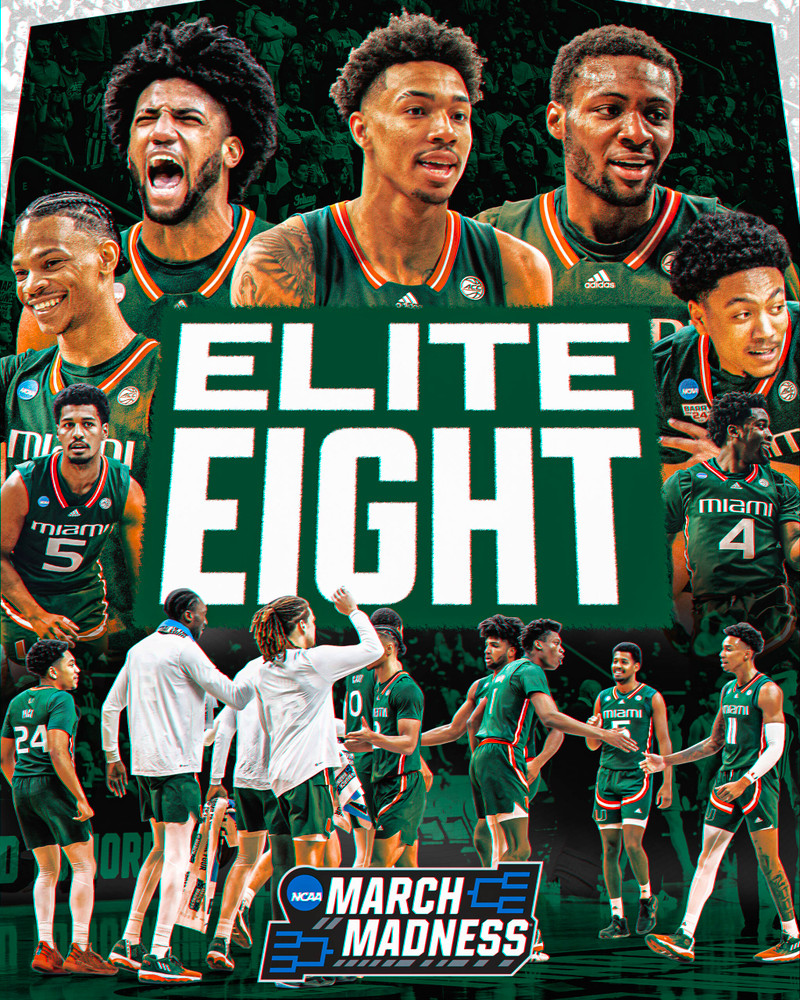 – Miami has scored 63-plus points in all 35 games it has played this season, one of just five teams—the others are Gonzaga (36), Marshall (32), Toledo (35) and Youngstown State (34)—to do so in every outing this year, per Stats Perform.
– The Hurricanes have now made at least a half-dozen 3-pointers in 20 consecutive games, a streak that ranks fifth-nationally, per Stats Perform, behind only Oral Roberts (71), Chattanooga (35), Detroit Mercy (26) and Cornell (25).
– The last time Houston lost by 14-plus points was 3/6/22 at Memphis (75-61) and the last time it lost by 14-plus on a neutral court was 4/3/21 against Baylor (78-59) in the Final Four.
– Houston last allowed 89-plus points on 11/19/19 at Rice (87), last did so in a loss on 2/22/18 at Memphis (91) and last did so at a neutral site on 12/22/15 versus Wyoming (89) in double-overtime and last did so at a neutral site in regulation on 3/14/14 against Louisville (94).
– The only team to shoot a better percentage against Houston this season was Wichita State, which went 24-of-37 (64.9 percent), on 3/2/23.
– Miami set a program record for points in NCAA Tournament play for the second consecutive outing, as its 89 passed the 85 it logged on 3/19/23 versus Indiana.
– The Hurricanes' 31 made field goals are their third-most ever in an NCAA Tournament game, with two of their three such performances all-time with 30-plus coming in their last two outings.
– Miami's 51.7 field-goal percentage is its third-highest mark ever in NCAA Tournament action.
– The 11 made 3-pointers are the second-most ever by a Miami in the NCAA Tournament, trailing only the 12 it hit on 3/22/13 against Pacific.
– Miami tied for its third-most 3-point attempts in an NCAA Tournament contest with 25.
– The only Hurricane to make or take more 3-pointers than Pack in an NCAA Tournament game was Johnny Hemsley, who went 9-of-12 on 3/12/99 versus Lafayette.
– Pack 70.0 clip from 3-point range ranks as third-best by a Miami player in the NCAA Tournament (min. five 3PM), behind Hemsley's 75.0 percent mark and a 71.4 (5-of-7) tally by Sheldon McClellan on 3/24/16 against Villanova.
– Wong's 11 free-throw attempts put him in a four-way tie for the second-most by a Hurricane in NCAA Tournament action, trailing only the 13 by Sheldon McClellan on 3/17/16 against Buffalo.
– Omier now owns three of the four instances of a Hurricane grabbing 13-plus rebounds in an NCAA Tournament game, ranking first, second and co-third on the list.
– The Cougars' 64 field-goal attempts marked the third-most by a Miami foe in NCAA Tournament action.
– Houston took 31 3-pointers, the most ever by a Miami opponent in the NCAA Tournament, passing the prior top mark of 27 by Illinois on 3/24/13.
– The Cougars shot 18-of-20 from the line, good for a 90.0 percent ledger that ranks as the second-best Miami foe in the NCAA Tournament, behind only the 94.7 percent (18-of-19) mark by Villanova on 3/24/16.- Walker shot 6-of-6 from the free-throw line, tied for the most makes ever by an opposing player against the Hurricanes in the NCAA Tournament.
– Walker's four blocks matched the second-highest total by a Miami opponent in NCAA Tournament action.
– Wong passed Robert Hite (2002-06) for seventh place on Miami's all-time made field goals list with 624.
– Wong passed Robert Hite (2002-06) and Dennis Burns (1985-89) for sixth place on the Hurricanes' all-time field-goal attempts leaderboard with 1,417.
– Wong eclipsed Dick Hickox (1958-61) for third place on Miami's all-time made free throws leaderboard with 413.
– Wong passed Durand Scott (2009-13) and Dick Hickox (1958-61) to move into a tie with Tim James (1995-99) for fourth place on the Hurricanes' all-time free-throw attempts list with 514.
– Wong surpassed Julian Gamble (2008-11; 2012-13) and entered a tie with both Anthony Lawrence II (2015-19) and Brian Asbury (2005-09) for fifth place on the program's all-time games played list with 130.
– Wong moved past Robert Hite (2002-06) for sole possession of third place on Miami's all-time starts leaderboard with 110.
– Wong eclipsed Darius Rice (2000-04) for sole possession of sixth place on the Hurricanes' all-time 20-point games list with 36.
– Pack passed five Hurricanes to enter a tie with DJ Vasiljevic (2018-19) on the program's single-season made 3-pointers list with 83.
– Omier passed Reggie Johnson (2010-11), Mike McCoy (1962-63) and Rick Barry (1962-63) to move into fifth place on the program's single-season rebounding list with 355.
– Omier passed six players to enter into a tie with Constantin Popa (1992-93) for fifth place on Miami's single-season personal fouls list with 103.
– Fourth-year junior forward Anthony Walker, with 2:53 on the first-half clock, made his third 3-pointer of the season and his first since 1/4/23 at Georgia Tech.
– Walker's seven first-half points set a new season high in any frame, passing the tally of six he recorded on multiple occasions.
– Pack's 14 first-half points matched his fourth-highest total in any session this season, including tying his second-highest mark before the break.
– Pack's, whose prior season-best point total was 24 points on 2/18/23 versus Wake Forest, last scored 25-plus points in a game on 2/26/22 when he had 32 against Iowa State during his Kansas State tenure.
– In addition, Pack's 26 points were the fourth-highest total by a Hurricane this season, including the top mark by anyone besides Wong.
– Poplar's 13 field-goal attempts set a new career high, eclipsing his prior top total of 11, recorded multiple times.
– Wong, in finishing 9-of-11 at the stripe, tied his season high in made free throws, a mark he posted multiple times, and set a new top figure in attempts, surpassing his prior best of 10 on 1/14/23 at NC State.