MBB Comeback Bid Falls Short against Florida State, 61-60
CORAL GABLES, Fla. – In a matchup of the top two teams in the ACC men's basketball standings Saturday afternoon at a sold-out Watsco Center, the University of Miami dropped a heartbreaking 61-60 decision to Florida State, as it came one point shy of breaking the record for the largest comeback in ACC history.
The Hurricanes trailed by 24 at halftime and by 26 early in the second half, but stormed all the way back to cut the deficit to one in the final minute. Third-year sophomore guard Isaiah Wong, who scored 18 of his game-high 22 points in the second half, missed a fadeaway jump-shot at the buzzer that would have given Miami (14-5, 6-2 ACC) the win in front of 7,972 fans, including 1,682 students, the second-most in program history.
"We didn't do, really, anything very well in the first half and put ourselves in a huge hole, but in the second half, the guys made the adjustments," Miami head coach Jim Larrañaga said. "They played smart, they played hard, they played together, they didn't give up, they didn't hang their heads and put us in a position to win the game."
Florida State (13-5, 6-2 ACC) held Miami without a field goal for 8:19 of action midway through the first half and went on a 14-1 run to build a 22-7 edge with 8:12 on the clock. The Hurricanes started just 3-of-15 from the floor and missed their first seven 3-pointers.
The Seminoles continued their excellent offense and lockdown defense, eventually taking a 24-point lead, 43-19, into the locker room after a buzzer-beating 3-pointer by redshirt senior forward Wyatt Wilkes. They closed the frame on a 10-2 run and hit their last six field goals of the session.
Miami, which posted a season-low point total in a half, shot just 6-of-23 (26.1 percent) in the session, including 1-of-12 (8.3 percent) from deep. At the other end, Florida State went 18-of-32 (56.3 percent) overall and had just two turnovers, one of which came on the opening possession.
The Seminoles scored to open the second half and take a game-high 26-point lead, but Miami answered with eight straight points in 90 seconds to make it 45-27 with 17:21 to go. The Hurricanes, who forced nine turnovers in the first 10 minutes of the second frame, extended the surge to 15-4 to pull within 15 points, 49-34, with 12:58 on the clock.
The Seminoles went back up by 19, but Miami continued to chip away, posting an 18-4 run—including 12 straight points in 3:13—to trim the deficit to five, 57-52, with 4:31 to go. After Florida State went back up by nine with 2:40 on the clock, the Hurricanes countered once again, eventually making it a one-possession game, 61-58, with 1:22 remaining on Wong's second four-point play of the half.
Then, a fast-break alley-oop dunk by redshirt senior forward Sam Waardenburg off a pass from Wong made it an 8-0 burst and a one-point contest, 61-60, with 38 ticks left. The Hurricanes forced a shot-clock violation at the other end and then called a timeout with 8.8 seconds remaining to set up the final play, but Wong's full-court drive ended with a shot that bounced off the rim.
If Wong's shot went in, the Hurricanes, who held Florida State without a point in the last 2:40, would have surpassed the ACC record of a 23-point comeback, recorded thrice.
"We didn't put our heads down; we kept plugging away," Larrañaga said of the second-half showing.  "One of the things is, if you start playing the score, then you stop playing the game. It's not the score, it's the execution of your plan. In the first half, we didn't execute very well. In the second half, we executed everything, to the point that we were defending them well.
"What really hurt was they got three offensive rebounds [and then went up by nine in the closing minutes] because we were scrambling, trying to force a turnover," he continued. "We weren't able to do it, they got those rebounds and it reduced the clock, but we still were down one with the ball. It was [one heck of] a college basketball game."
Wong, who surpassed 1,000 points as a collegian with his second bucket of the game, shot 5-of-11 in the second half, including 3-of-5 from deep, to go along with a 5-of-5 clip at the line, en route to the 22-point showing.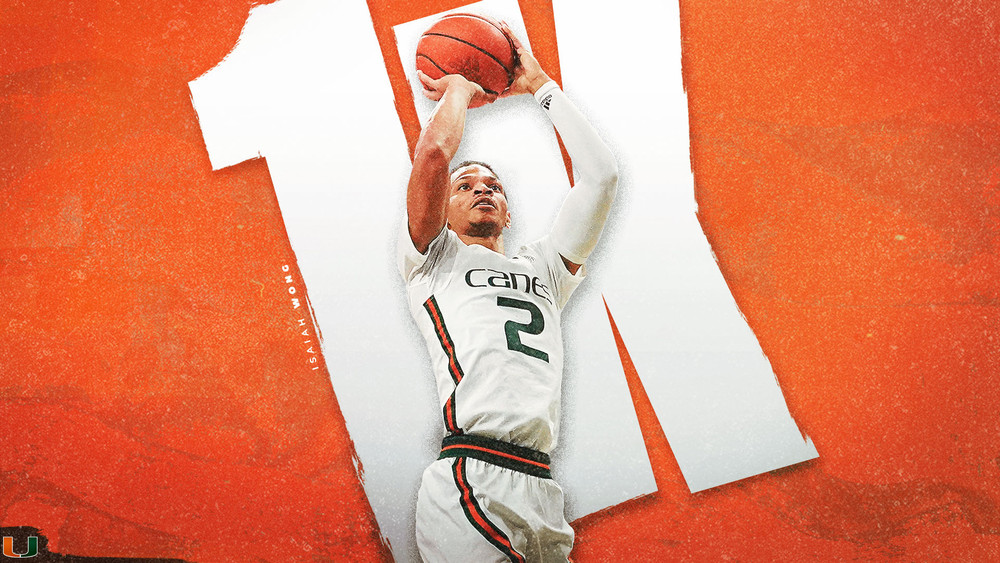 Sixth-year redshirt senior guards Kameron McGusty and Charlie Moore scored 12 points apiece for Miami, but finished a combined 8-of-23 from the floor, including 1-of-8 on 3-pointers. Waardenburg added eight points and a career-high-tying three blocks, all of which came in the first half.
Redshirt sophomore guard Caleb Mills paced the Seminoles with 16 points on 7-of-9 shooting, but the Hurricanes did force him into seven turnovers, the most of anyone they have played this season.
Redshirt senior guard Anthony Polite added 15 points, 13 of which came on 5-of-5 shooting in the first half. No other Seminole tallied more than seven points in the contest.
Miami, which went 6-of-13 (46.2 percent) from 3-point range in the second half, finished the day with just a 37.0 percent clip (20-of-54) from the field overall, its second-lowest mark of the year.
After committing seven turnovers and forcing just two in the first half, the Hurricanes tallied just three of their own and forced 15 at the other end in the second half, the latter the highest mark by a Miami foe in a half in 2021-22.
The Hurricanes also held Florida State to 7-of-20 shooting (35.0 percent) after the break, including a 0-of-6 ledger from 3-point range. Nonetheless, the Seminoles' first-half performance proved enough to give them their second one-point win over Miami in a 12-day span.
The Hurricanes now hit the road for a trip to Blacksburg, Va., where they face Virginia Tech Wednesday at 7 p.m., live on ACC Network from Cassell Coliseum.
To keep up with the University of Miami men's basketball team on social media, follow @CanesHoops on Twitter, Instagram and Facebook.
MIAMI HURRICANES POSTGAME NOTES
– The Hurricanes moved to 36-53 all-time against Florida State, their most common foe in program history, including 28-17 at home and 8-15 in Larrañaga's tenure.
– Larrañaga, who entered the game with the ninth-most victories of any active Division I coach, is now 684-469 in 38 years as a head coach, including 214-135 in 11 seasons at Miami.
– For the 13th time this season, Miami used a starting lineup of McGusty, Moore, Waardenburg, Wong and fourth-year junior guard Jordan Miller.
– Former MLB All-Star Yonder Alonso, 2019 MLB All-Star Sandy Alcantara of the Miami Marlins, first-round NFL Draft selection David Njoku of the Cleveland Browns, the Miami HEAT's Max Strus, the Miami HEAT's Gabe Vincent, former Miami standout guard Ja'Quan Newton and Barstool Sports founder Dave Portnoy were among the fans in attendance.
– Representatives from 11 NBA teams, including two general managers, attended Saturday's game.
– The lone higher student attendance was 2,003 on 12/2/14 versus Illinois.
– The last men's basketball sellout at the Watsco Center—attendance was prohibited in 2020-21 due to COVID-19 protocols—was on 1/15/18 versus Duke.
– The last time Miami had over 7,000 fans at the Watsco Center was on 1/4/20 against second-ranked Duke (7,049) and the last time over 7,500 fans attended was on 11/5/19 versus fourth-ranked Louisville (7,576).
– Wong, who entered quadruple digits on a layup with 2:03 left in the first half, is the 42nd player to score 1,000 points as a Hurricane, including the 27th to do so in three or fewer seasons and the 11th to do so under Larrañaga.
– The 18-point second-half by Wong tied for the most by a Hurricane in a frame this season, matching the mark he set himself on 11/13/21 after the break versus UCF.
– Miami's previous lowest point total in a half this season was 25 on 11/25/21 versus Dayton in the ESPN Events Invitational in Kissimmee, Fla.
– The only game this season in which Miami had a lower field-goal percentage was on 11/16/21, when it posted a 35.3 percent ledger (18-of-51) at Florida Atlantic.
– Before Saturday, the highest turnover total by a Miami opponent in a half this season was 13 by second-ranked Duke on 1/8/22 in the first frame, while the top second-half mark was 11 by Clemson on 12/4/21.
– Prior to Mills' seven-turnover performance, the top mark by a Miami foe this season was six by three different players, most recently Duke's Wendell Moore Jr., on 1/8/22.
– According to ESPN's Bryan Ives, Miami is the second ACC team in the last 45 seasons to lost by exactly one point to the same team twice in the same regular season, joining 2016-17 Clemson against Virginia Tech.
– Saturday snapped the Hurricanes' four-game winning streak when trailing at halftime, as they fell to 5-4 in such contests, including 3-1 in ACC play.
– The setback also ended Miami's six-game winning streak in ACC home games, which went back to the 2020-21 regular season finale against Boston College on 3/5/21.
– The Hurricanes are 6-2 in the ACC with both losses by one point to Florida State, with whom they share first place.
– Wong (39), McGusty (38) and Waardenburg (37) all either set or tied their season high in minutes played, while Moore (37) finished one shy of his top mark.
– Waardenburg made his 100th appearance as a Hurricane and reached 550 points.
– Wong, who eclipsed 350 made field goals and 2,250 minutes played in his career, registered 20-plus points for the 20th time, including the sixth this year.
– Wong also scored in double figures for the 51st time, including the 18th this season.
– Moore, who upped his career assist total to 499, registered double-digit points for the 68th time, including the 11th in 2021-22.
– MCGusty scored in double digits for the 81st time, including the 53rd at Miami and 18th this year.