MBB Tops Boston College, 88-72
CORAL GABLES, Fla. – The University of Miami men's basketball team registered an 88-72 victory Wednesday night over Boston College at the Watsco Center.
Behind a game-high 22 points from fourth-year junior guard Isaiah Wong, who moved into the top 10 on Miami's all-time scoring list, No. 16/15 Miami (14-2, 5-1 ACC) led for over 35 minutes and earned its 10th straight home win.
The Hurricanes went on a dominant 15-0 surge in just 5:02 midway through the first half, building a 25-13 lead with 7:27 on the clock. Boston College (8-9, 2-4 ACC) then made six shots in a row, after starting just 5-of-16. However, Miami semi-concurrently made six consecutive shots of its own, the latter four including three 3-pointers in an 11-0 two-minute run that pushed the lead up to 17 points, 43-26.
The Eagles scored the final basket of the half and Miami, behind a 15-of-25 overall clip and 6-of-8 3-point mark, took a 43-28 cushion into the locker room.
Boston College hit five straight shots early in the second session to cut its deficit to six, 52-46, with 14:24 to go. Miami, however, never let the Eagles get any closer and pushed the edge back as high as 21 on the way to the fourth-largest win of the season, 16 points.
Miami, which had an 11-2 edge in fast-break points, made 10 of its first 13 shots from deep, en route to finishing the night 12-of-18 (66.7 percent) beyond the arc, marking the first time the Hurricanes connected on at least two-thirds of their long-range shots since Feb. 27, 2016.
In addition, Miami shot 32-of-53 (60.4 percent) overall, its first time over 60 percent in a game since Jan. 1, 2022, and its fourth time ever reaching that mark in ACC play.
Wednesday marked the second time in head coach Jim Larrañaga's Miami tenure his team shot at least 60 percent from the field and beyond the arc, joining a Dec. 17, 2011, neutral-site matchup with Florida Atlantic that went to double-overtime.
Wong's 22 points came on 7-of-9 shooting, including a 3-of-4 clip from 3-point range. Fifth-year senior guard Jordan Miller notched 19 points—putting him at 1,498 in his career—to go along with six rebounds, a career-high-tying five assists and a season-high-tying three steals to co-lead all players.
Fourth-year junior guard Harlond Beverly scored a season-high 15 points on 6-of-7 shooting, making both of his 3-pointers and his lone free throw. He added a season-best five assists and a co-season-high two steals.
Third-year sophomore forward Norchad Omier registered 13 points on 6-of-9 shooting and pulled down a game-best 13 rebounds to log his seventh double-double of the season and his 42nd as a collegian. Sophomore guard Wooga Poplar added 10 points, all in the first half, to set a new career best in ACC play.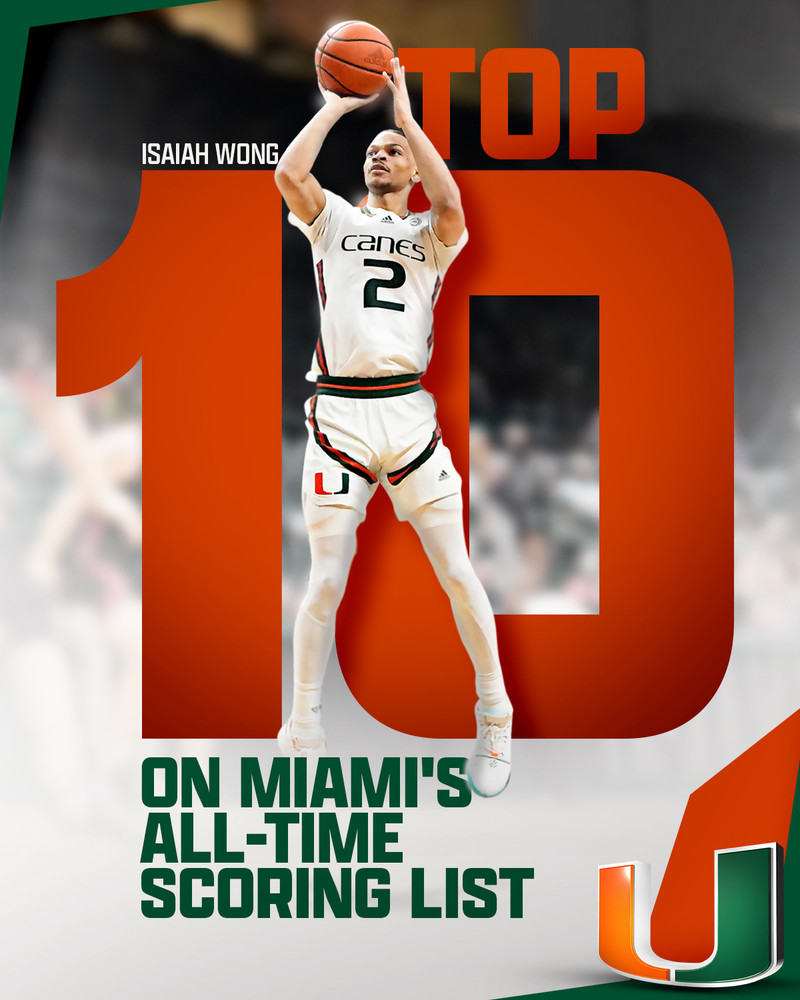 Junior guard DeMarr Langford Jr., paced Boston College with 20 points on 10-of-13 shooting to go along with a game-best six assists, while graduate student guard Makai Ashton-Langford tallied 19 points. The brothers combined for 27 points in the second half alone. Senior forward Quinten Post chipped in 10 points in the setback.
The Hurricanes are back in action Saturday at noon against NC State at PNC Arena in Raleigh, N.C., live on RSN.
To keep up with the University of Miami men's basketball team on social media, follow @CanesHoops on Twitter, Instagram and Facebook.
MIAMI HURRICANES POSTGAME NOTES
– Wednesday marked the first of three games in six days for the Hurricanes after playing just two in the prior 21.
– With his 240th win as an ACC head coach, Larrañaga tied Dave Odom for the No. 12 spot on the league's all-time leaderboard.
– The Hurricanes logged 20 assists and improved to 21-1 in Larrañaga's tenure when reaching that mark.
– The two sides combined to shoot 4-of-4 from 3-point range in the first nine minutes, as Miami made its first three attempts and Boston College hit its first shot from beyond the arc.
– Miami connected on more 3-pointers in the first half (six) on eight attempts than it did in the entire game Jan. 4 at Georgia Tech (five) on 32 attempts.
– The last time Miami shot over 60 percent in a half was 12/7/22 when it posted a 61.1 percent (22-of-36) ledger versus Cornell.
– The last time Miami shot over 60 percent from 3-point range was 1/26/22 at Virginia Tech when it went 11-of-18 (61.1 percent).
– Miami last made at least two-thirds of its 3-point attempts on 2/27/16 versus Louisville, shooting 8-of-11 (72.7 percent) beyond the arc.
– With a 66.7 percent clip from deep, Miami posted its second-best 3-point mark ever in ACC play (min. 7 3PM), behind only that 2/27/16 outing against Louisville.
– The Hurricanes last shot over 60 percent in a game on 1/1/22 versus Wake Forest, finishing 32-of-52 (61.5 percent).
– Wednesday marked the first time in Larrañaga's tenure the Hurricanes shot over 60 percent in both halves of a game.
– In the lone other game of Larrañaga's tenure in which Miami was over 60 percent from the floor and 3-point range, it shot 31-of-50 (62.0 percent) overall and 14-of-20 (70.0 percent) against Florida Atlantic on 12/17/11 in a double-overtime contest in Sunrise, Fla.
– Wednesday marked the fourth time in the last five contests the Hurricanes held their opponent to two or fewer fast-break points.
– Wong, who recorded his fifth 20-point performance in the last seven contests, moved past Dick Hickox (1958-61) for the No. 10 spot on Miami's all-time scoring list, now owning 1,535 points.
– Miller, whose five assists all came in the first half, had a prior top mark of four helpers in his Miami tenure, recorded twice: 12/7/22 versus Cornell and 2/5/22 at Virginia.
– Poplar has now scored nine-plus points in back-to-back ACC games after never eclipsing seven before that.
– Omier became the first Hurricane with 13 points and 13 rebounds in an ACC home game since Ebuka Izundu on 3/5/19 versus Pittsburgh.