University of Miami Athletics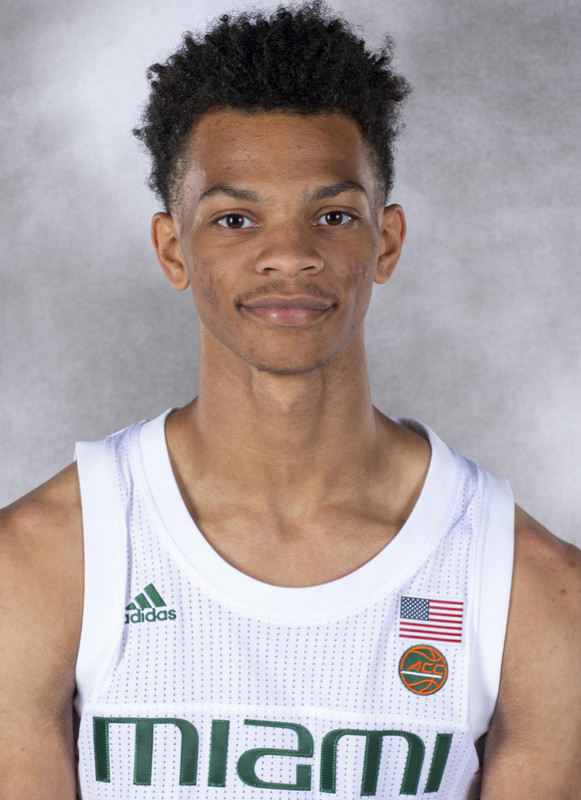 As a Third-Year Sophomore (2021-22): Preseason First Team All-ACC … Jerry West Award Watch List
As a Sophomore (2020-21): Third Team All-ACC … ACC All-Tournament Second Team
Season did not count towards eligibility due to COVID-19 pandemic … One of two Hurricanes to appear in all 27 games, leading the team with 26 starts … Averaged 17.1 points, 4.8 rebounds, 2.4 assists and 1.1 steals per game … Paced Miami in scoring and minutes (35.5) averages, while finishing third in rebounds, assists and steals per contest … Second Hurricane—third occurrence—since the program rebirth (1985-86) to average at least 16.0 points 4.5 rebounds and 2.0 assists per game, alongside Eric Brown (twice) … Seventh Miami player since the rebirth to average 35-plus minutes per game, tying for fifth place at 35.5 … Finished top-10 on Miami's single-season ACC-only leaderboards in six categories: tied for second in made free throws (69), third in made field goals (104), third in free-throw attempts (84), tied for fourth in minutes per game (35.1), fifth in scoring (16.1) and tied for ninth in made 3-pointers (40) … Tallied the most single-season 20-point games by a Hurricane in the Jim Larrañaga era and tied for the most 25-point showings … Tied for the second-most made field goals by a Hurricane in an ACC game (12), becoming the third—fourth occurrence—to reach that number, including the first since Jack McClinton on 2/7/09 … Fifth Hurricane to score 30 points in a game under Jim Larrañaga and first since Bruce Brown Jr., on 1/28/17 … Just the third Hurricane with back-to-back 20-point games in the ACC Tournament, including the second, alongside Shane Larkin, to do so in the same year … Runner-up in ACC Most Improved Player voting … One of three ACC players with a trio of 28-point outings and one of four with at least four 25-point games … Co-led the ACC with 11 20-point performances … Led the ACC in total points (462; No. 47 in NCAA), made free throws (102; No. 61 in NCAA) and free throws attempted (127; No. 75 in NCAA) … Placed fourth in the ACC in free-throw percentage (80.3), made field goals (155; No. 86 in NCAA) and total minutes (958; No. 54 in NCAA) … Ranked fifth in the ACC in points per game (17.1) and minutes per game (35.5), plus ninth in made 3-pointers (50), No. 12 in field goal percentage (43.1) and No. 16 in total steals (30) … In league-only action, led the ACC in free throws made (69) and attempted (84), as well as placed second in total points (317) and total minutes (666), plus tied for second in 20-point games (six) … Also finished fourth in made field goals (104), sixth in points per game (16.7), sixth in free-throw percentage (82.1), seventh in made 3-pointers (40), eighth in minutes per game (35.1) and No. 14 in field-goal percentage (41.8) … Tied for the fourth-most made field goals in a game by an ACC player, notching one of the only six instances of someone reaching 12-plus … Posted a plus-9.4 scoring increase from 2019-20, the seventh-best improvement of any Power Five player—just eight reached 9.0—and tops in the ACC … One of four Power Five players to average at least 17.1 points, 4.7 rebounds, 2.3 assists and 1.0 steal per game … Scored double-figure points 23 times, with 15-plus 18 times, 20-plus 11 times, 25-plus four times and 30 once … Notched five-plus rebounds 12 times, including in eight of the first 12 games, with eight-plus four times … Dished out four assists six times, including in three of the last four outings … Logged multiple steals nine times, including in four of the first five contests … Tallied one double-double … Played 30-plus minutes 24 times, 35-plus 20 times and all 40 twice … Committed three-plus turnovers just seven times, with four only twice … Led Miami in scoring a team-best 16 times, as well in assists nine times to rank second, plus placed first in steals six times, in blocks six times and in rebounding four times … Logged the highest single-game totals by a Hurricane in points (30), field goals made (12) and attempted (20), 3-pointers made (four, tied) and attempted (12), free throws made (nine) and attempted (11) … Posted 20 points, on 9-of-14 shooting, and seven boards against North Florida (11/29) in the season opener … Recorded a double-double against Stetson (12/4) with 17 points and a career-best 12 rebounds … Notched 20 points and three steals versus FGCU (12/12), playing all 40 minutes … Scored 21 points and went 3-of-5 on 3-pointers against Pittsburgh (12/16) … Poured in 25 points on 9-of-18 shooting, adding nine boards, versus Jacksonville (12/19) … Registered 24 points, nine rebounds and three steals in the win at NC State (1/9) … Set career highs in points (30) and assists (six), as well as field goals made (12) and attempted (20), in the victory over No. 16/18 Louisville (1/16), adding seven rebounds, committing no turnovers and shooting 3-of-5 from deep … Put up 21 points, hitting all six of his free throws, and three steals at No. 16 Florida State (1/24) … Finished with 19 points, eight rebounds and a career-high-tying six assists against No. 16 Virginia Tech (2/6), posting an 8-of-9 clip at the line … Suffered a right ankle injury against Georgia Tech (2/20) that kept him out for the entire second half … Returned against No. 11/9 Florida State (2/24) and dropped 29 points, shooting 9-of-16 overall, 4-of-5 from deep to tie a career best in made 3-pointers and 7-of-8 at the stripe … Eclipsed 25 points for the second straight game with a 28-point showing at Clemson (2/27), finishing 10-of-18 from the floor, 3-of-6 beyond the arc and 5-of-5 at the line … Logged 20 points and four assists in the ACC Tournament first-round win over Pittsburgh (3/9), finishing 9-of-10 on free throws … Amassed 20 points and six boards in the victory over Clemson (3/10) in the second round of the ACC Tournament, shooting 8-of-14 overall.
As a Freshman (2019-20): Two-time ACC Freshman of the Week (2/17, 2/24) … College Sports Madness ACC Player of the Week (2/17)
One of three Hurricanes to appear in all 31 games, earning starts in the final 13 … Averaged 7.7 points, 3.0 rebounds and 1.0 assist in 21.2 minutes per contest … Shot 82.9 percent from the free-throw line and 37.3 percent from 3-point range, both second-best on the team … Fourth Hurricane to win multiple ACC Freshman of the Week honors and the second to do so back-to-back, joining Lonnie Walker IV (February 2018) … Lone player to claim the accolade consecutively in 2019-20 and just the 14th in the nine seasons since Jim Larrañaga got to Miami … Tied for seventh in ACC-only free-throw percentage with an 80.9 clip … Tied for the most made free throws in a game (14) without a miss by an ACC player—the second-best mark at Miami since the program rebirth in 1985-96—and tied for the third-most made free throws … Fourth of five DI players in the last 10 years to record a 27-point, 12-rebound game while hitting 14 free throws without a miss and the first high-major player to do so since USC junior Nikola Vucevic on 12/29/10 … First DI freshman in the last decade to notch a 25-point, 10-rebound game while making 10 free throws without a miss and one of just three players nationally to do so in 2019-20, joining Washington State sophomore CJ Elleby and Coastal Carolina sophomore DeVante' Jones … First Miami freshman with a double-double since Bruce Brown Jr., on 12/22/16, first to do so in league play since Dwayne Collins on 2/21/07 and first to do so on the road since Collins on 1/16/07 … Sixth Miami freshman (fifth true) since the program rebirth to notch back-to-back 20-point games, including the second in the ACC era and fourth in league play … Fifth Miami freshman (fourth true) since the program rebirth with multiple 20-point road games and the second to do so in conference action, joining Darius Rice (2000-01 in the BIG EAST) … One of 13 Miami freshmen (11 true) since the program rebirth with at least three 20-point showings, including the fourth of the ACC era, alongside Lonnie Walker IV (2017-18), Bruce Brown Jr. (2016-17) and Durand Scott (2009-10) … Ninth freshman (eighth true) since the program rebirth to tally a 25-point performance, including the fifth (fourth true) to do so on the road … Logged the second-best single-season free-throw percentage and third-most made free throws (63) by a Miami freshman in the ACC era, as well as played the second-most minutes (42) in a game by a Miami freshman in that time … Shot 49-of-53 (92.5 percent) from the line in the last 13 games, making his final 28 attempts … Posted the most (14) and tied for the second-most (eight) made free throws in a game by a Hurricane, as well as tied for the best single-game field goal clip (5-of-6), tallied three of the four perfect 3-point marks on multiple attempts and tied for the third-most points (27) in an outing … Scored 10-plus points 10 times, all in the final 13 games, notching 15-plus in six outings and 20-plus thrice … Logged five-plus assists on seven occasions, reaching double figures once, and played 30-plus minutes eight times, all in the last 13 games … Led the Hurricanes in scoring in seven outings and in rebounding three times … Made his collegiate debut with 17 minutes in the season opener against fifth-ranked Louisville (11/5) … Made his first start at North Carolina (1/25) and finished with 19 points and three assists, shooting 6-of-11 from the floor and 5-of-5 at the line in 35 minutes … Tallied 15 points in 39 minutes at Pittsburgh (2/2), finishing 5-of-6 from the floor, including his first 2-of-2 3-point clip in a four-game span … Compiled 12 points, seven rebounds and a season-high three steals in 39 minutes against NC State (2/5) … Put up 23 points on 8-of-12 shooting, both marks season highs, at eighth-ranked Florida State (2/8) … Notched 21 points on 7-of-10 shooting, adding five rebounds and three assists, versus Boston College (2/12) … Set season highs in points (27), free throws made (14) and attempted (14), rebounds (12), and minutes played (42) in the triple-overtime win at Virginia Tech (2/19), hitting game-tying jump-shots in the final 20 seconds of the first two extra sessions … Scored 12 points at Notre Dame (2/23) to conclude a nine-game double-digit scoring streak … Posted 18 points, nine boards, a season-high four assists and a season-high-tying three steals in 37 minutes in the overtime triumph versus Syracuse (3/7) to cap the regular season.
High School: Graduated from Monsignor Bonner (Pa.) … Consensus top-90, four-star recruit … Ranked No. 78 nationally, including No. 12 among point guards, by Rivals … Tabbed No. 83 in the country and No. 16 among shooting guards by ESPN … Listed No. 87 overall, including No. 13 among combo guards, by 247Sports, as well as No. 79 nationally in its composite rankings … McDonald's All-American Game nominee … Helped Bonner go 22-6 and reach the 4A state finals his senior season, logging 29 points and eight rebounds in the title game … Averaged 22.0 points and 7.4 rebounds per game, claiming a second straight Philadelphia Catholic League MVP distinction … Posted 22.3 points and 6.9 boards per game as a junior, winning his first PCL MVP award … Attended Notre Dame (N.J.) the first two years of his high school tenure … Won the Mercer County Tournament title as a freshman … Notable Bonner alums include former NBA general managers John Nash and Ed Stafanski, La Salle head men's basketball coach Ashley Howard, former 42-year Villanova head women's basketball coach Harry Perretta, 1973 Heisman Trophy winner John Cappelletti and 12-year NFL veteran Anthony Becht.
Personal: Full name is Isaiah Robert-Johan Wong … Nickname is Zay … Born Jan. 28, 2001 … Parents are Terrence and Lachelle Wong … Has two older brothers, Brian and Tyler, and a younger brother, Elijah … Majoring in criminology with a minor in sociology … Favorite athlete is Kobe Bryant … Best sports memory is making a game-winning shot against Roman Catholic in a league game as a senior … Chose Miami because he felt it was a great opportunity and he could have a big role … Committed to Miami over Clemson, Connecticut, Pittsburgh and Villanova.