University of Miami Athletics
Isabella Pfennig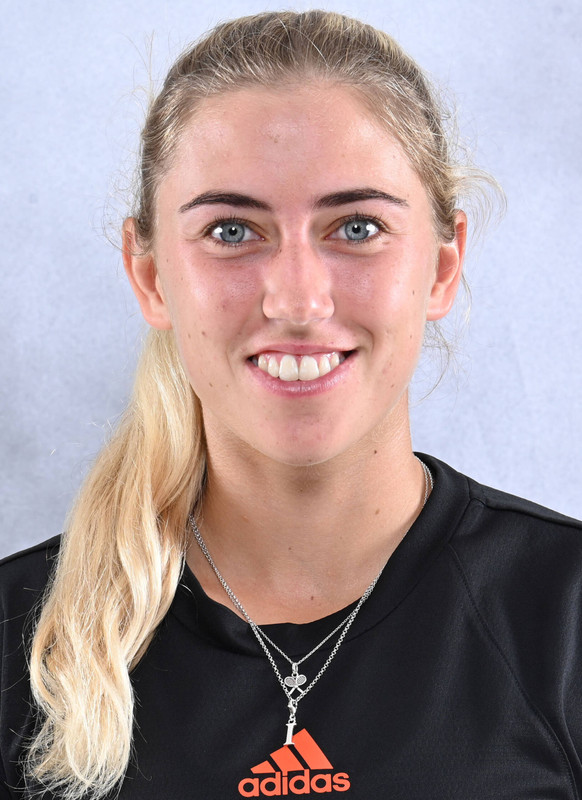 As a Sophomore (2021-22): Third Team All-ACC … All-ACC Academic Team
As a Freshman (2020-21): ITA All-American (singles) … ITA Southeast Region Rookie of the Year … Second Team All-ACC … All-ACC Academic Team … Four-time ACC Freshman of the Week (2/23, 3/16, 3/23, 3/30) … ITA Scholar-Athlete
No fall season due to COVID-19 pandemic … Went 18-6 in singles and 12-8 in doubles … Ninth freshman in program history to earn ITA All-America status, including the eighth in singles and first since 2017 … One of six true freshmen nationally to garner the accolade in singles … Seeded No. 9-16 in the NCAA Singles Championship and reached the second round … Competed in the NCAA Doubles Championship … Peaked at No. 10 in the ITA singles rankings on multiple occasions and ended the year at No. 26, sixth-highest among true freshmen … Placed eighth in the ITA Southeast Region … Ranked as high as No. 19 on the ITA doubles list, finishing No. 26 … Came in seventh in the ITA Southeast Region … Went 9-6 versus ranked singles foes with five top-35 triumphs … Posted a 4-6 mark against ranked doubles pairs, with all four victories over top-25 duos … Tied for the team lead in ACC doubles wins (seven) and winning percentage (.636) … Ranked second on Miami in singles wins and winning percentage (.750), as well as in combined singles/doubles victories (30) and combined winning percentage (.682) … Placed second in combined ACC singles/doubles wins (17) and winning percentage (.708), plus ranked singles triumphs (nine) and combined ranked victories (13), as well as tied for second in ACC singles victories (10) … After starting as low as No. 5 and No. 6 in the singles lineup, spent nearly the entire season at the No. 2 spot … Finished 17-5 in dual matches, including 10-3 in ACC action … Notched a seven-match winning streak from March 14 to April 2 … Opened her career with a 6-1, 6-1 victory against Florida Atlantic's Louie McLelland … Defeated No. 23 Ole Miss' Elysia Pool, 6-2, 6-1 … Topped Anessa Lee of No. 15 Vanderbilt, 7-5, 7-6 (7-2) … In her lone match at the No. 3 spot, beat No. 123 Gia Cohen, 3-6, 6-4, 7-6 (7-5), at No. 12 Georgia Tech for her first ranked win … Took over the No. 2 spot at Clemson, logging a 6-3, 6-3 victory against Jenna Thompson … Toppled No. 28 Georgia Drummy, 7-6 (7-5), 6-4, at eighth-ranked Duke … Defeated No. 76 Yufei Long, 6-2, 4-6, 6-0, at Boston College … Beat No. 32 Anna Campana of No. 26 Wake Forest, 6-4, 6-2 … Knocked off No. 27 Alana Smith of No. 11 NC State, 7-6 (11-9), 2-6, 6-3, saving nine set points in the opener … Earned a 6-3, 6-4 decision against No. 31 Emmanuelle Salas at fourth-ranked Florida State … Again beat Salas, this time in 6-4, 6-2 fashion with her ranked No. 42, in Miami's ACC Championship quarterfinal win over the sixth-ranked Seminoles … Posted a 7-6 (7-0), 6-2 result against No. 93 Marina Alcaide of No. 41 FIU in the NCAA Team Championship Round of 64 … Edged No. 35 Anna Turati of national title-winning Texas, 3-6, 6-1, 6-3, in the first round of the NCAA Singles Championship … Opened the season at No. 3 doubles, moved up to No. 2 and eventually played at No. 1 nearly all year … Went 12-7 in dual matches, including 7-4 in ACC play … Finished 10-7 with Perez-Somarriba, 1-0 with Selma Cadar and 1-1 with Daevenia Achong … Paired with Achong to defeat Tiphanie Fiquet/Kelsey Mize of No. 23 Ole Miss, 6-3 … Alongside Perez-Somarriba, notched a 6-0 win over Gia Cohen/Sophia Sassoli at No. 12 Georgia Tech … Topped No. 25 Yufei Long/Kylie Wilcox at Boston College for her first win at the top spot … Edged No. 19 Cameron Corse/Page Freeman of No. 47 Notre Dame, 7-5 … Defeated No. 23 Carolyn Campana/Eliza Omirou of No. 26 Wake Forest, 6-4 … Posted a 6-3 victory over No. 20 Victoria Allen/Emmanuelle Salas in the ACC Championship second-round win against sixth-ranked Florida State … Beat Ksenia Kuznetsova/Valeriya Zeleva, 6-2, at ninth-ranked UCF in the NCAA Team Championship Round of 32.
Prior to College: Peaked at No. 1,012 in the WTA rankings in September 2018 … Ascended as high as No. 556 on the ITF Juniors list in June 2019 despite limited competitions … Placed No. 41 in Germany's senior rankings in March 2020 … Former top-ranked U18 player in her home nation … Owns four German National Junior Championships crowns: 2018 U18 doubles, 2017 U16 singles, 2016 U16 doubles and 2015 U14 singles … Represented her homeland at the 2018 European Championship Tournaments in Klosters, Switzerland, and at the same event in 2017 in Moscow, reaching the Round of 16 both times … Competed for Germany at the 2017 U16 European Team Summer Cups in Rivne, Ukraine, and at the same tournament at the U14 level in 2016 in Izmir, Turkey … Won two national tournaments in 2020 and three in 2019 … Advanced to the quarterfinals of an ITF Grade 1 singles event in Offenbach, Germany, in June 2019, and defeated Alexandra Yepifanova, a finalist at the 2019 US Open Junior Championships … Christian Seraphim, a former top-ranked doubles player and team national champion at Wake Forest, also attended Otto-von-Taube Gymnasium Gauting.
Personal: Full name is Isabella Charlotte Pfennig … Last name is pronounced FENN-Igg … Goes by Bella … Born Nov. 18, 2001 … Parents are Michael and Sabine Pfennig … Father is a financial consultant and mother is a business administrator … Has an older brother, David, and a younger brother, Nicolas … Majoring in economics … Career goal outside of playing tennis is to be a manager or coach at a tennis academy … Enjoys playing ping pong and soccer … Favorite athlete is Dominic Thiem because of his intensity and fair play on the court … Best sports memory is winning the U16 German National Junior Championships in 2017 without dropping a set … Participated in multiple Model United Nations conferences in 2019 and 2020 … Served as the spokeswoman for German junior tennis players from 2017-19 … Chose Miami because of the quality of the team, the coaches, the academics and the campus … Committed to Miami over Georgia Tech, Harvard, USC and Yale.
SINGLES
YEAR
TOTAL
FALL
SPRING
DUAL
ACC
*RNK
2020-21
18-6
N/A
18-6
17-5
10-3
9-6
CAREER
18-6
0-0
18-6
17-5
10-3
9-6
DOUBLES
YEAR
TOTAL
FALL
SPRING
DUAL
ACC
*RNK
2020-21
12-8
N/A
12-8
12-7
7-4
4-6
CAREER
12-8
0-0
12-8
12-7
7-4
4-6
*RNK = record vs. ranked opponents
No fall season in 2020-21 due to COVID-19 pandemic