W. Tennis Logs 7-0 Sweep over FGCU
CORAL GABLES, Fla. – The University of Miami women's tennis team downed FGCU, 7-0, Friday afternoon at the Neil Schiff Tennis Center.
No. 16 Miami (3-1) rebounded from a narrow 4-3 setback Sunday afternoon against now-No. 14 Iowa State by turning in a dazzling performance against the Eagles, dropping just one set across the nine singles and doubles matches. In no other set did the Hurricanes lose even four games, as they posted their second shutout of 2023.
"It's never easy coming out after a loss like that, but I think the girls did a pretty good job on working on the things that we're asking them to work on," Miami head coach Paige Yaroshuk-Tews said after the 399th victory of her career. "[FGCU is] a scrappy team and a solid team. So, with a 7-0 win, we're happy."
The Hurricanes, sporting new tandems for the first time in a dual match, got off to a fast start in doubles behind the play of junior Audrey Boch-Collins and redshirt sophomore Alexa Noel. The duo cruised to a 6-0 victory over Jordanna Ossa and Alba Retortillo.
Fifth-year senior Daevenia Achong and junior Isabella Pfennig clinched the opening point with a 6-3 result against Emma Bardet and Ida Ferding, giving Miami a 1-0 lead over FGCU (3-2).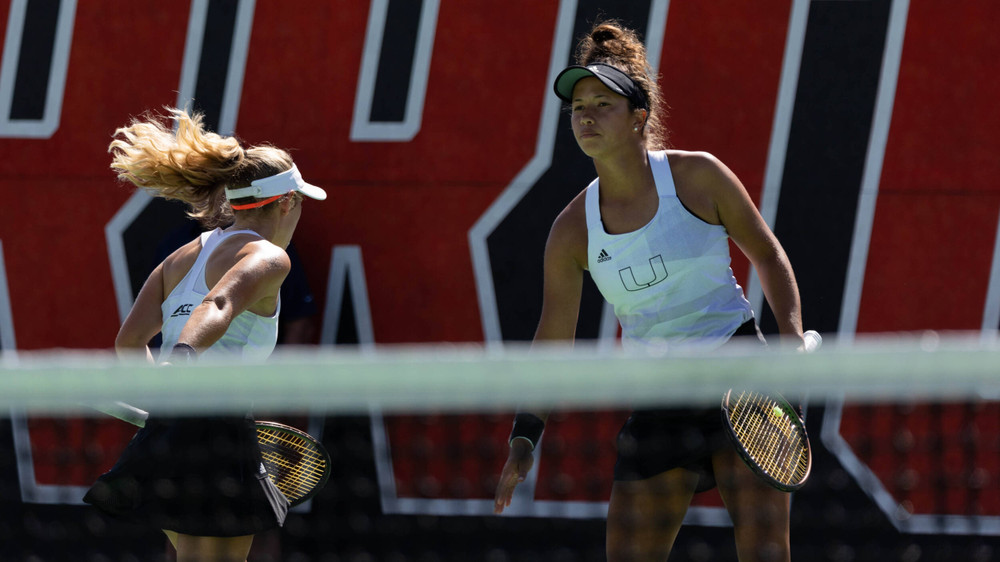 In the unfinished match, freshman Mia Mack and fourth-year junior Maya Tahan led Isabella Colmenares and Fanny Norin, 4-3.
Miami, which also adjusted its singles lineup Friday, quickly tacked on two more points with a pair of 6-1, 6-1 decisions. First, Tahan downed Amelia Kopel and then No. 123 Pfennig followed shortly thereafter with a victory against Norin to put the Hurricanes within a point of victory.
Mack, the reigning ACC Freshman of the Week, clinched the win for her team with a 6-2, 6-1 triumph against Ossa.
All three remaining matches were played out to completion, with each one going to the Hurricanes, including the first two in straight sets.
In the lone ranked showdown of the day, No. 14 Noel defeated No. 122 Bardet, 6-2, 6-3. Boch-Collins then registered a 6-2, 6-2 win over Ferding to increase the margin to 6-0.
No. 60 Achong finished the day with a 3-6, 6-3, 1-0 (10-3) comeback victory over Colmenares to keep the Eagles off the scoreboard.
For Yaroshuk-Tews, the sweep was her 163rd as a coach, good for over 40 percent of her 399 total wins in 22 years, all at Miami. She has led the Hurricanes to 106 shutouts since 2009.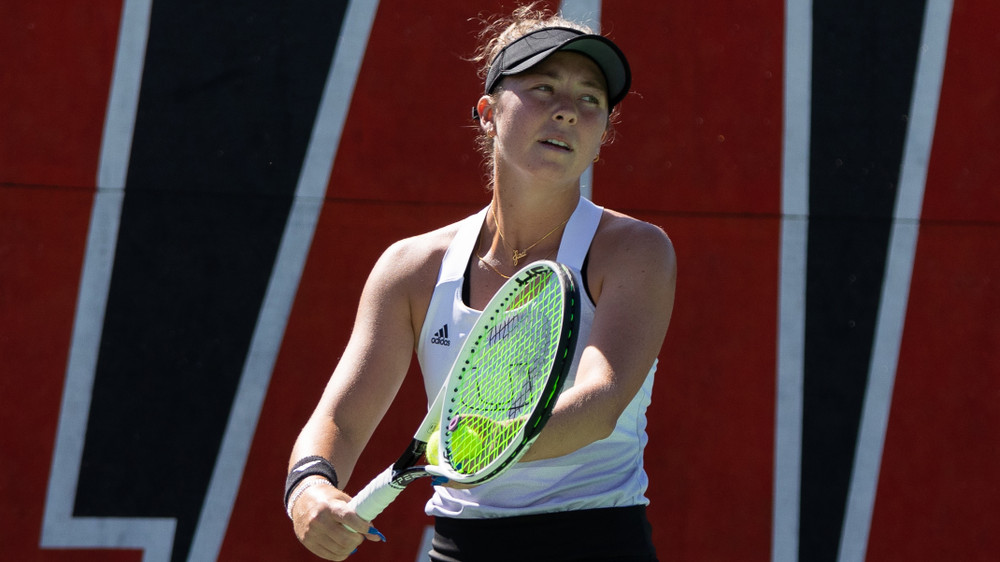 Miami continues competition Feb. 11 at noon when it hosts No. 20 Cal at the Neil Schiff Tennis Center in its final contest before ACC play.
To keep up with the University of Miami women's tennis team on social media, follow @CanesWTennis on Twitter, Instagram and Facebook.
RESULTS
Doubles Competition
1. Daevenia Achong/ Isabella Pfennig (UM) def. Emma Bardet/Ida Ferding (FG), 6-3
2. Audrey Boch-Collins/Alexa Noel (UM) def. Jordanna Ossa/Alba Retortillo (FG), 6-0
3. Mia Mack/Maya Tahan (UM) vs. Isabella Colmenares/Fanny Norin (FG), 4-3, unf.
Singles Competition
1. No. 14 Alexa Noel (UM) def. No. 122 Emma Bardet (FG), 6-2, 6-3
2. No. 123 Isabella Pfennig (UM) def. Fanny Norin (FG), 6-1, 6-1
3. No. 60 Daevenia Achong (UM) def. Isabella Colmenares (FG), 3-6, 6-3, 1-0 (10-3)
4. Mia Mack (UM) def. Jordana Ossa (FG), 6-2, 6-1
5. Audrey Boch-Collins (UM) def. Ida Ferding (FG), 6-2, 6-2
6. Maya Tahan (UM) def. Amelia Kopel (FG), 6-1, 6-1