University of Miami Athletics
Maya Tahan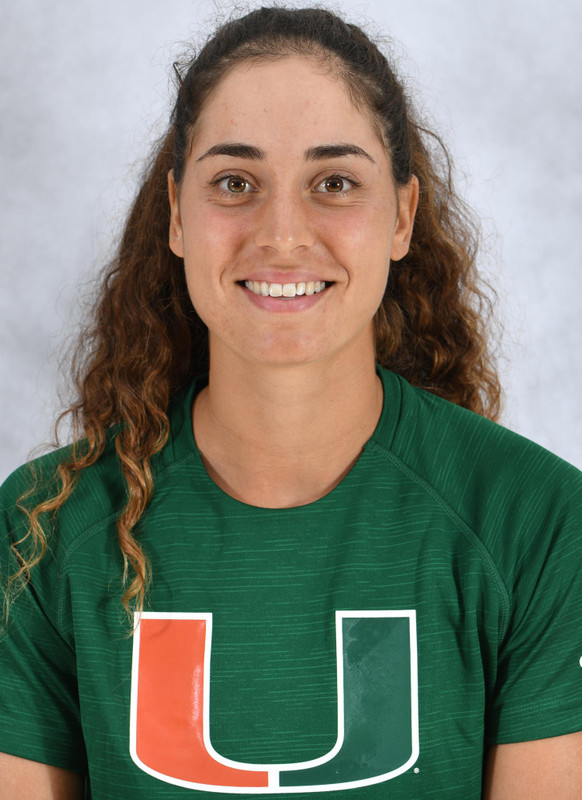 As a Freshman (2019-20): ITA Scholar-Athlete
Spring season cut short due to COVID-19 pandemic … Enrolled at Miami for the spring semester … Went 7-4 in singles and 2-6 in doubles … Notched a 4-4 record in dual match singles play, primarily at the No. 5 spot, and a 2-2 ledger in ACC action … Opened her career with a 3-0 mark in the Miami Spring Invitational, defeating Oklahoma's Camila Romero, 6-4, 6-3, then Northwestern's Clarissa Hand, 6-3, 6-1, and finally No. 10 Vanderbilt's Dasha Kourkina, 5-7, 6-4, 1-0 (10-6) … In ITA Kick-Off Weekend play, earned a 6-3, 6-1 victory over Tiffany Lagarde of UC Santa Barbara at the No. 4 spot for her first dual match triumph … Beat No. 35 Virginia Tech's Shene Disbergen, 7-6 (7-3), 6-0, for her first ACC victory … Topped Nikolina Jovic of Louisville, 6-4, 6-4 … Completed doubles matches with four different partners … Tallied a 2-3 ledger in dual match doubles competition and a 1-2 mark versus ranked foes … Earned her first doubles decision, alongside Selma Cadar, with a 6-4 triumph over No. 20 Jessica Anzo/Lucia Quiterio of No. 18 Texas A&M in ITA Kick-Off Weekend action … Competing with Nada Dimovska, tallied her first ACC doubles victory, a 6-4 win against No. 35 Virginia Tech's Erika Cheng/Nina Sorkin.
Prior to College: Peaked at No. 578 in the WTA singles rankings in September 2019 … Ascended as high as No. 456 in the WTA doubles rankings in October 2019 … Claimed a pair of $15K singles championships … Reached the final of a $15K doubles event on 13 occasions, earning 10 crowns … Won a $25K doubles tournament in August 2019 … Played in the Fed Cup in 2019, 2017 and 2016 … Finished second in the Israeli National Championship for Women in both 2018 and 2016 … Started playing ITF Junior tournaments at age 13 and ITF Futures events at 15.
Personal: Full name is Maya Tahan … Last name is pronounced Tah-HAHN … Born Jan. 9, 1999 … Parents are Gil and Merav Tahan … Father is a colonel in the Israel Defense Forces (IDF) and mother is a financial officer … Has one older sister, Roni, and two younger sisters, Dana and Shira … Served in the IDF from July 2017 to September 2019 … Major is undecided … Favorite athlete is Roger Federer because he plays aggressively and without fear, yet respects everyone … Best sports memories are winning a deciding doubles match at the Fed Cup and claiming her first ITF Futures singles crown … Chose Miami because of the quality academics and high level of tennis … Committed to Miami over Baylor and Ohio State.
SINGLES
YEAR
TOTAL
FALL
SPRING
DUAL
ACC
*RNK
2019-20
7-4
0-0
7-4
4-4
2-2
0-1
CAREER
7-4
0-0
7-4
4-4
2-2
0-1
DOUBLES
YEAR
TOTAL
FALL
SPRING
DUAL
ACC
*RNK
2019-20
2-6
0-0
2-6
2-3
1-2
1-2
CAREER
2-6
0-0
2-6
2-3
1-2
1-2
*RNK = record vs. ranked opponents