University of Miami Athletics
Maya Tahan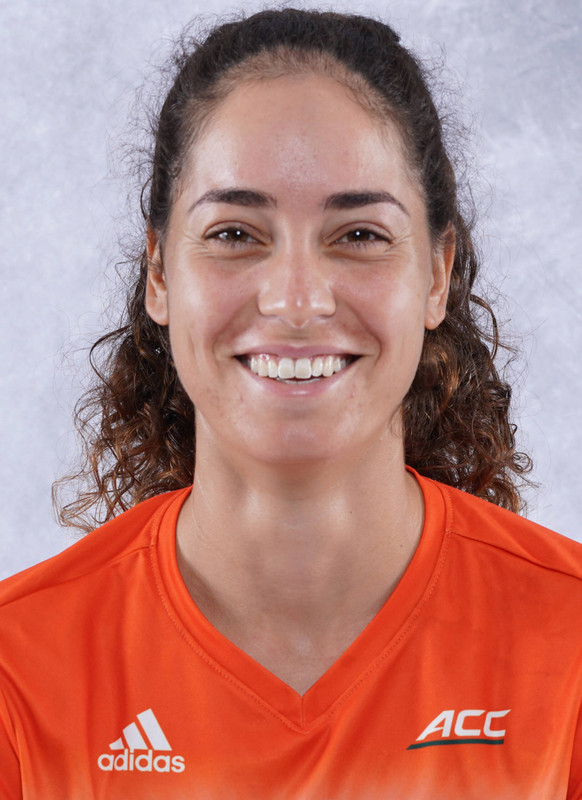 As a Third-Year Sophomore (2021-22): All-ACC Academic Team
Finished 19-14 in singles and 20-12 in doubles … Ranked in doubles with three different partners, peaking at No. 36 with Audrey Boch-Collins, No. 38 with Diana Khodan and No. 76 with Tatyana Nikolenko … Ended the year at No. 55 alongside Khodan … Went 1-4 against ranked singles players and 5-4 versus ranked doubles duos, including 3-2 against top-40 pairs … Tied for second on the team in ACC singles wins (eight) … Placed third in overall doubles victories and ACC doubles victories (seven), plus tied for third in ACC singles winning percentage (.667) and ranked doubles wins … Notched a 15-10 spring singles mark, including a 10-4 ledger in dual matches and an 8-4 record in ACC play … Competed at four different positions, but mainly did so at No. 4 … In the Miami Spring Invite, posted a 6-2, 6-1 decision over Gabby Cusano of the eventual national champion, Texas … Defeated No. 19 UCF's Nandini Sharma, 6-1, 7-6 (7-5) … Topped No. 47 Georgia Tech's Kate Sharabura, 7-6 (7-4), 6-2 … In her lone outing at the No. 3 spot, beat Dariya Radulova, 6-4, 6-2, at Virginia Tech … Edged Sofia Munera, 7-5, 7-5, at No. 11 Virginia … Picked up the first ranked singles win of her career by defeating No. 89 Emma Jackson of No. 10 Duke, 7-6 (7-4), 6-1 … Amassed a 12-11 spring doubles record, going 11-10 in dual matches and 7-6 in ACC play … Competed exclusively alongside two partners … With Khodan, logged a 6-4 victory over Jaeda Daniel and Nell Miller, the eventual NCAA champions, of NC State in the Miami Spring Invite … Tallied a 6-3 decision against No. 26 Eryn Cayetano/Grace Piper of No. 15 USC … Beat Sophia Biolay/Nandini Sharma of No. 19 UCF, 6-3 … Downed No. 73 Sofia Munera/Amber O'Dell. 6-0, at No. 11 Virginia … Partnered with Nikolenko to defeat No. 40 Miyuka Kimoto/Polina Kozyreva of No. 71 Syracuse … Finished 4-4 in fall singles action … Went 2-1 in the June Stewart Invitational, posting a 3-6, 6-0, 6-4 decision over Kentucky's Maialen Morante and a 6-2, 6-1 triumph versus Illinois' Shivani Ingle … Went 0-2 in ITA Southeast Regional Championships qualifying … Registered a 2-1 ledger in the Miami Fall Invite … Produced an 8-1 fall doubles mark, all with Khodan … Won all three matches at the June Stewart Invitational, ending with a 6-4 victory over No. 47 Marcella Cruz/MaryAnn Rompf of host Vanderbilt … Earned a 3-1 mark at the ITA Southeast Regional Championships and topped No. 20 Victoria Allen/Petra Hule of Florida State to make the quarterfinals … Posted a 2-0 record in the Miami Fall Invite.
As a Second-Year Freshman (2020-21): No fall season due to COVID-19 pandemic … Tallied marks of 14-8 in singles and 11-11 in doubles … Competed in the NCAA Doubles Championship with Diana Khodan … Peaked at No. 14 in the ITA doubles rankings and finished at No. 19 … Placed fifth in the ITA Southeast Region … Went 5-5 against ranked doubles pairs, including 3-1 versus top-10 duos … Tied for the team lead in ranked doubles wins, as well as placed third in singles victories … Opened the season at No. 3 singles, but primarily played at No. 5 and No. 6 … Four singles setbacks came against ranked players … Went 9-4 in ACC singles matches … Posted a 10-2 mark in her final 12 completed matches … Opened the season with a 6-7 (5-7), 6-3, 1-0 (10-7) victory over Florida Atlantic's Natalie Kallmunzerova at the No. 3 spot … Notched a 6-4, 2-6, 7-6 (8-6) triumph over Rosie Garcia Gross at No. 12 Georgia Tech, playing at No. 4 … Defeated Miranda Ramirez, 3-6, 6-4, 6-4, at No. 50 Syracuse … Topped No. 47 Notre Dame's Julia Andreach, 6-3, 6-2 … Recorded a 6-3, 6-2 decision against No. 26 Wake Forest's Cassie Wooten … Downed Amber O'Dell of eighth-ranked Virginia, 6-1, 6-1 … Beat Andrea Garcia, 6-2, 6-2, at fourth-ranked Florida State … Again beat Garcia Gross, this time in 0-6, 6-2, 6-1 fashion in the ACC Championship semifinals … Earned a 6-1, 6-2 victory over No. 41 FIU's Kristina Miletic in the NCAA Team Championship Round of 64 … Played two doubles matches at No. 1 and one at No. 3, while spending the rest of the spring in the No. 2 spot … Went 11-10 in dual matches, including 4-8 in ACC action … Dropped just three games across a trio of top-10 wins … Registered an 11-8 mark with Khodan, as well as a 0-1 record with Florencia Urrutia and a 0-2 ledger with Daevenia Achong … Defeated No. 44 Tereza Janatova/Anna Vrbenska of No. 23 Ole Miss, 7-5 … Posted a 6-0 decision versus Chloe Beck/Karolina Berankova at eighth-ranked Duke … Downed Polina Kozyreva/Sofya Treshcheva, 6-4, at No. 50 Syracuse … Rolled to a 6-0 triumph over seventh-ranked Jaeda Daniel/Adriana Reami of No. 11 NC State for her first top-10 win … Defeated No. 65 Shene Disbergen/Rita Pinto of Virginia Tech, 6-3 … Earned a 6-2 decision against No. 10 Ally Bojczuk/Julia Lilien of Notre Dame in the ACC Championship second round … Topped Marina Alcaide/Andreea Velcea of No. 41 FIU in the opening round of the NCAA Team Championship.
As a Freshman (2019-20): ITA Scholar-Athlete
Spring season cut short due to COVID-19 pandemic and did not count towards eligibility … Enrolled at Miami for the spring semester … Went 7-4 in singles and 2-6 in doubles … Notched a 4-4 record in dual match singles play, primarily at the No. 5 spot, and a 2-2 ledger in ACC action … Opened her career with a 3-0 mark in the Miami Spring Invitational, defeating Oklahoma's Camila Romero, 6-4, 6-3, then Northwestern's Clarissa Hand, 6-3, 6-1, and finally No. 10 Vanderbilt's Dasha Kourkina, 5-7, 6-4, 1-0 (10-6) … In ITA Kick-Off Weekend play, earned a 6-3, 6-1 victory over Tiffany Lagarde of UC Santa Barbara at the No. 4 spot for her first dual match triumph … Beat No. 35 Virginia Tech's Shene Disbergen, 7-6 (7-3), 6-0, for her first ACC victory … Topped Nikolina Jovic of Louisville, 6-4, 6-4 … Completed doubles matches with four different partners … Tallied a 2-3 ledger in dual match doubles competition and a 1-2 mark versus ranked foes … Earned her first doubles decision, alongside Selma Cadar, with a 6-4 triumph over No. 20 Jessica Anzo/Lucia Quiterio of No. 18 Texas A&M in ITA Kick-Off Weekend action … Competing with Nada Dimovska, tallied her first ACC doubles victory, a 6-4 win against No. 35 Virginia Tech's Erika Cheng/Nina Sorkin.
Prior to College: Peaked at No. 578 in the WTA singles rankings in September 2019 … Ascended as high as No. 456 in the WTA doubles rankings in October 2019 … Claimed a pair of $15K singles championships … Reached the final of a $15K doubles event on 13 occasions, earning 10 crowns … Won a $25K doubles tournament in August 2019 … Played in the Fed Cup in 2019, 2017 and 2016 … Finished second in the Israeli National Championship for Women in both 2018 and 2016 … Started playing ITF Junior tournaments at age 13 and ITF Futures events at 15.
Personal: Full name is Maya Tahan … Last name is pronounced Tah-HAHN … Born Jan. 9, 1999 … Parents are Gil and Merav Tahan … Father is a retired colonel in the Israel Defense Forces (IDF) and mother is a financial officer … Has one older sister, Roni, and two younger sisters, Dana and Shira … Served in the IDF from July 2017 to September 2019 … Majoring in psychology with a minor in exercise physiology … Favorite athlete is Roger Federer because he plays aggressively and without fear, yet respects everyone … Best sports memories are winning a deciding doubles match at the Fed Cup and claiming her first ITF Futures singles crown … Chose Miami because of the quality academics and high level of tennis … Committed to Miami over Baylor and Ohio State.
SINGLES
YEAR
TOTAL
FALL
SPRING
DUAL
ACC
*RNK
2019-20
7-4
0-0
7-4
4-4
2-2
0-1
2020-21
14-8
N/A
14-8
14-8
9-4
0-4
2021-22
19-14
4-4
15-10
13-9
8-4
1-4
CAREER
40-26
4-4
36-22
31-21
19-10
1-9
DOUBLES
YEAR
TOTAL
FALL
SPRING
DUAL
ACC
*RNK
2019-20
2-6
0-0
2-6
2-3
1-2
1-2
2020-21
11-11
N/A
11-11
11-10
4-8
5-5
2021-22
20-12
8-1
12-11
11-10
7-6
5-4
CAREER
33-29
8-1
25-28
24-23
12-16
11-11
*RNK = record vs. ranked opponents
No fall season in 2020-21 due to COVID-19 pandemic