W. Tennis Blanks FIU, 4-0
CORAL GABLES, Fla. – The University of Miami women's tennis team posted a dominant 4-0 victory Saturday afternoon against FIU at the Neil Schiff Tennis Center.
No. 10 Miami (2-0) dropped just one set on the first day of ITA Kick-Off Weekend competition and logged its first shutout of the year.
"FIU is a tough team. [They have] very talent ball-strikers. I think we played a solid match today," Miami head coach Paige Yaroshuk-Tews said. "I think we started off well in doubles. I think, in certain moments, in singles, we got a little tight, but our girls just stayed composed and that makes the difference most of the time. I'm happy with the result. We've got to bring in one more tomorrow."
Miami jumped out to a quick advantage over FIU (1-1) in doubles, as junior Audrey Boch-Collins and freshman Mia Mack cruised to a 6-0 decision over Katerina Mandelikova and Kristina Miletic.
Redshirt sophomore Alexa Noel and junior Isabella Pfennig clinched the opening point for the Hurricanes with a 6-3 victory against Yasmine Kabbaj and Oyinlomo Quadre. Meanwhile, Miami held the edge in the unfinished match, as fifth-year senior Daevenia Achong and fourth-year junior Maya Tahan led Ekaterina Khairutdinova and Kamila Umarova, 4-3.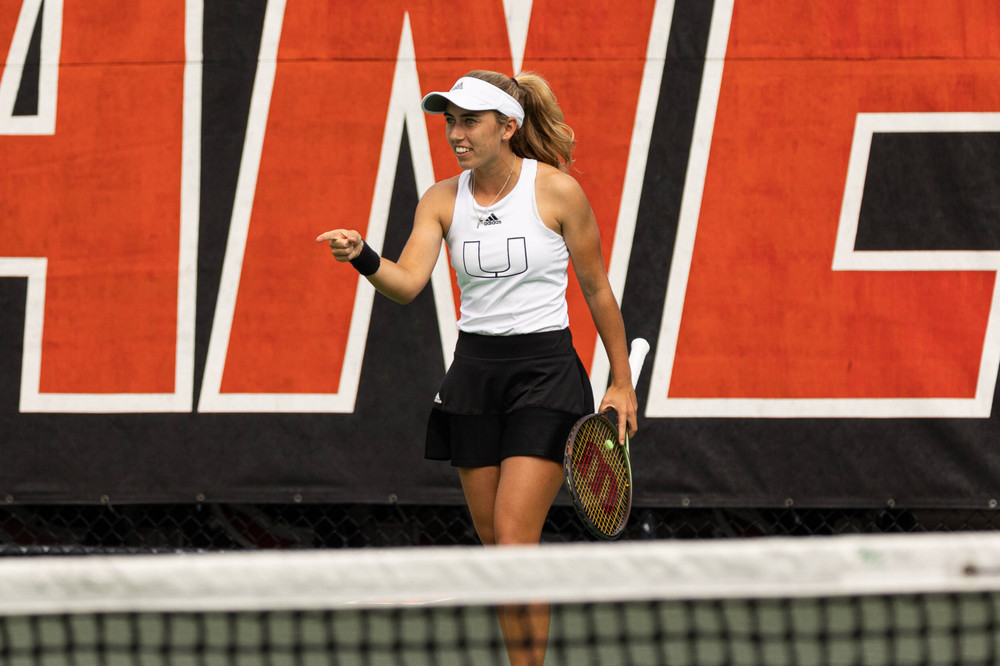 For the second time in as many matches, No. 60 Achong logged Miami's first singles point, as she defeated Khairutdinova, 6-3, 6-2. Just moments later, Tahan extended the advantage to 3-0 with a 6-3, 6-3 triumph over Salma Loudili.
No. 14 Noel provided the clinching win for the Hurricanes, as she fully controlled the second set against Kabbaj after taking the first in a tiebreaker, notching a 7-6 (7-1), 6-0 result.
No. 123 Pfennig held a 6-3, 4-3 edge on No. 106 Umarova when play stopped, while Boch-Collins led Quadre, 6-4, 4-2. Meanwhile, Mack and Mandelikova split their two sets, 6-1, 4-6, and had yet to begin the finale.
The Hurricanes improved to 27-1 all-time against FIU with the triumph, including 20-1 at home. They have now won 17 consecutive meetings in the series.
In addition, the win marked the 398th of Yaroshuk-Tews' phenomenal 22-year tenure at The U, including her 162nd via a sweep. Of those, 105 shutouts have come since 2009 alone.
The Hurricanes now play Sunday at 1 p.m. at the Neil Schiff Tennis Center against either No. 18 UCLA or No. 24 Iowa State in the ITA Kick-Off Weekend title match, with the winner claiming a spot in the prestigious ITA National Team Indoor Championship.
To keep up with the University of Miami women's tennis team on social media, follow @CanesWTennis on Twitter, Instagram and Facebook.
RESULTS
Doubles Competition
1. Daevenia Achong/Maya Tahan (UM) vs. Ekaterina Khairutdinova/Kamila Umarova (FIU), 4-3, unf.
2. Alexa Noel/Isabella Pfennig (UM) def. Yasmine Kabbaj/Oyinlomo Quadre (FIU), 6-3
3. Audrey Boch-Collins/Mia Mack (UM) def. Katerina Mandelikova/Kristina Miletic (FIU), 6-0
Singles Competition
1. No. 14 Alexa Noel (UM) def. Yasmine Kabbaj (FIU), 7-6 (7-1), 6-0
2. No. 60 Daevenia Achong (UM) def. Ekaterina Khairutdinova (FIU), 6-3, 6-2
3. No. 123 Isabella Pfennig (UM) vs. No. 106 Kamila Umarova (FIU), 6-3, 4-3, unf.
4. Audrey Boch-Collins (UM) vs. Oyinlomo Quadre (FIU), 6-4, 4-2, unf.
5. Mia Mack (UM) vs. Katerina Mandelikova (FIU), 6-1, 4-6, unf.
6. Maya Tahan (UM) def. Salma Loudili (FIU), 6-3, 6-3